In our last article, we shared a huge list of DIY sofa ideas and today you will see some awesome DIY sofa table plans. A sofa table can be very handy if you are chilling and want to put down that glass of wine somewhere without standing up. It's very helpful to put things down like a popcorn tub while you are watching a movie, a TV remote or your smartphone.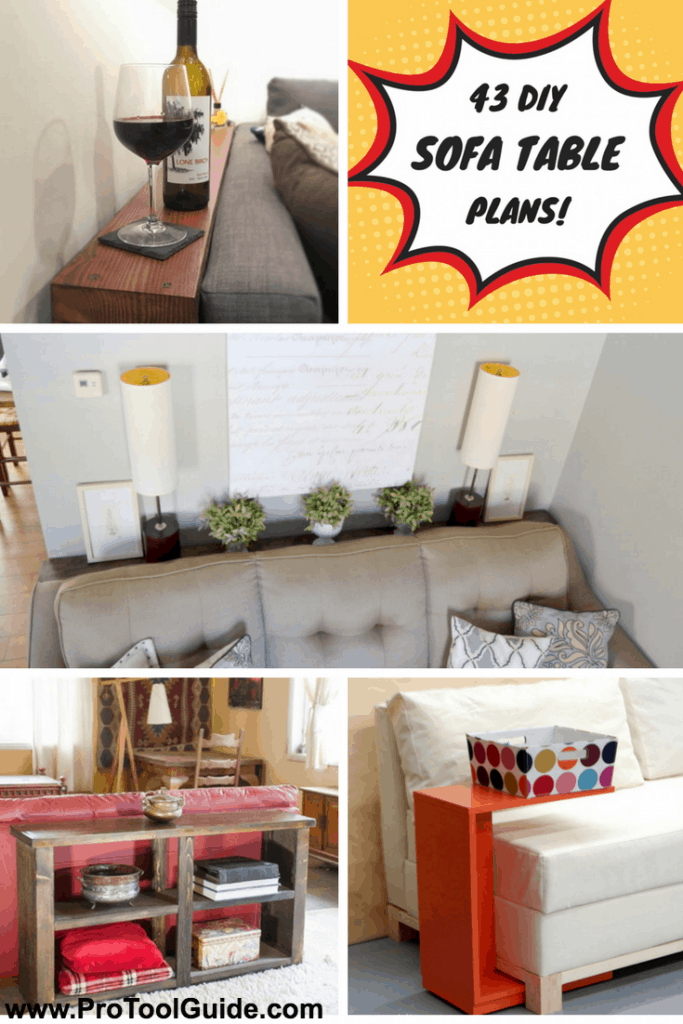 These plans include a variety of sofa tables which you can build all by yourself. Starting from a simple one to behind the couch and even rustic and console style tables, you will have it all. There are even some re-purposing tutorials which you can follow if you have an old table just eating dust.
Woodworkers love to use their power tools and if you have a cute sofa, this might be a wonderful project to work on. Other than practical, you can even use the sofa tables for decorative purposes.
What is a Sofa Table?
A sofa table was first seen in 1700s and is usually placed in the front of the sofa and used by the people sitting. However, today in the 20th century the sofa table is placed behind the table or used as a room divider which is also a stylish addition to your living room. People even amplify the it's usefulness by adding a storage space for storing shoes, toys etc.
Why Your Living Room Needs a Sofa Table?
There are a several reasons why you should build/buy a sofa table and add it to your living room. It beautifies the look of your room to the next level. It also provides a lot of other benefits on top of the decorative advantage which you can read below.
1. Modern Interest
If you put a dark sofa table just besides to your bright sofa, it would draw a lot of eyes to it because of the contrasting look. It's a great layer of decoration and makes the overall look of your living room interesting.
2. Storage
One can easily store a lot of things below the sofa table. By adding baskets under the console, ensure that the dimensions of the sofa table and storage spaces fit properly.
3. Extra Seating
You can use the sofa tables to tuck the stools below it for extra seating if you have a large gathering at your home and you are hosting a lot of guests.
4. Fill Empty Space
This is one of the most basic uses of a sofa table. When you have large areas of dead spaces in your room, a sofa table helps to fill up colors throughout the room and give you an option to personalize the look.
43 DIY Sofa Table Plans
Here is the list of all sofa tables which we have managed to find from all around the web by some of the best DIYers. You can just click the button below each plan and find out the specifics, details and how they built it.
1. DIY 'Behind The Couch' Table
Kate built this behind the couch sofa table because they had less space and also didn't want to spend too much on it. So they chose the cheap and easy DIY route. They needed a Kreg Jig, a miter saw, wood stain and a wood sander in order to complete this project. It involves some cutting, fixing and sanding to finally build this table.
This is a super affordable way to get yourselves a cute sofa table. Check out the plan by visiting the below link to make sure you don't miss out on anything.
2. 10-Minute Sofa Table Tutorial
Megan and her husband when moved into a new home, decided to build this sofa table since they wanted something for the lamps and drinks. They used the IKEA parts to build it and the most surprising part is they were able to finish this in just 10 minutes.
Due to some reasons, they had to shift the couch to the centre of the room and this prevented them to make a traditional side table. She chose the IKEA Lack Shelf in place of the IKEA legs and within 10 minutes of cutting, sanding, staining and edging, the sofa table was ready.
3. Easy DIY Slide Under the Couch Sofa Table
Heather was inspired by a modern slide-under-the-couch table she saw on Pinterest. She decided to build a version of it for her new grey sectional sofa. She used a miter saw and a drill driver as the main tools.
The total cost of all the supplies and materials came down to just $15. That's a cheap sofa table to build, right? Head on to her website and check the whole procedure, supply list and techniques used to build it completely.
4. DIY $25 Sofa Table Plan
Amy bought a L-shaped sofa but unfortunately there is no space for a sofa table to fit in on either of it's sides. So she built a really narrow and long sofa table to be fit behind the sofa. She could easily place some lamps and some decorative pieces to enhance the look for sure. She used a drill driver and a screw driver as her main tools.
After perfect it's look, staining and painting it, it was all ready with a depth of 6″. Check out the step by step instructions on how Amy built it by following the below link now.
5. DIY $30 Sofa/Console Table Tutorial
This sofa table by Jenna is a super easy to build project. As she herself completed this in just a day and the total cost was only $30. It's a narrow table which can be fixed behind the sofa for convenient storage. It's a very simple and modern style table and for such a price, this plan is a steal.
She used a basic saw, a drill and some screws to get going. She says all one needs is some skills to cut wood, a drill and some time to build this on their own. Check the below link for all details and steps.
6. DIY Sofa/Console Table for Basement TV Room
Barb is a DIY and crafting addict! She bought this monster but cozy sectional sofa and wanted to build a table for that. The table is about 8 inches deep which allows them to place lamps or books on it quite easily. She used a Kreg Jig mainly to fit in the screws and to speed up the work.
Moreover, her husband Tom even fitted the USB ports so that it's easy to charge up their smartphones. All in all, it took her around 6 hours to build this table completely and the total cost was less than $100 since they already had the stain and the paint.
7. DIY Custom Sofa Table with Drawers
Sarah is an interior designer and a DIY lover. She has a thing for sofa tables like how they ground the sofa, create a division of space, and make a boring space surprisingly interesting. She and her husband made this for a total cost under $100 only. They used a jigsaw, a wood filler and a sander to work on this project.
And over the weekend, they were able to build out this amazing sofa table where you can place your lamps, beautiful flowers or even store things in the drawers as well as in the bottom space. Check out all the instructions to build this in the below link.
8. 12-foot Long DIY Living Room Sofa Table
Sherry & John took a different route and bought some new wood and decided to make it look old. Once they got them, they distressed all the pieces, stained them and finally put them altogether into a single tabletop. They used a Kreg Jig to dig holes and put in the screws.
Finally after fitting everything, it was all ready and the DIY distressed wood top looked way better in the space than the grey-ish pallets. It gives an overall rustic warm look to the room and it also has a secret hidden storage compartment in the middle. The total cost came out to be $104 which includes each and every material used. Go to the link below for full instructions and supply list.
9. Simple Yet Stylish DIY Sofa Table
This is a very classic sofa table with a stylish and stable design. It can fit in any home with some adjustments in materials and color. It's very simple to assemble this wooden sofa table. You can place it behind the couch for the perfect look and it's very efficient as you can place a lot of things on it (like photo frames, lamps etc).
You will need a drill and a hammer to work on this project. Go to the below link for further details on the plan, full supply list and the instructions.
10. DIY Salvage Sofa Table
Courtney picked some salvaged wood pieces at a local junk shop and right at that moment she knew that it had to transform into a sofa table. It has a unique look and also is eco-friendly compared to other materials.
A Kreg Jig was used to fit in the screws into the holes and she painted the base using white chalk paint. She loves to salvage and keep the integrity of things that are naturally aged and imperfect. Weather beaten, tarnished, patina, chippy, rusty perfection. Follow the link below for detailed instructions.
11. DIY Reclaimed Sofa Table
Jordan and her husband (Brett) have moved into their new home which has a coastal/farmhouse look and feel. She came across some antique balusters with perfect old, chippy patina and turned them into a beautiful sofa table for their new home. They used a table saw, a nail gun and white chalk paint as tools to work on this project.
It's top and low shelf are made from smooth boards with a vintage look on the legs. The overall table definitely has an authentic French Country feel which is what they wanted. Visit the link below for full instructions and finished project details.
12. DIY Entryway Sofa Table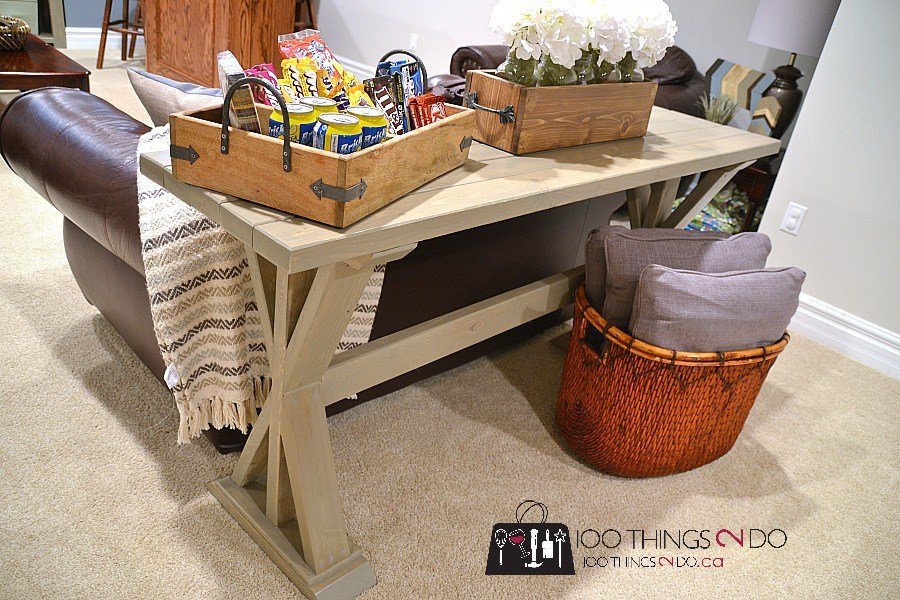 The owner of this blog found a nice entryway table on Etsy and wanted to build this on her own. Though she couldn't find any plans on the web for the same. So she decided to create her own plans and share with us. She used a miter saw, a drill, a random orbital sander and a wood filler as her main power tools for this project.
The table is a typical wooden sofa table made from very smooth boards. The sides have been arranged in X-shape with 3 beams and a long beam connects them on both sides for better stability. It took around 2 days to build this, but since the plans are already here, you can make it even faster. Check now!
13. DIY Reclaimed Barn Wood Sofa Table
Sonja & Jane wanted to build a unique table since a long time since they saw a lot in different stores with steel legs. They used reclaimed barn wood for making it and bought the hairpin legs for base. They also used the rust-proof paint, belt sanders and screws for fitting and finishing the table.
Head on to the link below to find out the other materials used, the step by step tutorial on how the sisters built this beautiful table and finally placed those decorative flowerpots and lamps on them.
14. DIY Pine Wood Sofa Table
This is an innovative wooden sofa table with a pine wood top, 2 middle shelves and 3 bottom cube shelves. It is 16-inches deep and 48-inches long. Only a simple wooden frame is used and with the added wooden beams, multiple storage sections were ready.
They used a saw to but the wood and a drill for fitting screws. It took around 4 hours on a weekend to complete this project and the total cost was just $85. Would you like to try this out? Go to the link below now.
15. DIY Bench into a Sofa Table Project
While Ellie was running some errands, Tommy her husband cut some scrap wood to pitch the idea of transforming their bench into a sofa table to her. She approved and it became a wonderful yet challenging Saturday project for him.
The result was a sturdy behind the sofa storage sofa table which was painted smoothly and more functional then it was a bench. He used a miter saw for cutting wood and a Kreg Jig for fitting screws. Head on to the link below for details on the whole project.
16. DIY Gray Sofa Table
This is basically a repurposed sofa table with an added shelf by Jolia. She used a saw, a Kreg Jig, a wood sander, wood stain and some paint to complete it all.
It can surely be places at the back of your sofa and you can place both decorative pieces as well as store things below on the new shelf. The finished piece is a gray frame with smooth dark wood on top. Check the link below for detailed cut list and instructions to build it.
17. Easy DIY Reclaimed Wood Sofa Table
Jen built this sofa table using reclaimed wood which has a rustic look. She used a miter saw and a drill bit as her main power tools for working on this project. The final piece has a smooth top and 4 legs & corners.
She even added 2 vanity style benches below the table to give it a vintage and rustic look. The colors and the finish light up the room in which it's placed for sure. Below is the link to the website, check it if you want to build it for your room.
18. DIY Truss Sofa Table Plan
This is a unique sofa table based on truss design which Brad found at different timber houses and outdoor places. The power tools you need for this project are a miter saw/circular saw, a pocket hole jig and a cordless drill.
There is also a little bit of sanding done at the end for giving it a nice finish. Go to the below link for cut list and all instructions to build this sofa table.
19. DIY Custom Small Sofa Side Table
Gail had quite a headache to properly put the remotes of TV, heater, her cordless phone and her cell on the sofa arm. She decided to build a nice sofa table for that corner. She used a Kreg multi-mark tool, a nail gun and a hammer for properly working on this project.
She even added a shelf near the top of the table for extra stability. The result was superb with all her remotes sorted and she could even store her notebooks and magazines in the shelf. Check the below link for detailed instructions on this project.
20. $15 DIY Side Table for Sectional Sofa
Kaysi built a side table since there was a foot long space between the end of the sofa and the wall. The tools she used were a miter saw, a nail gun and a Kreg Jig for the complete construction of this table.
After sanding, using a wood filler, staining and painting the table plus a wooden box to hold remotes and cell phones on it, the side table was all ready. It looked gorgeous when finished, so if you want to make yourselves one, feel free to follow the link below for all details and get started.
21. Easy DIY Pipe Frame Sofa Table
Janice built this very easy DIY sofa table made from a pipe frame which has a cute industrial farmhouse look. She wanted to build one which can suit the kitchen/dining room so she used a galvanised grey coloured pipe.
The only power tools she used were a drill and a sander since she doesn't like them much. First she washed the pipe, built the frame, and then did the sanding and staining. At last it was all set to decorate her kitchen. Go to the below link for further details.
22. DIY Sofa Table using IKEA Ekby Jarpen Wall Mounted Shelves
Melissa wanted an alternative to her coffee table and wanted something not too wide. So she chose an option from the IKEA – the wall mounted shelves since she didn't want to built it from scratch. The shelves were easy to fit in plus easy to clean. They had to cut the shelves from both sides for fitting it perfectly behind the sofa.
And finally after some painting and adding some lamps, the sofa table looked astonishing. They haven't missed their coffee table since they replaced it. Check out below to build one for your own room.
23. DIY Back of the Couch Table for Living Room
This idea by Paige was inspired from AlwaysNeverDone.com's project which we have already shared above. She used a jigsaw, a nail gun and a drill as her main power tools.
The process involve cutting the wood, attaching them using screws and glue and finally filling the holes with wood filler and sanding the surface. Painting is the final touch which gives it the look you want. Check out all the steps to build it for your family room by visiting the link below.
24. DIY Chocolate Brown Sofa Table Under $20
Sarah is a very experienced DIYer as she has spent most of her time decorating her home using inexpensive ways. After transforming her room, she wanted to add a sofa table so she took the measurements of sofa to determine the table's depth and length.
All she needed was a drill, some bracket and 30 minutes of her time to get it altogether. Sounds easy, right? Head on to the website by following the below link and build one for yourself right away!
25. Reclaimed Wood Sofa Table Project
This sofa table was a result of frustration from a bad cold and Becky having a bad day. Oh yes, that's how DIYers roll. She got some plywood and large pieces of reclaimed barn wood and attached them using the screws.
She even added a bottom shelf for storage purpose which is a good idea indeed. And very soon after sanding and painting, the table was ready. Click the below link for all instructions on how to build it.
26. Inexpensive DIY Rustic Sofa Table
This is a very easy to build behind the sofa table which any level of DIYer can work on. The tools need are a saw to cut the wood, a drill or screwdriver, a level and wood stain.
It is always recommended to wear the safety glasses to prevent dust from entering your eyes while cutting wood. This one is perfect for placing the decorative items and doesn't take too much space which is also a plus point if you have a small room.
27. DIY Skinny Sofa Table
This table by Black & Decker is made out of hardwood plywood and is perfect for placing decorative items and storage of books or games since it has a shelf below. The main tools used were a circular saw, a hammer, a drill driver and a detail sander.
One thing to notice here is that they have used stain and lacquer instead of painting it to make it look more professional. However, it's a personal choice so don't be afraid. Check the link below for step by step plan of this table.
28. DIY Easy Sofa Table
Christina has built this super easy sofa table which is holding lamps, canning jars and says that you can even place books and drinks while resting on the couch.
The best part is that there are no tools needed and she promises that literally AYNONE can build this. Want to know the secret sauce she used to build this amazing table? Check the link below now.
29. DIY Farmhouse Style Sofa Table
If you have a long and narrow living room, this sofa table will fit in quite well. She used the plan from the website 'Shanty 2 Chic' and all she needed was some glue and the nails for assembling it.
It is simple yet exquisite looking. There is also a shelf below for storage purposes and you can always put flowerpots on the table for decorations.
30. DIY Slide Over the Couch Table
Have very little space in your room? Facing difficulties in placing your furniture and still want to have a table for your couch? Get your saw and drill and let's get started.
This is a wonderful table as it can slide on your couch easily and you can pull out anytime you want which saves space and makes it super portable as well. It has smooth wood on top and an industrial look. Certainly one of the best sofa table projects we have seen. Check the below link to get the step by step instructions right away.
31. DIY Outdoor Sofa Table by H20Bungalow
When the season comes, Wendy is all ready to tackle different DIY projects. This sofa table was built by her because she wanted to have things outside her window that make her smile when she looks peacefully. She used treated wood for this project and also used power tools like a miter saw, table saw, a drill and a Kreg Jig to put it all together in one piece.
She advises to square the ends of the wood pieces before cutting or measuring. If you are excited to know how it's exactly done step by step, visit the below link now.
32. DIY Long Sofa Table by Christine
Christine built this sofa table by getting inspired from a Pin on Pinterest. They have vaulted ceilings with a large wall which means they needed a long table for the 10 foot long sofa. She advises to buy the brackets of the right size, so you don't have to compromise later.
You will need a screw driver, a saw (if you have to cut wood), a drill and some screws to get this project done. Finally, her table was ready where she put her milk glass vase for holding flowers and other items. Find all instructions in the link below.
33. DIY Narrow Style Sofa Table
This is a narrow style table which you can use in two ways. Either you can place it behind your sofa set or you can even use it as a console table near the wall in any room. The dimensions can be easily adjusted (height and length) so that it fits perfectly anywhere you want it to.
This project was inspired by a console table as seen on Houzz. You will need a miter saw, a drill, a wood sander, a nail gun and a Kreg pocket hole Jig to work on this project. Click on the link below for step by step plan and diagrams to build it yourself.
34. DIY Little Sofa Arm Table
Amanda and her husband faced this problem of not being able to put their wine glasses somewhere because they had side table only at one end of the sofa. She decided to build a tiny sofa arm table after getting some Pinterest inspiration.
It's very neat and doesn't obstruct you ever. The tools you need are a miter saw and some wood glue. There is a nice video demonstration as well as step by step instructions given on the website. Feel free to visit it below and get started.
35. DIY Kylie Interiors Sofa Table
They made this amazing and nice looking sofa table for a total cost just under $50. You can adjust the measurements to make it fit in your place easily.
In order to give it a neat look, they advise you to drill pilot holes and countersink all screws, so it becomes easier to fill, sand and paint to make the screws disappear easily. Head over to their website now for step by step instructions.
36. DIY Behind the Sectional Sofa Table
Rachel got these 3 large pieces of old and chippy wood from her Grandma's neighbour and she decided to use it for this purpose. You will need a nail gun, wood glue and a chop saw if you have to cut the wood.
For her, all it took was 2 hours to build it and totally for free since she got wood for free. However, she says it would cost around $40 otherwise. After it was built, she decorated it with lamps and some other items. Check the below link for full tutorial now.
37. DIY Multi Purpose Sofa Table
Made from pinewood, this table is the best solution if you want to stash your drink glasses or even display beautiful decorative items. Lisa has tried her best to explain each and every step she performed to build this table. So head on to her website and build your own sofa table.
38. DIY CleverlyInspired Sofa Table
This is a long sofa table with simple design where you can place lamps and other items. There are also 2 shelves in the middle which are adjustable. It is made out of pinewood and the stain used was Minwax dark walnut. There are no proper instructions although there are many images for demonstration. Check below if you'd like to.
39. DIY Extra Long Sofa Table
They had a sofa set which occupied most of the space in the room and wanted a table where kids and anyone could put their glasses of juice or wine. Sure, they had an Ottoman with a tray but you know a family obviously needs more.
They also wanted to light up the room by placing a couple beautiful lamps on the sofa table. So they went on the Internet got ideas and formulated their own measurements (14 inches long) and finally built it. Head to the link below for exact steps.
40. DIY Mango & Tomato Sofa Table
The AC was leaking and the sofa was shifted, so there was a space between the window wall and and the couch, why not build a sofa table to utilise that space? So the homeowner decided to build 2 small tables instead of a long one for ease and portability. They used a screwdriver, a drill and some screws as their tools.
Everything came down to a cost of $100 which is not too much given the value you are getting. The process involves sanding, drilling, staining and painting (if you want) and you will have a table ready to display your beautiful pictures, flowerpots and more.
41. DIY Upcycled into Sofa Table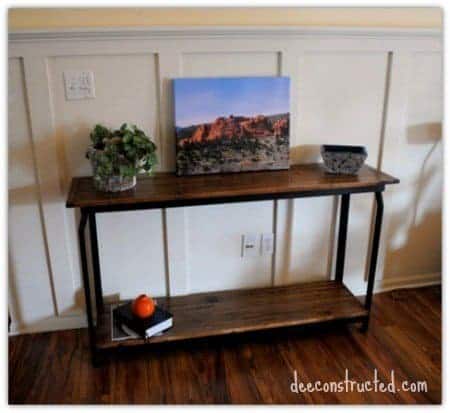 This is a beautiful piece of art by Dee in which she upcycled an old second hand aquarium stand into a cute sofa table. All she did was some sanding and priming to fight a few rusty spots.
She even used the black paint and drilled some holes to place the tabletop. Once sealed and waxed, it was all set to be placed in your living room near the sofa or use it some other way. Check below for detailed instructions.
42. DIY Mid-Century Modern Sofa Table
This is a simple sofa table that does its major job of hiding the sofa without affecting the style or aura of your sofa set. It has a drawer for holding books and magazines.
The tools you need are a circular/miter/table saw, a jigsaw, a drill and a hammer. The process involves cutting the wood, gluing it altogether and installing the drawer and legs and finally completing it. Check the link below for complete details now.
43. DIY Rolling Sofa Table by Ana White
This is another push under the sofa table which you can use to place your glass of wine or snacks or even your laptop while working and chilling on the sofa. You can even store something below the table as there is space.
You will need a drill, a circular saw, a sander and a drill bit set as the main tools to work on this project. Lastly a wood filler was applied and sanding was done for the finishing. Check the whole plan below now.
Conclusion
If you are bored of the same look of your living room and want to add something useful for yourselves as well as the guests that visit you, head on to any of the above DIY sofa plans and build one for your living room. These plans are very creative, unique and economical so building one won't burn a hole in your pockets as well.
Feel free to comment below your questions if you have any and I will be happy to guide you if you are stuck somewhere. I hope you enjoyed the post, do share it to help fellow DIY lovers.