Scroll saws are exceptionally hard to beat when you need to make intricate and accurate cuts in the material. If that kind of performance is exactly what you are looking for, then our roundup of the 10 best scroll saws might interest you!
Best Scroll Saws Reviewed
Today, we want to help you with picking the right scroll saw for your needs.
We've included a wide variety of scroll saws on our top, starting from inexpensive tools suitable for the lightest jobs and ending with high-end beasts that can crunch through anything you throw at them.
Our Top Recommendation for Best Scroll Saw Reviews!
It has a Unique design accepts blades in two directions (standard and 90 degrees) to allow for infinite ripping capacity Variable speed goes from 400 to 1600 strokes per minute.
*We earn a commission if you make a purchase, at no additional cost to you
To help you better understand what makes our picks stand out, we'll now cover the major distinctions of each model and talk a bit about what makes them the best!
1. WEN 3921 16-Inch Scroll Saw
Quick Summary
SPM: 550 – 1,600.
Beveling: 45 degrees to the left.
Blade style: Pinned & pinless.
Throat depth: 16 inches.
Max cut thickness: 2 inches.
Table size: 16 x 11 inches.
Warranty: 2-year.
The WEN 3921 scroll saw is a great option for light use cases. This tool is inexpensive yet offers rather solid functionality.
Perhaps the most eye-catching feature of the 3921 scroll saw is the support of both pinned and pinless blades. The pinless blades are a little difficult to insert, but it's still nice that you are getting more than one blade option.
Another interesting feature is the 90-degree blade adjustment. This feature allows you to cut through very long material sideways. For added convenience, the WEN 3921 scroll saw has a flexible worklight too, as well as a dust collection system with a port & air pump.
Pros and Cons
Pros
Affordable
The Blade may be angled 90 degree for side cuts
Tool-free blade changes
Includes 3 blades
Integrated flexible worklight & dust collection system
Cons
Flimsy blade holders.
Inserting the pinless blades can be difficult
2. Rockwell BladeRunner X2 Tabletop Saw
Quick Summary
SPM: 3,000, single-speed.
Beveling: No.
Blade style: T-shank blades.
Max cut thickness: Depends on material, up to 1-1/2 inches.
Table size: 15-3/4 x 17 inches.
Warranty: 3-year.
In case your needs aren't centered only around scroll saws, the Rockwell BladeRunner X2 tabletop saw is likely to work for you. This thing is designed to do scroll, miter, rip, and cross cuts, which allows it to essentially replace scroll, miter, and table saws.
Now, BladeRunner X2 won't excel at any of these jobs individually, but if you need everything for not too much money, this tool is a nice choice.
When it comes to cut capacity, X2 is comparable to lower-end scroll saws. With that, it's a good choice for light DIY uses.
X2 works with t-shank blades, and Rockwell includes 5 out of the box. Thanks to the tool-less blade-changing mechanism, blade swaps are rather easy here. For added cut accuracy, Rockwell also includes a steel rip fence and a miter gauge.
Pros and Cons
Pros
Inexpensive.
Includes plenty of accessories.
Works as a scroll and miter saw.
Easy blade changes.
Integrated vacuum port.
Cons
Won't replace a full-fledged scroll saw.
Only has one speed
3. WEN 3922 Scroll Saw
Quick Summary
16 Inches Blade Length
Item dimensions- 26 x 13 x 15.5 inches
Battery Powered
45 degrees cutting angle
Cast Iron Base for Greater Stability
In-Built Lamp
30 Pounds Weight
5 years Warranty
Lithium Battery Required
The WEN 3922 scroll saw is a step up from the WEN tool we looked at earlier. Although the basic functioning of the two instruments is comparable, the WEN 3922 scroll saw is somewhat expensive, but it appears to be a better-manufactured product.
In terms of characteristics, the WEN 3922 saw is similar to the WEN 3921. You're getting stuff like a 45-degree beveling table, a 90-degree blade adjustment, a flexible light, and a dust collecting system once again.
Pros and Cons
Pros
Vibration-reducing arm design.
Very high cutting capacity.
Dual-bevel design.
Lifting arm & tool-less blade clamp for easy blade changes.
Oversized power switch.
Flexible dust blower and adjustable light
Cons
Pricey.
Weighs a whopping 70 pounds
4. SKIL 3335-07 16-Inch Scroll Saw
Quick Summary
SPM: Variable, SPM range not specified.
Beveling: 45 degrees to the left.
Blade style: Pinned & pinless.
Throat depth: 16 inches.
Max cut thickness: Up to around an inch, not specified by SKIL.
Table size: 16 x 10 inches
The SKIL 3335-07 scroll saw is a step-up from the WEN tool we reviewed at the beginning. Although the base functionality in the two tools is similar, the SKIL scroll saw is a little bit pricier and seems to be built better.
When it comes to features, the SKIL scroll saw isn't that different from WEN 3921. You are again getting handy things like the 45-degree beveling table, 90-degree blade adjustment, a flexible light, and a dust collection system.
What's also nice about this tool is that it is available with blades – 18- or 36-packs depending on what you choose.
Despite the similarities, note that the max cutting thickness of the SKIL saw is lower than in the WEN tool. SKIL doesn't specify the max cut thickness exactly, but it looks to be around an inch.
Pros and Cons
Pros
Articulating LED light.
Integrated dust removal system.
90-degree blade adjustment.
Available with blades.
Keyless blade changes.
Cons
Pinless blades are difficult to install.
Little info on the tool's specs.
5. Rikon 10-600VS
Quick Summary
Easy-access blade changes
Adjustable Speed 550 to 1600 RPM
Beveling to 45 degrees
Blade Style Pinned & pinless.
Max cut thickness: 2 inches.
Table size: 16 x 11 inches.
Warranty: 5-year.
Battery Powered
The Rikon 10-600VS adjustable speed scroll saw is an excellent tool for fine precision work in any workplace. The 5-inch blade's speed may be adjusted from 550 to 1650 strokes per minute. Work light and port for optional flex shaft are included. The Rikon 10-600VS scroll saw is an excellent choice for light-duty applications. This tool is affordable yet provides good functionality.
The Rikon 10-600VS scroll saw's compatibility for both pin and pinless rotors is perhaps its most eye-catching feature. The pinless blades are somewhat tough to insert, but having more than one blade option is still great.
In terms of design, the Rikon 10-600VS scroll saw is comparable to the WEN 3921. You'll once again receive a 45-degree beveling table, a 90-degree blade adjustment, an adjustable light, and a dust collecting system. This tool is especially useful because it comes with blades — 18- or 36-packs, dependent on your taste.
Pros and Cons
Pros
Affordable.
For side cuts, the blade may be tilted 90 degrees.
Change the blades without using a tool.
Adjustable work light and a dust collecting system are included.
3 blades are included.
Cons
Blade holders are flimsy.
Inserting the pinless blades might be challenging.
6. Dremel MS20-01 Moto-Saw Scroll Saw Kit
Quick Summary
SPM: Variable.
Beveling: No.
Blade style: Pinned.
Warranty: 2-year
The Dremel MS20-01 Moto-Saw scroll saw is an excellent option for jobs that require portability.
The highlight of the MS20-01 scroll saw is the portable design. This tool may be used either handheld or clamped to a table. When handheld, MS20-01 should provide you with higher accuracy, as well as should allow you to easily do work in tight spaces (if you ever need that).
Dremel kindly includes 10 pinned blades with this unit, allowing you to get started immediately. You are also getting a vacuum adapter to be able to connect a vac to the unit's dust port.
One thing to keep in mind with this cute little tool is that it's not for large projects – the kind of jobs that may be done with standard scroll saws. Though MS20-01 is made pretty nicely, it won't offer the best accuracy because of the pinned blades, and it will struggle with hard materials as well.
Pros and Cons
Pros
Vert compact and light.
May be used handheld or clamped to a tabletop.
Includes 10 cutting blades.
Dust port adapter for mess collection.
Quick blade changes.
7. JITOOL 1850NL Brad Nails
Quick Summary
3 Pounds Weight
Metal Body
PowerSource- Air
18 Gauge
Efficient
Quick Process
JITOOL 1850NL Brad nails are 18 gauge, or 0.0475 inches long. JITOOL 1850NL is available in lengths ranging from 12 to 212. In comparison, a 16-gauge finish nail is 0.0625-inch thick. It is an affordable, lightweight and trustworthy product amongst carpenters and woodworkers. Ornamental trim, picture frames, and paneling are all common applications for brad nails. They're great for birdhouses and other tiny pieces of wood. Brads are ideal for trim work such as thin trim around exterior doors, footwear molding, and fraction molding.
The thinner JITOOL 1850NL brad has the benefit of being less likely to shatter wood while passing through it. It is made basically best for sleek items. Depending on how the brad nails are put, filling and sanding may not be required prior to painting, reducing the overall time effort of the carpenter.
JITOOL 1850NL is often used in the manufacture of small furniture items and miniatures like birdhouses and bat cages etc. Since brads are simple to remove and leave just a small hole, some carpenters utilize them as a short-term fix while gluing sets. They are just suitable for soft metals and elements. They commonly fold in on themselves and, sometimes, obstruct the nailer. As a result, while working with softwoods, a brad nailer is commonly mostly equipped by carpenters.
Pros and Cons
Pros
Affordable
Light-weight
Quick
Efficiency in Cutting
Cons
Low- Power
Not suitable for heavy wood, metals
8. Stanley STA 6-CT-10X
Quick Summary
Silver Body
Tacker Style
Manual Operation
No Batteries Required
1.59 Pounds Weight
2 in 1 cable tacker fires round
Flat Staples for Wire
Hi/Lo Adjustment
The Stanley STA 6-CT-10X is a two-in-one cable tacker that can shoot and round flattened staples for wire and common attaching. This tool offers a high/low adjustment mechanism for usage on varied surfaces, and the captive reload with no loose components makes reloading the tacker simple. The wire tacker also has a proprietary anti-jam mechanism for less downtime and product failure, as well as an incredibly simple 'less force in more power out' function.
Frederick T Stanley created the Stanley Works, initially a bolt and door hardware manufacturing enterprise in New Britain, Connecticut, in 1843. Frederick's cousin, Henry Stanley, started The Stanley Rule and Level Company a few years later, in 1857. The Rule and Level Company amalgamated with The Stanley Works in 1920 to form the well-known Stanley Hand Tools Division.
A strong, light-duty staple gun designed primarily for use with crown staples in cable installation tasks. When working on a range of hard and soft surfaces, there are high and low power settings to manage the intensity of staple application.
When working on a range of hard and soft surfaces, there are high and low power settings to manage the intensity of staple application. This stapler is a two-in-one stapler that saves you money since you don't have to carry around several staples; simply replace the staples, and you're good to go.
Pros and Cons
Pros
Very inexpensive.
Light-weight
Handy & Smooth
Easy to use
No Battery
Best Staple
Cons
Instructions are not available in English
9. Jet JWSS-22B Scroll Saw
Quick Summary
SPM: 400 – 1,550.
Beveling: 45/40 degrees to the right/left.
Blade style: Pinless.
Throat depth: 22-3/8 inches.
Max cut thickness: 2 inches.
Table size: 12-7/8 x 23 inches.
Warranty: 5-year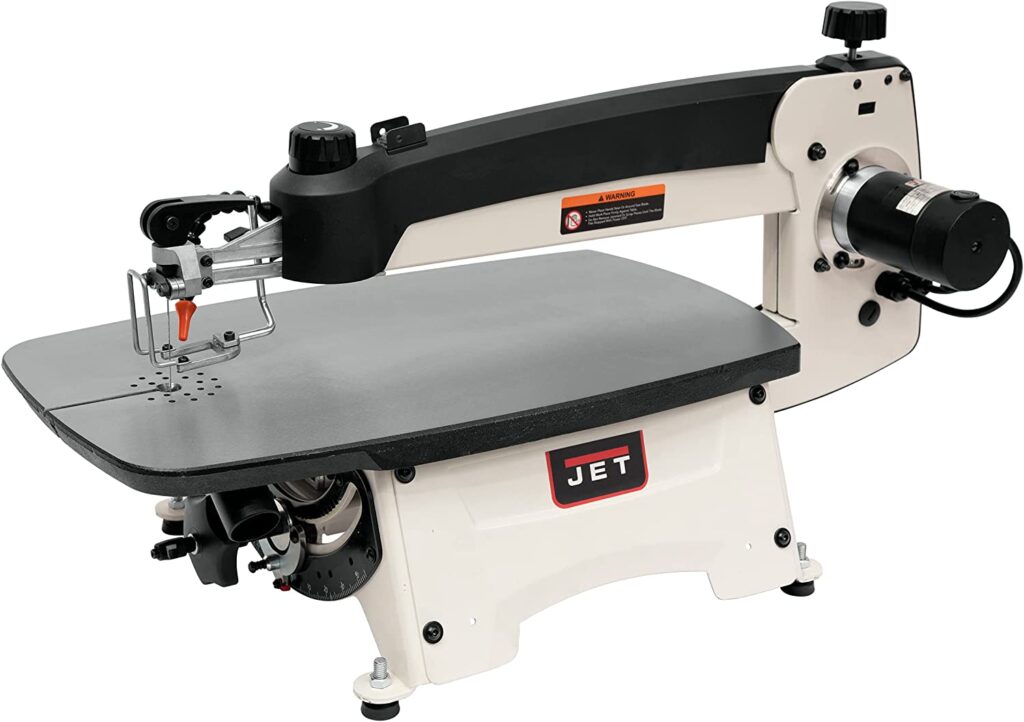 If you want the Jet JWSS-22B scroll saw without the stand, then here you go! This scroll saw doesn't come with a stand base, but it still includes a foot pedal.
When it comes to specs and features, there's nothing new to add here since we've just talked about this scroll saw. It's just a tad cheaper than the saw + stand kit, but it's still a rather expensive piece of equipment.
Pros and Cons
Pros
Bevels to both sides.
Excellent durability.
Excellent cutting capacity.
Very easy blade changes.
Comes with a foot pedal
10. DEWALT DW788 20-inch Scroll Saw
Quick Summary
SPM: 400 – 1,750.
Beveling: 45 degrees to the right/left.
Blade style: Pinless.
Throat depth: 20 inches.
Max cut thickness: 2 inches.
Table size: 16 x 23-3/4 inches.
Warranty: 3-year.
And as the last tool on our top, we have DEWALT's DW788. This scroll saw isn't as pricey as the Jet unit, but it still offers remarkable functionality and durability.
Arguably the most notable feature in this scroll saw is the oversized table. It's huge and easy to work with! And when you pair the table with the 20-inch throat length, you get a high-capacity scroll saw that will meet most buyers' needs.
The table surface bevels right and left as well, while the thin pinless blades allow for wonderfully clean, precise cuts.
Pros and Cons
Pros
Oversized table.
Dual-bevel table.
Vibration-reducing design.
Flexible dust blower.
Tool-free blade clamps
What is a Scroll Saw And is it The Right Tool For You?
A scroll saw is just one among many other saw types, so we feel that it's also worth talking about its use cases and advantages over other saw tools. This is to help you make sure that you are really getting what you need.
So, a scroll saw is a stationary tool with a thin reciprocating blade. These saws have a small tabletop to help you support the workpiece and guide it through the blade.
Thanks to the reciprocating blade, you can easily cut curved and complex shapes in the wood. In this sense, scroll saws are similar to jigsaws and band saws, but they have distinct advantages and disadvantages.
Let's first compare scroll saws with jigsaws and then band saws.
Here are the key things that set jigsaws and scroll saws apart:
Jigsaws are handheld, while scroll saws are stationary and intended to be mounted to a stable surface.
Because jigsaws are handheld, making long, continuous cuts is much easier with them. This is much more difficult to do with a scroll saw because its table space is limited. You can cut long pieces if you use supports, but that's another problem that needs to be solved.
Furthermore, portability allows jigsaws to cut any material as long as you have the right blade for it.
The typical jigsaw will be able to handle thicker workpieces than a scroll saw. Scroll saw blades usually go to up to 6 inches long.
Scroll saws provide you with sturdy support under the workpiece, allowing for dramatically higher precision and cleanness than with jigsaws. To stabilize a jigsaw while cutting, you'll have to rely on your muscle force.
So in short, jigsaws are handheld and suitable for making quick and reasonably accurate cuts in any material. In contrast, scroll saws are unbeatable when you are willing to take the time to make a clean, accurate cut.
Now, scroll saws and band saws. Here's how they compare:
Unlike scroll saws, band saws have a continuous and flexible blade that moves in a loop. As mentioned earlier, scroll saws have reciprocating blades, just like in jigsaws or reciprocating saws.
Cutting through long pieces of material is easier with a band saw because the saw blade is open from the rear and front.

Because the blade of the scroll saw can be easily removed, you can do plunge cuts with this tool. The continuous blade of band saws doesn't allow you to do the same.

The range of blades available for band saws is a little more versatile than with scroll saws. With the right blade, you can cut through any material, be it wood or metal.
Band saws have more clearance and higher-power motors, which allows them to cut through thick workpieces easier.
You can achieve much cleaner cuts with a scroll saw. In contrast, band saws are best when you need to make quick cuts, whether straight or curved. But you'll then have to sand the workpiece if you want it to look nice and smooth.
To recap, band saws are more optimal for quick straight or curved cuts, while scroll saws are better for delicate work because they allow you to make cleaner cuts along with plunge cuts.
When it comes to saws, keep in mind that there is no single tool that can do a perfect job at everything. For example, table saws are good at one thing, while scroll saws excel at something else. You therefore have to determine which saw style would work the best for your projects.
Features to Consider When Shopping For The Best Scroll Saw
If you do think that a scroll saw would be the right tool for your woodworking needs, then read through this section to find about the most important features in scroll saws.
After you are done with this buyer's guide, you will understand our reviews better and hopefully will be able to make a final decision much easier.
Blade Type
You can find scroll saw blades of two major styles – plain and pin-end.
Plain blades are suspended in the saw via clamps. In contrast, pin-end blades have a pin on the top that is hooked on a small holder.
Because plain blades are usually much thinner than pin-end blades, they offer way better accuracy and cut smoothness. Aside from that, plain blades are easier to remove and install in the saw.
These days, plain blades are much more popular and easily available, and they typically are higher-quality than pin-end blades. So for most people's needs, a scroll saw that works with plan blades would be the right choice.
Blade Changing
Ideally, you should get yourself a scroll saw with quick, tool-less blade changing. This can especially matter when you need to swap the blade often while cutting. Tool-less blade replacements are thus a must in tools intended for heavy use.
If you don't intend to use a scroll saw frequently, then it would be fine if the saw required tools for blade swapping. Since you wouldn't be doing the changes often in the first place, you wouldn't be losing much time on them. With lighter projects, you can just go for a simpler saw and save money.
Another thing to consider is a lifting arm. This neat feature makes blade removal and swapping much easier too. However, it's usually only seen in high-end scroll saws. Besides, for most people's needs, tool-less blade changes alone will make the scroll saw convenient enough.
Saw Speed
Like in jigsaws or reciprocating saws, the speed in scroll saws is measured in strokes per minute, or SPM. This spec shows how many back & forth strokes a scroll saw can make in a minute.
Generally, higher SPMs are used to cut through softer material. Low speeds are used with hard materials like metal or plastic to reduce heat buildup.
Cheaper scroll saws typically only have one speed setting – they will operate at the highest SPM they can when cutting through material. Some saws may have two speed settings, while others will allow you to adjust the SPM within a range.
When it comes to project flexibility, noise levels, and energy efficiency, variable-speed scroll saws are the best. However, for most DIYers, 2 speed settings will probably be more than enough.
Unless you are intending to cut through a wide variety of materials, getting a variable-speed scroll saw would be a waste of money. If you can get a variable-speed scroll saw for cheap though, then it might be a good buy.
Max Cut Thickness
Don't forget to pay attention to the max cut thickness of the desired scroll saw. Most scroll saws will cut up to 2-3 inches, while the most capable models may reach 5-6 inches.
Try to determine the max thickness of the workpieces that need to be cut and get yourself a scroll saw that has the required capacity.
Throat length
Throat length is the distance between the back of the saw and the blade's cutting edge. This spec is important because as you push the material through the blade, it will sooner or later hit the back of the saw. Therefore, throat length will determine how long cuts you will be able to make in one go without readjusting the workpiece.
Typically, scroll saw throat length ranges from 16 to 30 inches, but you may find smaller or larger models. For most needs, up to 18-20 inches should be more than enough, so unless you have special demands, don't go larger than this.
Tilting Table
Some scroll saws have tilting tables, allowing you to perform bevel cuts. In the standard scroll saw with a tilting table, the table will tilt up to 45 degrees to one side. In some advanced scroll saws, the table may tilt both to the right and left, as well as have a wider degree range.
We wouldn't say that a tilting table is a must-have, so unless your projects specifically require this feature, you should do fine without it.
90-degree Cutting
A few scroll saw models allow you to adjust the direction of the blade by 90 degrees. This feature lets you perform cuts from side-to-side. Theoretically, you could do infinitely long cuts with 90-degree cutting, but you would also need to make use of workpiece supports to keep the material stable.
Hand vs foot Controls
Foot controls are definitely preferable in scroll saws. They allow you to adjust the speed of the saw without letting go of the material. Not only that, but foot controls make the scroll saw safer because you don't have to take your hands off the workpiece to make adjustments while the blade is running.
Available Accessories
Although scroll saws are usually equipped to do their jobs out of the box, for added convenience and effectiveness, you should also research whether there are any accessories available for your tool.
First up, always check what kind of blades are available for your scroll saw model. Though you may be able to use third-party scroll saw blades with your tool, branded blades are preferable since they are made with a particular scroll saw model in mind.
You won't necessarily need any accessory blades, but if, say, you need to cut tough materials, then make sure that the scroll saw maker offers metal-cutting blades suitable for your tool.
Next, you may want to get yourself a scroll saw stand as well. This rather simple accessory would elevate the scroll saw to a more comfortable height, as well as would ensure that the tool stays stable while you are working.
You could and should also get a foot pedal for your scroll saw. Although many scroll saws come with one out of the box, you can often get a pedal separately as an accessory.
Vibrations
Higher-end scroll saw models will have vibration dampening features to reduce noise, increase accuracy, and decrease operator fatigue. Additionally, vibration dampeners can make the scroll saw quieter too.
Scroll saw makers use very different technologies to reduce vibrations in their tools, so we can't cover them all here. Just know that if you are going to use your scroll saw often, then some kind of vibration reduction is a must.
Integrated LED Light
LED lights are nice to have since they make the cutting area more visible to you. This feature isn't a must, but it can be pretty useful if you want to achieve maximum accuracy. In many scroll saws that have this feature, the light is attached to a flexible holder that allows you to direct it where it needs to be.
Note that in some power saws, the LED light is a low-quality gimmick. If you really need good visibility, then be sure to check buyer reviews to see how the light has worked for others. When shopping locally, you may also inspect the lighting feature first-hand.
Dust Collection Features
Scroll saws do not produce as much sawdust as other styles of power saw, but some models still have dust collection features. Dust collection is a nice thing to have especially with high-volume jobs.
If you do a lot of work, then you'll have more debris and sawdust to deal with after you are done with the cutting. A dust collection system would allow you to get rid of the mess quickly.
If the scroll saw has a dust collection port, check its size to make sure that it will be able to work with your dust hose or dust bag.
Instead of dust collection, some scroll saws can have a flexible dust blower. These blowers often look exactly like flexible LED lights, so make sure not to confuse the two.
Weight and Size
Scroll saws aren't light or small tools, but for some people, size and weight are going to matter more than for others. If you have limited space and need to easily move your scroll saw from spot to spot, then a light and compact scroll saw is a must.
Final Words
We've provided you with all the basic info necessary to purchase the right scroll saw. Now, it's your turn!
For starters, you may consider getting yourself a tool from our top 10 picks. All our selections are great, and you are unlikely to make a mistake with them.
If you think that none of the reviewed scroll saws are right for you – well, at least we hope that our buyer's guide was helpful to you!