When it comes to bandsaws, there is a myriad of options available. That being said, it's important that you make an informed decision if you want to get the best bang for your buck.
Our team has spent an entire month reviewing the most popular bandsaw options and we are confident to say that the JET JWBS-14DXPRO 14-Inch Deluxe Pro Band Saw Kit is without a doubt the best 14 inch bandsaw out there.
Its combination of power, efficiency, ease-of-use, and affordable pricing make it the top pick for any application. Let's take a look at some of the other band-saws we reviewed along with a closer overview of our top pick.
Our Top Recommendation for 14 Inch Bandsaw Reviews!
The JWBS-14DXPRO is a super performing band saw for cutting larger pieces of wood with its 12″ depth resaw capacity. This Deluxe Pro Bandsaw Kit combines strength and agility, as the upper and lower frame is made of cast iron.
*We earn a commission if you make a purchase, at no additional cost to you
Not a fan of our top three picks? That's not an issue as we have compiled a comparison table for you so that you can find something that is more suited to your needs.
Top 4: 14 Inch Bandsaw Reviews
Many people have asked us what the point of getting a bandsaw even is. After all, couldn't you achieve the same results with another type of saw such as a chainsaw?
Well, one of the main benefits of using a bandsaw rather than other types of saws is the fact that the narrow blades it uses lead to less wastage whereas thicker blades would eat up more of your material.
Furthermore, they're also a great way to get clean cuts if you know what you're doing. Our experts spent months reviewing bandsaws, and we're happy to unveil our top four picks right now.
#1. JET JWBS-14DXPRO
The Jet DXPRO certainly falls on the more premium end of the spectrum. Its performance — as well as its price — are built with high-end customers in mind. While it isn't the cheapest bandsaw out there by any means, the value that it provides is nothing to scoff at. Let's take a closer look at the things that help this bandsaw live up to its price tag.
Quick Summary
Dual-Speed
1.25 HP
43.5" Table Height
Enclosed Stand
WHY IS THIS A TOP PICK?
Cast Iron Frame
The cast-iron frame may make it heavier, but it provides the stability needed to make clean cuts when working with larger chunks of materials. Other bandsaws with plastic construction will start to wobble when trying to cut through a big batch of material. Stability should always be factored in when choosing a bandsaw.
Blade-tracking Window
The blade tracking window helps you keep an eye on the exact position of your blade to ensure that you get perfectly clean cuts every single time. The window is durable enough to ensure that loose bits of flying debris won't reach your face nor eyes — allowing you to be accurate without sacrificing safety.
Dust Port
The dust port was fully functional and has the capabilities to accommodate a 300 CFM fan of any type. Even desktop fans can work on this dust port if it has the level of power needed. The port was easy to use and showed no signs of failure during our testing. Overall, it's a great accessory that helps you keep your workspace clean.
Pros and Cons
Pros
Cast-iron frame
Blade-tracking window
Dust port
Cons
Expensive
No wheels
Heavy
#2. JET JWBS-14SFX Steel Frame Bandsaw
This JET steel frame bandsaw proudly belongs to the premium category as it packs features of a high-end saw. Furthermore, what makes it a worthy choice is its affordable price point. For many years, the company's deluxe 14" band saw was the JWBS-14DXPRO model. With the SFX model, the brand seems to take a step up, offering more modern features. For example, it now boasts a big welded steel frame instead of the c-frame found in JET 14" models. Let's take a close look at the features that make this bandsaw a worthy investment.
Quick Summary
13 inches resaw capacity
Dual 4 inches dust ports
Machined aluminum fence system
360 sq. in. of work surface
Adjustable blade guide system.
WHY IS THIS A TOP PICK?
Steel Welded Frame
This latest addition to JET's line of versatile steel frame saws boasts a large table dimension and top-notch resaw capacity with ease of use and affordability. Plus, you get a heavy-duty, tubular steel welded construction. As a result, the bandsaw offers maximum flexibility. In addition, it is durable enough to get you intricate cuts and finish even while dealing with large workpieces materials.
Extra-large Rip and Resaw Capability
You will be impressed with its excellent resaw and rip capabilities that allow you to tackle a wide range of woodcutting tasks accurately and efficiently. For example, you can use this bandsaw to crosscut big workpieces, sawing curves for furniture and cabinetry, or slice veneers, making detailed scrollwork.
A Massive Work-surface
The cast iron table provides an impressive 360 square inches of working area, measuring 21-1/16" L x 17-1/8" W. However, the table serves as a precision surface for flatness. It can tilt 0-45 degrees, offering support for a wide variety of bevel cuts. Plus, the table's height is 40 inches from the floor, and resaw height is over 13 inches.
Pros and Cons
Pros
Stable and durable
Functional and affordable
Ensures greater workpiece support for deep cuts
Adjustments are quick and simple
Superior performance
It comes set up for 110V.
Cons
The blade guide adjusters are pretty crude
There are no wheels.
#3. Grizzly Industrial G0513X2-17" Bandsaw
Here is another great bandsaw that made its way to this list, and this one is from Grizzly Industrial. From top to bottom, Grizzly has designed this bandsaw to perform. There are heavy-duty cast iron and double ball-bearing blade guides that you will typically find on products with a hefty price tag & much more. The power and capacity are the reasons we will give this bandsaw a 5-star rating. Let's delve into more.
Quick Summary
Heavy-duty cast-iron frame
2 HP motor
3,500 FPM
Durable construction
Computer-balanced cast-iron wheels.
WHY IS THIS A TOP PICK?
Extra-wide Cast Iron Table
You may find other bandsaws in this price range featuring plastic construction, maybe to reduce the production cost. But Grizzly has made its bandsaw out of cast iron, sparing no expense. Thus, it ensures to accompany you for a long time. However, the cast-iron trunnion table has angle detents that allow you to micro-adjust and lock the table tightly in place.
Furthermore, the cast-iron wheels offer added support to the sturdy steel frame. As a result, it minimizes vibration during resaw operations.
2HP Motor
Like you can expect from a 2HP motor, it delivers impressive power to the popular 131 ½" blade to tackle hardwoods. More so, you will find a generous cutting height of 12-1/8 inches and 16-1/4 inches throat. As a result, you get sufficient cutting capacity to tackle most applications.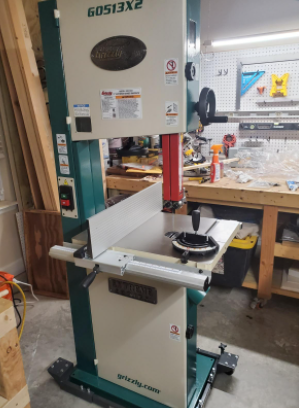 Fast Blade
You will be impressed by the amazing 3,500 FPM generated by the 131-1/2 inches long two blades. So rest assured to experience some fun usage and precise edges across each cut.
Pros and Cons
Pros
12-1/8" cutting height and 16-1/4" throat offer ample cutting capacity
Micro-adjustable
Quality construction
Double ball-bearing blade guides
Designed to reduce vibration
Fully balanced cast iron with polyurethane tires.
#4. Shop Fox W1706
If the Jet is too expensive for your budget, let's head back to the lower price range with the Shop Fox. It may not offer the same Formula One performance that the Jet bandsaw does, but it's still a great unit for the price and will cover your needs for most standard projects. Let's take a closer look at some of the things that we liked during our testing of the Shop Fox bandsaw.
Quick Summary
1 HP
14-amp Motor
1,725 RPM
Cast-iron frame
WHY IS THIS A TOP PICK?
Cast Iron Frame & Wheels
You've seen other bandsaws that feature cast iron frames, but have you ever seen one that uses cast iron wheels as well? The Shop Fox takes bandsaw wheels to the next level by providing a set that will never break regardless of which terrain you drag your unit through. This bandsaw is practically the ATV of its industry.
Powerful Motor
The 1 HP motor attached to this bandsaw operates at a whopping 1,725 RPM ensuring that you can cut through any material cleanly and without hassle. Why should you settle for less powerful units when the Shop Fox will give you the full horsepower experience at an affordable price?
Deluxe Miter Gauge
​When it comes to getting precise angles and having accurate cross-cuts every single time, nothing is more helpful to have on your bandsaw than a miter gauge. It can tilt a full 45 degrees to the right providing the flexibility that you need to get accuracy on every cut.
Pros and Cons
Pros
Affordable
Cast iron frame and wheels
Miter gauge
Cons
Complicated instruction manual
14 Inch Bandsaw Buying Guide
While no one can decide which length of blade is the right pick for you, some tips that are universal regardless of your preference and ultimate decision.
Warranty & Testing
You should always pay close attention to the warranties of your bandsaws. Some will try to leverage legal jargon so that you can't tell whether the warranty actually covers the important things like wear and tear or factory defects.
Furthermore, if you're buying your bandsaw in the store, ask to demo the product so you can spot any issues before taking it home — otherwise, the burden of proof might fall on you when you try and return it.
Feature Blindness
Feature blindness is the term we use to describe the phenomenon of consumers neglecting the price-value ratio as soon as the manufacturers throw a few bells and whistles at them.
Regardless of how many cool features a bandsaw has, you should always base your buying decision on its performance and affordability. Clean cuts and low price tags are more useful than fancy dust ports or work lights.
Manufacturer Track Record
Bandsaws are pretty big investments. Much like any other investment, you want to ensure that your money is in good hands. The best way to do that is by sticking to a bandsaw manufacturer with a good record.
While there are some who argue that brands are irrelevant, we respectfully disagree due to the fact that you can be far more certain that a product will live up to your expectations if it's crafted by someone with decades of experience and consumer praise.
Furthermore, a reputable manufacturer will be more willing to provide support in the event that your unit arrives with any factory defects — whereas a smaller company may choose to ignore customer concerns or work through the return process at a sluggish pace.
Conclusion
We hope that you enjoyed reading our 14-inch bandsaw reviews. If you did, and it helped you make an educated decision on which bandsaw to buy, we ask that you pay it forward by sharing this article with your friends who might also be planning to buy one.
Feel free to contact us and share your opinions on which bandsaws are the best in your opinion and why. We're always happy to consider the opinions of our readers.