The ultimate dream should be to have your own little cabin in the woods, beside a crystal-clear water stream, amongst the surrounding mountain peaks, and amidst 100-meter long pine trees. There is no better way for evading the hustle-bustle of city life, other than taking a couple of nights off in your secluded cabin.
Some people make a cabin instead of a backyard shed, whereas some make a cabin in the nearby woods. Hiring an architect for this job could take anything from $50,000 to $300,000. But if you embark on completing either of these DIY cabin plans, you can achieve an architect-inspired cabin for under $5000.
These 19 free cabin plans consist of big and small cabins. Some are made purely of logs, some of bricks, and some of concrete. The diversity in roof patterns extends from A-frame, gable, valley, and even bonnet roof designs. 
A reasonable amount of dedication and quality materials could equip you with a beautiful cabin for the present and future decades. We present to you 19 truly intriguing, exciting, and visually capturing DIY cabin plans.
1. DIY Free Elevated Log Cabin Plan
This plan is loaded with sections for preparing the land, log walls, gable roofs, windows, porch, cabinets, and future enhancements too. When you see the in-house log staircase and log-fuelled front porch, you'll feel like this is a cabin from the 16th century.
The windows are reflective in nature to repel bears and other forest animals. There's also a kitchen area in the cabin to make it as homely as possible.
2. DIY Rustic Nordic Cabin
Building a cabin home with a chimney, elevated front porch, and several single-hung windows with 4 frames each, for under $6100 is an absolute win-win. There is also a sleeping loft above the front porch for increasing the capacity of this cabin.
This 14-by-20 foot cabin plan has plenty of diagrams, and a complete description of how to build the foundation structure, wall framing, roof framing, etc.
3. 12-by-20 DIY Cabin Plan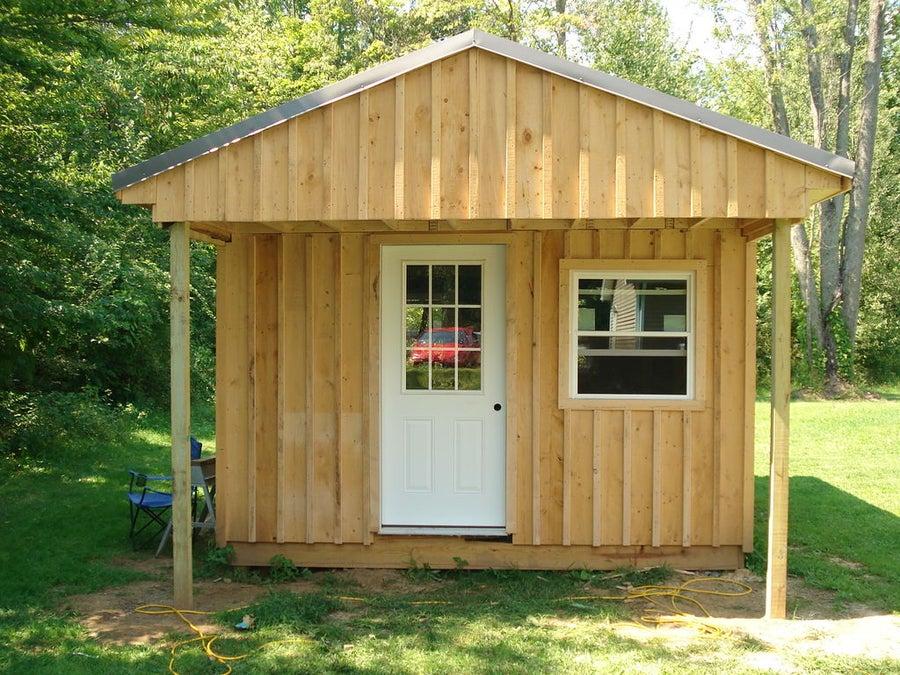 This DIY cabin plan can be completed at less than half the price of the previous plan. While being 12-by-20 foot in size, it is also compact and comes with a front gable and 4-foot porch for a fair amount of sheltered outdoor space.
Your end product will have two single-hung windows at the back and one at the front, along with a 9-pane front door.
4. DIY Cabin Plans With Solar Panels
You can use this 8-by-8 free-standing shed as a cabin, workshop, office, or even a guest retreat. The front roof uses solar panels to power this cabin and thus comes under the category of renewable energy-oriented DIY cabin plans.
One could consider this an off-the-grid cabin with an exceptionally attractive front porch design due to the 6 rugged pillars.
5. Low-Cost DIY Cabin Plans
Could you believe this A-framed roof cabin can sleep 5 people? It took this group of DIYers only 5 days and $1000 to complete this free cabin plan. Painting it with redwood-colored preservatives and using quality plywood on the walls could help in elongating the lifespan of this cabin.
6. Cottage Wood Free Cabin Plans
This cottage wood DIY cabin plan could help prepare your hunting retreat. The bunkie lets you invite overnight guests, whereas the fenced front porch section creates a perfect chilling zone right on the doorstep of your cabin.
The guide has an extensive list of materials needed, working equipment, and several engineering drawings to help you throughout the course of this DIY cabin project.
7. DIY Log Cabin Plan
If you're an individual that possesses a stock of high-quality woods then think no further and get to work. Be warned, you will spend plenty of time preparing the logs. Additionally, seating the furnished trunks could be hard, based on the level of precision you have followed in the earlier steps.
8. 100$ Stabbur-Themed DIY Log Cabin
This DIY cabin plan takes inspiration from the traditional "stabbur" design of Norwegians. A slightly raised foundation using stones, wider eaves, and small windows are the eye-catching elements of this cabin. The eaves will repel rain and snow from clogging your cabin entry.
All credits go to the uncomplicated design. The 10-by-13 feet insides also comprise of a loft, thus significantly increasing the cabin surface area.
Mechanical Drawing then this project wouldn't be as hard.
9. DIY Keops Log Cabin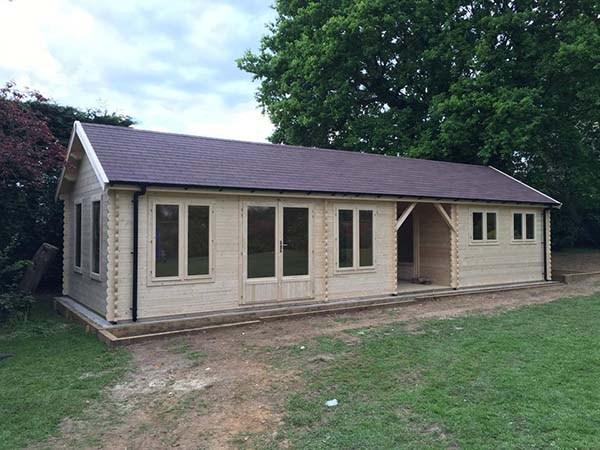 This long log cabin can be used as a gym or even as a family yoga retreat. You will be fitting EPDM rubber roofing on the top and a concrete base on the bottom. There are separate videos in this comprehensive guide to help you through each phase of this DIY project.
Additionally, the veranda will leave you thrilled. Do follow the wood treatment techniques to maintain the desired aesthetics for as long as possible.
10. Free DIY Simple Cabin Plan
This DIY cabin plan too comes with a hoard of diagrams and labeling that is generally sufficient to build a simple cabin. There are a bunch of additional notes for framing, roofing, and other aspects of the house.
Consider thoroughly going through the plan before finalizing your cabin design.
11. DIY Modern Cabin Plan
This open-ended cabin could also be used as a garden shed. Although installing glass or high-density polyethylene doors could make it safe for being in the woods.
You are advised to add a small platform at the front. This could be the perfect spot for a coffee table and a couple of chairs. There are plenty of tips provided to give your cabin a modern-day attire.
12. DIY 8×12 Tool Cabin Plan
This 8-by-12 cabin comes with an elevated porch attached to a staircase. What better than having chairs on your porch and watching the sunlight gleam across the pine trees and shed a ray of light on your cabin window?
Despite the cabin size and catchy roof pattern, this DIY cabin plan fits well for most people's budgets.
13. A-Frame DIY Cabin Plan
Ever thought of an all-out A-frame cabin? No hassle of building walls by cementing pieces of wood, brick, or cement slabs. This minimalistic design has been trending and the sturdiness and cost-effectiveness are two attributes for the same.
You will have access to pre-building considerations followed by step-by-step instructions on building the cabin structure. Another bonus is the presence of lessons to teach you how to acquire running water and a heating system.
14. Off-The-Grid DIY Cabin Plan
This is more of a makeover idea for a demolished or poorly furnished cabin. You will come across plenty of tips for natural lighting and kitchenette efficiency. All factors are accounted for, be it cooking, bathing, washing, and sleeping.
If you're seeking motivation then this guide should give you ample insights on how to maximize your cabin space.
15. Solid DIY Cabin Foundation
Remember, the prime element of any cabin should be its foundation. The stronger your foundation, the more you can play around with your cabin's size and specifics. This guide educates DIYers on constructing a solid foundation for a 20-by-24 feet cabin.
Ensure to double-check your ground type, overall footprint, slope, and ability to clear the land.
16. Large A-Frame DIY Cabin Plan
This is another A-frame cabin, but it comes with several spots to enjoy the view of the woods, whether it's the compact loft on the top or the spread out windows out front.
You will notice the guide flows in an opposite direction so make sure to scroll from bottom to top. Once your foundation is set and the A-frame is up, you will begin to get a sense of how amazing an achievement you are going to accomplish.
17. DIY Retreat Log Cabin Plan
This cabin is well-insulated and ideal for individuals who live in cold-seasonal regions. Make sure you put in more than required efforts for the chinking process as that will describe the durability of your cabin.
18. Cabin In The Woods DIY Plan
People looking for highly descriptive DIY cabin plans have a lot to learn from this one. You will be using metallic roofs and top-notch materials for insulation. When the cabin is built, you will be impressed by the noise and temperature cancellation within the walls.
19. One Bedroom DIY Cabin Plan
Building a one-bedroom cabin could never be easier than this. You could move in for months at a time and even make it your little home to take a break from the fast-paced 21st-century lifestyle.
This may not come amongst the free cabin plans, but the look of the corbels, gable roof, front staircase, and long porch makes it well worth every dollar you spend.
Verdict
This a type of DIY project that will top your list of accomplishments forever. Take your children for a weekend hunting trip or spend romantic nights with your better half, it all depends up to you. Several creative-minded individuals who are now millionaires once spent months in their cabin, thinking, ideating, and executing.
As cabins are usually small, a console table wouldn't be a bad idea. Also, if you think you want a rugged table on the outsides, these DIY pallet table plans should help you figure something out.