Are you looking to revamp your coffee table and improve its aesthetics? Planning to incorporate a minimalistic design that also comes with excellent value for money? These DIY coffee table plans should broaden your perspective on the number of coffee table ideas you can bring to life all by yourself.
Whether you want it in your backyard, living room, terrace, or on the front porch, these DIY coffee tables can be shifted with ease. Depending on the surrounding environment, you can consider painting these coffee tables or decking them up with materials that excite a sense of smell and vision.
25 Amazing DIY Coffee Table Plans & Ideas
Get ready to embark on a journey of creativity with a tinge of elegance with these 25 amazing DIY coffee table plans.
1. Round DIY Coffee Table
How about a tiny coffee/dining table that is molded into a design of a clock with roman numerals? This detailed guide will teach you how to cut, paint, and measure each part accurately. The result would be a beautiful round table with contrasting colors. While the legs would radiate a dark color, the table surface would shine in rustic white.
Supplies:
Pocket hole pugs

Clamps

Wood glue

2 ½'' pocket hole screws

Five pieces of 3 feet board

Basic carpentry measurement materials
2. DIY Faux Marble and Welded Steel Coffee Table
If you're looking for a solid and high-end coffee table and don't want to spend too much money, why not just make it? This beautifully crafted guide will teach you the steel-welding process, spray painting, and also placing inexpensive vinyl faux marble paper on the wood.
Before starting, make sure you clean the steel with acetone and have an angle grinder ready. There's plenty of initial cutting that needs to be done to assemble the table structure.
Supplies:
5 pieces of 3 feet long and ¾'' thickness tube steel

Welder and welding helmet

Sponges, rubber gloves, safety glasses, and wire cutters

Plywood

1 small ¾'' wide flat steel bar
There are a couple of more basic materials that you can access in this guide.
3. Thick Wood DIY Coffee Table Plan
This guide will help you build a bamboo-beige color coffee table along with a rustic looking lower shelf for additional storage. Get ready to do a lot of sanding to get the real essence of this table to your indoor setting.
The systematic working approach clearly explains the assembly process along with spot-on cutting instructions.
Supplies:
8 washers

4 L brackets

3 ½'' wood screws

Miter saw

Kreg Jig K4 pocket hole system

2'' Hex head cap screws
4. DIY Chunky Farmhouse Coffee Table Plan
You will first build the bottom shelf and the tabletop with multiple layers of wood. Up next, you will assemble the legs and use wood glue along with brad nails. Finally, the legs will be connected to the top and bottom wood layers.
This comparatively easy DIY coffee table plan will reward you with an old school coffee table with nice and thick chunks of wood. The tabletop plant-decor attachment will give you options to further beautify the table.
5. Concrete DIY Coffee Table
For people who like to have their coffee beside their fireplace, this could be a great option. The 2-inch thick concrete tabletop will sync well with a room that has stone walls, wooden flooring, and an interior design centered around brown color.
You might have some difficulty in mixing concrete if you're inexperienced. However, this step-by-step guide with images should smoothen your journey to building this epic DIY coffee table.
6. DIY Square Hairpin Leg Coffee Table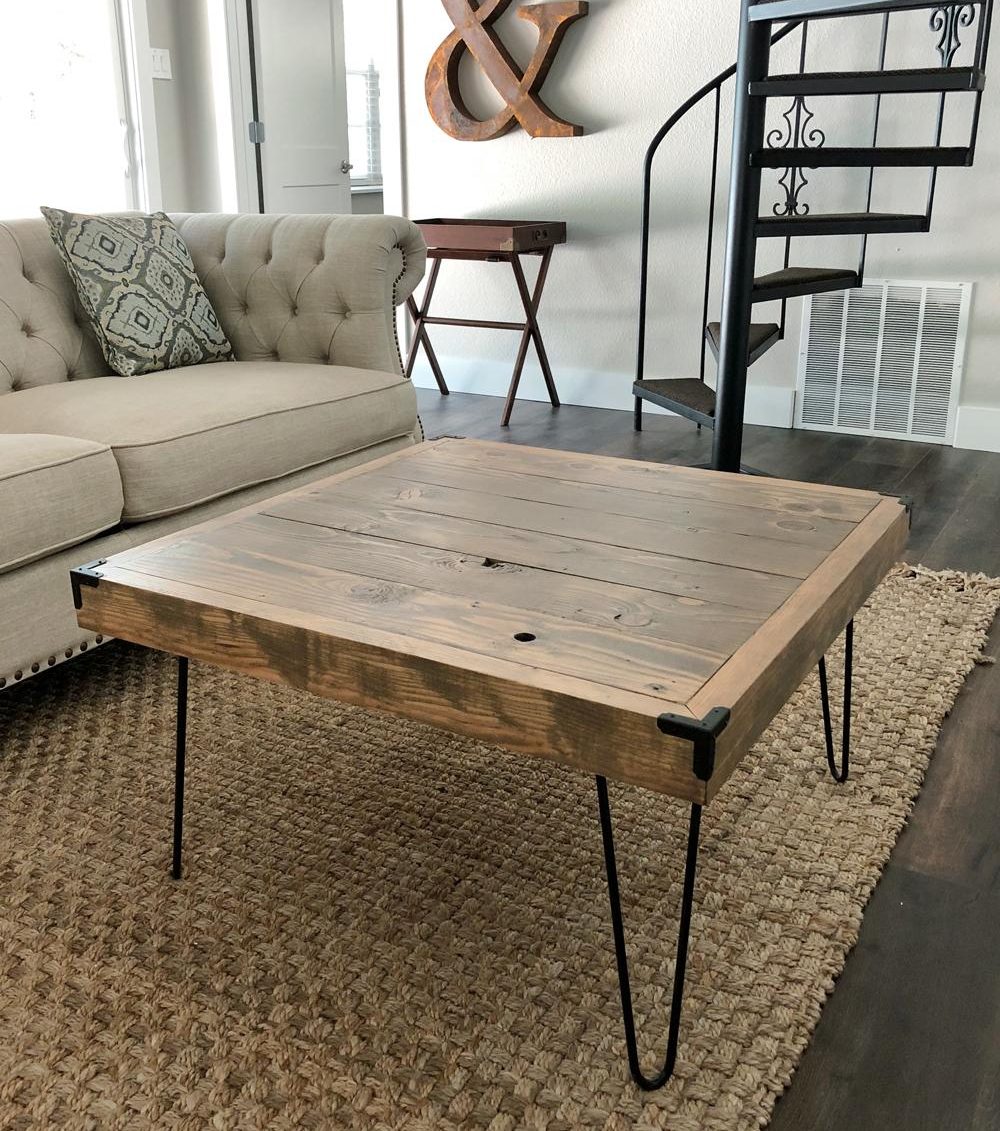 This coffee table is a classic example of simplicity with a unique construction design. Costing you just $50 (under 10 materials), this table uses hairpin legs that can be attached with any large-head screws.
Everything from the final staining, wood amalgamation, and cutting, is focused to ensure that you are rewarded with a top-quality coffee table.
Make sure you run your wooden board through a round of the table saw. This will neutralize rounded edges and give you a more definite look.
7. DIY Wooden Coffee Table
This easy-to-build coffee table uses wood as its main component. The eye-catching attribute is not only the long length of the table but also the way the shorter sides are positioned. A Tetris-like design has been created to make sure this piece of furniture stands out from the rest.
The presence of hairpin legs brings in a little extra elegance to the overall makeover.
Supplies:
Power saw and drill

Sawhorses

2 bench style hairpin legs

2.5-inch wood screws

Polyacrylic protective finish in semi-gloss

Wooden boards
8. DIY Epoxy Resin Coffee Table
Looking for a funky coffee table design? This DIY coffee table idea would mostly suit creative-minded people who do plenty of reading, writing, drawing, or anything of the sort. Since you will be using epoxy resin, make sure to keep the area well-ventilated as the chemical smell can make you dizzy.
Bonus tip: Use a propane torch at the end the get rid of the bubbles. This assures an enhanced finishing.
9. DIY Storage-oriented Coffee Table
This DIY coffee table plan relies on recycling and using old wooden furniture lying at home. Be it a door, window, cupboard, or decade-old drawer lying in the shed.
These DIYers have reused an old-wooden door as the tabletop and created a lower section that has storage solutions on either side. One side is big enough to store dozens of toys and the other side being a blanket/towel storage cupboard.
10. DIY Pallet Coffee Table
This small and versatile coffee table can be easily moved around. It also has a small book-holding section right under the tabletop. Expect to work with a goal to achieve a chevron pattern.
The whole DIY process uses multiple individual pallets and comes with the excitement of creating attractive placement-designs. As you scroll through the guide you are guaranteed to sense an eager desire to work on this project.
11. DIY Round Whitewash Coffee Table
This one-of-a-kind construction lets you change the coffee tabletop if you have other ready-to-place round surfaces prepared. Even better, the stand is a Y-shaped pattern that has a holder under each part of the "Y".
Want to place glass, marble, wood, steel, or nothing at all? Go for it! As the stand doesn't get attached to the table and is simply made for placement, you can modify it as and when you please.
12. DIY Driftwood Coffee Table
Head to the beach shore and grab some thick pieces of wood with complex turns. Place them strategically such that the grooves lock into each other. Additionally, one can even use tan screws to lock them in for security.
You are sure to not find such a coffee table base in many houses you visit.
13. Salvaged Shutter DIY Coffee Table
Got a junkyard around you? If it is maintained then the odds are you will find some antiques and sharp-looking junk doors, wood, shutters, etc.
4 L-shaped brackets, 4 hairpin legs, and a shutter stripped of hardware. There you go, you have a quick DIY coffee table idea at your disposal.
14. DIY Trestle Door Restoration Hardware Coffee Table
If you're looking for an intricate design that catches the attention of every visitor, then the lower body of this coffee table may be your best bet. You put in a decent of hard work and you can recreate a $2000 coffee table for as little as $70. No jokes!
People who have a good knowledge of carpentry concepts such as angles, load balance, and miter usage should take this up.
15. DIY Crate Coffee Tables on Wheels
How about a wooden coffee table design with a huge lower shelf storage section? You can place storage baskets to keep your remotes, magazines, books, and day-to-day table items.
The coolest part about this DIY project is the presence of wheels. Take it out to the backyard, front porch, or simply keep it in the shed when you need more space in the living room.
16. DIY Coffee Table for Modern Farmhouse
Are DIY woodworking projects a hobby for you? If yes then you may already have a Kreg Jig. With the Kreg Jig and an additional $40, you can build a beautiful white legged and brown-top table.
The presence of a single broad basket on the lower shelf helps you clear the table clutter.
17. Terracotta Pot DIY Coffee Table
This is a much smaller coffee table and is moreover a terracotta pot repurposing project for the benefit of a single individual. A little bit of semi-gloss latex paint and jute addition with a hot glue gun give you a presentable small coffee table look.
18. DIY Log Slice Coffee Table
Want to add a little bit of raw nature into your home? Look for a 30 to 40-inch log diameter piece. Use a chain saw to level the wooden surface. Also, use a belt sander and orbital sander to bring about a smooth finish.
Finally, apply a few coats of polyacrylic materials and attach the logs to IKEA Marius stool legs. There you go, you have made a coffee table under $7.
19. Wire Basket Coffee Table
Whether it's from a dustbin or an old baby-chair at home, get your hands on a wired basket. Simple flip the basket over and place a tabletop of your choice. This project shouldn't take you more than a couple of hours provided you've figured out the tabletop material.
20. DIY Wood Crate Coffee Table
Learning to lead a lifestyle of sustainable living? Use around 4 wooden crates and keep them beside each other. You can even stick them using wood glue, for a better "collective" table surface area.
21. DIY Mid Century Side Coffee Table
This guide uses a cake pan to create the main base of your coffee table. As you can see, the legs with grip-providing stoppers comprise of the base and the upper-end has a movable wooden covering. The upper surface gives you a unique kind of storage area along with a detachable tabletop.
22. Gold and White Stenciled Coffee Table
One can always modify their existing coffee table to give it a classy and much-needed makeover. This coffee table has been coated with old white, Olympic gold, and polyurethane. After the coating, you can stencil the table and give it a rich look as above.
23. DIY Modified Tray-like Coffee Table
Get your hands on a cheap TV tray table and turn it into a fancy, thought-provoking, and vibrant coffee table. A little spray paint along with circular hooks and rope designs improve the aesthetics by a considerable margin.
The best part is the portability that a coffee table like this offers. Being lightweight and semi-foldable, you can even take it on trips.
24. DIY Ballard Knockoff Spool Coffee Table
This coffee table offers way more than its elegant component usage. If your lift the lid you have a cylindrical storage room. Even better, the guide is detailed and teaches you how to carefully implement the smallest of steps.
Supplies:
Stencils

Stain

Black craft paint

Brushes

Glue

Fabric

Screws

2 round-wood pieces

Basket

Rope
25. DIY Sheet Music Coffee Table
If music is your thing and you have an idea of reading musical notes then why not theme your coffee table as such. Throw in some antique staining and a couple of glass pots of wet mud. Who knows, this may be a stepping stone to becoming the next Beethoven?
Verdict
Surprised at the number of DIY coffee table ideas? So were we. You now have options that require zero money, single-digit dollars or are under $70 DIY coffee table solutions.