A console table not only offers you storage space, but it also lets you place decorations, showpieces, and everyday household essentials. You can have it in your living room, kitchen, bedroom, or even along your hallway. The whole point of these tables is to provide you convenience, either by additional drawers and shelves, or a long surface for organizing items.
We have created a list of 16 simple DIY console table plans to motivate and assist you in this no-brainer project. Apart from the mandatory woodworking, you can also choose among DIY console table plans that use steel, copper, or industrial pipes.
1. $30 DIY Console Table Plan
If your walkway is blocked due to the end table beside the sofa, then why not move the sofa a little ahead and install a console table behind it? Some people may not even have to change their sofa position, if space exists behind the couch.
The mainframe is assembled by a few pieces of wood that are drilled and glued together. Make sure to follow precise measurements otherwise merging the 2 halves of the mainframe could be a hassle.
2. DIY Pottery Barn Console Table
This table exhibits a basic design with a longer main table surface area. The frame holding the table is assembled via accurate calculations to help you stack items beneath, if needed. When you compare the price and outcome of the product that inspired this DIYer with your final product, odds are you won't be able to tell the difference.
Do follow the painting and staining instructions to get a steel-like look for the wooden legs.
Supplies:
4 pieces of 1×2 Pine Wood

1 piece 2x12x12 Pine Wood

Dark Walnut Stain

Gray Paint

Rustoleum Oil Rubbed Bronze Spray Paint
3. Broad Wooden DIY Console Table
Building a console table yourself in under $25 is no joke. This DIY console table plan will reward you with a broad table that takes minimum space in either room of your house. Also, ensure you use a wood conditioner before beginning the staining process.
As you would not be purchasing refined and high-quality wood, chances are it would have a porous structure. Thus the wood conditioner helps to assure smooth and uniform staining.
Supplies:
One 8-foot Board of 1×12

Six 96'' 2×3 Boards

Drill Machine

Sandpaper

Wood Stainer, Filler, and Conditions
4. Copper DIY Console Table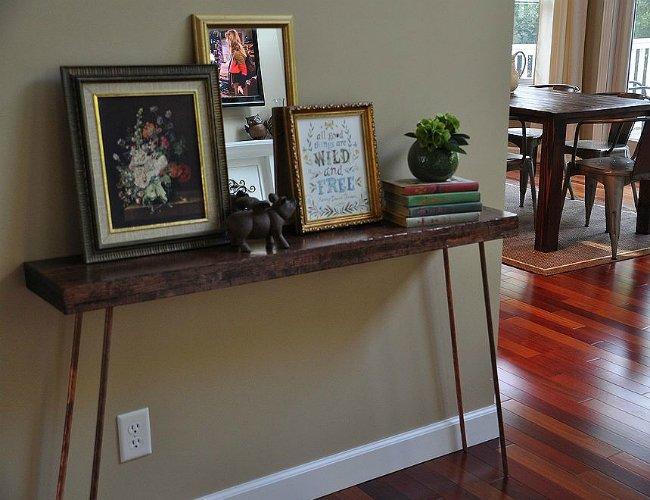 How about using copper grounding rods to give your console table a more sleek outlook? You will be allocating the rods a tight-fitting for sturdy legs.
The extremely thin support structure is more of a minimalistic design. This is the reason people with space issues can benefit from such DIY console table plans.
5. Rustic DIY Console Table
For DIYers who want this elegant looking console table to be constructed with ease, you have to use a thin drill-bit while pre-drilling holes. If you don't, there is a possibility the wood can split while trying to assemble the complex side shapes.
This step-by-step tutorial has visuals and easy-to-understand directions to help you. Even better, there are two shelves below the main table surface. Put up flowers, books, or even photo frames. In fact, there is enough space for all three.
6. Simple DIY Console Table
The solid built of this console table must be attributed to the thickness of the wood. Expect to use quite a few pallets for the upper and lower surfaces. For added functionality, it would not be a bad idea to install wheels. You could then even use it on your patio as a snack table.
7. DIY Buffet Console Table
The perks of having a versatile table in your home are unmatchable. Especially if you live in an active family. Use this console table as a kitchen island, buffet table, or on-the-wall buffet table.
A lot of the beauty of this DIY console table depends on the type of legs you choose. To achieve a desirable outcome, work towards looking for cheap but strong colonial-style posts.
8. Behind The Sofa DIY Console Table
Compactness is the perfect term for such a console table idea. Although this could take a while for an intermediate woodworker to build, the guide has got your back to the very end.
There are a total of 4 storage compartments added too. 2 on either side. The fact that it's a behind the sofa console table, makes it a unique and effective piece of furniture at the same time.
9. Farmhouse DIY Console Table Plan
As we have mentioned, a console table can be designed in several ways. This plan comes with an extremely efficient architecture. The cabinets can be used to store your expensive dining equipment. Whereas the side shelves can be decorated with a Blushing Bromeliad or an Amaryllis flower bucket.
The three shelves inside the cabinet can be used to place wine racks. Also, the rustic farmhouse design should suit most home interiors.
10. Old School DIY Rustic Console Table Plan
This may not be compact, but it definitely provides plenty of added storage. Console tables with drawers are what attract DIYers to venture onto building this structure.
There may be slight confusion regarding the drawer sides, thus ensure to double-check the material and cut-list to prevent cutting extra wood.
11. DIY Industrial Pipe Console Table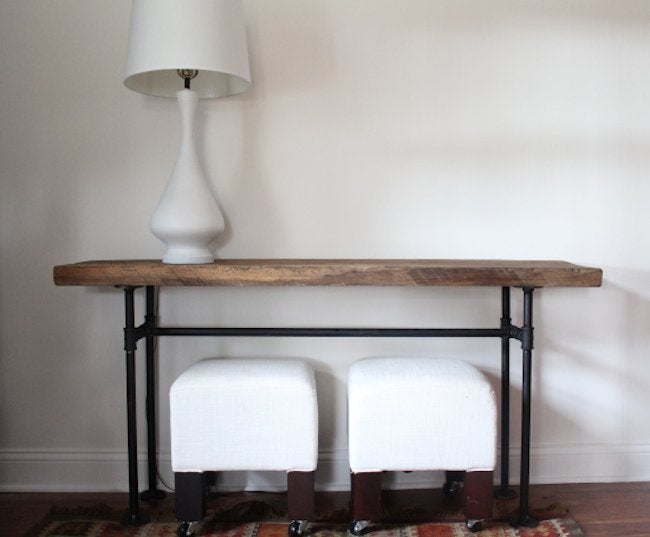 Now, this is a classic budget DIY console table plan! Literally, one strip of thick wood and an amalgamation of several pipes and you have a durable table in any part of your home you like. The ruggedness also makes it similar to a country-side bar table.
Do not forget to get the right kind of floor flanges.
Supplies:
4 pieces of 21'' ¾ diameter nipples

6 T's of ¾

Wood Screws

1 nipple of 5'' ¾ for leg joints

8 floor flanges (3/4)

1 can of Rustoleum High-Performance Enamel in Flat Black
12. Reclaimed Wood DIY Console Table
Out of all the DIY console table plans mentioned above, this is the simplest to build. When you access the guide and details, a natural sense of systematic construction will kick in.
Within 11 steps you will be rewarded with 5 drawers, a pallet-oriented lower shelf, and a framework that will remain in top-notch condition for years to come.
13. Diverse Usage DIY Console Table Plan
This multipurpose console table has been transformed to be able to store a mini-fridge, microwave, and also hold a snack shelf. All this with a super-cool barn door that slides across the length of your table.
You can either access the video guide or the detailed step-by-step instructions to succeed in creating this masterpiece.
Due to its big size, this is a good option for people who want to place a console table on wall corners.
14. Bookcase DIY Console Table
Got a bookcase or bookshelf? You can easily reuse them to build a compact 9 cabinet console table. Due to the upcycling process, there is minimal amounts of wood cutting and assembling that needs to be done.
Although it would be best to be ready with a miter saw and table saw to build exactly what you see. The USP of this console table is the groovy lower structure. When you color code the top and bottom front surfaces, it syncs perfectly well with the white background of the cabinets.
15. X Designed DIY Console Table
This DIY console table plan makes use of an intricate X-shaped side view design. That too 4 of them! However, the X wooden structure is added after building the remaining part of this piece. This makes it much easier. Also, when you have to use only wood glue and brad nails, you are free of troublesome corner-to-corner drilling attachments.
Looking for a console table for your barn or for your bathroom? This rustic console table shall suit both environments.
16. DIY Modern Console Table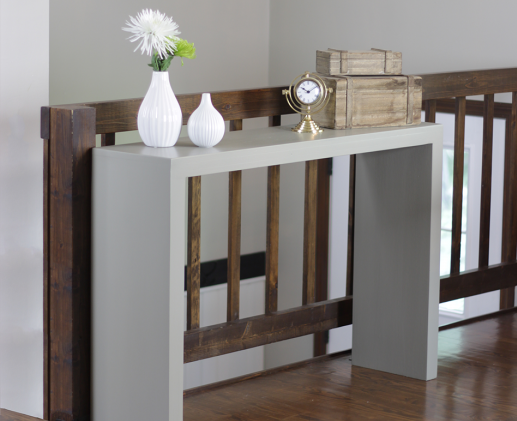 A 3-piece console table as such radiates a contemporary aura. It is pleasing to look at and requires a simple lap construction procedure. When you combine the slim depth and proportional thickness, you will realize how ideal this is for your entryway.
4 hours of your afternoon and less than $100 are enough to help you accomplish the easiest DIY project you've ever worked on.
Verdict
There are enough designs here to suit requirements that come with varying height, width, materials used, and usage options. Also, you have no limitation as to where can these console tables be placed. Want to keep it in your backyard as a mini-bar table? Go for it.
If you need something that takes up even lesser space then have a look at these DIY end table plans.
Don't have a sofa as yet? Here are some DIY sofa ideas to help you out.