Need a little piece of furniture right beside your couch? Too lazy to move to the front table to pick your cup of coffee or the TV remote? Want to keep your go-to materials within touching distance on your comfy spot? Well, an end table is just what you need.
Many homeowners head to the furniture store to purchase a beautifully crafted and aesthetically pleasing end table. On the other hand, plenty of them also takes up a DIY end table project. When you take up a DIY project, you can paint, modify, and beautify the end table precisely as per what you have in mind.
15 Incredible DIY End Table Plans & Ideas
There's no better way of acquiring the perfect end table, other than making it yourself. We have curated a list of 15 of the most incredible DIY end table plans to help you easily recreate your furniture designing goals. 
1. Simple DIY End Table
This end table requires you to use 4 pieces of thin spruce wood. 2 long legs about 70 cms in length and 2 sets of 2 legs each for the base, at 34 and 30 cms respectively. Typically, wood glue should do the job in keeping this table intact. Although, if you plan to place heavy materials on it, consider screwing it and then applying putty.
If you're looking for something extremely simple and have white and grey as your room's background colors, then this DIY end table plan could be perfect.
2. DIY Wooden Crate End Table
Looking for a rustic end table for your living room? This wooden crate end table will definitely make you stand out from the rest. Even better, you can install it with a chess-sheet if you get the dimensions right. Another benefit is the added storage space you get.
A little bit of painting with antique white acrylic paints and a decent amount of glazing and sandpaper scraping is what you need to do. Ensure you choose the right hinges and wheels to attach under the table's legs.
3. DIY Acrylic End Table
4 shiny brass corners, a set of folding legs, one 16 by 20-inch acrylic box frame, and you have created a minimalistic end table for the living room. The guide educates you on the type of sandpaper to use, spray painting pattern, and on to manipulate the brass corners to get a stronghold of the frame.
As the surface would be transparent, you could also attach some drawings or work notes on the lower side.
4. Elegant DIY End Table
This DIY end table will reward you with two layers of storage space. Firstly, the classic top section would be just perfect to place some form of ambient lighting. Secondly, the lower base is double the length of the upper base. This lets you stack books, showpieces, or even a pretty flower vase.
Put in extra effort on the staining process to give a dashing and subtly vibrant feel to the end table.
5. DIY Copper and Leather End Table
A few strips of leather with loops on either side to firmly attach them to the copper pipes and you're all set. The best part of this DIY end table plan is the freedom you get to choose your weaving pattern. You can either choose a diagonal, horizontal, vertical, or even a crisscross design.
The real deal will be evident when you polish the copper pipes with homemade white vinegar along with a mixture of water and salt.
6. DIY Paint Stick End Table Top
This end table comprises of a herringbone design that mainly showcases its V-shaped weaving pattern for a one-of-a-kind end tabletop design. If you have a side drawer table lying around, all you need to give it is a little surface makeover to make it adaptable to your living room interiors.
Don't have a sided drawer table? No worries. You can purchase one for as cheap as $10 at your nearest lumberyard or on craigslist!
7. DIY Narrow End Table
Narrowness is the key attribute of this DIY end table plan. This guide gives you detailed information on the length of the wood pieces, material specifics, and a visual cum textual step by step manual of the end table.
Apart from making a cute small end table, you also get access to a tiny drawer to store essentials. Also, you're not finding a guide as well-presented as this.
8. DIY Tree Stump End Table
Ever thought of a log of wood as an end table in your home? Well, this is your chance to throw in an old-school aura into your living room. This guide will help you convert a thick log of wood into a presentable and good-looking table.
You will be taught how to smoothen the surfaces and give the wood a bright color that appeals to the naked eye. The whole process of removing the bark could be an entertaining part of this DIY mission. We suggest you do this outdoors on a good-weather day.
9. DIY Pipe Crate End Table
This is just a glimpse of how much you can do with a crate. This DIY expert has used several pieces of ½ inch copper piping to create a solid structure to hold the crate, which would also be your end table.
Expect to find all the details regarding top-coating, hinge types, and the ideal paint for a wooden crate.
10. DIY X-Leg End Table
This 10 step tutorial also has a video to make things simpler. The wood-cutting for implementing the X-shaped stand may get complicating. Thus make sure you get a clear idea of each woodworking step before you begin.
As this DIY end table plan comes with a drawer too, you have to verify that the base above the X-stand is leveled.
11. DIY Wire Basket End Table
Easy-peasy! That's an accurate description of this DIY end table idea. You are literally creating an end table without using any power tools.
Look for a wired-basket on eBay, Craigslist, a yard sale, or probably just use one lying at home. Paint it the color you like and use cable staples to merge it to the wooden surface you choose.
There are plenty of wood-coats in the market, choose one that best fits the room's color-combination.
12. DIY Brass End Table
A couple of aluminum metal sheets and two wood rounds would be your primary components to build this DIY end table. You have to use top-quality embroidered threads to tie to sheets properly. Remember, if these threads aren't good, you won't ever be able to attach the wood rounds.
The intricate design of the brass body could be molded into a zen-like look. Ideally, choose the color as mentioned in this guide.
Read more: 16 Easy DIY Console Table Plans & Ideas
13. DIY Outdoor End Table
This is a classic example of a multi-purpose DIY end table. You can even use it as a little outdoor bench for one! You have assured a heavy-weight table that can easily hold drinks, food, books, or even a couple of flower pots.
The usage of old wood is what makes it perfect to bare all kinds of weather.
14. DIY Sofa End Table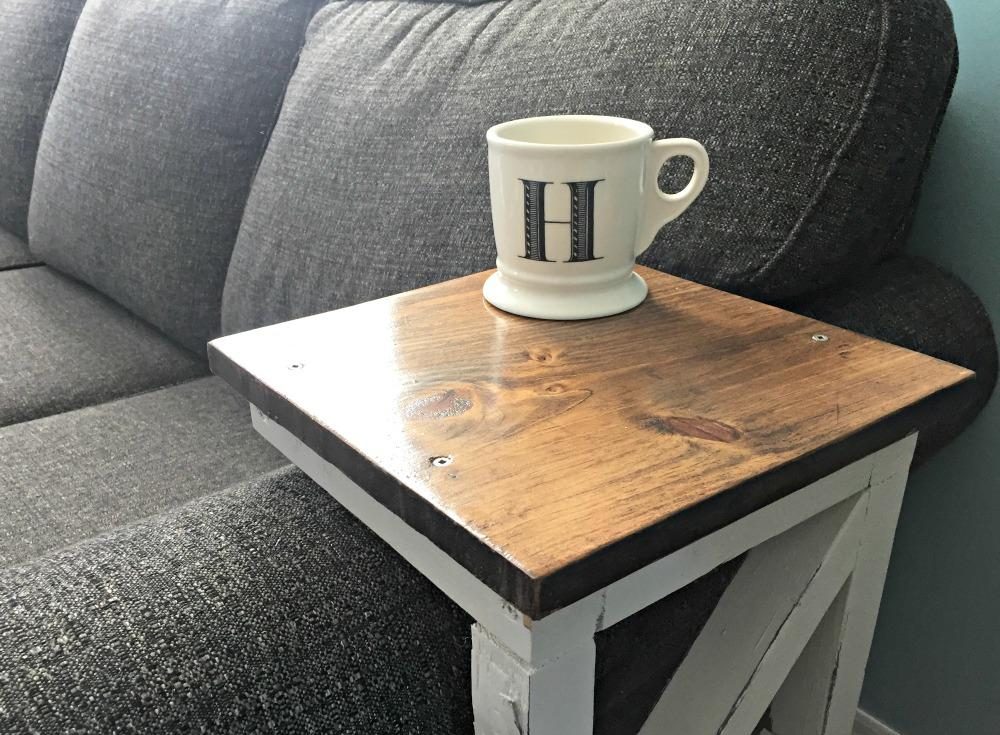 If you are an amateur in carpentry tasks and would need help all along the way, this guide is just for you. More than all, you need an uninterrupted focus when operating the drilling machine to make several holes.
If you got scrap wood lying around, this DIY end table plan could cost you under $15. Give this woodworking guide a quick read to upskill your knowledge for such tasks.
15. DIY Pallet End Table
This guide uses pellets to create 2 different base levels, each being heavy-duty and elegant. DIYers who opt for this plan would land up with an end result of a mature looking amalgamation of pallets, forming a small and ideal-sized end table.
Conclusion
The difficulty levels of each of these plans vary from easy to mediocre to hard. Even if you think you wouldn't want to work on a harder project, the simplicity with which each guide teaches you the process is well worth it.
Don't have a couch for your end table yet? These DIY sofa plans should help you out.