DIY Wood Pallet projects have been all the rage the past few years, and for good reasons. By upcycling scrap pallets, you're doing both your wallet and Mother Earth a favour. Not only that, pallet crafts are a great way for beginners to get into woodworking.
From floating shelves to swing beds, festive coolers to wine coasters, we've curated the prettiest pallet projects just for you. Whether you're looking for a simple toy to entertain the little ones with, a whole playhouse to wow them, a functional piece of furniture on a shoestring budget, or just a decorative ornament or two, we've got it all. Right here, in this comprehensive list of 60 DIY Wood Pallet Projects.
---
1. DIY Pallet Coffee Tables
Glass coffee tables look all the way classy and elegant, but if you prefer a more rustic, casual look for your room, these coffee tables made of wood pallets are sure to perfectly fit the spot.
To showcase a new coffee table in no time, stack up two large four way entry wooden pallets. It is up to you if you want to give it a little makeover — coat it with paint (you may paint it with whatever color you want, maybe a bold color to make it the focal point of your room then leave everything subtle), stain it to achieve a classic vintage vibe (staining also allows versatility), or install caster wheels to each corner to easily move it around when you need to. Just make sure to sand off the sharp edges to prevent yourself, your family, and your guests from getting nasty splinters.
If you don't want to see spaces in between slats on your coffee table, opt for a two way entry, close boarded wood pallets. There are different types of wood pallets to choose from so you might want to familiarize yourself with them and choose the best one that will suit your DIY wood pallet project.
Finish it off with a few tablepieces that will complement both the coffee table and the room — flowers, candles, and picture frames.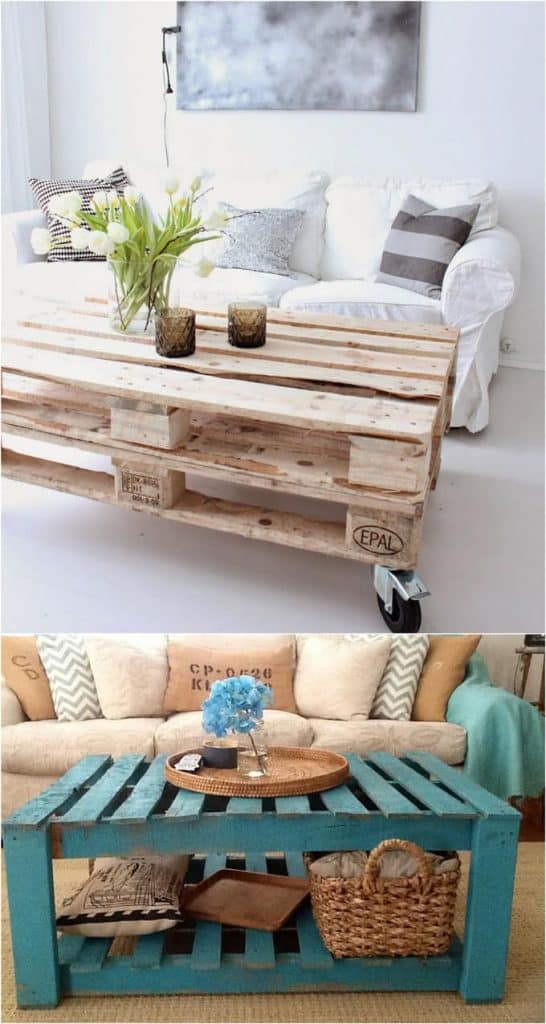 ---
2. Upcycled Pallet Serving Tray
Do not dispose of an old wood pallet just yet! With just a few modifications, you can transform it into a functional serving tray.
What you need to do is cut a close boarded pallet the size of a serving tray, then secure the board on both ends with slats on two sides. Add drawer handles of your choice to make a DIY serving tray. You may want to stain, paint, or design your DIY serving tray before using it for the first time. The photo below shows a weathered wood paint effect.
Now you're ready to start serving tea and pastries to your friends.
---
3. DIY Outdoor Pallet Bed Swing
Here is a wood pallet project that will capture the interest of both kids and kids at heart. Swings are great for backyard use, but why not upgrade it to a bed swing so that more people can sit back, relax (and even sleep!) at the same time?
If you have two large wood pallets, you are almost there to creating your very own bed swing. Make a headboard out of another piece of wood pallet, then tie the frames up using a sturdy rope. Add cushions and pillows, then hang colorful lanterns that can be lit during the night.
Safety tips: Make sure to tie the ropes properly and do not hang the bed swing on too high. Find a place that is shady and does not get wet all the time. Also, secure the items that you hang on the topmost wood pallet to prevent accidents due to falling objects.
Surprise your kids or your partner with this and you will surely get their smile of approval.
---
4. Wood Pallet Herb Planter
Are you fond of spending your time in the kitchen and tending to your herb garden?
Most chefs and home cooks cannot live without fresh herbs so they grow their own herb gardens. If you haven't put up one yet or you're running out of ideas on how to design your own, consider using wood pallets.
A single pallet can hold almost 12 different herbs. First, you either stain or paint your pallet. Then add the necessary slats to make soil pockets. Position your pallet on the wall (check the photo below) to save space. Start growing your herbs or re-planting your grown herbs in each soil pocket. You may also alternate herbs and flowers to make a pretty pattern effect.
To make your herb garden more visually appealing, place chalkboard stickers to label your herbs. Now your herb garden is both functional and decorative. Happy planting!
---
5. Rustic Wooden Pallet Chandelier
Chandelier fairy lights? Why not! If somehow you will need a makeover that will surely make a big difference in your private space, save that wooden pallet and create something magical out of it.
To recreate this rustic wooden pallet chandelier, do some staining with your pallet, hang it on the ceiling, then add your fairy lights in each deck spacing. Easy?
To make it a little shabby chic, paint the wooden pallet white or light pink by using the weathered paint technique.
This wooden pallet chandelier also makes a cool decor for weddings and other themed occasions such as baby showers, bridal showers, proposals, etc.
Transforming your space to become inviting does not need to be super costly. All you have to do is think outside of the box, let that creative juices flow while planning to create some DIY projects, and commit to using the old items that may be up-cycled into beautiful pieces.
---
6. Shark Silhouette Decor
This shark-themed piece of art is great for rustic, coastal decor, or for your child's bedroom. You'll mainly need just pallet planks, a band saw, and wood stain, so it's thrifty too.
Try using Weathered Oak wood stain, it gives the art a distressed, driftwood look that really fits the beach theme.
Buy Weathered Oak Wood Stain Here
You can use either the shark piece itself or the inverse as your wall decor. You can also try painting the piece in shades of ombre ocean colors.
---
7. Simple Wall Art With Antlers
This amazing antler art fits great with neutral-toned bedrooms, but you could hang it up above your fireplace too.
Make the decor really stand out, by staining the pallet into alternating shades. For a thrifty method, use tea to stain every other plank a darker shade.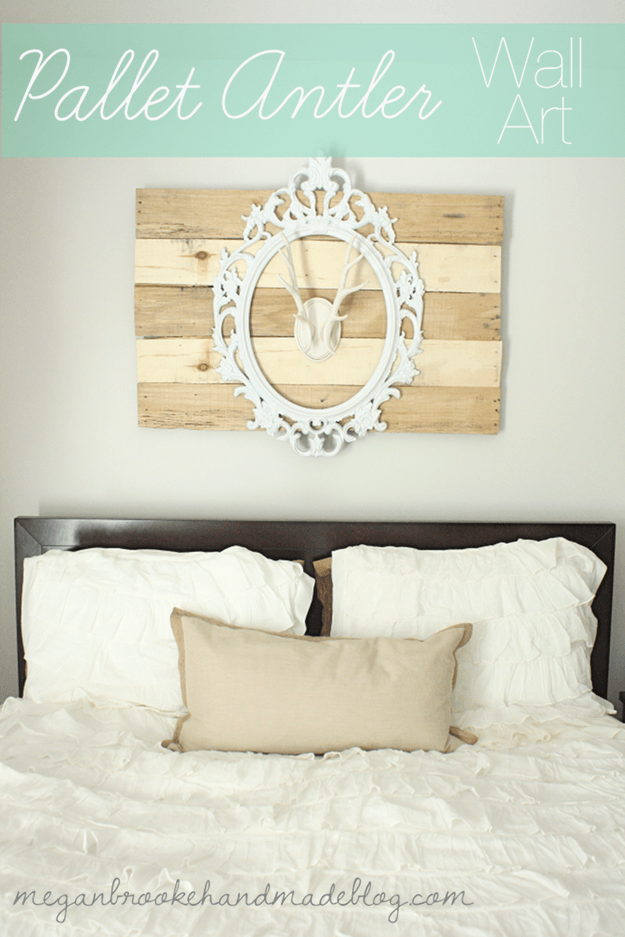 P.S. In place of faux antlers, considering using a faux deer head. This version is white with bronze antlers, so it fits the neutral theme just fine. The added deer head gives the art a grander and fancier look.
---
8. Christmas Tealight Tree
Cut down on cleanup with this modern twist on the christmas tree.
To make a wooden tealight "tree", drill holes into the middle of pieces of pallet wood. Carefully arrange the pieces, so that all the holes align but the pieces are spread out in different directions. Do this for each layer of your "tree", holding it all together with a central pole of piping which goes through the holes. Add some tea lights to the ends of your branches to light up the room.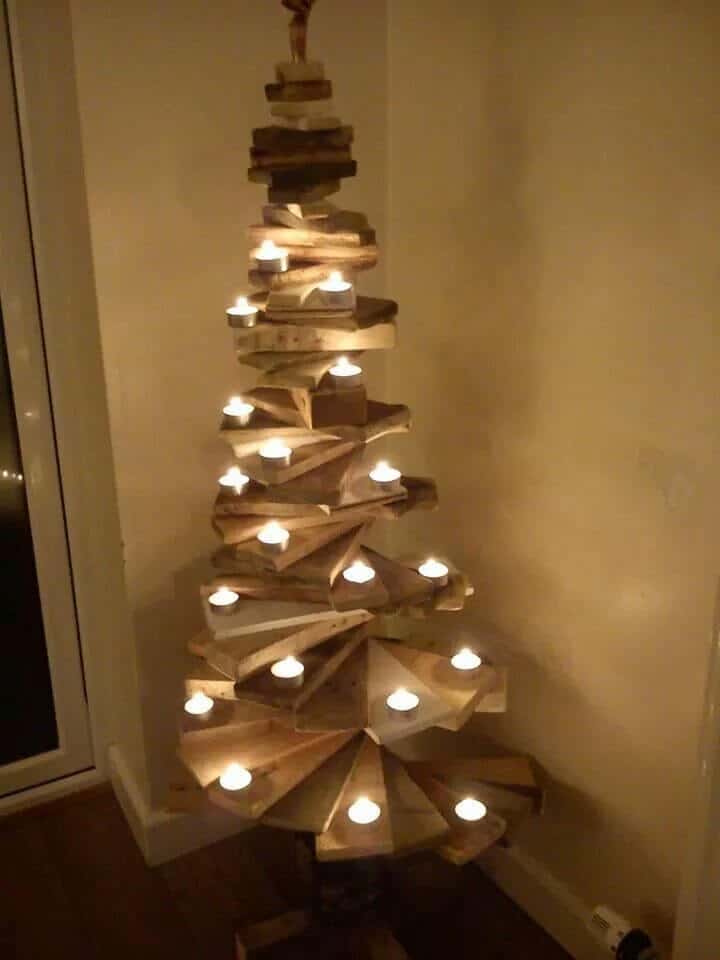 ---
9. Painted Pallet Flag
This simple painted craft is brilliant for many occasions. You can hang it up permanently, or just bring it out for 4th of July festivities.

To make the U.S. flag for this craft, you'll just need pallet planks, paint, and of course a star stencil.
It's super thrifty, and you can always make smaller pallet flags, so go wild with painting up a variety of flags for your whole house, like your state's flag or a miniature flag that shows off your favorite football team.

---
10. Pallet Puppet Theatre
A pallet puppet theatre is great for setting the stage for any home puppet show. The adorable DIY theatre could help your child get into the hobby, which would surely improve their speaking skills.
Pop off the second and third boards of the pallet to create a window. Paint the pallet a beachy blue, and spruce it up with curtains and mini flower pots. Be sure to add a chalkboard label for writing showtimes on– they're cute and easily wipeable.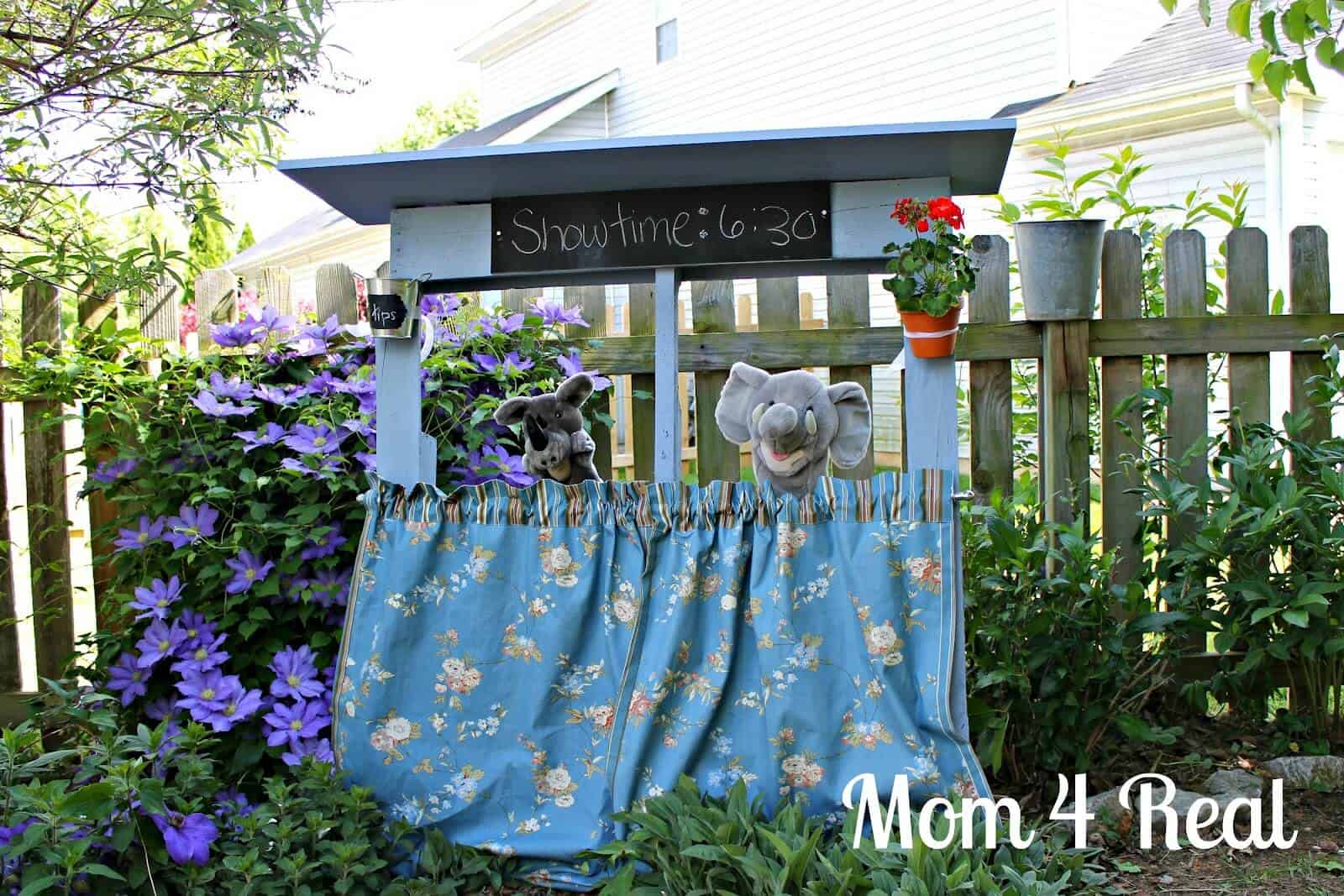 ---
11. DIY Illuminated Bed Frame
To light up your room with party vibes, try making an LED-lit bed frame. If you match your sheets and colored lighting just right, it's also great for 80s or futuristic vibes. For this craft, you'll mainly need wood pallets, paint, and ropes of LED lights.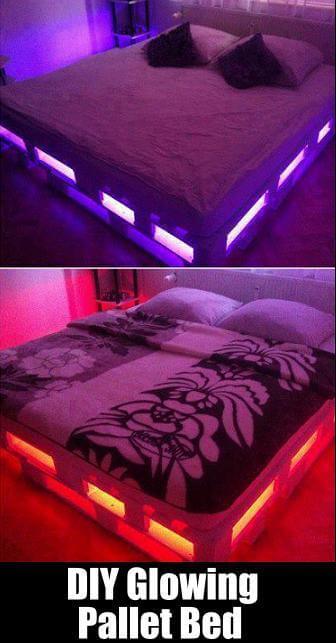 Once you're finished assembling the bed frame from pallets, consider adding felt furniture feet to the "legs" of the frame. This prevents your floor from scratching. To make your room glow, add the LED ropes to the underside of your bed frame.
---
12. Weathered Pallet Sign For The Summer Season
Spruce up your beach party with this DIY pallet sign. The letters are painted in peppy, pastel colors to show off some summer cheer.
Prep your pallet as usual (taking it apart, sanding etc). Pallets can "eat" up paint, so try applying a neutral-colored base of chalk paint first, so that your paint jobs will go on more smoothly.
Buy Chiffon Cream Chalk Paint Here
For the letters, you'll need an adhesive vinyl stencil (to paint cleanly and easily), and acrylic paint. You'll also need wood stain to weather the sign.
---
13. Quirky Coffee Table With Hairpin Legs
There's lots of good pallet coffee table crafts out there, but this is one that's sure to stand out. The quirky hairpin legs of this DIY table fits perfectly with any eclectic decor. It's got a handy storage compartment too, to store and show off your coffee table magazines and books.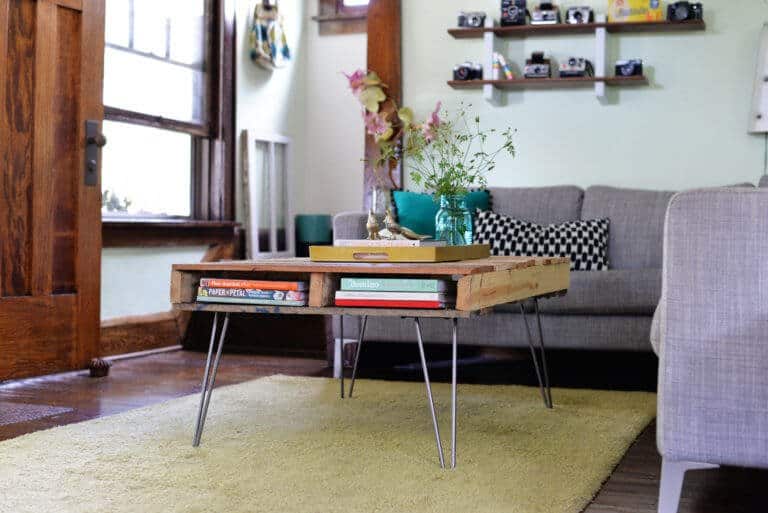 Grab a set of 4 hairpin legs here.
All else you need are just pallet wood, varnish to protect the wood, and various hardware tools.
---
14. Colorful Coat Rack
Forget dowdy coat stands— try out this fun, cheery coat rack made from a wood pallet, hooks and a few coats of paint. It's a great way to showcase your accessories, and it's sure to liven up your sitting room.
Start by removing and disposing of the bottom deckboard. Sand the surface of the pallet, then give each plank several coats of a different color. For the best results, let each coat dry before sanding a little and applying the next coat.
---
15. Customizable Canopy Bed Frame
A canopy bed frame is great for sprucing up your bedroom, no matter your aesthetic preference. Want to feel like royalty? Drape luxurious, grand curtains over it, for a touch of grandeur. Going for a carefree, eco look? Use breezy, daylight curtains instead. Afraid of a smaller room looking cramped? Make it modern and spacious, by tying away the curtains to the frame.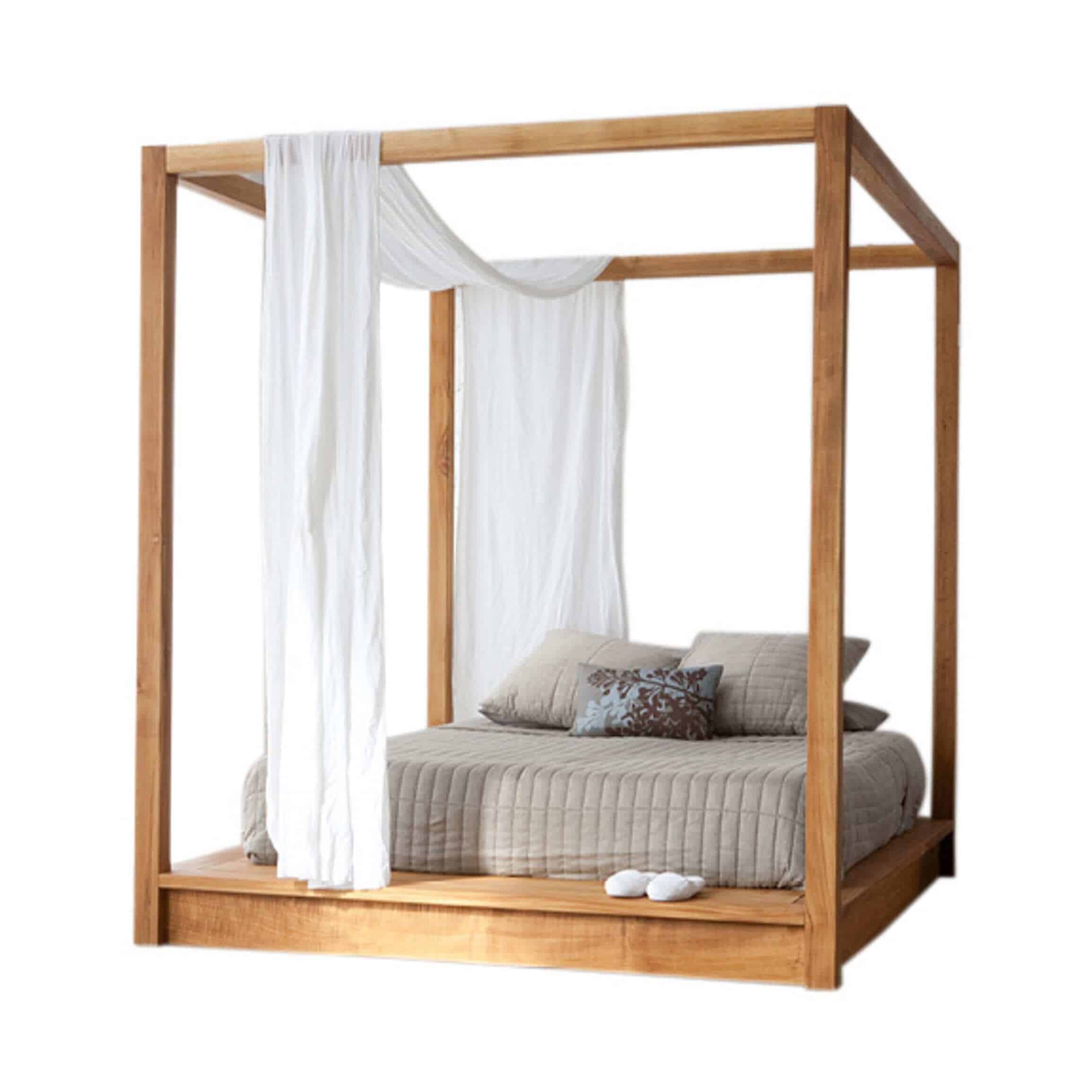 Depending on the dimensions of your bed, you can have a conventional rectangular frame, or a quirky boxy look as seen above. The possibilities are endless.

---
16. Miniature Pallet Playhouse
This teeny tiny pale wood playhouse is an utterly adorable craft you can make on a budget. Your children are sure to have a whale of a time in it.
You'll need to harvest 2x4s out of your pallets. You'll also need various metal plates, screws, some polish to protect it from the elements, and whichever shades of wood stains you prefer.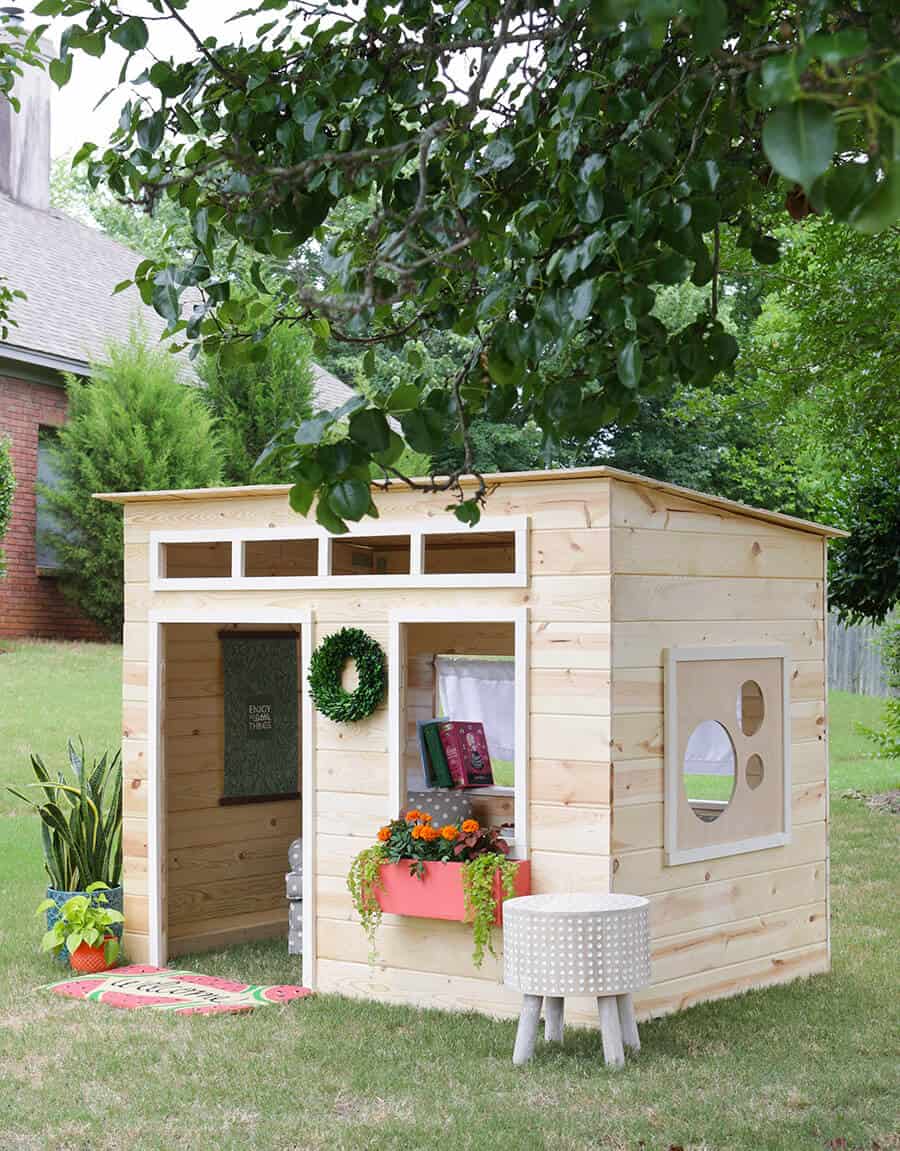 Spruce the playhouse up with some greenery and a cheery welcome mat. A brad nailer really helps with putting this together.
---
17. Thrifty Christmas Tree On A Pallet
I'm personally a big fan of modern takes on Christmas trees. They're easier to relocate, there's no need to sweep up fallen pine branches, and you can always store it away to reuse next year.
This quirky 'tree' really comes to life in the dark. For a neutral look perfect for the snowy season, go for white lights, weathered pallet wood partially painted white, and some stark white tealights.
You just have to nail your ornaments and LED lights to a painted pallet, and add half a wood stump.

---
18. DIY Whitewashed Headboard
Try making white the main color of your bedroom— it gives the room a pure, clean, and modern look. DIY this white-painted pallet headboard to fit the theme, and also add a nice touch of rusticity to that modernity.
To easily achieve a weathered look, leave your pallet slightly unevenly painted. This shouldn't be hard as pallets "eat" paint, so just don't prime your pallet with anything, and don't apply too many coats of paint.
---
19. Colorful Garden Planter
Show off your beloved flowers with this vibrant pallet planter. Just sand your pallet, paint it in the colors of the rainbow, then varnish it for a polished look. Secure worm clamps to the pallet, then use the clamps to hold your flower pots.
These clamps are great for small pots about 3.5" wide, and they're adjustable too.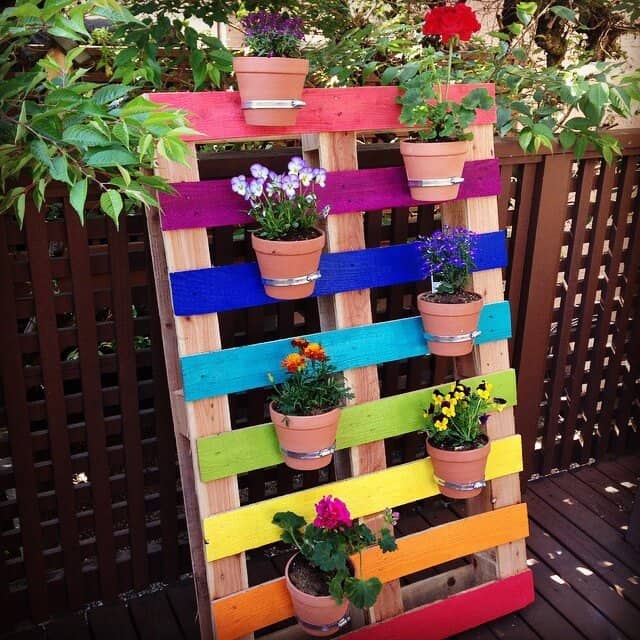 This quick craft is a great way to add color to your home garden for cheap.
---
20. DIY Baby Gate and Pet Gate
It can be quite the chore baby-proofing your house. Besides putting away the sharp objects, consider a baby gate to protect no-go areas from your little one's wandering.
You wouldn't want a gate that looks too coldly functional either, so consider this DIY pallet gate which adds a cutesy and rustic look to your house.
You'll need pallet wood, pine lumber, some tools and screws, wood glue, and wood stain. You'll also need a handle and a latch of course, so grab a door hatch here.
---
21. Pallet Rack For Pots
You'll always need to hang up your pots and pans to dry. This pallet rack is a rustic and thrifty way to get that done, and you can store your dry crockery on top of it too.
You'll need to cut your pallet down to size. To securely hang your pots from the rack, you'll need chicken wire, staples, screws, chains, and some hardware tools. Consider staining the wood rack before you mount it to your wall.
---
22. Easy Christmas Tree Sign
This simple christmas 'tree' is built entirely out of pallet wood and vinyl/paint. You can use to replace or complement your pine tree for the holiday season.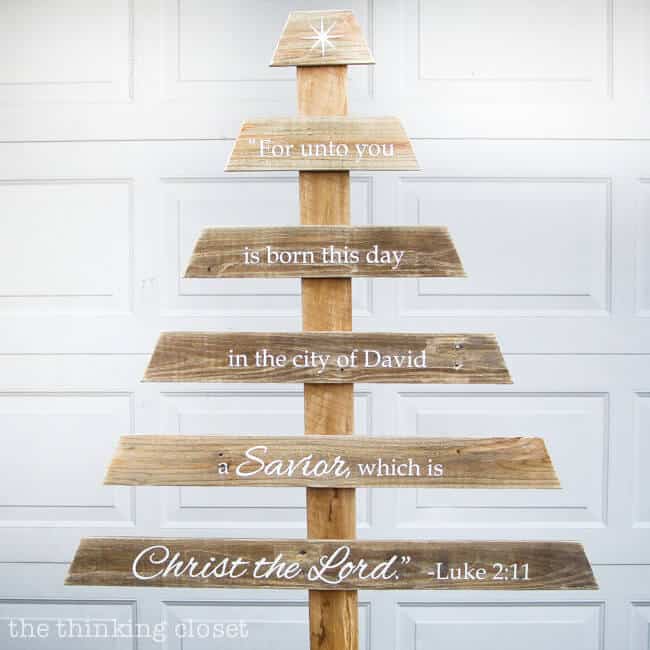 You'll need various hardware tools to measure, cut up, drill and screw together this craft. You can use vinyl or paint to write a memorable quote on it. Alternatively, you can repurpose it into a festive sign, by writing directions on it, e.g. directions to various activities at your house party.
---
23. Frugal Console Table
A small console table is the perfect way to save space and show off a few ornaments. So if you're in the mood for a little home improvement, consider this quick pallet craft.
You'll need to cut your pallets up, and smooth them out. Once you've finished the "body" of the console, cover it in baby blue chalk paint. Attach the top of the console, then give that a nice finish. For a nice complementing color, try this gorgeous maple shade of Americana gel stain.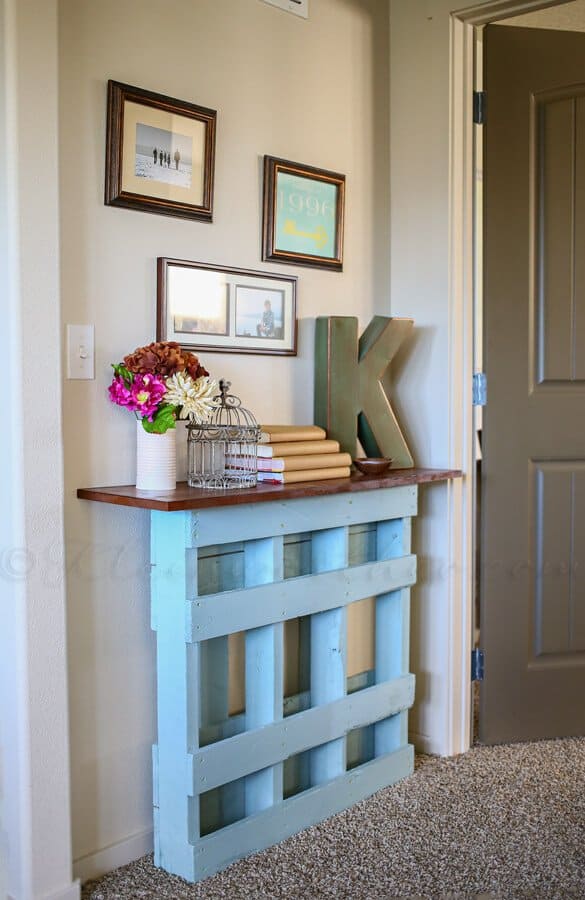 ---
24. Fun Pallet Clock
For this quick clock craft, you'll first need a saw to cut the pallet into a circle. If you're planning on getting into woodworking anyway, consider a quality scroll saw, as it's the best tool to make quick work of that.

The remaining steps get easier, as you'll just need some paints, cut-out numbers, and clock parts.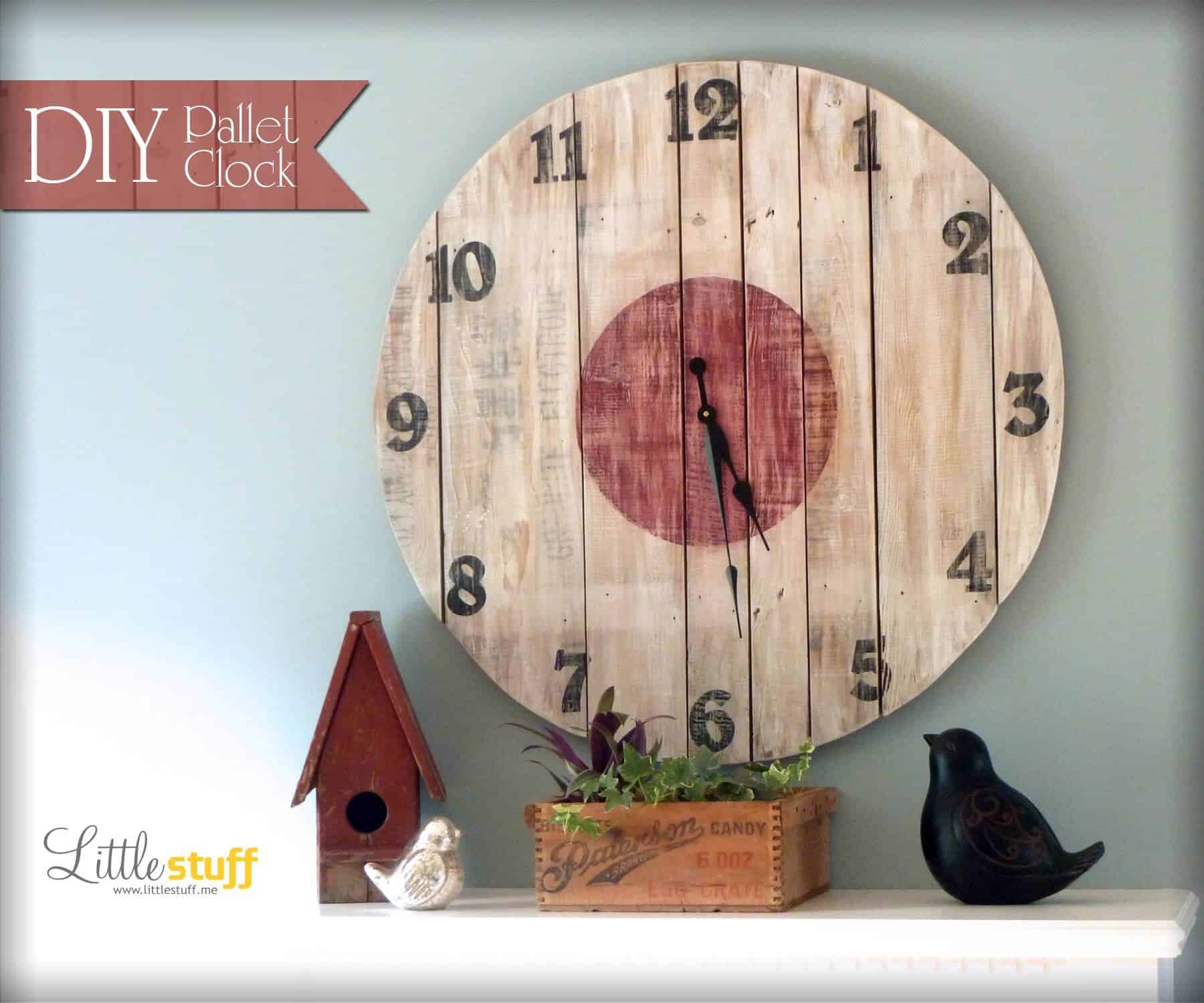 This chic pallet clock is a great way to add quirkiness to your wall decor. Accentuate the craft by hanging it over a mantle full of adorable ornaments too.
---
25. Thrifty Fabric-And-Pallet Tent
This tiny tent isn't fit for heavy duty camping, but it's a beautiful addition to any backyard. It'll also serves as a great play area, or cosy reading nook, for any of your little ones.
You'll mostly need weatherproof fabric, and a pallet. Spruce it up by choosing decorated fabric, and by attaching some lace around the frame.
Don't forget to make it comfy too, by padding the pallet with something soft for your kids to lie on.
---
26. Chevron Queen Bed Frame
A chevron design is a great way to add a spark of quirkiness to your wood crafts, while keeping the look neutral. This chevron queen bed frame is a super-thrifty way to make your own professional-looking furniture fit for a queen.
You'll need to cut up plenty of pine pallets, apply various shades of wood stains, screw on some bed rail brackets to secure the joints of your frame, and finally, add the mattress slats and slat supports. Try a topcoat for a polished look.
---
27. Creative Choo-Choo Train Garden Planter
Wow your neighbours and guests, with this amazing garden planter in the shape of an adorable little train.
You'll need to cut up and nail together your pallet wood into the shape of crates, for the 'carriages' of the train. Pop on some wheels, and paint it all pure white for a nice contrast to your flora.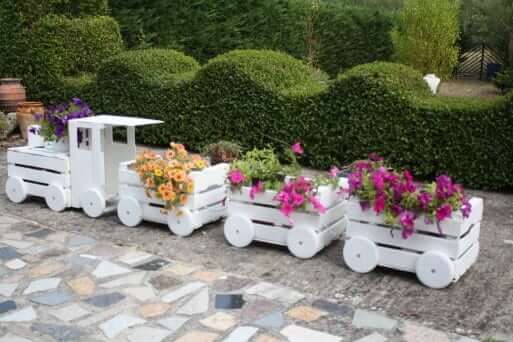 Fill the carriages with vibrant flowers, and you've got quite the unique centrepiece for any yard.
---
28. Miniature Wishing Well Planter
Digging for groundwater may seem a tad too ambitious for a home project, but this wishing well project is actually a planter.
You'll need both pallet wood and a few bits of reclaimed lumber. It's a great way to recycle used materials into this awe-inspiring craft.
You can either paint it up to look fun and quirky, or simply stain the wood and leave it with a rustic look sure to give an old-timey feel to any yard.
---
29. Small Pallet Climbing Frame
Build a miniature climbing frame as a nice bit of fun for your little one. You'll need 2 pallets, 2 decking planks, screws, wood glue, shed paint, and rock climbing holds.
Grab a bunch of cheap and colorful rock climbing holds off the button below.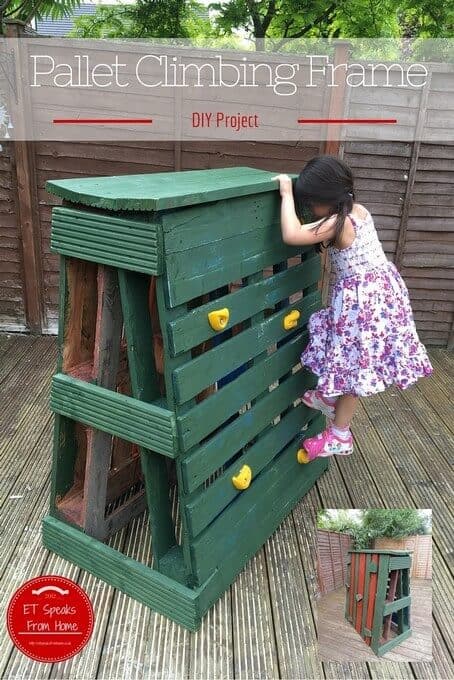 It's a great way to introduce younger children to rock climbing, and you don't have to worry about any falls because of the short height of the frame.
---
30. Fun Little Bike Ramp
Try turning some extra space around your home into a small playground. And if your kids are getting into cycling, one of the projects you can include is a bike ramp. Making a bike ramp from pallet wood is a thrifty way to make biking even more fun for those tykes.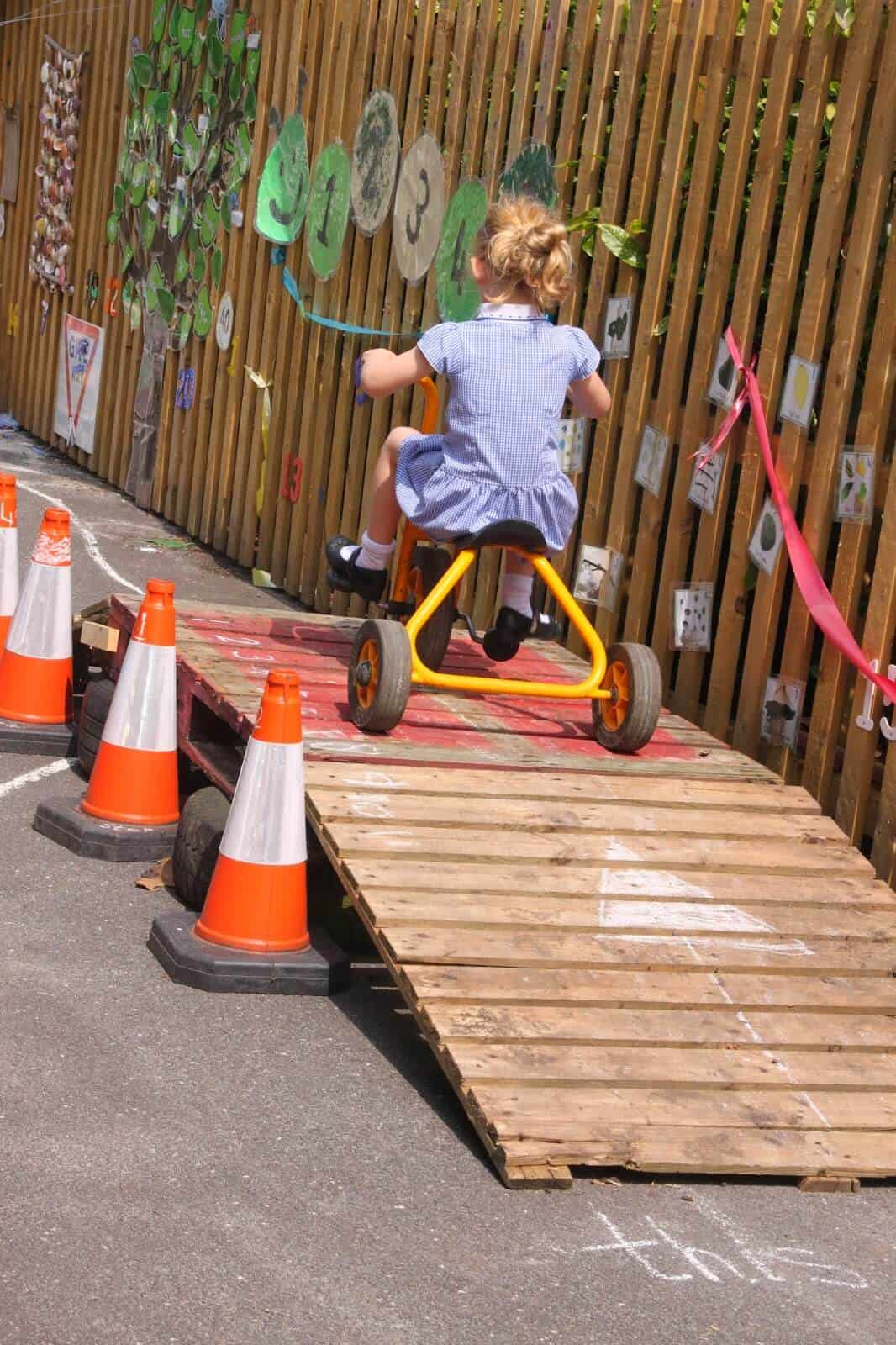 Add traffic cones next to the ramp, so they're beware of the edge. Paint directional arrows on the ramp too, so they won't bump into each other going up both ways.

---
31. Rustic Lemonade Stand
What I absolutely love about small towns, is the tight-knit little community those places tend to have. We're having a heat wave these days, and what better to quench everyone's thirst than with some refreshing lemonade? Get your little one doling out the sweet summer drink to the neighbours, by building this DIY lemonade stand.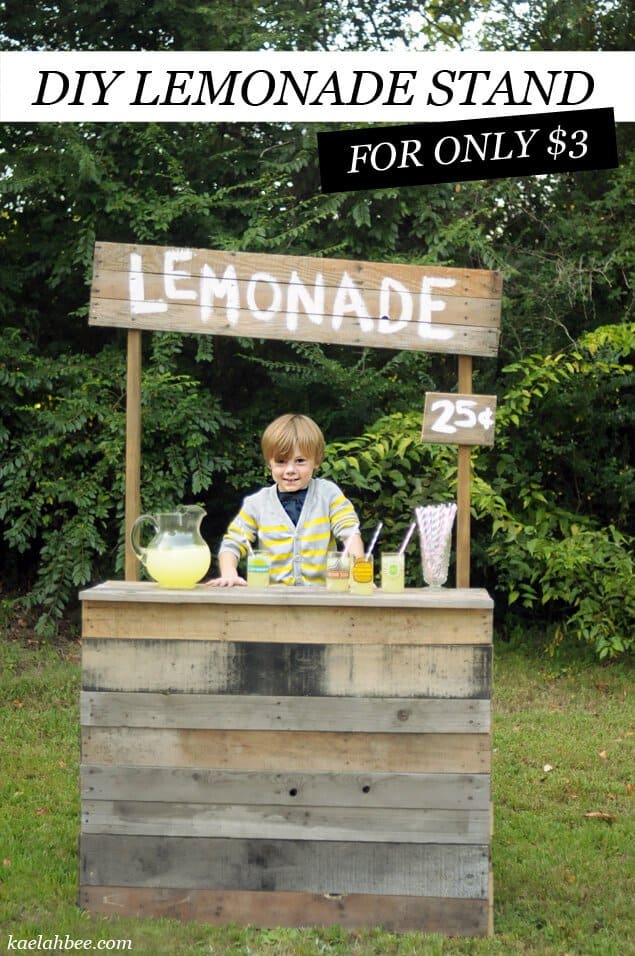 All it takes is some weathered pallet wood, some tools, chalk paint, and of course, jugs of homemade lemonade.

---
32. DIY Cornhole Pallet Platform
Cornhole is the summer lawn game that never gets old. It's not hard to see why– it's super simple to learn, and addictively fun for everyone of all ages.
Upcycle your old pallets by turning them into raised platforms for cornhole games. When painting them up, consider using latex paint. After all, cornhole games are usually play outdoors, so you'll need paint that's more water-resistant.
Grab some star-spangled versions of cornhole bags– they're great for 4th of July festivities.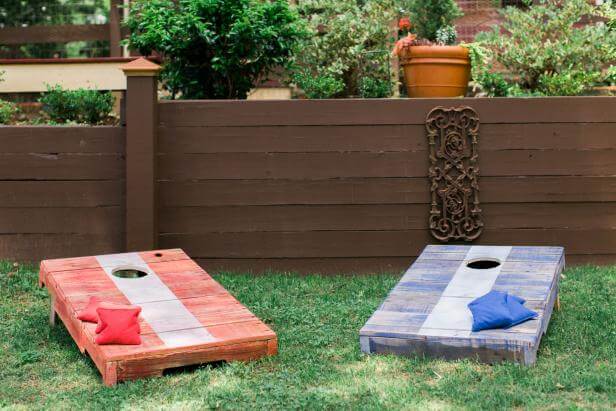 ---
33. Simple Pallet Shoe Rack
This simple shoe rack is a great way to both tidy up your shoe collection and pretty up the entryway to your apartment.
What's more, you don't need any power tools at all! Just paint a portion of a pallet white, let it dry, then slot your shoes in. Spruce up the look by arranging some adorable succulents on the top of the rack. The green and red shades are a nice pop of color against the neutral white rack, after all.

---
34. Simple Silhouette Christmas Tree
The rustic, woodsy look of the Christmas season makes it a great time to use up your excess pallets. Make miniature versions of these simple pallet trees, and scatter them around the house. They make for adorable ornaments to complement your pine tree.
All you need for this craft is pallet wood (for the striped look and the frame), a layer of plywood to reinforce the craft, wood glue, and various hardware tools.
---
35. DIY Bowling Alley
A trip to the bowling alley is always great fun for the family, but multiple trips can start to wear on the wallet. If you don't mind eschewing a professional bowling alley, and just want to have fun, consider building your own version of it.
This backyard bowling alley is budget-friendly as it's chiefly made from pallet wood.
Add some flashy lighting overheard and a nice glow to the pin compartment, if you want those fun party vibes for night bowling.
---
36. Easy Pallet Walkway
Move around your garden more easily, by clearing out paths between your shrubbery and adding pathways. This easy pallet walkway is a frugal way to add rustic decor to it too.
Clear out a pathway of open soil, then position your pallet planks over that. Push a little soil into the gaps between the planks, and you're done— the pathway is secured, as the weight of the planks keep themselves in place.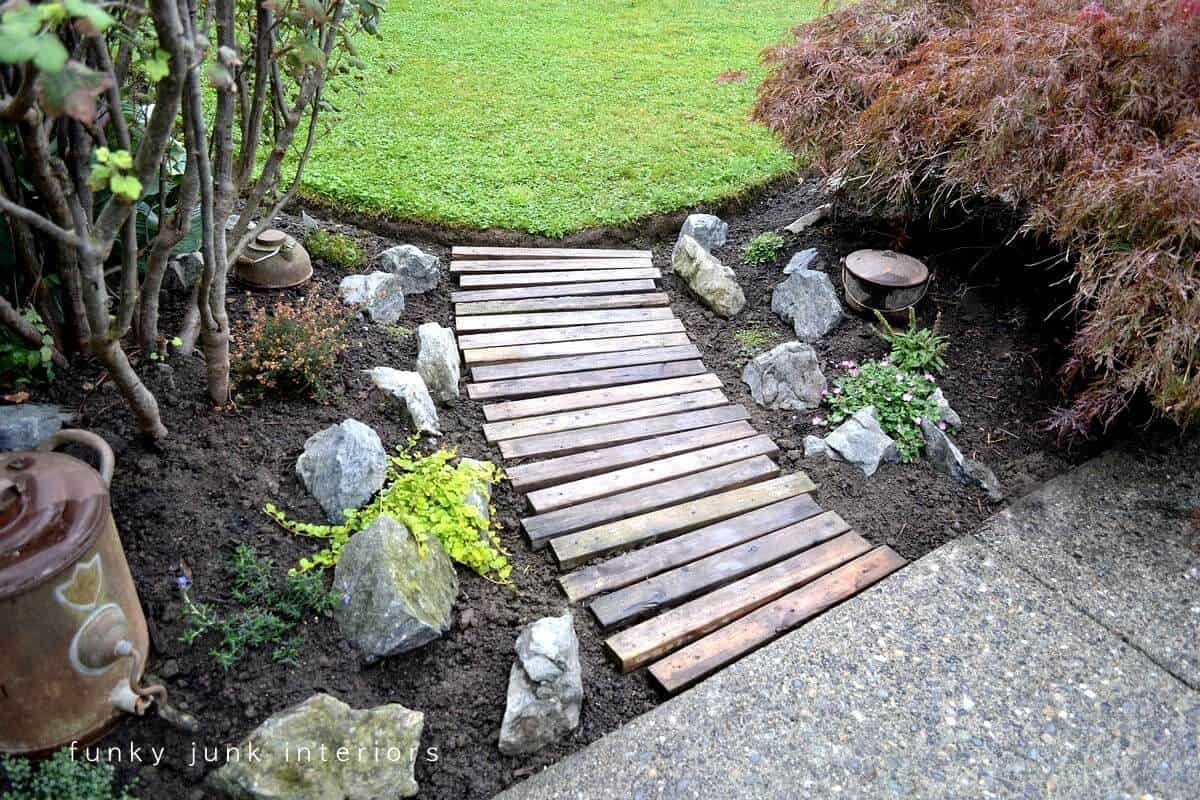 Add rocks and pots to the sides of your pathway for some zen vibes.
---
37. Upcycled Coffee Cup Holder
This shelf of hanging coffee cups is a great way to leave your cups out to dry, and show them off at the same time.
Cut your pallet down to size, then drill in some hooks at evenly spaced intervals. For an old-timey look that's perfect for your rustic pallet craft, try these wrought iron hooks.
When stencilling the coffee label on, use paint and a sponge brush for a more atmospheric look which is less "clean" and modern than a vinyl stencil.
---
38. Simple Pallet Headboard With Ravens
Gothic may be out of the spotlight, but it's not out of style. Add a line of silhouetted ravens to a simple pallet headboard, to spruce up your bedroom on a budget.
Make those ravens out of stencilled-out vinyl– it makes for a cleaner look than painting, and you can more easily remove them if you wish to redecorate the headboard. Try this starter kit to easily design a vinyl stencil.
Secure the heavy pallet headboard by screwing them into 2x4s anchored into the wall.
---
39. Chic Little DIY Bar Stools
Bar stools are a great way to add extra seating space for guests, especially for small homes. Instead of store-buying plastic stools, try making your own wood bar stools. They don't cost more, but look considerably classier.
Harvest 2x4s from your pallets. You'll need some power tools to shape them into the legs and top of your bar stool, particularly a miter saw, which you can grab from the button below.
Paint them snow white for a nice neutral look. You can use them as plant stands too.
---
40. Budget-friendly Pallet Bar Counter
Get to play bartender to your guests, with a classy bar counter. It's a fitting addition to any man-cave or kitchen.
Make the skeleton structure of the countertop from pallet wood, sheathe that with plywood, and use medium-density fibreboard for the countertop. Use more pallet wood to add a cool chevron inlay to the top and exterior of the counter.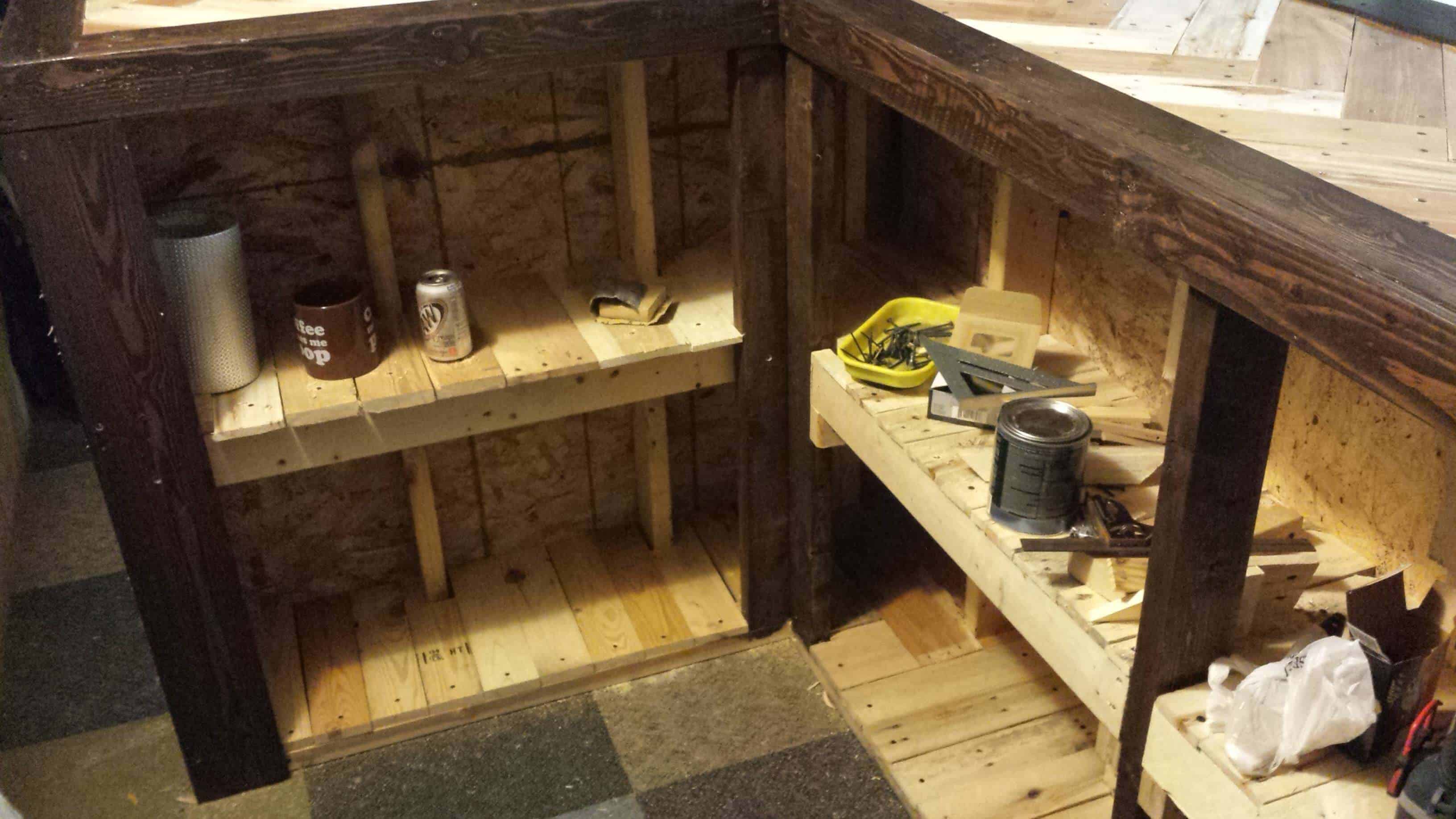 Sand, stain, polish. Add some shelves to the back for extra storage, stock up your booze, and you're golden.
---
41. Stylist Adirondack Chair
Reclining backrest, nice wide armrests, 'rounded' edge of the seat– adirondack chairs are some of the comfiest wooden chairs out there. They're made for just letting loose, putting your feet up, and watching the sunset. So why not make your own version of one from pallet wood too?
You'll need power tools, screws, wood glue, wood putty, and 4 pallets of good quality.
Building this does take quite a bit of measuring, crafting, and assembling, but don't worry, there are detailed instructions.
---
42. Upcycled Cooler For Your Booze
Delight your guests this summer with this cool craft. When closed, this cooler looks like any other piece of wooden furniture, so imagine their delight when you open it to reveal chilled bottles of booze.
It's a quick one-day craft, but do make sure you customize the dimensions of the pallet shelf to fit your cooler. Grab a decently-sized 50 quart cooler from below.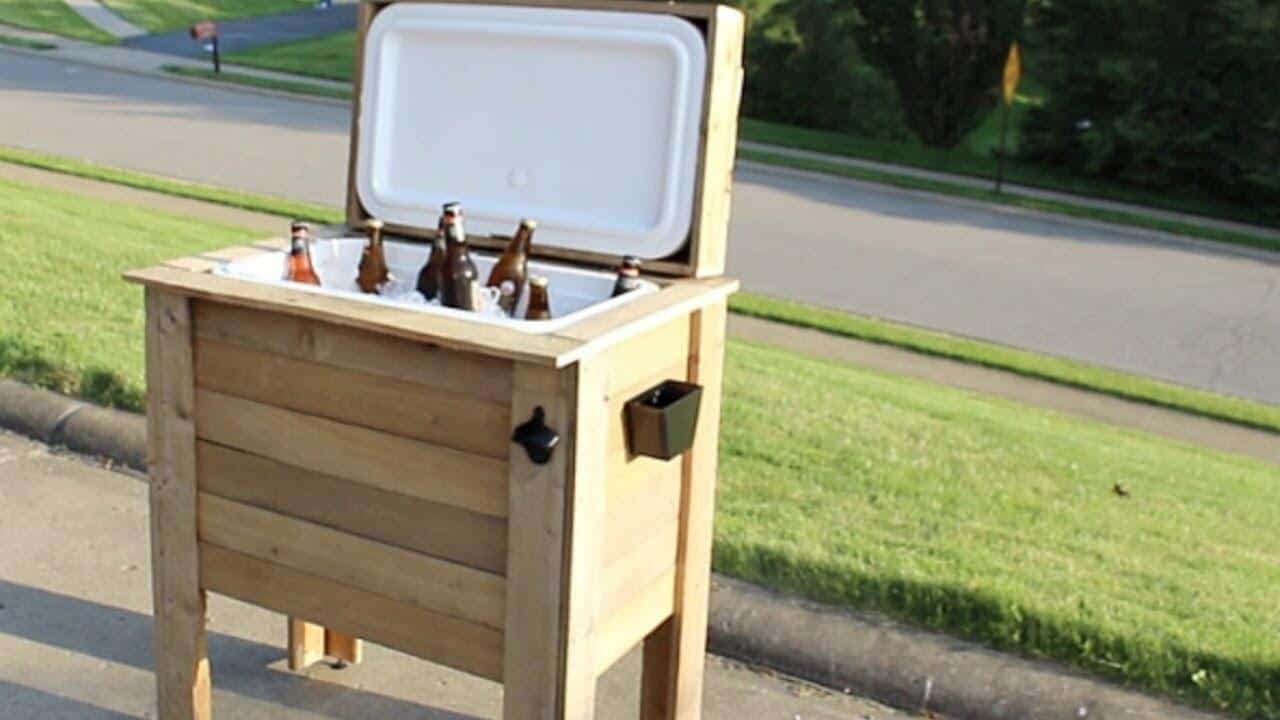 This is sure to be a welcome respite from the heat, and an amazing addition to any pool party.

---
43. Quirky Pallet Bookshelf
"Floating" mounted shelves are now trending, and it's not hard to see why. They add a quirky, modern twist to your house, and gives it a sense of lightness.
So make an easy DIY version of the craft, using only planks, wood screws, and wooden blocks harvested from pallets. Not all pallets have wooden blocks, so try to find EUR-pallets.
Fill it up with some pots, books with colorful spines, quirky bookends, and even a rock salt sculpture, for an eclectic look.
---
44. Christmas Pallet Coasters
Left with a few scrap pieces of pallet wood? Make some miniature coasters out of those. It's an easy-peasy craft that you can customize the design of, to fit any occasion.
These festive coasters are painted with christmas trees, and given a dusting of glitter to really make the 'snow' twinkle.
Let the paint dry, then be sure to seal your craft with polyurethane. Coasters need to be resistant to moisture, after all.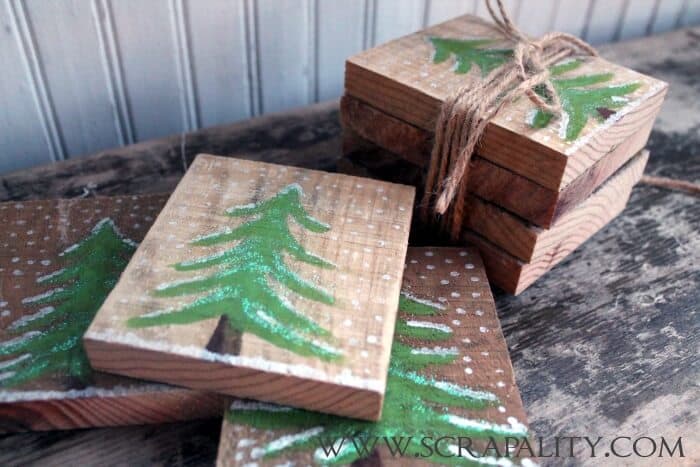 Bundle up a few of them with twine, as a pretty gift to any holiday guest.
---
45. Mounted Mason Jar Holder
Now here's a Pinterest-worthy way to show off your beautiful flowers. Mason Jar, pallet wood, chalkboard label— it really ticks off all the boxes.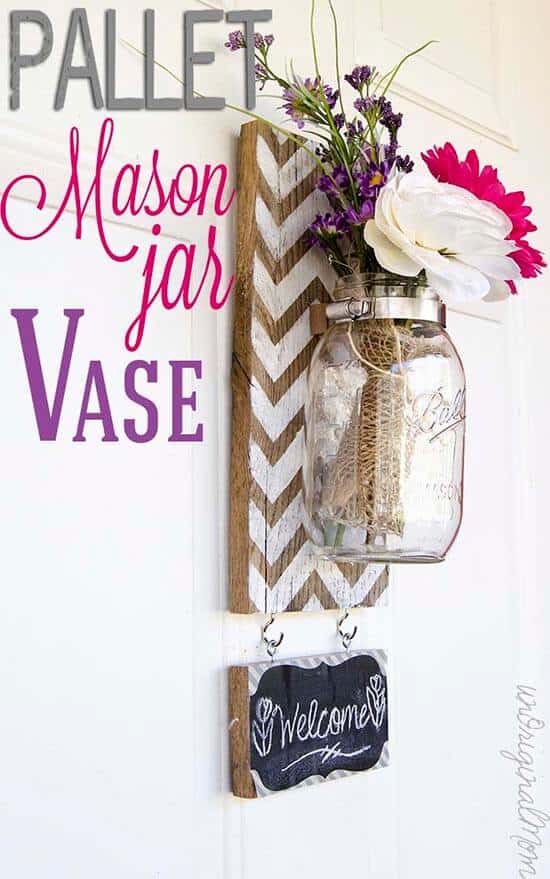 To make the miniature pallet platform, cut your pallet down to size, then paint on a chic chevron print, using a stencil to guide you. Attach a worm clamp (alternatively called a hose clamp) to the platform, making sure the clamp fits the neck of your mason jar.
Add a cutesy chalkboard label, and you've got a head-turning, eye-catching ornament for your front door.
---
46. DIY Pool From Pallets
An above-ground pool in your backyard is a great way to have some summer fun as a family. But sometimes, conventionally building it can still feel a little costly. So why not try this DIY pool made from pallets?
Assemble together 10 pallets to form the skeleton of your pool. Line the interior of the pool with two layers of waterproof tarp, to prevent leakage. Lastly, attach exterior siding and a wooden ledge to the pallet structure, for a polished look.
---
47. Pallet Party Banner
If you've got a few scrap pieces of pallet wood left over, this is an easy, pretty craft you can use those on.
To make a peppy beach banner, cut up your pallet wood into small triangles. Paint them beach blue, let that dry, paint on your letters, then sand them. You can always use some weathered wood stain too, if you like your beach party decor to look weathered.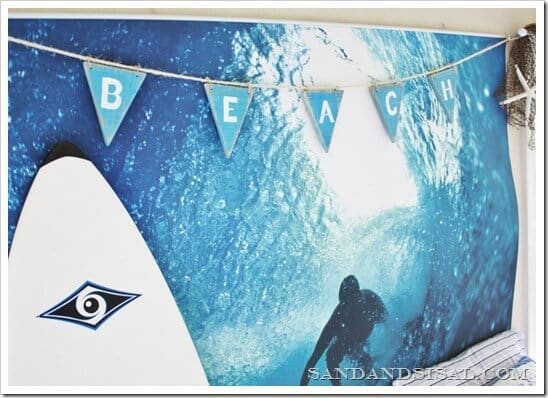 To string them up into a banner, drill small holes and use twine.

---
48. DIY Rocking Chair
Rocking chairs may be stereotyped as the domain of the elderly, but I'll admit that I still love them. After all, they're great fun to rock back and forth on, as you sit on your porch and enjoy sweet tea on a nice summer's day.
These chairs are inexpensive to make, provided you have the hardware tools needed. Besides tools, you'll need pallets, cardboard tubes, nuts and bolts, lock fasteners, threaded rods, and polyurethane.
---
49. Pallet Horse On Wheels
Now here's a fun kiddie toy craft. This adorable pallet horse can be wheeled around, and your younger children can ride on it too.
As you'll need to do lots of sanding for most pallet crafts anyway, including this one, considering investing in an affordable belt sander.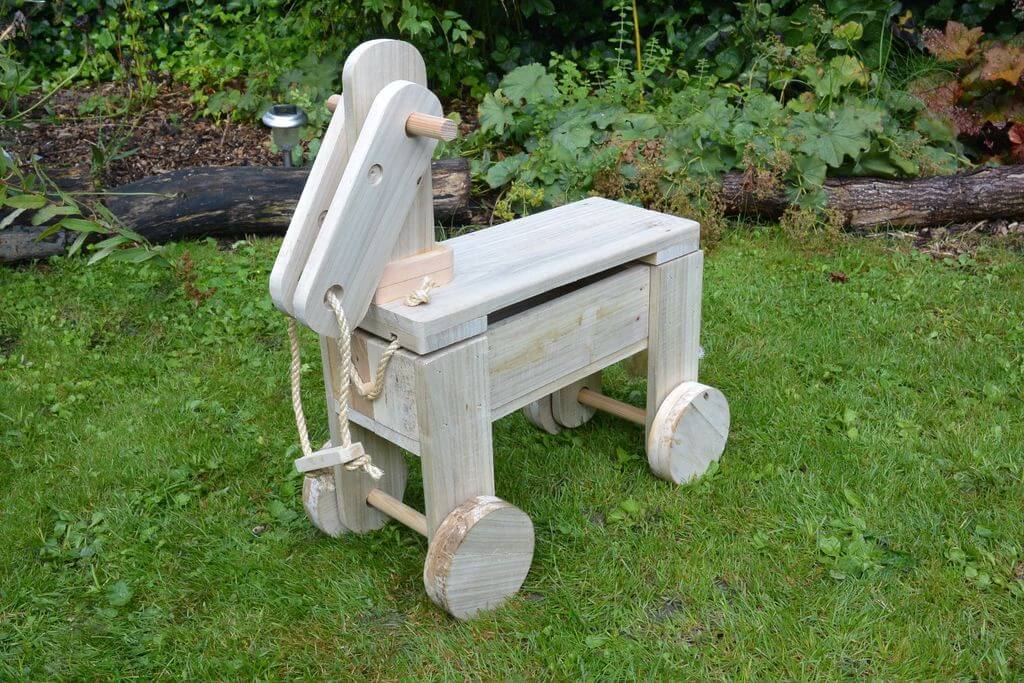 You can customize the horse to be any size you want (just make sure you don't end up with a Trojan Horse 😉 !). It's a great addition to any backyard, and it's sure to have your children enjoying their outdoor play.
---
50. Pallet Wood Towel Rack
Sure, you could just stack your towels on a rack, but there's just something about a hanging towel rack that makes a bathroom feel delightfully luxurious.
To give your piece of pallet that beachy, weathered look great, you'll need to apply a weathered wood stain, let it dry, then dry-brush some white paint on (dry-brushing ensures the wood is not fully coated with the paint). Try this shade of latex paint.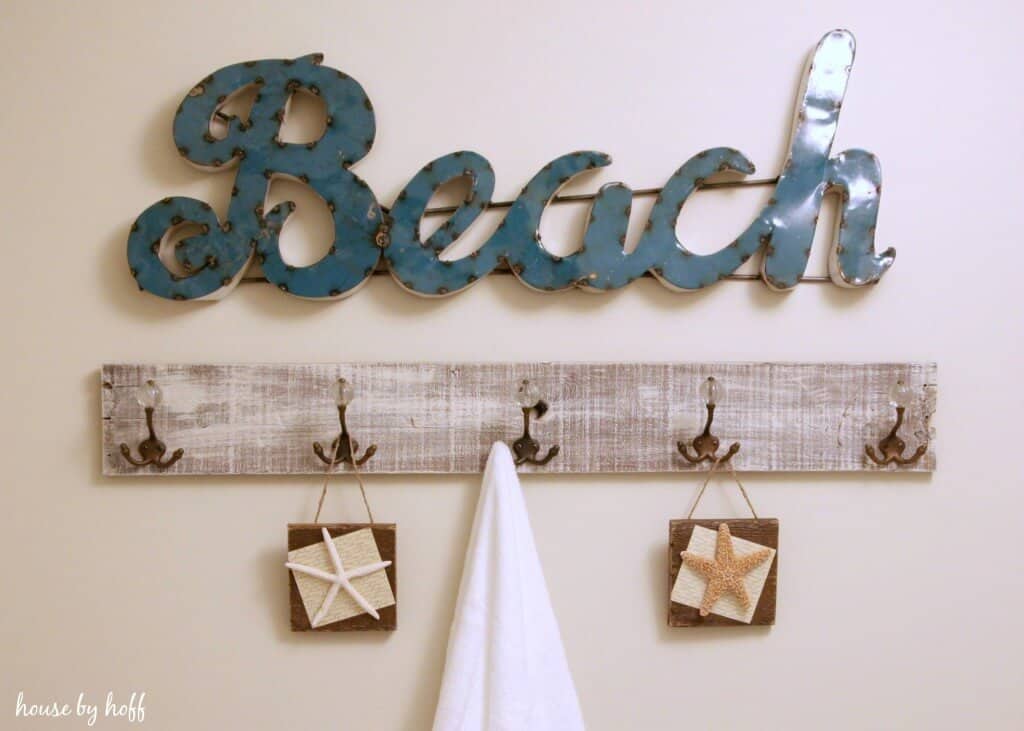 Then all it takes is attaching some pretty hooks, and sprucing it up with some matching coastal ornaments.
---
51. Neutral Pallet Dresser
Dramatically transform a dowdy dresser into a chic modern dresser, just by using some pallet wood and white paint. Observe how Hannah Hathaway manages just that.
The pale wood pallet drawers and white-painted borders make it perfect for matching muted decor. Add some ornaments for a pop for color, and some stuffed animal mounts too, to make it perfect for any kid's dream room.
Go for a stuffed deer head for a touch of elegance.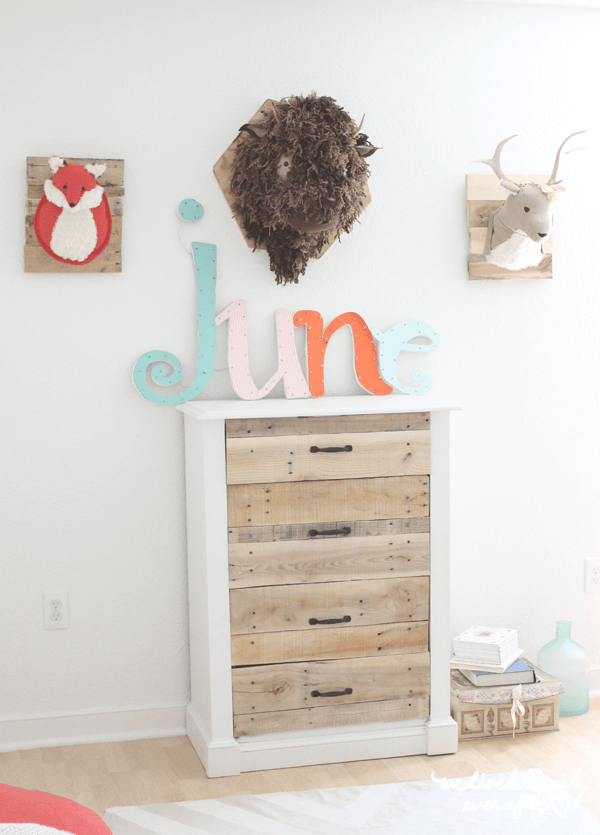 ---
52. Pallet Surfboard Decor
This surfer chic piece of pallet art is great for any room with a coastal theme. For a kid's room, try pairing it up with an ocean-themed duvet cover.
Cut your pallet down to size, trace a surfboard onto the chosen boards, cut out a surfboard shape using a jigsaw, then attach the boards together.
To decorate the surfboard, use stencils and tape to guide your painting. Upcycle old surf shirts by cutting them up, and attaching the cute cutouts to your surfboard using Mod Podge.
---
53. Rustic Pallet Crates
These vintage-looking shallow crates can serve as easy storage boxes for ornaments, as fittingly rustic fruit crates, or even as chic open-topped gift boxes. Plus, you can personalize your photographic decor of these crates easily, using image transfer.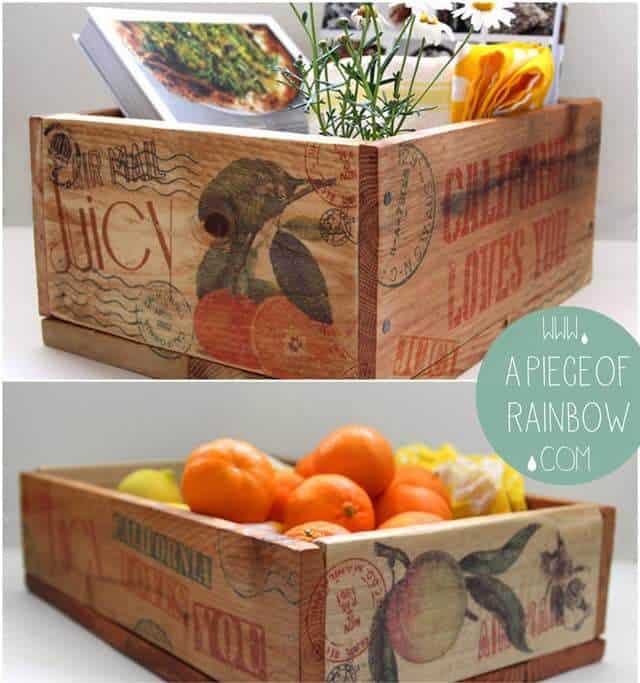 Cut your pallet wood down to size, and assemble the pieces into a simple shallow crate. Secure that with nails and glue, then sand your creation.
All you need to recreate the beautiful photographic decor seen above, is wax paper, water, inkjet printer, and any images you wish to use.
---
54. Pallet Chalkboard Memo
This DIY memo craft is a great idea for those of us out there without a great memory. It's got a chalkboard section to scribble all your to-do tasks and needed items onto, and a shelf section for easy storage. It's even got a hook section for keys too, so you don't have to comb through your house wondering where you last put them.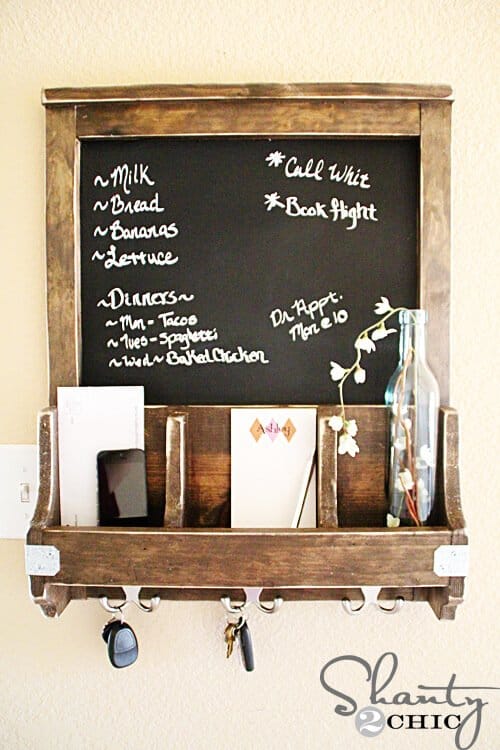 It's a fairly easy craft made from upcycled pallet wood. I recommend mounting it near your front door, of course.
---
55. Quirky Test Tube Spice Rack
Here's a fun idea– for an eye-catching, creative twist to your spice rack, try bottling your spices in test tubes.
The look of the clear glass tubes go surprisingly well with a weathered pallet rack too. Grab test tubes with corks, as those tie the look together, into a perfect blend of modern and rustic.
Crafting the pallet rack for this is really as simple as building a box, but you will need a few power tools.
---
56. Ocean Chic Pallet-Framed Mirror
Attach your mirror onto white-washed pallet wood, for a great addition to any home or room with a maritime theme.
Instead of the conventional standing mirror, transform your craft into a wall-mounted long mirror, for a modern twist to your decor. To securely mount such a heavy object, consider buying a french cleat.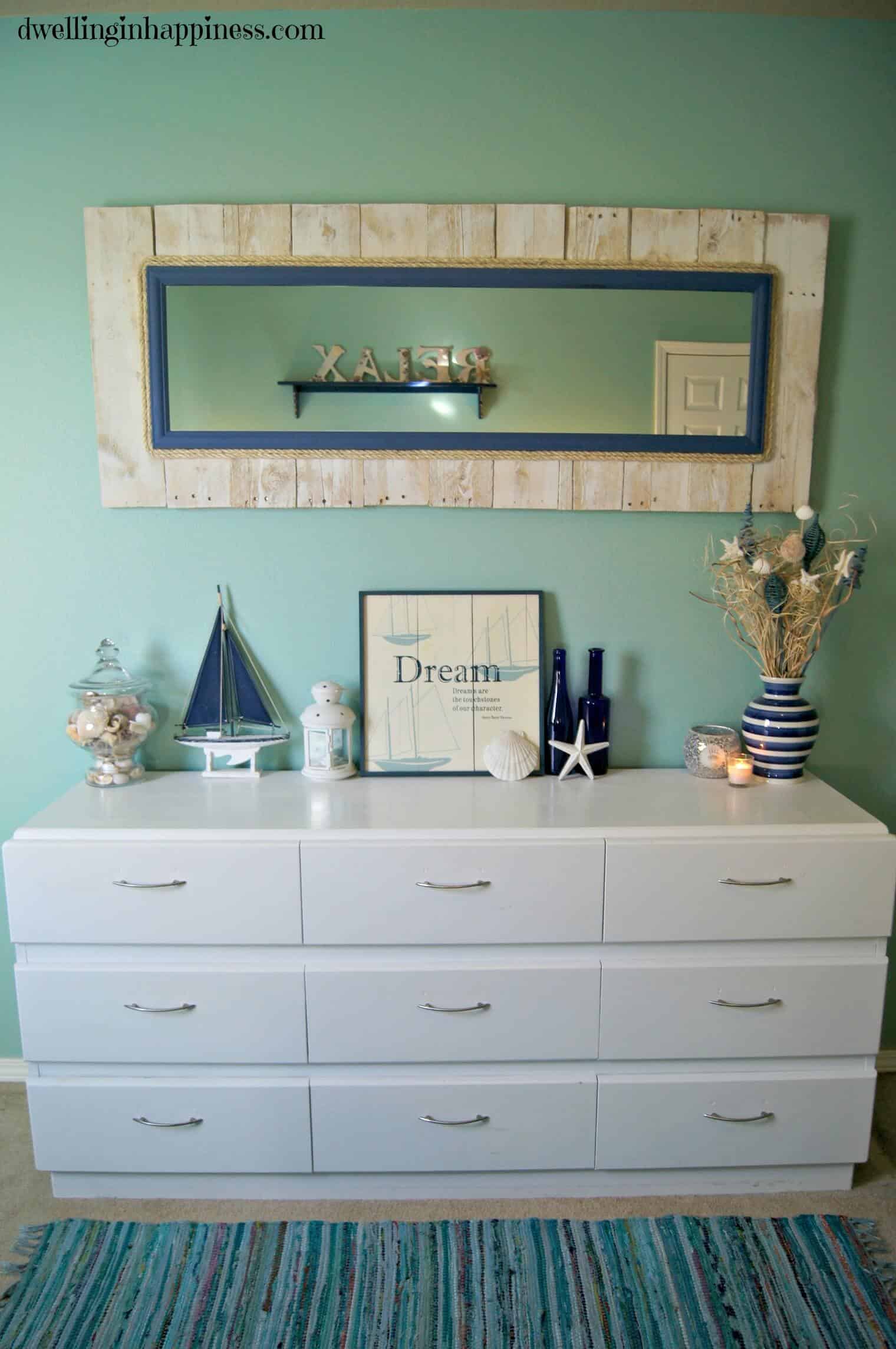 Park your project above a console table, and add some matching ornaments, like miniature sailboats, and a scattering of seashells, to accentuate that beachy theme.
---
57. Rustic Heart Ornaments
These cute heart-shaped ornaments upcycled from pallet woods, are the perfect decorative pieces for Valentine's Day. Or really any day, if you're a romantic at heart.
Line up your pallet boards, and make a heart cut-out using a jigsaw. Use wood strips to secure your boards together, then sand your craft. It's that easy. Brush out on some red paint, for a classic heart ornament. For a rustic look, leave it in its natural shade of wood instead.
---
58. Festive Rustic Sign For Thanksgiving
This vintage-style pallet sign makes a great addition to your fall decor, and even for your Thanksgiving tablescape.
Cut your pallet down to size, wood stain it, then apply a thin coat of white paint, so that it has a weathered, partially-painted look.
To paint on the decorative label cleanly without using a stencil, check out Jennifer's resourceful way of doing it using chalk, paper, pencil, and paint, by clicking below.
---
59. Wood Ornament Wall Ornament
Arrow ornaments have been getting trendy, and it's easy to see why. They can spruce up just about any wall decor of any theme. But there's no need to shell out for a store-bought one, when you can make your own.
This pastel pallet arrow goes great with a cutesy chic theme. You'll just need a few small pieces of pallet wood, plus wood glue and painter's tape to hold the pieces together. For a slightly coastal look, give it a thin coat of seaside blue paint.
---
60. Pallet Doormat Decorated With Zip Ties
This quirky doormat is great to have when greeting guests into your home. You get to show off your creative spark, and keep within a shoestring budget too.
Dismantle your pallet, cut the boards down to size, then drill in evenly-spaced holes for the zip ties. Stain the boards into alternating shades of chocolate and vanilla, for an eye-catching color combination. Complement that with some strikingly black-and-white zip ties. Sand your mat, string up the zip ties, and voila.
---
Some Safety Tips
Before you embark on any pallet project, make sure you're well-informed of proper safety procedures. This is particularly important if you are reusing pallets from an unknown source (e.g. off the side of the road), as opposed to buying your pallets.
1. Do Not Use Pesticide-Treated Pallets
Look out for an 'MB' sign stamped onto the pallet. This means the pallet was fumigated with methyl bromide, which is a neurotoxin and carcinogen. Avoid using such pallets. Newer pallets tend not to be treated with MB, but you may find older pallets lying around.
2. Be Wary Of Signs Of Spillage
If the pallet has greasy stains or any unknown substances on it, avoid using the pallet, just to be safe.
3. Inspect Your Pallets For Defects
Defective pallets may have splinters, cracks, and loose nails. Inspect each pallet carefully before use, and avoid using defective pallets, as they may injure you as you handle them.
4. Follow Safety Procedures When Using Power Tools
Keep these in mind as pallet projects tend to be heavy on the use of power tools. When handling power tools, make sure you have the proper safety equipment on, such as safety goggles. The usual rules such as tying away your long hair, and wearing long pants, naturally apply as well.
---
Happy Crafting!
We hope that somewhere in this huge list of pallet projects, you've found just the right thing to spruce up your home. Whether you are looking to redecorate, save space, or entertain, whether you are a woodworking beginner or carpentry expert, we hope that you've found some inspiration. Stay safe and have fun with woodworking!