The perks of having a well-placed and well-built kitchen island could reduce the time spent in kitchen tasks, while also working in an organized manner. Being the heart of your home, this area deserves a quality and versatile kitchen island. Our collection of 14 striking DIY kitchen island plans should help you add more seating options, effective counter space, and greater storage area too.
Whether you have a pallet table in your kitchen that brings an old-fashioned aura or you have a modern dining table that radiates 21st-century class, more than one of these DIY kitchen island ideas should appeal to you.
Each of these plans includes detailed material lists, construction manuals, descriptive diagrams, and step-by-step workflows.
Let's embark on a visual journey to give you construction and design suggestions on that much-needed kitchen island.
1. Homemade Lumber DIY Kitchen Island Plan
This plan will open your eyes to the domain of homemade lumber practices. Once you set the base, expect to spend less on lumber and achieve complete control over the dimensions of the boards. Be warned, there is plenty of saw usage involved and thus this plan is not for the faint-hearted woodworkers.
Expect to build a farmhouse styled kitchen island that comes with a long table edge for the seating area. There is also a rod to hang kitchen-cleaning or utensil-wiping cloths.
2. DIY Kitchen Island Plan With Trash Storage
Can't deal with the smell of trash in your kitchen anymore? The key feature of this DIY kitchen island idea is the pull-out trash storage. It has an enclosure that blocks the trash smell mixing with the air in the kitchen. Even better, you can slide the food remains directly from the island into the trash container.
There are a couple of shelves that use several wood pieces as their surface. The gaps between the wooden pieces prove helpful in balancing and holding some kitchen equipment.
3. DIY Concrete Kitchen Island
If you got a cramped up kitchen and no dining table then this plan is for you. The size of the countertop indicates that 4 people can comfortably sit on either end.
You probably won't come across any DIY kitchen island plan that doesn't require any wood sanding initially. This is because the Ardex Feather Finish (during the concrete coating phase) needs a rough surface to evenly spread out and display uniformity in design.
4. Elegant DIY Kitchen Island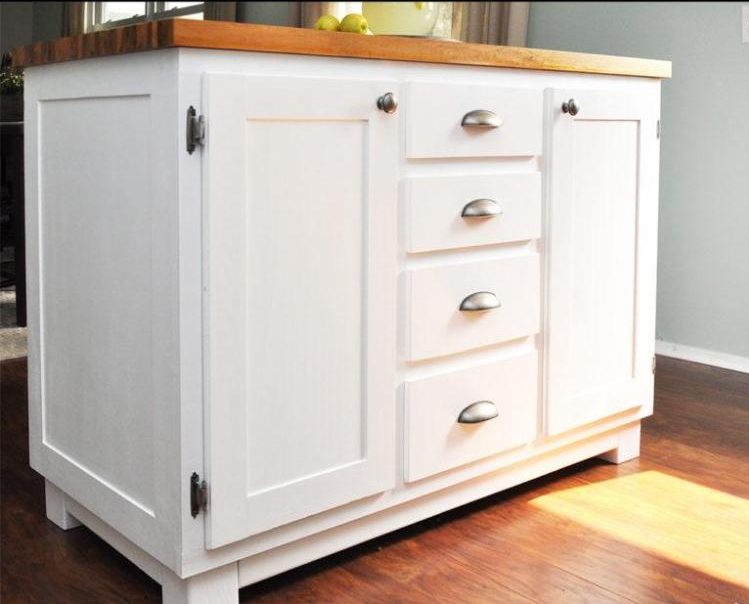 While scrolling through this tutorial you will learn the importance of handles, hinges, and knobs. These elements could be a key deciding factor in your kitchen island's overall appearance.
Apart from the 4 evenly sized drawers, the 2 big drawers have 2 shelves each. You could store the majority of your daily kitchen gear in here. There are sections for spoons, big vessels, baking equipment, and even to keep your gloves or cooking cap.
5. DIY Reclaimed Wood Kitchen Island
Simplicity in its best form. Essentially a kitchen island should have a tabletop and storage space. This plan has no drawers, handles, or enclosures. It is an open-ended island that can be built by securing some scrape wood with quality joints.
You could place baskets on the lower shelf for fruits, newspapers, or fresh flowers that make your kitchen perpetually smell great.
If you got several leftover wood boards of various species, why not build a kitchen island using all types of available wood?
6. DIY Rolling Kitchen Island
Wheels to move the kitchen island around, a hook rail to hang your apron, and holders for glasses. What more could you ask for? You can even take it to your backyard for weekend grill feasts.
The size, portability, and compactness make it a great option for people who multitask in the kitchen.
7. DIY Navy Kitchen Island
Although you'll spend a little cash on inexpensive cabinets, the work you carry out after will assure a fabulous end product. The combination of the beadboard and a quartz counter gives it a royal vibe.
Something as well-crafted as this would cost you $2500 to $4000. This DIYer has managed to build this entire kitchen island within a meager budget of $500. Check out these DIY bar stool plans to add some comfortable seating arrangements.
8. Galvanized Metal DIY Kitchen Island Plan
Once again a quartz countertop, but this time the countertop comes in a really long rectangular shape. Above all, the entire lower body uses bead hardboard paneling to instill a designer-like aura to the kitchen island.
On the front side, there is a compartment for the microwave along with a broad drawer specifically for storing flatware. A couple of drawer dividers could help keep the knives, forks, and spoons separately.
Don't misinterpret the name. The phrase, "galvanized metal", is used due to the smooth and glossy finishing.
9. DIY Small Kitchen Island
Got space problems in your kitchen but can't survive without a kitchen island? This small size island should be enough to cater to such issues. Beginner DIYers are in luck because of the perfection in the usage of laymen's terms in this tutorial.
You can opt to go for the gap-wood-gap design or simply merge the wood slabs to bring a uniform surface.
10. Feature-Packed DIY Kitchen Island Plan
You're never going to stumble on a DIY kitchen island plan that provides this specific bunch of useful features. The level of utility is multiplied four-fold by the presence of a drop-leaf top and a pull-out waste bin.
No need to keep bending unnecessarily as the drawers are almost at the counter height. Consider using poplar plywood as it permits the paint to soak and settle beautifully.
11. DIY Kitchen Island With Wheels
How cool is a portable kitchen island with wheels? You could use it as a serving trolley in the living room or as a mini-bar counter for your garden parties too. The compact built makes it easy to keep aside and multiple the available open floor in the kitchen.
The narrow storage slots are perfect for cutting boards and sheet pans. Make sure to use top-notch casters to prevent slippage incidents.
12. Double Stock Cabinet DIY Kitchen Island
The sizing is totally customizable to fit any kind of base cabinet. This considerably reduces the money you'll have to shell out for the project. Expect to face the least roadblocks in the cutting process and most in the baseboard mitering part of it.
There are 30 steps that describe everything from baseboard padding, fitting the top/bottom railing, filler boards, painting, and even dry-fitting the cabinets.
13. DIY Kitchen Island Using Base Cabinets
There is a bonus plan in here for you. One plan teaches you to build a kitchen island using a base cabinet whereas the other focuses on upcycling your dresser to function as an island.
Don't want a loosely attached kitchen island? You will also learn the process of anchoring the island to the floor.
14. DIY Frameless Kitchen Island
Not many kitchen island cabinets come with crown molding support. Additionally, the frameless design and side shelves with leggings make it accessible from all 4 sides. You would also be educated on the advantages of having a frameless cabinet.
The guide may seem overwhelming at first. But a couple of reads combined by a step-by-step approach should help you evade woodworking hassles.
Verdict
Beautifying your kitchen for organization and design purposes is always a great idea. Besides, why shell out thousands of dollars when you can build either of these kitchen islands in a couple of weeks?
Consider having a look at these DIY coffee table plans for your living room or backyard patio.