Chainsaws are heavy-duty saws with powerful motors that turn their blades, with power being an important reason why chainsaws can cut large lumbers. However, that extreme power and speed of turning can cause some problems, especially since chainsaws are handheld. With the risk of slipping off your hands and cutting your legs, proper safety mechanisms must be implemented to protect that part of your body.
Chainsaws are usually used while standing and in the same line as the legs, which makes the leg the obvious point of contact in the event of an accidental slip-off. The chainsaw blades can cut through your clothes and reach your legs if it slips off your hand, and even though no one hopes for an injury, preventive measures have proven to be life-saving.
A dedicated chainsaw leg protector is called chainsaw chap and features a durable material that prevents blades from reaching your legs. These chaps or pants come in different styles from various brands and may be challenging to select. Here we'll see the best chainsaw chaps that protect your legs and are comfortable and fit, among other things.
Husqvarna 587160702 Chainsaw Chaps
Out Top Recommendation for Chainsaw Chaps!
Husqvarna 587160702 chainsaw chaps are of premium quality with exceptional protection. They are made from the strongest materials while remaining cold water washable.
*We earn a commission if you make a purchase, at no additional cost to you
Best Chainsaw Chaps
You'll protect yourself if the saw blade accidentally goes to your legs with these tested safety pants made specifically to slow down saw blades spinning with full velocity. Here is a list and review of each of the best chainsaw chaps you can get.
1. Husqvarna 587160702 Chainsaw Chaps
Husqvarna is a known tractor and machinery brand, but only a few know that they also make chaps. The Husqvarna 587160702 chainsaw chaps are the leading choice due to their high protection level. These premium Husqvarna chainsaw chaps are made from 600n denier polyester covered with PVC coating to make water easily run off its surface. It abides by safety regulations like the ANSI Z133.1, OSHA 1910-266, UL certification, and ASTM F1897.
The chap is 38 inches long with inbuilt pockets that make it comfortable to use, as you can keep small tools inside the pockets. These premium pants are made specifically for gas-powered chainsaws. The acetyl Delran buckles fitted at the back help to keep it firmly in place and increase comfort.
These Husqvarna 587160702 chainsaw chaps are extremely safe to use due to their extra safety features proven by the safety certifications it possesses. In addition, the chaps come with a user manual and warranty card, so you can quickly understand how to use them and utilize the warranty where needed.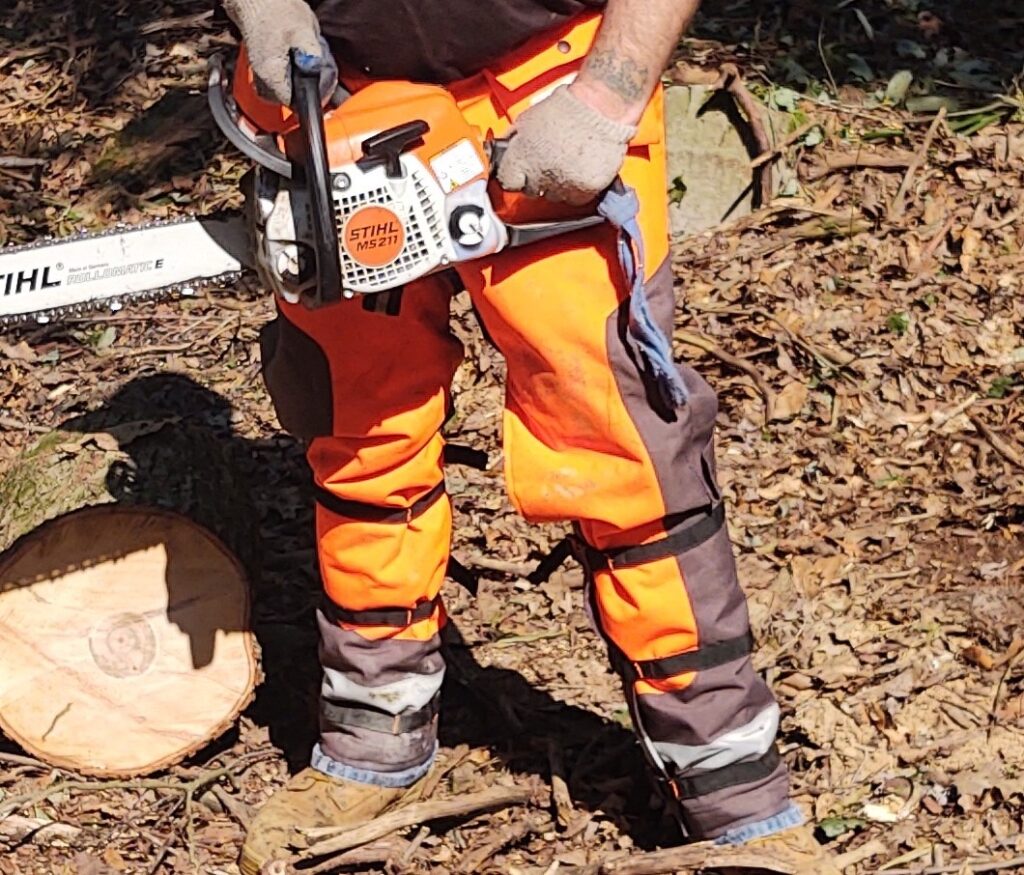 Pros & Cons
Pros
38 inches long
ANSI, OSHA, UL, and ASTM certifications
Inbuilt pockets
Made from quality 600 denier polyester
Washable with cold water
Cons
Barely suitable for other chainsaws not powered by gas
Also Read:- How to Clean Your Electric Chainsaw (Step-by-Step Guide)
2. Husqvarna Technical Chaps
Another Husqvarna chap makes our list, this time in the form of this technical chap made of the ever-durable Kevlar material combined with 1000 denier polyester to give it the ruggedness required to keep you safe. The combination combines PVC coating and Tek wrap protective layers to complete its material. Since there are more left leg chainsaw injuries, some chaps products, including these Husqvarna technical chaps, make the left leg longer, leaving no area open.
Its design comprises yellow and ash hues with up to three acetyl Delran buckles on each leg and six closures from the waste to the legs, so it fits properly. The waste adjustment can be taken to 42 inches to cover the majority of users' waistlines. Great length stretching from the waist to the ankle and measuring 48 inches protects your legs from any accident.
Aside from being a good fit, the chaps also provide a huge level of protection, as evidenced by the number of safety certifications it possesses. It includes the ASTM f1897, OSHA regulation 1910-266, ANSI z133.1, and UL certifications. All these certifications prove the extra effort Husqvarna has put in to make the chaps durable.
Pros & Cons
Pros
Extra lower legs protection
42 inches long
ANSI, OSHA, UL, and ASTM certifications
No less than six closures for fit
Heavy-duty material
Kevlar protection
Asymmetrical cut
Cons
Cost a lot
The 1000 denier polyester can get hot during the day
3. Forester Chainsaw Chaps
These orange chaps with black inner stripes and waistline present a bright safety material at first glance. It also comes in several other colors like denim blue, high visibility blue, camouflage, and more. Forester is popular for its affordability, but this chaps product goes beyond its price with some interesting features that make it popular among users. It offers safety certifications like OSHA 1910-266, ASTM f1897, and UL, helping you use it with maximum protection. The chaps are made for gas-powered chainsaws only with special features that help them stop gas-powered chainsaw blades.
It has pockets to store small tools as you work, with an overall length of 37 inches and another option of 40 inches protecting the waist to the ankle, depending on your height. The adjustable belt in the chaps makes it easier to fit various waist sizes and provides comfort.
It is made from ripstop nylon material that provides decent protection. In addition, the chaps are water- and oil resistant, so you can work without getting soaked. Oil and moisture are common while working with a chainsaw, so not worrying about getting soaked is a huge advantage. Forester chainsaw chaps are suitable for logging work or landscaping where you'll have to do a lot of work over long hours, as it is comfortable to wear.
Pros & Cons
Pros
Multiple colors available
Multiple lengths of 37 and 40 inches length
Made for gas-powered chainsaws
Water and oil resistant
Convenient pocket
Adjustable belt
Affordable
ASTM, OSHA, and UL certifications
Cons
Only for gas-powered chainsaws
Low durability
Also Read:- How to Tighten a Chainsaw Chain? (+ How Tight Should it Be)
4. Oregon Chaps Protective Chainsaw Apron
Oregon is a well-known chainsaw manufacturer, and it is only fitting that they also make chaps to prevent chainsaw injuries. These Oregon chaps are made from 600 denier Oxford shells. They offer several adjustments from their waist size to their length, as the waist can be adjusted up to 46 inches with its length up to 36 inches. The length of this Oregon chaps is shorter, as it hardly covers the ankle, depending on your height.
It comprises up to 8 layers of materials for maximum protection, and it remains breathable, so it's comfortable to use. The comfort in these Oregon chaps is further boosted by the interlocking leg buckles that keep the chaps in place while in use. The ease of usage extends to washing as they are washable using a washing machine. Certifications like UL, ASTM f1414, and ASTM f1897 show the level of safety the chaps offer.
Oregon does not offer any warranty on this product, nor does it come with any extra accessories. Its comfortability and price point still make this a popular option. No matter the activity with your chainsaw, this apron is designed to protect your legs.
Pros & Cons
Pros
Comfortable, breathable material
Machine washable
ASTM f1897, ASTM f1414, and UL certifications
Interlocking leg buckles
600 denier Oxford shell
For gas-powered chainsaws
Cons
Only for gas-powered chainsaws
Short length
5. Cold Creek Loggers Chainsaw Apron
With an astonishing 12 layers of fabric and weighing a decent 2.73 pounds, Cold Creek Loggers have shown that you can have a lot of protection without sacrificing weight. The apron-style material protects only the front and side of the legs like most other chainsaw chaps. Cold Creek Loggers chainsaw chaps are easy to wash and are water and oil resistant. You can concentrate on using your saw instead of worrying about getting soaked.
It meets ASTM f1897 and OSHA 1910-266 standards and is verified by UL. Its protection is more than decent but does not extend to electricity-powered chainsaws. The convenience offered while in use is attractive, with a combination of flapping pockets to carry large tools and an adjustable belt for different waist sizes. You can buy a bigger chap size and not worry about fit, as the adjustable belt helps it fit.
Made from 1200 denier Oxford polyester, the chaps offer a lot of protection while maintaining a lightweight design. It is 37 inches long with several other options for 35 inches and 40 inches lengths.
You can also get options for its color between orange and green.
Pros & Cons
Pros
12 layers of fabric for extra protection
Lightweight design
Adjustable belt
Flapping pockets to store large tools
ASTM 1897, OSHA 1910-266, and UL certifications
Easy to wear
Cons
Not suitable for electric chainsaws
6. Pfanner Gladiator Extreme Chainsaw Protection Pants
This Pfanner Gladiator pants is the most premium chainsaw protection material on this list with only two layers but offers extreme protection. It is no surprise it weighs a whopping 4.6 pounds. It comes in a pants style that covers all the legs, including the back giving you all-around protection. The pant style does not require buckles and straps, which means more convenience as you don't have straps tightly gripping your legs.
Pfanner so many trusts the product that it offers a no-tear and wear guarantee for this chainsaw pant. The only two layers and the presence of the KlimaAir thermoregulator ensure your legs are cool and warm, depending on the outside temperature. In addition, it is resistant to water, heat, and oil, making it an ideal pants to use in dense forests to protect your legs from thorns.
The extreme protection it offers is aided in no small part by combining elastane, VE yarn, polyamide, and polyurethane with polyester lining. It also consists of a Dyneema that ensures your legs stay protected while working on tough materials. The pants come in different sizes, from medium 32 inches to XL 41 inches. Its ease and convenient wearing experience are helped by an integrated StretchAir technology in the pants.
Pros & Cons
Pros
Integrated StretchAir technology for comfort and ease
Different sizes from 32 to 41 inches
Resistant to water, oil, and heat
KlimaAir thermoregulator to keep the temperature in the legs regulated
Comfortable design with no need for straps
Extreme protection levels
7. WoodlandPro Chainsaw Safety Chaps
The woodland chainsaw chaps offer a good level of protection and a reasonable price. It is layered with the popular Kevlar material used in bulletproof vests. You can get these chaps in four different sizes, with only the largest offering a slight price change. The sizes include regular, large, X-large, and 2x, all covering the typical sizes of users. The chaps also come with straps for any minor adjustment, so you don't have to get your exact size, as a slightly larger size may be more comfortable.
It is made with a 400 denier polyester material with a total of 4 layers, including the Kevlar material, to strike a balance between comfortable materials and durable chaos that can withstand the blades of a chainsaw. These WoodlandPro chaps come in an apron style which is easy to wear but offers reduced protection, especially at the back.
It has OSHA and UL certifications to show its safety levels while the straps secure the chaps to your legs. Made for gas chainsaws and is only hand washable.
Pros & Cons
Pros
Easy to wear
400 denier polyester material
Four layers
Kevlar protection
A variety of sizes is available
Adjustable straps
OSHA and UL safety certifications
Cons
Not suitable for electric chainsaws
Not machine washable
8. Forester Chainsaw Chaps – Apron Style
These aprons-style Forester chaps present an easy-to-wear safety material against chainsaw mishaps. It meets all OSHA safety requirements and is UL-verified, providing a good level of durability. With a wide waist size variety from 28 to 44 inches available, you can select a suitable size without struggles. The seven color variations are also attractive as they range from the popular orange to tree camouflage colors.
The chaps are great for gas chainsaws, but the same cannot be said for electric chainsaws due to their high torque level. However, it offers an affordable route to getting a protective material for your legs when using chainsaws. The steps behind ensure the chaps stay firmly on your legs, even in awkward positions.
Pros & Cons
Pros
Affordable
Wide range of waist sizes available
Up to 7 colors are available
OSHA and UL verified
Cons
Not suitable for electric chainsaws
Offers reduced protection
Buyers Guide: Factors to Consider
Getting quality chainsaw chaps for your legs is essential to avoid dangerous accidents. However, knowing the right chaps to buy presents a challenging situation that can be remedied by understanding some factors we'll see shortly.
1. Safety
The major aim of chainsaw chaps is to protect the legs from chainsaw mishaps, so safety is vital when considering any chaps. Luckily, there are several certifications from reputable organizations that these products must pass to ascertain their safety levels. Some of these certifications and verifications include UL, ASTM, OSHA, and more. So naturally, the more certifications the chaps have, the safer it is.
2. Protective Layers
The type of layers in a chap will also determine its level of safety, so you should consider this factor when buying any chaps. Protective layers include primary fabric like denier polyester, protective fibers like Kevlar to ensure its durability, and outer coating like PVC to make it Waterproof and oilproof. Check the quality of these protective layers before purchasing the chaps.
3. Design
Chaps come in various designs, all with their advantages, some of which offer easy-to-wear features but less protection, especially at the back. The apron-style chaps and wrap-around designs offer more protection but can be hot. There's also the pants design that offers all-around protection and comfort but is extremely hot except with extra cooling features.
4. Size
Comfort and convenience are important in chaps, and size is the major factor. You can use the chaps without discomfort if you get a fitting size. Some chaps come in a wide range of common sizes from waist level to the overall size, while others offer limited sizes. Choosing the right size is essential to enjoy a comfortable wearing experience.
5. Machine Compatibility
You need to consider the type of chainsaw you have before purchasing any chainsaw chaps, as most are suitable for a single-machine type. The machine type is often divided between electric chainsaws and gas chainsaws. You should buy chaps suitable for the type of machine you have to ensure maximum protection.
FAQ's
Here are some quick questions many have about chainsaw chaps and their answers.
Q1. What are the different types of chainsaw chaps?
Ans: Type A and C are the most popular types, although there are various other types. Type A is mostly apron style covering the front parts of the legs while type C are pant styles offering all-around protection.
Q2. How to clean and chainsaw chaps
Ans: Cleaning chainsaw chaps varies as some chaps are machine washable, so you can wash them using a machine, while others are hand washable.
Q3. Is chainsaw chap bulletproof?
Ans: No. But they are cut-proof, with their materials stopping chainsaw blades from reaching your legs. Even though some chaps utilize Kevlar, a bulletproof vest material, chaps are not bulletproof.
Summary
Chainsaw chaps will protect your legs in the event of an accident when using a chainsaw and ensure you do not sustain any injury, as it is made from several layers of extremely durable materials that stop the chainsaw blades.