A framing nailer is a must-have tool for any builder, and it can also be insanely useful in many home DIY projects. Unfortunately for buyers, there are dozens of seemingly identical nailers sold on the market, so choosing the best framing nailer for the job can be difficult.
Well, we've prepared our reviews and guide exactly for those who are struggling to find the right framing nailer. Make yourself comfortable – we have a lot to cover and to explain to you!
Our Top Recommendation for Framing Nailer!
The NuMax SFR2190 pneumatic 21 degree 3-1/2″ is a full round head framing nailer. It is ergonomic and lightweight, and made of magnesium body. The interchangeable trigger helps in quickfire or single-shot functions so conveniently.
*We earn a commission if you make a purchase, at no additional cost to you
Top Framing Nailer Reviewed
First things first, we'd like to showcase our top 10 picks.In this section, we'll cover the main specs & features of each selected framing nailer to help you choose. You may see many unfamiliar terms in our reviews – don't worry, we'll explain them in the buyer guide after going through the reviews.
1. NuMax SFR2190 Framing Nailer
QUICK SUMMARY
Power source: Pneumatic.
Nail style: Available in full round-head (FRH) and clipped-head styles.
Nail size: 2 – 3-1/2-inch, 10-12 gauge.
Angle: 21 or 34 degrees, depending on
the nail style.
Shooting modes: Bump fire or single-shot.
Weight: 8.58 pounds.
Warranty: 1-year.
The NuMax SFR2190 framing nailer offers solid functionality at a not too high price.
Thanks to the support of bump fire and single-shot modes, SFR2190 may be used for both large and small projects. Mode switching requires trigger replacement, which is a little cumbersome, but it's still nice that you even have 2 modes.
SFR2190 also offers depth adjustment, allowing you to drive nails flush, countersunk, or partially out. As you drive nails through the material, the non-marring tip will keep the surface pristine too.
What's also nice about this tool is that it has dry-fire lockout – a feature that prevents the tool from firing when the magazine gets empty, immediately letting you know that it's reloading time. This is a great feature to have in a tool of this level – even some high-end tools don't have it!
What We Liked
Rather inexpensive.
Pretty versatile for the price.
Adjustable depth and anti-dry fire lockout.
Available in two nail styles.
Non-marring tip.
2. AIR LOCKER AP700 Punch Nailer/Nail Remover
QUICK SUMMARY
Power source: Pneumatic.
Nail size: 10-20 gauge.
Weight: 2.42 pounds.
Although AP700 is also titled "nailer", it's actually a little bit different kind of tool. It's designed to help you remove 10-20-gauge nails from material. Though this is the opposite of what a traditional framing nailer does, a nail remover like this is a nice tool to have since it will help you drive out misfired nails.
What's very nice about this tool is that it's very inexpensive yet offers good performance. It can pretty easily remove all kinds of staples, clipped nails, round-head nails, and other kinds of fasteners from material. Supporting nails between 10 and 20 gauges, it should also pair well with most nailers out there.
The AP700 nail puncher also weighs a mere 2.42 pounds and is easy to maneuver thanks to the rotating exhaust port.
What We Liked
Pocket-friendly.
Can remove nails of various styles and sizes.
Pretty nicely built.
3. METABO HPT NH90AB Palm Nailer
QUICK SUMMARY
Power source: Pneumatic.
Nail size: 2-1/2 – 3-1/2-inch.
Weight: 1.3 pounds.
Warranty: 5-year.
METABO HPT's NH90AB palm nailer is a wonderful buy for very light use cases or perhaps situations where access to the workpiece is very limited. This unit will fit in many places where a full-sized framing nailer will not.
NH90AB weighs only 1.3 pounds and features an ergonomic rubber grip for convenient operation. One-handed maneuvering is very easy with this tool, which is great for driving nails in very tight spaces.
When it comes to supported nails, NH90AB accepts 2-1/2 – 3-1/2-inch nails, seemingly of any style. Powered by the right air compressor, this thing can drive nails into various types of wood with fair ease.
Speaking of compressors, NH90AB is also available with an air compressor and a hose. If you don't have an air compressor, then this may be the right way to get started with this tool. Otherwise, you may purchase only the tool and save a good amount of money.
All in all a solid tool, NH90AB will excel only in specific use cases. More precisely, it's great when you don't need to quickly drive a lot of nails and when space is very limited. But if the working surface is easily accessible, a standard full-size nailer would make more sense.
What We Liked
Very inexpensive.
Light and easy to operate.
Available with an air compressor.
What We Didn't Like
Only for very light or very specific jobs.
4. BOSTITCH F21PL Framing Nailer
QUICK SUMMARY
Power source: Pneumatic.
Nail style: FRH.
Nail size: 1-1/2 – 3-1/2 inches.
Angle: 21 degrees.
Shooting modes: Bump fire or sequential.
Weight: 8.1 pounds.
Warranty: 7-year.
The BOSTITCH F21PL is a bit pricey tool that offers great reliability and durability. It's a solid option for high-volume use cases where every second counts. A notable thing about F21PL is that it can work for not only framing but also metal connection. To this end, BOSTITCH includes a pair of quick-change nose pieces to allow you to easily switch between the modes.
For added flexibility, F21PL offers push-button depth adjustment, and you may also alternate between bump fire or sequential modes when you want speed or accuracy respectively. We like the 16-inch ruler on the magazine too – it allows you to drive your nails with a little more consistency.The main thing we dislike about F21PL is that it doesn't have dry-fire lockout. Due to this, you may continue firing after running out of nails, not realizing that you aren't doing anything. For a tool of such level, this is an underwhelming downside.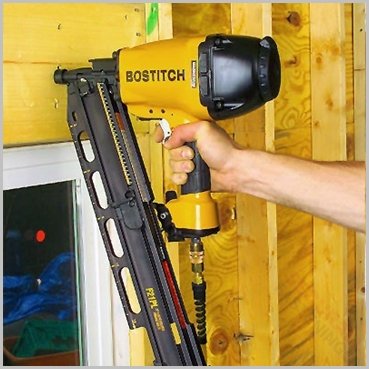 What We Liked
Reliable and durable.
Tool-less nail driving depth adjustments.
Designed for framing or metal connection.
Magazine ruler for more precise nail driving.
What We Didn't Like
Pricey.
Doesn't have dry-fire lockout.
5. BOSTITCH RN46 Coil Roofing Nailer
QUICK SUMMARY
Power source: Pneumatic.
Nail style: FRH.
Nail size: 3/4 – 1-3/4 inches.
Angle: 15 degrees.
Shooting modes: Bump fire & sequential.
Weight: 5.8 pounds.
Warranty: 7-year.
BOSTITCH RN46 is a little bit different from F21PL. Most importantly, it is designed to drive much smaller nails – from 3/4 to 1-3/4 inches. These are the kinds of nails suitable for roofing.Besides, although RN46 is roughly in the same price range as F21PL, it has a dramatically different set of features. It's an all in all much more convenient tool as well.
Arguably the best thing about RN46 is its magazine. With its coil-style design, it can take up to 120 nails and is more space-saving than strip-style nailers. Not only that, but RN46 has dry-fire lockout to prevent you from empty firing, while the reload indicator lets you know when you should reload. RN46 retains the tool-free depth adjustment of F21PL as well, so it offers the same flexibility in terms of nail driving depth. It also has a shingle guide to additionally help with roofing jobs.With all that in mind, RN46 is a solid tool for high-volume applications. It's convenient and reliable, but unfortunately, it won't be able to replace large-size tools such as F21PL. RN46 is a nailer in a separate class, and it's best for roofing rather than traditional framing.
What We Liked
Light and compact.
Tool-free depth adjustment.
The round magazine holds 120 nails.
Zero-nail lockout and reload indicator.
What We Didn't Like
Pricey.
Only works with small nails.
6. METABO HPT NR90AES1 Framing Nailer
QUICK SUMMARY
Power source: Pneumatic.
Nail style: FRH plastic collated.
Nail size: 2 – 3-1/2-inch.
Angle: 21 degrees.
Shooting modes: Bump fire or sequential.
Weight: 7.5 pounds.
Warranty: 5-year.
If you feel that BOSTITCH F21PL is a little overkill for you, then METABO's NR90AES1 framing nailer might be just right. At the basics, the two framing nailers are similar, but NR90AES1 lacks some things.Most importantly, you don't get a nosepiece for metal connection jobs. Besides, NR90AES1 supports a little narrower range of nail sizes, but what it can work with is still more than enough for most framing jobs.
On the other hand, NR90AES1 weighs 7.5 pounds and is rather light, so it's easier to hold. Not only that, but it doesn't force you to change triggers to switch firing modes – this is conveniently done via an onboard switch.But, unfortunately, it still doesn't have dry-fire lockout, so you'll have to keep an eye on the nails.
What We Liked
Great performance for the money.
Rather light.
Allows tool-less depth adjustments.
Allows you to transition between firing
modes with a flip of a switch.
What We Didn't Like
This model appears to be discontinued.
Has no dry-fire lockout.
7. BOSTITCH MCN150 Nailer
QUICK SUMMARY
Power source: Pneumatic.
Nail style: FRH metal connector nails.
Nail size: 1-1/2 inches.
Angle: 35 degrees.
Shooting modes: Bump fire or sequential.
Weight: 4.6 pounds.
Warranty: 7-year.
BOSTITCH's MCN150 nailer isn't a standard framing nailer. Rather, it is a nailer specifically designed for metal frame connection. It's thus a supplementary rather than alternative tool for a frame nailer.Application aside, what's notable about MCN150 is its space-efficient design. Although it's not a small tool by itself, it makes accessing tight spaces easy thanks to the 35-degree magazine. This is just what you want when fastening metal connectors at an angle!
MCN150 is very lightweight as well – weighing just 4.6 pounds, it's a rather convenient tool to operate. What also improves usability is the dry-fire lockout feature. For added safety, MCN150 also prevents firing when the tool isn't properly placed into the connector hole.Note that the MCN150 nailer supports 1-1/2-inch FRH metal connector nails. If you don't have this kind of nails, then you may purchase this nailer with a single nail pack.
What We Liked
Very lightweight.
Space-saving thanks to the 35-degree magazine.
Has dry-fire lockout.
8. Metabo HPT Pneumatic Framing Nailer
QUICK SUMMARY
Pneumatic Power Source
5-Year-Warranty
Most Awarded
Depth Adjustment
Great for Framing
Best for Roof Decking
The METABO HPT NH90AB palm nailer is an excellent choice for light use or scenarios where accessibility to the workpiece is restricted. An entire framing nailer will not operate in so many settings where this device would. The NH90AB is lightweight at 1.3 pounds and has an ergonomic rubber grip for easy use. This tool allows for easy one-handed maneuvering and is ideal for driving nails in tight areas.
When it comes to supported nails, the NH90AB takes 2-1/2 – 3-1/2-inch nails in a variety of styles. This tool can easily drive nails into many types of wood when powered with the correct air compressor.
The NH90AB has an air compressor and a hose, and If you don't have access to an air compressor, it may be the best method to begin using this item. Otherwise, you may just buy the tool and save a lot of money. Overall, NH90AB is a good tool, but it excels in only a few situations. It's particularly useful when you don't need to drive a large number of nails rapidly and have limited room. It is a regular full-size nailer, and it will perform well if the working surface is convenient for working.
What We Liked
Affordable
Easy Operation
Light-weight
Air compressor
What We Didn't Like
Not suitable for heavy and thick elements
9. Metabo HPT NR90ADS1 Framing Nailer
QUICK SUMMARY
Power source: Pneumatic.
Nail style: FRH paper collated.
Nail size: 2 – 3-1/2-inch.
Angle: 30 degrees.
Shooting modes: Bump fire or sequential.
Weight: 7 pounds.
Warranty: 5-year.
Metabo's NR90ADS1 is in many ways similar to the NR90AES1 framing nailer reviewed a little earlier. In fact, at the basics, the two framing nailers share many features, including the tool-less depth regulation and the switch-activated trigger changes.
With that said, the tools differ dramatically in their magazine designs. NR90ADS1 offers a more space-efficient 30-degree magazine that accepts paper collated nails (rather than plastic collated like in NR90AES1).
Aside from that, NR90ADS1 is half a pound lighter than the other Metabo nailer, which is a rather big difference.NR90ADS1 is just a tad pricier than NR90AES1, but for some people, its features are going to be worth it.
What We Liked
Great performance.
Very light and space-saving.
Allows for tool-less depth adjustments.
Transitions between firing modes with a flip of a switch.
What We Didn't Like
Discontinued.
Has no dry-fire lockout.
10. Freeman PFR2190 Framing Nailer
QUICK SUMMARY
Power source: Pneumatic.
Nail style: FRH plastic collated.
Nail size: 2 – 3-1/2-inch, 10-12 gauge.
Angle: 21 degrees.
Shooting modes: Bump fire or single-shot.
Weight: 8.5 pounds.
Warranty: 7-year.
Lastly, consider the PFR2190 framing nailer.If you look closely, PFR2190 offers pretty much the exact same features as the NuMax SFR2190 nailer reviewed at the very beginning. This may well be an identical tool under a different brand!
All in all, there aren't many new things to cover feature-wise except for one thing. The warranty with this tool is 7-year, which is way longer than what NuMax offered. If Freeman stands by its product, then this is perhaps the best budget framing nailer you can find out there!
What We Liked
Functional yet pocket friendly.
Adjustable depth & anti-dry fire lockout.
Non-marring tip.
7-year warranty.
11. Hitachi's NR83A5
QUICK SUMMARY
Pneumatic Power Source.
FRH Plastic Collated Nail Style.
Size of Nails: 2 – 3-1/4 inches
21-Degree Angle.
Bump fire or sequential shooting modes are available.
8.8-Pound Weight.
Five-Year Warranty.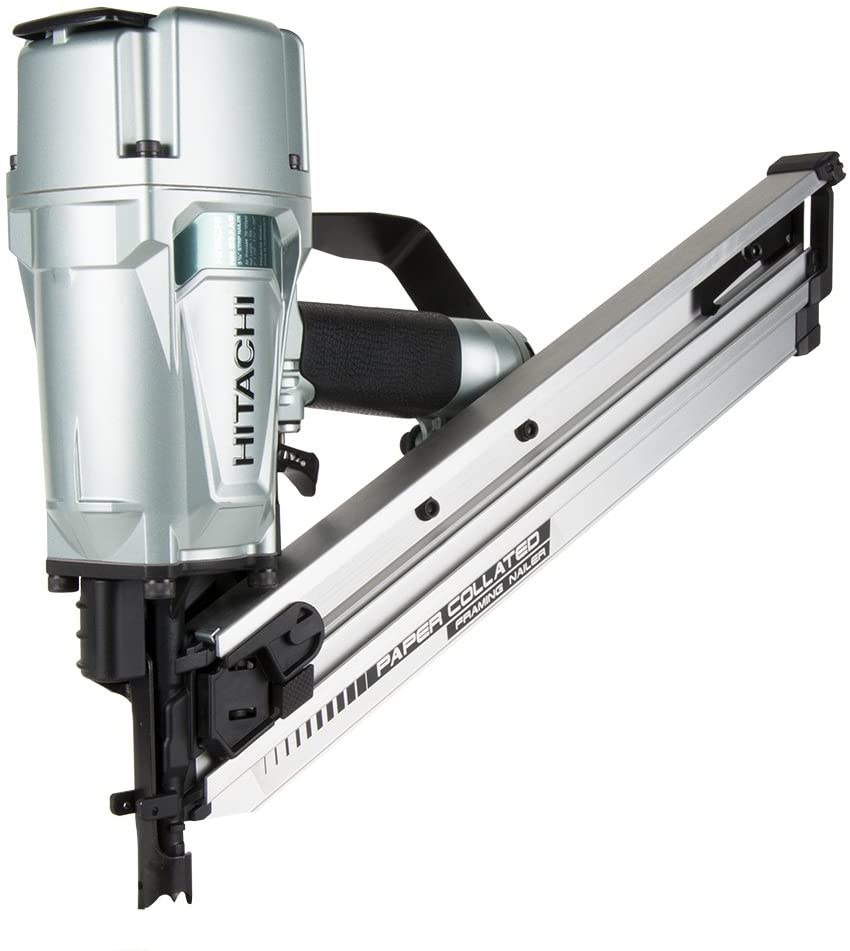 Hitachi's NR83A5 is a fantastic solution for high-demand workloads. This costly frame nailer is suited for assignments with a high volume of work and a tight deadline. The NR83A5 is powered by a powerful motor system that provides quick trigger action and increased endurance. Jams appear to be rare with this nailer as well, however, when they do happen, the open form of the tool makes the procedure simple.
The NR83A5 includes all of the capabilities you'd expect from a framing nailer, plus just a few additions like tool-free depth modification. The NR83A5 can also hold two strips of nails in one go, allowing for longer driving without having to reload. The slip-resistant tip also makes things nails at an angle a breeze.
For flush mounting in a variety of materials, no tools are required to alter the depth of drive. High power boosts efficiency in your work.
For better control and comfort while using, utilize a rubber grip. Selective trigger activation enables both sequential and contact nailing.
Magazines are made of two pieces of aluminum for durability and ease of replacement, rapid responsiveness, and greater durability with a cylinder valve driving system.
What We Liked
Reliable
Depth-Adjustment Tool
Slip-Resistance
2 Stips nails in one go
What To Look For When Shopping For The Best Framing Nailer?
If you don't quite understand which framing nailer would work best for your needs, then this section is for you. Here, we will have a look at the key features of framing nailers.
Once you are done with this guide, you will understand all those nailer specs and features we've encountered in our reviews.
1. Pneumatic vs Electric
Perhaps the biggest consideration when shopping for a framing nailer is the power source. Power-wise, nail guns can be pneumatic or cordless.
Each of these nailer types has its own pros and cons, so it's difficult to tell which one will work best for you. But we can still help you with choosing by explaining the good and bad sides of each nailer style.
Pneumatic nailers
Let's start with pneumatic nailers.
These nailers drive nails using pressurized air. Due to this, pneumatic nailers require air compressors to operate. Generally, framing nailers offer the highest power output in their class, so they are excellent for hard materials.
If you have an air compressor, then an air framing nailer will cost you much less than a cordless one! But if you do not, then you will have to buy a compressor to run a pneumatic nailer. However, in this case, you should also stop and think if you really need an air compressor.
If you are going to purchase more pneumatic tools, then sure, go ahead – an air compressor is a worthy investment. Otherwise, better buy yourself a cordless framing nailer.
In case you do need an air compressor, then you will need to make sure that its specs meet the requirement of your tools. More specifically, you should pay attention to psi and CFM. Psi measures the pressure of the delivered air, while CFM (cubic feet per minute) measures the compressor's airflow.
For ideal operation, the psi and CFM of your air compressor should match the requirements of your tool. CFM may be higher than needed though, especially if you are going to use more than one tool at a time. But operating pressure should be no more, no less than what's needed to avoid damaging the tool and ensure a proper level of performance.
There are many other factors to consider when shopping for an air compressor, so we strongly suggest that you research them separately.
Cordless nailers
Cordless nailers typically run on battery power, though some cordless nailers use gas fuel instead.
Compared to pneumatic nailers, cordless framing nailers offer an unparalleled level of portability and convenience. You may use a cordless nailer anywhere without worrying about air hoses getting in your way.
So if convenience and portability are more important to you than power, then a cordless framing nailer is perfect for you.
But needless to say, cordless nailers are not ideal and have their downsides. In fact, battery- and fuel-powered nailers have distinct disadvantages.
Let's start with battery-powered nailers – their disadvantages are as follows:
Nailer makers often do not include batteries with their cordless tools. This means that getting a battery-powered nailer can be rather expensive.
Batteries make cordless nailers heavy and bulky.
Batteries need recharging.
As for gas-powered nailers, their main disadvantage is fume emission. With that, they aren't safe for use in enclosed, poorly ventilated spaces. However, fuel-driven nailers are lighter than battery-powered models and are easier to refuel.
This concludes our comparison of pneumatic and cordless framing nailers. If you understand the needs of your project, then picking the right type of nailer should be easy based on the info provided above.
2. Round vs Strip Magazines
Nails are fed into the nailer from a magazine. Magazines can be either round or strip-shaped. Although the shape of the magazine doesn't impact the performance of the tool, it does impact its convenience.
Round magazines are more compact and can fit in tighter spaces that are inaccessible to strip-style magazines. Apart from that, round magazines fit more nails, allowing for less frequent reloading.
In contrast, strip magazines can fit in spaces that are narrow and cannot be cleared by round magazines. Strip magazines allow for better weight distribution too, making the nailer easier to use.
We can't say that one magazine style is clearly superior to the other. In fact, we think that you should alternate between the two styles depending on the demands of the project at hand.
With that said, nailers usually only include one style of magazine, with the other type being available as an accessory. Well, just choose whichever style you think will work best for your current job.
3. Magazine Attachment Angle
The nail magazine is typically attached to the nailer at an angle. In most nailers, this angle is between 15 to 34 degrees.
Now, the magazine attachment angle doesn't impact how the nail is being driven into material – it always goes perpendicular to the surface. What it does impact, however, is convenience and the type of nails used.
When it comes to convenience, the higher the angle, the easier access to tight spaces becomes. This is because the magazine gets more angled towards the operator, clearing the area around the tip.
When it comes to nail type, here's how magazines can differ based on their mounting angle:
15- and 21-degree nailers typically drive fully round head nails. We'll talk more about nail types below, so don't worry if you don't understand something.
28- and 30-degree nailers typically drive full-round or clipped-head nails.
4. Supported Nail Type
Since we've mentioned nail types in the previous section, we should talk about them more in-depth here. This point is actually more important than you may be thinking.
You see, the thing is that full round-head nails are enforced by building codes in many areas. So if you don't want to have any problems with the law, you'll have to check out local regulations and use the required type of nails.
The enforcement of round-head nails is rather controversial among builders, but that's a little different topic.
In case there are no specific nail type requirements in your area, then you may use either nail type. Which one to use precisely depends on your project.
When it comes to holding power, there appear to be no differences between clipped-head and FRH nails. The holding power of a nail mostly depends on the shaft, so the differences in head design should not affect the sturdiness of your construction.
FRH and clipped-head nails mainly differ in storage and operation:
You can fit 20-30% more clipped-head nails in the same magazine than FRH nails. This is simply because clipped-head nails take up less space.
Clipped-head nails can be driven close together, which may be a desirable quality for some building projects.
Thanks to their smaller heads, clipped-head nails may be more desirable for some projects for aesthetic reasons.
For most people, clipped-head nails are probably going to be superior in practical terms. However, if your local building code only allows FRH nails, then you have no choice.
So first up, determine if there are any specific requirements in your area. Then, look for a framing nailer that supports the desired nail type. Some nailers only work with one nail style, while a few support both.
5. Supported Nail Size
Don't forget to check the nail size supported by the nailer. This is important because framing nails are manufactured in different sizes.
The most common framing nail length is 3-1/2 inches. However, some framing jobs can do fine with much smaller 2-inch nails. Which nail size would be the best for you depends on your project – do some more research to determine this on your own.
Pay attention to nail diameter too. In framing nails, it usually goes from 0.12 to 0.148 inches. Again, you may need to do additional research to figure out which diameter would be ideal for your job.
6. Firing Modes
Framing nailers have different firing modes as well. Cheaper nailers may have only one firing mode, whereas high-end tools might allow you to switch between different modes to meet the needs of your job.
Which mode would be the best to have? This depends on your needs and budget. To help you choose, let's briefly cover common firing modes used in framing nailers:
Contact or bump

. In this mode, the nails are fired from the nailer upon contact with the workpiece. As long as you hold down the trigger, the tool will fire nails every time you press the tip against a hard surface. This mode is best for situations where you need to quickly cover a lot of work surface. It's convenient because you need to perform a minimal number of steps to drive every nail. However, note that misfires are common in this mode, so safety might be an issue.

Single-sequential

. In single-sequential mode, you must operate the safety tip and trigger one after another to drive the first nail. To fire each next nail, you may release and press the trigger again without releasing the safety tip.

Single-actuation

. This mode is similar to single-sequential, but you may engage the safety tip and trigger in any order to drive the first nail.

Full-sequential

. In full-sequential mode, you have to activate the safety tip and trigger before each shot. This is the slowest firing mode, but it's the safest one because the risk of misfiring is low.
7. Depth Adjustment
This feature allows you to adjust how far the nailer drives the nail. Not everybody will need depth adjustment, but if you want to control how flush or countersunk your nails are, get yourself a framing nailer with adjustable depth.
Note that some nailers offer tool-less depth adjustment, while others may require Allen keys or wrenches for regulation.
8. Jam Elimination
Framing nailers get jammed relatively often. To make jams less annoying and allow you to maintain the flow of your project, some framing nailers have jam-clearing systems or are designed in a way to allow for easy jam elimination.
In our opinion, easy jam treatment is a must-have feature if your projects are high-volume – you will be saving a lot of time and nerves thanks to it. Otherwise, if you won't be using your framing nailer often, it's another feature that you can save money on.
9. Dry-fire Lockout
Dry-fire lockout is also a nice feature to have.
Without dry-fire lockout, the framing nailer will continue firing even after the magazine gets empty. So although you are receiving audio feedback from firing, you aren't actually doing any work. It may take a long time before you realize that the nailer needs reloading.
With dry-fire lockout, the tool will stop firing either once the magazine is empty or when the number of nails goes under a certain threshold. This feature immediately alerts you that the framing nailer needs reloading, allowing you not to waste any time at empty firing.
Final Words
That's it for today's review!
Our buyer's guide should give a good start to your quest for the best framing nailer. In the best-case scenario, you will walk away from this post having purchased yourself a tool! In the worst case, you'll have to do some more digging to find the right tool.
You may also like: