A home is an integral part of one's health and comfort. Shelter is one of the necessities of human existence. Be it humans or animals, these necessities are perpetual. Thus, apart from food and care, your pets need a comfortable enclosure too.
Are you having a guinea pig at home? Are the available cage options on online marketplaces pricey? Continue reading to learn about building a guinea pig cage with easily procured materials. Even better, these 19 guinea pig cage ideas are less laborious and require minimum manual labour.
The below-listed DIY guinea pig cage ideas not only enhance the aesthetic appeal of the surroundings but also add a personal touch in making a safe place for your little one.
Free Read: If DIY projects bring a smile to your face, check out these 68 amazing bunk bed plans for your home.
19 Guinea Pig Cage Ideas
1. DIY Guinea Pig Wooden Cage
If you like having strong wooden objects around, this elementary wooden cage is a perfect pick. Simple yet classy, this cage promises ample open space for your guinea pig to run and enjoy itself. Even better, little guineas feed on everything around, and hence building a natural, safe wooden house makes sense.
To get going, you need old, sturdy wood, a wire screen, pocket hole screws, and wooden glue. The best wood choices are lumber, oak, basswood, and poplar. Remember, guinea pigs often gnaw to keep their teeth ground down to a reasonable size. Hence, selecting the right wood makes a lot of difference.
You can also make your everyday cleaning easy by adding a pull-out bottom and placing a bin beneath.
2. Trendy DIY Guinea Pig Hutch
Select any safe wood for building up the hutch because the guinea pigs are fond of chewing everything they see around. Yes, they will nibble down their own house too!
The larger the hutch, the better it is. Guinea pigs do not jump or climb like other pets, and hence giving them a larger floor space is recommended.
If you have a reasonable amount of time on hand, you can also consider decorating the home for your furry friends. When building up the house, it should be noted that fastening the openings with fencing or mesh walls is mandatory.
3. DIY Coffee Table Shelter
If you have some unused space under furniture or a table, this coffee table turned guinea pig cage idea is for you. This plan works like magic for those struggling with space creation issues.
You can optimize the table's usability to the maximum by using the upper surface as a support to keep items or even your coffee cup. Furthermore, this DIY project is cost-effective and also helps you monitor your piggies all the time.
To put your woodworking skills into action, this is a fair plan to start with.
4. DIY Guinea Pig Run for Beginners
This is the plan, to begin with, if you are an amateur at carpentry. Gather wooden frames, wire netting, screws, and you are all set to give your loved piggy a new home. Keep in mind, constructing this house with an adult's assistance would make the job expeditious.
Guinea pigs need a minimum of 5 hours of exercise daily to stay fit. Providing them with a large space will do the needful. You can also place a few toys inside the run and watch the pigs play and explore!
5. DIY Love-crafted Guinea Pig House
These handmade guinea pig houses ensure safety and give your furry friends their personal space. When you can customize the piggy's home with safe hacks, why ask a stranger to craft it?
This is a cardboard house that can be moved trouble-free whenever required. Place the house in a cage or surround it with fencing to protect the little guinea from escaping or jumping out.
Follow the clearly listed steps and bring this guinea pig cage idea into existence!
6. Grand Hotel DIY Guinea Pig Cage
The grand hotel DIY guinea pig cage idea is not only durable but also adds a grandiose appearance to the basic-looking pig cage. For those who have empty garden space, this design works best. Place the cage in a position where the surface is soft and void of hard stones or litter.
Creating this plan might be a little time-consuming since it requires an abundance of manual labor as well.
Pro tip: Add mesh walls to prevent the guinea pig from escaping.
7. DIY Guinea Pig Shed
Effortless assembling, economical, and rapidly formed, this guinea pig cage idea is the right pick for those who believe in smart work.
Grab some wooden frames, and fix them together to make it look like an enclosure. Lo! The guinea pig shed is ready!
Guineas demand a lot of maintenance and everyday cleaning.  Sweeping and swabbing the piggies can be a strenuous task. But if you choose this DIY cage plan, then not anymore.
8. DIY Guinea Pig Cage from PVC Pipe
On the first look, this guinea pig cage idea might seem difficult to build. But, hold your horses! This plan is not only uncomplicated but also a resourceful creation.
All you require is an obsolete drawer and a few PVC pipes. The pipes will do the job of connecting each drawer and also help in cleaning up your little piggy's mess. Placing this cage on a flat surface is advised so that you can move it as and when required.
Instead of spending a fortune, invest some time and create one of the strongest pig cages hassle-free.
9. DIY Guinea Pig Mansion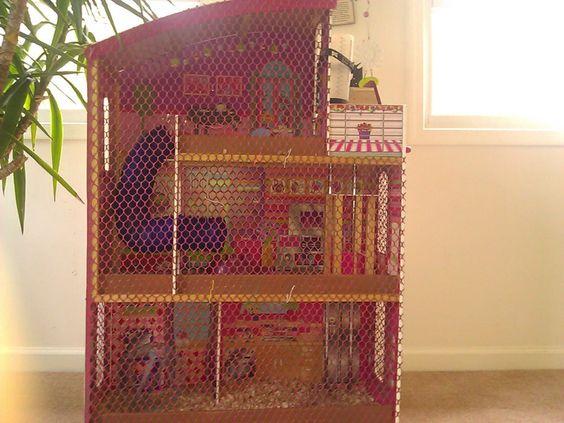 Who does not want to experience living in a mansion? Until this opportunity knocks at your door, let your piggies enjoy a mansion-like DIY cage.
Use the dollhouse which you once purchased for your little child but is now replaced by other fancy toys. Apart from that, you will require fencing to keep your furry guinea safe in its abode. Unlimited hay keeps pigs happy. So, don't forget to put hay in the house.
You can make this plan innovative by drilling a hole and attaching a water bottle. Additionally, PVC pipes can be used to facilitate no sweat cleaning.
10. DIY Cuddle-coddle Guinea Pig Cage
To make the pig feel at home:
Decorate its space with cute, tiny stuff
Install a few planks to form different levels in the house
Make the place lively by adding wall stickers and matching bed sheets.
If you want to have wooden floors as the surface of the cage, ensure you place a thick plastic or tarp on the floor. Doing this will prevent the floor from getting soaked with the piggy's urine and reduce your scrubbing and scouring efforts.
Some guineas have a 'biting the wood' habit. In such cases, opting for a plastic or steel cage is advised.
Freebie: Consider glancing through our 13 simple kitchen cabinet plans.
11. Outdoor DIY Guinea Pig Cage
If you are struggling with creating space indoors, this DIY guinea pig cage idea will come to rescue you. All you need is an open backyard or any open space nearby and plenty of treated wood.
Arrange the wood in your preferred cage shape and fix it with nails. Using nails will help to dismantle the cage if the need arises. Remember to add fencing or mesh walls for the piggy's safety.
Place this outdoor cage in an area of medium indirect light to protect the guinea pig from harsh sun rays. Building this plan from scratch might take you a day or three. Nonetheless, it will be worth all your efforts and time.
12. DIY Guinea Pig Pool Cage
Another cost-effective and portable plan is this DIY pool cage. If you have a kid's swimming pool at home, consider this project half-built.
Additionally, keep in mind to fence the swimming pool from all sides because you certainly do not want the piglets to jump out and create havoc.
In place of water, fill up the pool with hay and other eatables that the piggies enjoy. With this, the DIY guinea pig pool cage is ready.
13. Elevated DIY Guinea Pig Cage
If DIY enthusiasts want to keep an eye on the piggies even while lazing out on the couch, this guinea pig cage idea will suit them best.
It is recommended to keep the cage on a table so that you can utilize the underneath space for storage and, at the same time, look after the piggies.
To make the future work less tedious, you can also attach a water bottle stand. Just a little push to the bottle, and the water will pour immediately into the piglet's water bowl. Most importantly, fencing from all sides is of utmost importance.
Alternatively, you can also use wood to formulate this plan. Once you are ready with the prerequisites, transforming this DIY idea into reality won't take long.
14. DIY Cardboard Guinea Pig Cage
Cardboard, one of the readily accessible materials, is your key ingredient for this DIY project. You can design the cage in any shape of your preference. Try a dome, triangle, or rectangle shape to give the cage a quirky look. Indulge your close ones in building this plan and making the experience a fun-filled one.
To make the guinea pig's house a marvel, make it look like a maze (just like in the picture above). You can also make the piglet exercise by letting him find food in his house all by himself.
This DIY cardboard guinea pig cage requires less area and would be a perfect fit if you are facing a space crisis.
15. Storage Bin DIY Guinea Pig Cage
It may be hard to believe, but the plastic containers which you have lying around in the storage room can help in building up a house for your piglets.
Basic essentials would be containers, a knife, soldering iron, tape, and glue. You can choose the number of levels you want for the house depending upon the availability of the containers.
To provide enough ventilation and protection, you will have to cut one of the sides of the container and secure it with a mesh wall. Bringing along your children to decorate the piggy's home will make this DIY plan all the more interesting.
Note: This is originally a hamster cage. Nonetheless, you can keep the cage construction the same and replace the hamster with your guinea.
16. Cu-Co DIY Guinea Pig Cage
This cubes and coroplast guinea pig cage plan is money-saving and prioritizes large space. With endless design possibilities, this cage can be created at your convenience, with insane amounts of creative freedom.
The materials that you will need for this cage are storage cube grids, corrugated plastic, and a box cutter. Although remember, this plan can be cumbersome, and finding the materials may be difficult.
17. DIY Modernized Guinea Pig Cage
Keeping up with the trendy look of your house, this modernized DIY guinea pig cage plan will add charm to the existing beauty.
You can come up with creative ways to decorate the piglet's space. Even adding flower pots and a few hanging attractions can spice up the entire area. You can also add multiple levels so that your furry friend can run and play as much as he wants.
Above all, no matter what your ideas for creation are, hay and protection are a must.
18. Loft-added DIY Guinea Pig Cage
If you have more than two guinea pigs at home, creating this loft-added DIY guinea pig cage idea is feasible. Not only does it provide ample space, but it also paves the path for easy cleaning.
The main material of this plan is fencing. In the absence of fencing, the piglets will escape or add extra burden by hiding out of their home.
To add a loft to your existing piggy cage, you will have to modify the base where you are planning to add the loft.
19. DIY Guinea Pig Cage Extension
An extension of the earlier described hutch, this guinea pig cage idea is the perfect project if you want to build a fully personalized guinea pig home.
In addition to being affordable, a novice at DIY projects can also create this simple cage.
To keep the top-hinged or unhinged is up to you. Just remember to attach the door and latches for the piggy's safe stay.
Take out a few hours on a Sunday and build this extension guinea pig cage without any complications; you will not regret it.
Final Verdict
Who knew a basic guinea pig cage could be conjured up in so many ways? This exhaustive list has a variety of options, and you can choose the one which meets your budget, time availability, and experience.
The primary advantage of building the cage yourself is that you can customize it according to your piggy's requirements and, at the same time, take care of all its whims and fancies.
Bonus Read: These 14 DIY fireplace mantle plans will add the charm of old-school rustic houses to any modern setting.