With a combined total of more than 10 years of experience in operating power tools, the ProTool team spent 45+ hours on product-testing these chainsaws and consulting industry experts, to find you the best chainsaw under $200. After some discussion, we reached the consensus that DEWALT DCCS620B is the best budget chainsaw on the market.
A chainsaw is the one tool you need for logging and harvesting wood. But higher-end chainsaws can cost over a thousand dollars. This makes novice sawyers hesitant to pick up the craft. Not to worry– we're here to present you the best budget-friendly chainsaws.
Dewalt DCCS620B: Best Cordless Chainsaw
Our Top Recommendation for Chainsaws Under $200!
The DEWALT 20V MAX* XR Chainsaw is a compact, lightweight battery-powered chainsaw for maximum user control. It comes with a low-kick 12-inch bar and chain for construction and outdoor cutting applications.
*We earn a commission if you make a purchase, at no additional cost to you
Here's a quick comparison of the 5 thrifty chainsaws we shortlisted. Chainsaws of this price range are most suitable for dealing with smaller trees. But many features still differ from tool to tool, so take a peek to find the one that fits you best.
Top Chainsaw Under $200 Reviews
We've shortlisted 5 chainsaws that don't break the bank. These are the best chainsaws for each power source. After all, chainsaws can vary by power source, with each source having its own pros and cons. Whether it's gas, electric, or petrol, we recommend that you try them, to see which source you prefer.
1. Dewalt DCCS620B: Best Cordless Chainsaw Under $200
Battery-powered chainsaws are a range of budget-friendly chainsaws which are better for smaller jobs. Nonetheless, there are certainly battery-powered chainsaws powerful enough for homeowners' needs.
Unlike electric chainsaws, battery chainsaws can be more convenient, as they do not need to be connected to a power outlet. The trade-off is, of course, that you will have to recharge the batteries, and always carry spares.
QUICK SUMMARY
Tool-free Chain Tension Adjustment
12″ Oregon brand Bar and Chain
Chain Speed of 25.2ft/s
Compatible with 20V Batteries
The Dewalt DCCS620B is a 12″ chainsaw that runs on 20V-max lithium ion batteries. Of course, this means the chainsaw isn't fit for heavy duty work. However, it absolutely shines as a tool for small and medium-scale jobs. Even if you buy it with the battery (which is sold separately), it still falls under $200, making this an absolute steal you should definitely consider.
This powerful chainsaw, coupled with its ergonomic comfort, means you can breezily cut through wood one-handed. This tool also has an on-demand starting mechanism, so there's no need to keep pulling the cord. It also has amazing ability to hold onto battery charge, which is very convenient. The low volume level provides peace and quiet to both you and your community.
This tool is my regular chainsaw I've been using for about a year. It doesn't bog down, whether it's over a long day's work or over the months. Durable, quiet, yet powerful, this chainsaw is a must-buy. With this thrifty yet excellent tool, Dewalt completely holds true to its brand's reputation.
Read more: Stihl vs Husqvarna Chainsaw Comparison & Results
WHY IS THIS THE TOP PICK?
This chainsaw can slice through wood with great ease, and take down even trees of 10″ in diameter. With that, it easily rivals chainsaws of twice its price
At 8.8lbs, this is a relatively light chainsaw. Coupled with how easy this is to balance and manipulate, it provides superb ease of use
Features such as an easily removable cover, makes cleanup and maintenance a breeze
thumbs-up Without the need for gasoline fuel, you won't have to worry about fuel gumming up your tool. You won't have to worry either, about forgetting the fuel in your chainsaw and needing to replace your carburetor
Pros and Cons
What We Liked
Amazing Ease Of Use
No Pull Cord
Quite Quiet
What We Didn't Like
Leaks Some Oil When Sitting
2. Greenworks 20322: Best Battery Chainsaw Under $200
The Greenworks 20322 is also a battery-powered chainsaw. However, with how powerful yet affordable this chainsaw is, we decided that more than one battery chainsaw deserves to make our list.
QUICK SUMMARY
40V 16″ Battery
Electronic Chain Brake
Brushless Motor
Automatic Oiler
While it is slightly heavier than its Dewalt counterpart, this chainsaw got rave reviews for its power. For a battery-powered tool, this Greenworks cordless chainsaw packs quite a punch. It can cut down really large trunks, even logs of 18" in diameter. With that much power at its price, this is one amazing tool you should definitely try out.
This tool also prides itself on its brushless motor, which improves durability, delivers better torque, and keeps it running smoothly.
Not only that, this chainsaw is quiet, holds the battery charge well, and recharges quite fast. We used it all day, and it stood up to the test. It is light and ergonomic, so we ourselves had no problem working with it all day either.
As this saw is compatible only with certain Greenworks battery models, we recommend that you purchase the version with battery included.
WHY IS THIS THE TOP PICK?
You can adjust this chainsaw's chain without needing tools, making your work even more convenient
It is extremely affordable for a chainsaw that can handle larger projects
Since it is a battery chainsaw, you won't have to pull the starting cord over and over, as is required of a gas chainsaw
It is easy to clean, and easy to maintain too, so you won't have to worry about upkeep either
Pros and Cons
What We Liked
Can Handle Larger Trunks
Long-lasting Battery
Highly Portable
3. Black+Decker LP1000: Best Electric Chainsaw Under $200
Electric chainsaws also tend to be a more affordable range of chainsaws. This makes it possible to find higher-end, higher-quality electric chainsaws for under $200. Such tools do come with some limitations, however– for example, a corded electric chainsaw means you need a nearby power outlet at all times.
Nonetheless, this makes electric chainsaws perfectly suitable for yard work. As long as you are not entertaining the possibility of work out there in the wilderness or remote terrain, it's a thrifty type of chainsaw for you.
Electric chainsaws also tend to better for pruning and trimming, instead of heavy-duty work on larger trees.
QUICK SUMMARY
Anti Kick-Back Mechanism
4.5 Amps of Power
Only 6.5lbs
6″ Bar And Chain
This lightweight, easy-to-use chainsaw cuts wood of up to 4 inches in diameter. It has unique clamping jaws for you to grab and cut branches in smooth, easy movements. While it is certainly no logging tool, it's great for pruning and cutting branches into smaller, easier-to-handle pieces.
It has good weight distribution, and great safety mechanisms too. With its smooth action, it's perfect for getting your smaller projects done quickly. And for a smaller, thriftier tool, it is surprisingly durable, as long as you keep it well-oiled.
WHY IS THIS THE TOP PICK?
This is a quiet chainsaw, so there's no need for uncomfortable earplugs when you use it. Plus, you won't have to worry about waking everyone up when you're working in the backyard.
You just have to place the branch between the jaws of this tool before switching it on. Then it holds the branch steady, and does the cutting for you
It's a relatively lighter tool, so you can work with it all day without feeling the strain.
Pros and Cons
What We Liked
Highly Affordable
Very Beginner-friendly
Easy to Move
Little To No Maintenance Issues
What We Didn't Liked
Provided Oil Bottle Doesn't Work Well
Reduced Portability (Corded)
4. Poulan Pro 96706151: Best Gas Chainsaw Under $200
Gas-powered chainsaws tend to be more durable, and are easier to repair. They also don't have to be connected to an power outlet. Naturally, this makes them the usual choice of professionals. However, this also makes most gas-powered chainsaws pricier.
Nonetheless, there are gas chainsaws available for less than 200 bucks. While you won't be finding professional-quality chainsaws at that price point, there are chainsaws perfect for homeowners and hobbyists.
QUICK SUMMARY
20″ Oregon Brand Low Kick-Back Chain
50cc 2-cycle Engine
Anti-Vibration System
High Oil Flow
Spring-Assist Pull Cord
At its price point, this gas-powered chainsaw is one powerful tool that cuts with ease. With this, your logging could take minutes instead of hours. It also works for projects of varying sizes– yes, even on medium-to-large trees.
This chainsaw is friendly on both your wallet and on the environment. The OxyPower engine technology cuts down on both emissions and fuel consumption. It even manages to do so without sacrificing power.
This tool has features to prevent engine flooding. However, just be sure to check the manual for the exact fuel-oil mix required, to further reduce the risk of flooding.
It also has a bevy of side features that should not be underestimated. After all, these contribute towards the tool's breezy handling and maintaining. For example, it has conveniently-placed chain tension adjustment, and well-placed access clips.
Nonetheless, this chainsaw is not without some issues– the plastic handle and parts may not hold up to constant use. In addition, it is a finicky tool that requires you to follow the instruction manual closely. You also have to make sure you're using high-octane gas. However, as a whole, this Poulan Pro chainsaw is worth a try.
WHY IS THIS THE TOP PICK?
The sharp, high-quality chainsaw chain means you can cut through wood like butter. It hails from the trusted Oregon brand, and does not dull easily
This chainsaw has a beastly engine, granting you lots of power to cut through trees quickly
It also tends to have an easy crank, making this a tool that's easy-to-start. With a pull cord that is spring-assisted, you won't have to tire yourself out. The protected purge bulb also helps with this tool's easy pulls
Pros and Cons
What We Liked
Great Value
Amazing Power
Relatively Durable
What We Didn't Like
On The Heavier Side
Cheaper Plastic Parts
5. MAXLANDER 20V Battery Powered Chainsaw
This cordless chain saw comes with a 20V 2.0ah powerful battery, accompanied by a fast charger. It offers power support for a long time. Moreover, the 20V battery is compatible with the brand's 20V outdoor power tools. The machine also packs 9A all copper wire motor, offering low vibration and low emission technology. And this means that you can use this chain saw comfortably.
You can expect from a 9A copper wire motor excellent cutting performance, thanks to the 12" bar and 5.6 m/s chain speed. More so, the device boasts an ergonomic and convenient design. Plus, you can easily assemble and replace chains and bars due to the toolless auto chain tension.
QUICK SUMMARY
20V 2.0ah powerful battery
Fast charger
Ergonomic design
Visible oil windows to monitor oil volume
Other significant benefits of this chainsaw include a prominently visible oil window. It helps you to monitor the oil volume in the tank while cutting. Moreover, you can save time and effort using this cordless chain saw as it features an automatic oiler. At the same time, the device stays in optimal working condition.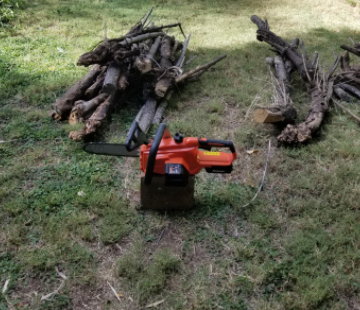 You can use this chain saw from Maxlander with full confidence without being afraid of getting hurt. This is because the machine consists of several safety features. For example, you will get brake function, self-locking button and many others.
WHY IS THIS THE TOP PICK?
It ensures great cutting performance with 5.6m/s chain speed and a 12" bar.
The low emissions and low vibration technology make this machine comfortable to use.
This chain saw comes with a 20V 2.0ah powerful battery and a fast charger.
It has safety features, including a self-locking button and brake function.
The ergonomic design and built-in low vibration technology make it easy and comfortable to use.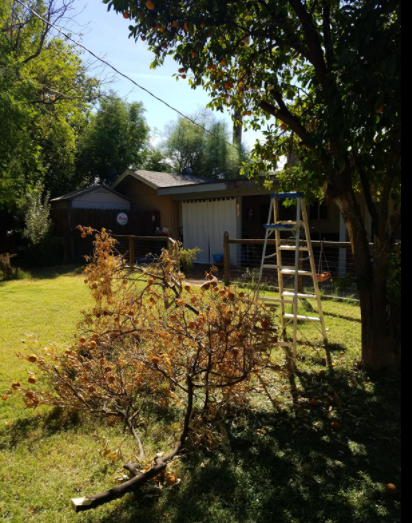 Pros and Cons
What We Liked
It offers great cutting performance with 5.6m/s chain speed and 12" bar
Convenient and ergonomic design
Easy to assemble or replace bars and chains
Allows to monitor the oil volume in the tank
Light and easy to use
The automatic oiler saves time while maintaining the optimal working condition
It comes with several safety features like brake function.
What We Didn't Like
The chain falls off
Motor & chain is pretty loud.
Happy Sawing!
We hope our little list helped you decide what's the best chainsaw under $200. All 5 chainsaws give you lots of bang for your buck. However, do consider which chainsaw suits your personal needs the most.
Pruning and trimming can be pretty intensive work, so we want the experience to be a breeze for you. Having a nicer experience, and a longer-lasting chainsaw, means two things-- getting the right tool, and treating it right. Now that you know about the best budget chainsaws on the market, it's half the battle won. What's more, you won't have to break the bank for that right chainsaw.
And if you've got any issues or queries, please do leave a comment below. We'll get right back to you.
You may also like: