Installing a pergola is an outstanding way to beautify your backyard. These fanciful structures can transform any plain garden area into a magnificent outdoor space where your family can relax as well as enjoy.
Getting a pergola installed with the help of a professional allows you to get a masterfully-constructed structure without putting in much effort. However, as a downside, you will find yourself paying a lot of your money. No need to give up on your dream pergola though. You can always do-it-yourself!
We have collected 20 exquisite DIY pergola plans that you can choose from. Keep reading for some valuable insights!
1. Kitchen Island Pergola
Made out of cedar and custom-built to fit a kitchen island, this pergola boosts the practicality of your outdoor garden. What we love about this plan is the detailed and precise instructions that come with it.
You need to first cut the wooden boards using a miter saw. Next, attach these boards to make separate sections that are assembled to get the entire design ready. If you feel that the plan is getting overly complicated, you can simply skip building the kitchen island.
2. Simple DIY Pergola for Backyard
This standalone pergola is ideal for placing anywhere in your backyard. Based on a simple enough blueprint, the key to perfecting this structure is anchoring its wooden posts in the ground with cement. This will ensure that the frame is firmly fixed and remains so for years to come.
Although you can use any type of wood to build this pergola, redwood will take its durability up a notch by providing weather as well as termite-resistance.
3. Circular Fire Pit Pergola
Not many DIY pergola plans showcase a circular pergola, but this one does and does so with simplicity and style. You can attach multiple swings or egg chairs to the top plates for getting the perfect outdoor retreat too.
Careful marking of the distance between consecutive posts is important to ensure that there is no misstep later. Not to forget, the fire pit and the chairs are an optional but terrific addition to the entire setting.
Want more amazing backyard DIY ideas? Check out these 10 Great Woodworking Projects for Your Backyard.
4. DIY Multi-Use Pergola
Among unique pergola plans, this dual-level design is a star. Constructed from red cedar wood, it has a multi-use space that can be utilized as a seating surface or as storage.
The different heights and distinctive tails of the rafters are easy to create by using 2×6 and 2×4 posts for the former and a jigsaw for the latter. To attach the posts, use deck screws, while gun nails should be used for securing the rafters.
5. DIY Basic Pergola
A touch of greenery around any seating space is what most people prefer nowadays. This DIY pergola plan is the perfect fit for the fulfillment of such ideas.
Use pressure-treated wood for building the posts and rafters if you want your pergola to stay standing even under the harshest conditions. If you cannot find pressure-treated materials, you should paint them to provide a weather-resistant finish.
6. DIY Pergola for Climbing Plants
Another pergola plan for nature lovers, this is a simple project which can be made fanciful by the addition of decorative elements, or by painting the structure in striking colors.
When setting the posts into the ground, the concrete and cement mix should be overfilled into the holes. This will make water logging around the legs difficult. Also, use polyurethane glue along with deck screws to ensure sturdiness.
7. Box-Style Pergola
The square-box design of this pergola is decidedly quirky yet rooted in simplicity. To recreate this style, you simply need to attach rows of small blocks (nogs) of wood between the rafters.
For the decorative ends of the rafters, you have a choice between fixing pre-cut pieces or chipping the wooden boards with a chisel. The entire roof structure is locked together with galvanized nail plates for a truly secure pergola.
8. DIY Garage Door Pergola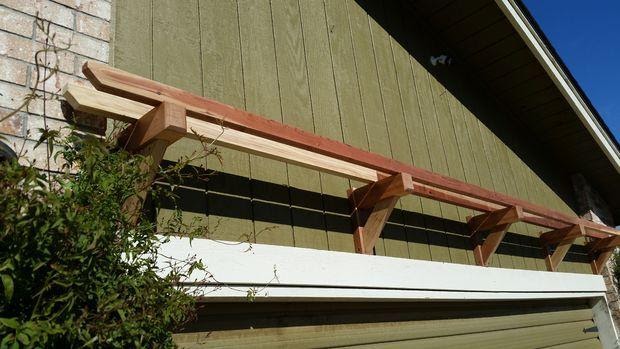 For DIY-beginners, starting with full-blown pergola designs involving heavy woodwork might seem scary. To test the waters, you can first build this tiny garage door pergola.
After cutting pieces of redwood to custom sizes, use a miter saw for the knee braces. These will help to connect the back to the top pieces. Additionally, you will need to make floating tenons to help keep the rafters secure. This can be done by cutting out recesses into blocks of wood and fitting them with angled pieces.
9. Shaded Pergola Design
If your goal of putting up a pergola is getting a shaded space, you should think of having a go at this plan. The use of white fabric to cover the roof of the structure gives it an air of breeziness while also protecting you from the sun.
While the rest of the design is basic and uncomplicated to build, fixing the pieces of fabric will take some patient effort. Also, To make the seating space secure from rain, you can replace the fabric with a waterproof cloth.
10. DIY Pergola Arbor Seat
For lovers of solitary spaces, this pergola arbor seat is the stuff of dreams. Since it is a small design, it can be made using scrap wood.
For the latticed pattern of the seatback, you can use a readymade trellis or simply criss-cross thin strips of wood and then attach them to pole posts. Whereas, the bench can be made by attaching a few wooden boards horizontally.
11. DIY Upcycled Wood Pergola
DIY pergola plans using upcycled material are our favorites as they enhance the cost-effectiveness of DIYs even more.
The pieces of scrap wood can be reclaimed from old out-of-use structures. Remove any nails still attached to these and use an orbital sander for a smooth finish. Paint them for a vibrant look and finish putting up the structure with drills and nails.
Love upcycling? See these DIY Wine Bottle Craft Ideas.
12. DIY Rustic Pergola Plan
Made out of ash, hazel, and willow wood, this rustic pergola plan is as close to nature as can be. To further accentuate the green-love of the structure, you can plant vines along the sides of the pergola.
While it is pretty straightforward to assemble and put up, care should be taken to cut the corner logs to make them level. Wood screws can then be used to secure them together.
13. Steel DIY Garden Pergola
Not all DIYers love the use of wood. Instead, they might enjoy working with metal designs. This steel pergola plan is ideal for such people.
Granted, a lot of your hours will be spent welding but the uniqueness of the final structure will get you praise from friends and visitors. Once you cut the steel rods based on the dimensions provided, use a welding machine to put them all together. Lastly, paint the rods in a color of your choice to get a distinctive finish.
14. DIY Frugal Pergola
Frugal pergola plans such as this one help to make your DIY adventures light on the pocket while also being fun to create.
You can choose any type of wood available at the lumberyard. Stain it in a color of your liking. As for the rafters, use a chisel to obtain intricately designed edges or a jigsaw for fancy ends. Adding boxes to the base of the corner posts will give your pergola a characteristic look.
15. Weatherly-Inspired DIY Pergola
A pergola plan inspired by Weatherly is bound to be eye-catching. Featuring such a design, this DIY blueprint is easy to follow and recreate.
The striking feature of this pergola is the boxed look of the feet. For this, you need a table saw to cut boards and use nails to fix them around the base of the corner posts.
16. DIY Modern Pergola
With a two-toned finish, this modern pergola will boost the visual appeal of the exterior of your house.
Fixing the wooden posts with cement and concrete is a good option. But you can make the process smoother by installing steel brackets. This will also save the multiple inches of wood you would have inserted into the ground in the former method.
17. DIY Pergola for Vines
This pergola plan will give your backyard a classic vineyard look. As a plus, the creeping and overhanging plants provide ample shade to the space.
6×6 and 2×8 treated lumber is used to build this pergola and this is strong enough to support the weight of the rafters as well as the vines.
18. Large DIY Pergola
Employing six posts as opposed to the usual four of the previous pergola plans, this outdoor design is pretty spacious. Even with the scale of the structure, it can be finished in only a few steps.
Stick the posts in dug-up holes and use decking screws to fix them. An important tip while attaching the rafters at the top is to use support beams for securing them.
19. DIY Patio Pergola
If you have an outdoor patio, building a pergola on top of it is a great way to add charm to the space.
Although pressure-treated wood is an economical option, cedarwood or pine wood can be used for a more visually-appealing look. Remember, the dimensions are adjustable and the overall facade is customizable with the use of paint or stain.
20. String Light Pergola
Do pergola plans featuring string lights sound alluring to you? This design is exactly what you need in that case!
A notable characteristic of this pergola is the use of a dual-layer of lattice boards, both perpendicular to each other.
Conclusion
These 20 unique and striking DIY pergola plans are great for beginners as well as professionals. We hope that one of them will inspire you to build a pergola all by yourself.
Consider adding string lights, vines, curtains, attractive and color-coded fabric, or even decorations that suit the pergola throughout the year!