Try out our 50 Wine Bottle Crafts, to reuse and revamp your old wine bottles. Not only does it go easy on the planet, it goes easy on your budget.
Going eco is the hot new trend, and for good reason. Sure, you could throw your used wine bottles into a recycling bin—and in fact, you should–but why not try your hand at upcycling instead?
By upcycling your old wine bottles into candelabras, wind chimes, and all sorts of crafts, you save tons by not purchasing store-bought decor.
So jump into our long list of 50 Beautiful Wine Bottle Crafts to Upcycle Your Old Wine Bottles. It's got something for every season, every celebration, every occasion, and every aesthetic preference of yours.
1. Elegant Flower Vases
These matte white vases go well with neutral decor. Add a painted bottom of glitter to it for an eye-catching contrast, and insert some vibrant flowers to really make the colors pop.
To make these chic flower vases, clean your wine bottles, then let them dry. Place tape on the bottom portion of the bottles (straight or sloping), then paint the untaped part with white craft paint. The tape will serve as a guide to put the glue and glitter on. Only apply glue and glitter after your paint has dried.
When choosing the color of the paint or glitters, consider matching them with the color scheme of your house. You could make the colors of the paint and glitter complement each other, like by using black paint and gold glitter.
Place fresh flowers into your new vase, and display it on a tabletop to make an interesting centerpiece.
---
2. Twine Wrapped Bottles
Dress up your old wine bottles with twine for a rustic yet quirky touch.
You will need twine (in any color), hot glue, fake flowers, and twigs. Remove the labels on your bottle. Afterwards, secure one end of the twine to the bottom of the bottle, using hot glue. Wrap the twine around the bottle, in a bottom-up direction. To secure the twine further, use some hot glue as you do so.
Give it some finishing touches by attaching floral ornaments and decorative beads.
---
3. Wine Bottle Planters
If you are into horticulture, these upcycled planters are a fittingly eco look for your garden wall space. You don't need to dispose of old wine bottles because they can be used to showcase your flowers and herbs.
For this charming garden display, you will need old wine bottles (preferably in different shades), a glass cutter (if you don't know how to use this, ask someone who knows how to cut wine glasses), wall hooks, craft wire, and plants (flowers, herbs, or aerial plant varieties).
Start with cutting away the bottom portion of the wine bottles, then wrapping craft wires around each bottle. Next, create craft wire hoops, to attach the bottles to wall hooks. Secure the wall hooks onto the designated area (with enough spacing for each planter) and hang the bottles upside down. You are now ready to place your chosen plants into each bottle.
---
4. Wine Bottle Candle Centrepiece
This simple candlelit centrepiece adds great atmospheric lighting to any dining occasion.
To start with creating this rustic-style tabletop decor, vary the heights of your bottles, by cutting out varying portions of the bottles. Don't forget to smoothen out any sharp edges.
Next, get a slab of wood and tea candles. Place the tealights on the slab, light the wicks, and cover the candles with your cut wine bottles.
Want more ideas for centrepieces and various tablescape accessories? Check out our long list of Tablescapes For Thanksgiving.
---
5. Wine Bottle Pantry Storage
The pantry is an oft-neglected part of kitchen decor—just rows and rows of shelves, with sauces in the cans they came in, and grains in the bags they were sold in. And sure, that sort of pantry has its own charms, but if you want to add a unique personal touch to your pantry, consider this upcycled bottle craft.
I recommend that you use clear, uncolored wine bottles so that you can easily recognize what's inside. These bottles also look much nicer than the plastic packs which beans or lentils usually come in.
Leave the cork on– your pantry items will do fine, and the corks add a nice rustic touch.
Stick on some waterproof labels on too. They pretty up your storage space further and make sorting your pantry easier.
---
6. Wine Bottle Garden Borders
You may opt for the traditional wood fence panels, but if you have saved enough wine bottles (hopefully after a year or two of dinner parties and celebrations) you may use them to create a border for your flower beds or garden patches.
To do this, line up your bottles in a row (or rows) that delineate(s) your border. Turn the bottles upside down, and bury the necks into the soil. You may choose to have them in a uniform color, for a pleasingly cohesive look, or experiment with various color combinations for something quirky and eclectic.
Note that you may need to use a trowel to create the holes and allow the bottle necks to be buried deeper.
---
7. Shabby Chic Floral Decor
Transform your old wine bottles into decorative ornaments using a little decoupage.
You'll need a glass primer for decoupage bottle crafts. Paint and varnish the bottle, then wrap a printed paper napkin around the bottle and attach it using mod podge.
Border the napkin with lace strips for a vintage look, and wrap some twine around the mouth of the bottle, to add a touch of rusticity.
These floral decorative bottles are perfect as centrepieces or for storing spare buttons.
---
8. Wine Bottle Wind Chime
Create your own backyard symphony, by stringing up some tinkling wind chimes made from wine bottles.
To easily scrape off labels, submerge the bottle in soda water. Thread a strong chain through the bottle after you've cut out the glass bottom. Spruce it up by adding ornaments, such as wooden wheels, beads, and stone pendants.
There's many ways to cut a glass bottle, but one of the most reliable ways to do it is with a tile saw. If you want to get the job done perfectly, check out our list of best tile saws.
---
9. Stylish Modern Fall Centrepiece
Upcycle your old wine bottles into a chic centepiece for this fall. All it takes are wine bottles, some dollar-store pumpkins, spray paint, and washi tape.
Spray paint a bottle white, then tape on some stripes using washi tape. Spray paint the bottle gold, and carefully remove the tape. Complement it with gold and white pumpkins, and a polka-dotted bottle of matching colors.
Insert stalks of wheat into your bottle centrepiece for a touch of fall.
---
10. Decorative Galaxy Bottle
Pack a starry universe into a used bottle, using this easy and thrifty bottle craft.
Soak a diaper in a bowl of water, then tear it open to directly soak the crystals. Yes, I know, it's weird, but hang in there.
Make your galaxy's colors separately from paint and water.
Add a layer of soaked crystals into the bottle, then a layer of color— the absorbent crystals should soak up the paint.
Repeat that, adding glitter to the edge of the bottle for a dash of the stars.
---
11. Shiny and Silvered Ornaments
These shiny, faux-silvered bottles are great as understated ornaments, especially for moody or mystical home decor. What's more, there's no need to shell out for $50 version off the shelf— you can always make it yourself.
For that mirrored look, you need to apply multiple coats of Krylon Looking Glass Spray Paint to the inside of the bottle. Lightly apply silver spray paint if it gets too translucent.
Lightly apply Looking Glass to the exterior of the bottle, and distress with a sponge for a used, vintage look.
---
12. Build Your Own Eco Shelf
Reuse not only used bottles but also used wood, with this environmentally-friendly DIY project.
This shelf's layers are made from planks of wood supported by wine bottles and tightened up with turnbuckles. It's easy to assemble— it's mostly drilling and you just need a little carpentry knowledge. Plus, you can stack it up as high as it needs to be.
Want more ideas for reusing wood? Check out our short sample of wood pallet DIY projects.
---
13. DIY Soap Dispenser
Give your kitchen or restroom sink a modern, minimalist look with a simple DIY soap dispenser. Just fill a wine bottle with liquid soap, and attach a bottle pourer.
For extra pizzazz, you may want to consider etching your old wine bottle. Press a vinyl stencil onto the bottle, leaving the area you wish to etched uncovered. Apply etching cream, smooth it out, let it dry, rinse the bottle, and remove the stencil.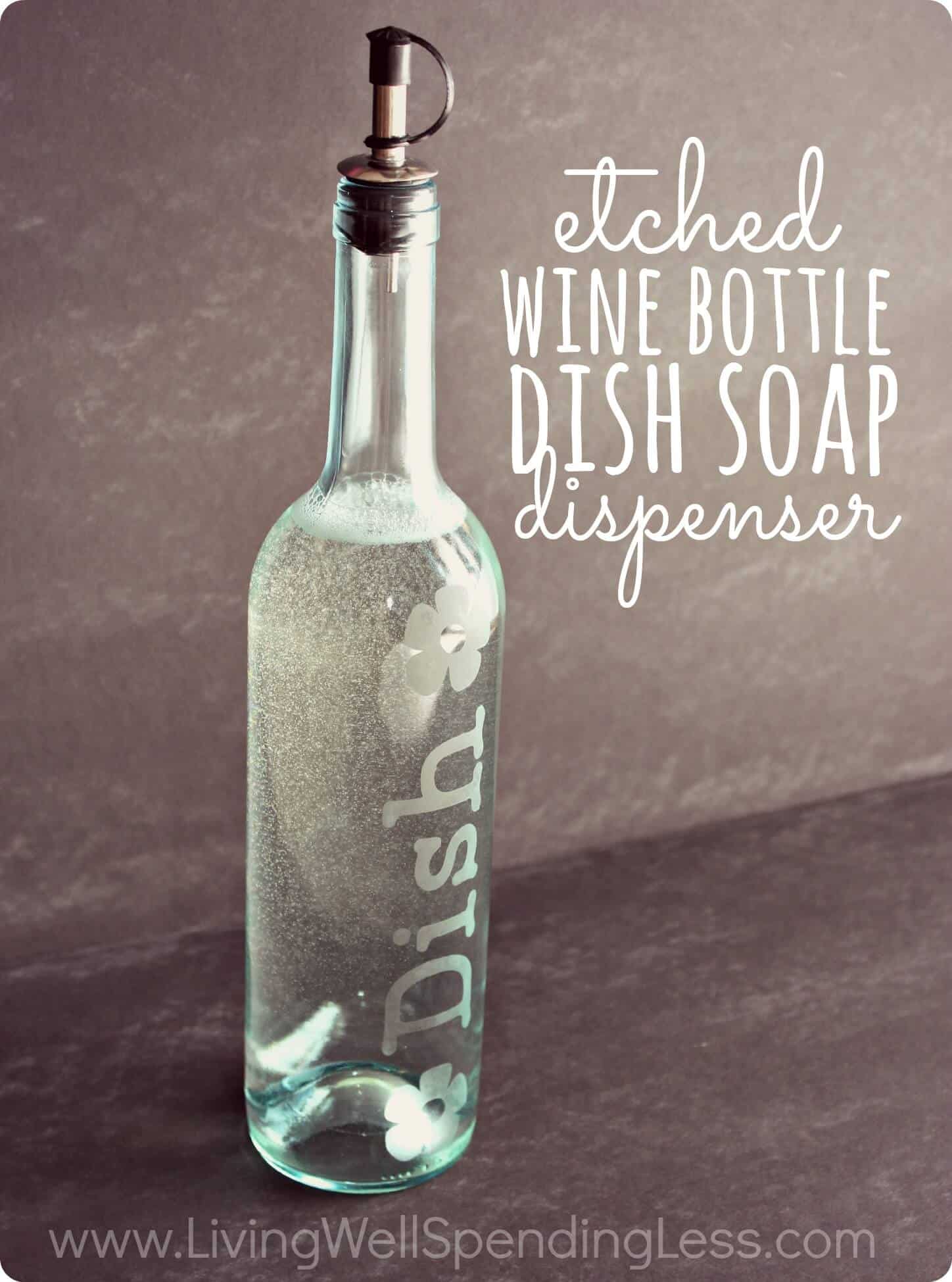 ---
14. String up a Picturesque Bird-Feeder
Bird-feeders are a surefire way to spruce up your backyard, and enhance your bird-watching experience.
Build these beautiful bird-feeders with just a few ingredients. Fill your bottle with feed, and drill two holes near the bottom, for birds to access the feed. Epoxy a saucer to the bottom, and hang the bottle from the branch with copper wire.
You'll need a small drill bit for this project, and one especially for glass. We recommend this ½" Diamond Drill Bit.
---
15. Knotted Jute Wine Bottles
These beautiful bottles are covered in knotted jute, giving them a vintage, seafaring look that's great for coastal decor.
You'll just need jute (or twine), Mod Podge to better adhere the jute to the bottle, a little patience with weaving it all up, and a pair of crafty hands. To add some sparkle, pin on an ornament or two.
These bottles are great just as decor, or you can fill one up with yellowed letters to someone you love, and gift it on a special occasion.
---
16.Decorate Old Bottles With Doily Decoupage
Here's a quick craft to get some eco flower vases with a peppy but nostalgic look.
Simply brush glue thinly onto the back of a paper doily, and attach the doily to an old bottle. Brush a little glue over the doily to better adhere it, let it dry, and apply another coat.
Seal your design with a coat of clear acrylic spray, especially if you plan to use it as a thrifty flower vase.
---
17. Versatile Chalkboard Bottles
These quirky chalkboard bottles are great for many uses– use them as table numbers for pubs or weddings, write sweet messages on them and gift them filled with homemade cocktails, scribble quotes on them and use them as kitchen decor, the list goes on and on.
All it takes is chalkboard spray paint, chalkboard paint pen, an old bottle, and some newspapers for easy clean-up.
What's more, you can further re-purpose these bottles because anything you write can be wiped off.
---
18. Bottles Ring Toss Game
A wedding, a birthday party, your very own summer carnival— a ring toss game is super easy to set up and perfect for any of those occasions.
Add a nicely calligraphed "Ring Toss" placard to a wooden crate, paint your used wine bottles in different colors, place them in the crate, and craft some rings. Different points may be awarded for different colors (don't forget to figure out the gifts too).
To fit a wedding reception theme, considered DIY-ing rings that look like large wedding rings.
---
19. Wine Bottle Serving Dish
Wooden boards, miniature trolleys, shot glasses– quirky ways to plate food are in vogue right now. A flattened wine bottle is great for serving dry dishes on, such as cheeses, cold cuts or finger foods.
This project is relatively quick and easy, but you'll need the heat of a kiln to flatten the bottle.
Pretty it up by threading some beads on a wire, and wrapping that around the neck of the flattened bottle, especially if you wish to use it more as decorative art.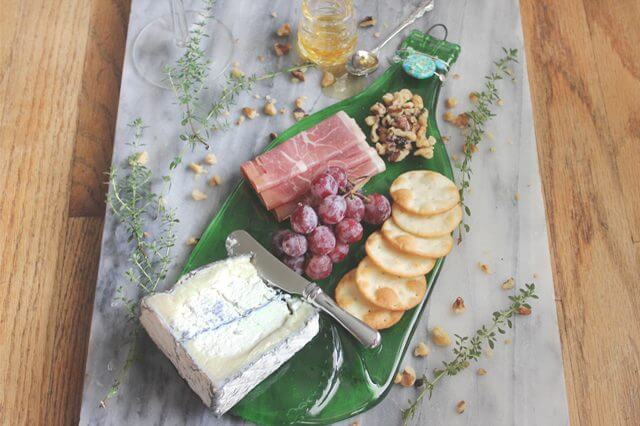 ---
20. Upcycled Bottle Candelabras
Wine Bottle Candelabras are great ornaments for a wedding, for a formal occasion, or really just for lining the stairs of your porch.
The glow of the candles, the melting white wax, and the matte black glass, gives these candelabras a mystical and elegant vibe.
Simply remove the bottle labels, spray paint the bottle black, then place a tapered candle into the neck of the bottle. Quickly light the wick, so that the melting wax would secure the candle to the bottle.

---
21. Wine Bottle Rings
Try making small glass rings from your used wine bottles– they're great as necklaces or for decorating other items.
This project requires both a kiln and a way to cut bottles (e.g. with a tile saw). But these are worthy investments if you're planning on making more bottle/glass crafts.
Cut rings of 0.5-0.75" height from your wine bottle, and flatten them in a kiln running full fuse, to achieve these smooth, pretty rings.
Need an affordable kiln? You can't slump a whole bottle in a small microwave kiln, but it's the perfect budget kiln for smaller glass crafts like these.
---
22. Glass-And-Wood Bottle Decor
These upcycled wine bottles, painted in matte black, are striking but simple ornaments you can easily make. The wood veneer cutouts remind me of fast-forward buttons, making these the perfect fit for ultra-modern decor.
Image here
Remove the bottle labels, spray paint the bottles black, cut out a string of joint triangles from wood veneer, and attach the cutouts using epoxy. Painter's tape helps with precisely cutting and positioning the veneer.
Having trouble removing labels? Use a little Goo Gone Liquid to help finish the job.
---
23. Spiderweb Bottles For Halloween
Want to serve kid-friendly drinks for your Halloween party? I recommend filling your old wine bottles with a non-alcoholic beverage, and decorating the bottles to fit the occasion.
Remove the bottle labels, then paint a portion of your bottle black. Draw on spiderwebs using a white paint pen, and attach a plastic spider or two to the neck of the bottle.
P.S. This dragon fruit drink is a healthy beverage that's a suitably blood-red color. Just mix it with tea to tone down the spiciness for the kids.
---
24. Water Your Plants With Wine Bottles
Making sure your plants get enough water while you're away on vacation, is a pretty common concern. But the solution to that is surprisingly simple.
All it takes is a wine bottle full of water, and a terracotta stake stuck into the soil. The stake absorbs the water, and slowly delivers moisture to your plant.
Technically, any long-necked container will do, but a wine bottle sure gives your flora that fun yet elegant look.
---
25. DIY Sand Art Bottle
These are super-thrifty crafts that serve well as toys for toddlers, and they're easy to gift too.
Make sure you have enough salt, by filling the bottle with it, then pouring it out. Separate the salt into portions, then rub in colored chalk, with a different color for each portion.
Layer your chalk-salt mix into the bottle, to get a pastel rainbow sand art bottle. They're fun for shaking because the colors shift, or your child giftees can pour them out and make their own rainbow sand art.
---
26. Simple Aqua Decorative Bottles
This 1-moment craft creates cool, sea glass wine bottles great for coastal decor.
All it takes is a clear wine bottle, and a coat of sea glass spray paint. Spray on more coats if you like a more matte look.
Place them by the windowsill, and consider adding pieces of actual sea glass into or around the bottles. Or you could always incorporate them into an aqua-themed Thanksgiving tablescape.
Prefer a greenish seafoam tint to the bottles instead? Try this shade of sea glass spray paint.
---
27. Cutesy Succulent Planters
Succulents are in vogue right now, and it's not hard to see why— they're portable, adorable, and easy to care for.
Easily make planters for your succulents by upcycling your wine bottles. It's eco-friendly, and has a neutral look perfect for modern decor.
Just cut out the bottom portion of the bottle, add potting soil into that portion, carefully repot your succulent, add more soil, and pat that down.
You can leave the wine labels on for a touch of elegance, and also vary the labels for each planter.
---
28. Anniversary Messages In Wedding Wine Bottles
Here's a simple but fun idea that's perfect for either a wedding or a birthday– get your guests to write letters to you, and drop the messages into bottles you'll open by the stipulated year.
All it takes are some empty wine bottles, chic labels stipulating the date, instructions for your guests, and writing materials.
Use bottles of different colors to give the set a neutral but varied look. You could also spray paint them for a more matte and peppy, pastel look.
---
29. Thrifty Kitchen Lighting
Kitchen lighting can cost quite a bit, so why not get frugal by upcycling your wine bottles into pendant lights?
Remove the labels on a clear wine bottle, then cut out and dispose of the bottle's bottom. Wire up the top portion to a lamp cord set— the bottle serves as a 'cover' for your light fixture.
For a decorative touch, wrap dark wire around the bottle. Secure the wire by hooking the ends into the lip of the bottle and into the bottle head respectively.
---
30. Vibrant Flower Vase
I'll admit I have a huge weak spot for washi tape— they're cute, colorful, relatively cheap, and oh so very applicable to DIY crafts.
So if you've got some washi tape on hand too, this is a super-easy craft that's the perfect color scheme for summer or spring.
Just grab a few rolls of washi tapes of different colors/designs. Alternate the colors/designs as you wrap rings of tape around an upcycled wine bottle. Add some flowers into the bottle too, for a thrifty flower vase.
---
31. Quirky Popsicle Stick Table Lamp
This matte white table lamp, decorated with pale popsicle sticks, is sure to add a unique touch to a neutral, IKEA sort of home decor.
Image here
You'll need a wine bottle painted white as the stand, and a cardboard box plus the plastic case of a PC cooling fan for the shade. Grab some popsicle sticks too, to cover the shade with.
As you are, after all, DIY-ing a lamp, this project does require a bit of technical knowledge and meddling with electronics, but it's nothing unsurmountable.
---
32. Wine Bottle Candy Stash
Fill your old wine bottle with candy, for a nifty, chic snack stash.
Be sure to paint on a ring of chalkboard paint to write your label onto. Using chalkboard paint and chalk means the label is wipeable too.
Consider picking up some extra materials for this project. Painter's tape can help with painting precisely, and nail polish is great for protecting your coat of paint.
This bottle is filled with M&Ms, but pastilles, jellybeans and candy corn are some of the tasty alternatives you may consider.

---
33. Map-Themed Decoupage Decor
This is the perfect gift for that globetrotting #wanderlust Instagrammer in your life. Or hey, maybe you just like how quirky map-themed flower vases look.
All you need are some glossy cut-up maps, coats of mod podge, and old wine bottles. For a personalized touch, use copies of maps to places you've been to with your giftee.
Use colorful maps for an eclectic look that pairs well with bright, peppy flowers. Pair them with stacks of National Geographic and book-themed decoupage decor, for a thrifty and geeky centrepiece.
---
34. Glass Etched Candelabra
We've suggested chic black candelabras before— but the look of those might be a little too somber for some occasions, and especially for summer.
So grab some emerald-tinted and amber-tinted bottles, for a cheery twist on candelabras.
Just place a tapered candle into the neck of the bottle, and quickly light the wick, to secure the candle via melting wax.
But before you do so, consider etching your favorite quote onto the bottle, for an eye-catching and personalized touch. All it takes is stenciled-out adhesive paper, and etching cream.
---
35. Festive Gnome Wine Bottles
To be honest, I'm a little ambivalent about garden gnomes— quite a few of them look pretty creepy to me. But these gnome-inspired bottle toppers are surely an adorable exception.
You'll just need felt for the hats, pom-poms for the hat tips, ball head pins (or beads, furniture buttons, etc) for the noses, faux white fur for the beards, and hot glue to hold it all together.
It's the perfect project when you're in a rush, and you probably already have everything you need.

---
36. Eclectic Bottle Lights
These thrifty wine bottle lights are a great way to add a colorful, eclectic touch to your home decor.
Get some fancy, colorful tissue paper, and cut them into various shapes. Adhere them to a wine bottle with mod podge, and don't be afraid to crowd them up on the bottle too. Insert lights into the bottle, for an easy DIY bottle lamp.
P.S. Instead of wrangling a long line of LED lights into the bottle, try Light My Bottle. You can spray paint it into any color too.
---
37. Bibliophile's Bottles
Go grab another copy of your favorite book, because this is the perfect project for bookworms everywhere.
Simply take a page out of the book, and cut that into whatever shape you wish, such as a butterfly or tulip. I recommend making the shape relevant to the themes of the book too. Adhere the cutout to a white-painted wine bottle, using mod podge and a paintbrush.
These are also the perfect gifts for any book-lover, plus they cost you almost nothing.
---
38. Vintage Bottle Terrariums
Whip up some woodsy and whimsical decor, with just a few materials. This craft is perfect of those with a less-than-green thumb— you can use artificial moss, artificial succulents, filler, and equally-artificial miniature ornaments for your 'terrarium'.
You'll need a round object as a base. Just hot glue your items onto that, and top it all off with the cut-out bottom of a wine bottle as the terrarium dome. Hot glue a glass knob or glass bead onto the dome for an ornamental, vintage touch.
---
39. Sparkling Silver Bottles
These sparkly bottles are great for adding a bit of bling to any tablescape. You could also use them as flower vases— the silvery bottles pair well with strikingly white flowers.
Remove the labels on your bottles. To better adhere spray paint, considering using primer first and letting that dry. Spray paint your bottles silver, spray on some glue, and sprinkle glitter.
P.S. To make sure your glitter doesn't flake off or move about, try spraying on a few coats of glitter sealer too.
---
40. Rainbow Paper Stars In A Bottle
Japanese paper stars were a staple of my early childhood for sure, colored paper costs next to nothing to buy, and kids loved showing off how well they could fold the little strips into pretty stars.
They're a very versatile decoration, but you can keep it simple by just filling an old bottle with lots of stars. You get a cheery, colorful ornament on an almost-zero budget that way.
Head below for instructions on folding the small stars.
---
41. Adorable Halloween Candelabra
The word "spoopy" can feel a little weird to me, but how else could I describe the cute, not-really-spooky decorations that are great for kid-friendly Halloweens these days? Anyway, that's what this bottle candle is.
All you need for this craft is paint, glitter, googly eyes, hot glue (for that melting wax effect), and a tapered candle.
I also recommend trying a version with red paint and red-colored hot glue, for a dripping blood effect.
---
42. Eco Etched Bangles
Wine bottle bangles are a great green way to spruce your wardrobe. Glass accessories are not your best bet for any sporty day, but they're great for a relaxed event like a dinner with friends.
Cut out rings of ¾ inches wide from a wine bottle. Etch whatever you wish onto the ring, using stenciled-out vinyl and etching cream. The materials for etching are available in an etching starter kit.
Paint the edges of the ring with liquid gold leaf too, if you want a touch of glam elegance.
---
43. Wine Bottle Tiki Torch
I have to admit, I only recently found out tiki torches are used to repel mosquitos– I usually just use a mosquito net! In any case, tiki torches are still great for adding ambience to outdoor settings. Consider this eco-friendly version upcycled from a wine bottle.
You'll need a few hardware materials and a little tinkering, to mount your torch to the wall and securely attach the tiki wick. Make sure to keep the torch outdoors too– you're playing with fire after all.
---
44. Patriotic Hanging Bottle Decor
This amazing hanging bottle is full of starry decorations in the colors of the U.S. flag. You'll need a cut wine bottle, wire, decorative wire beads, ornaments, filler and a spacer jig.
This craft is an instance of a wine bottle fairy garden. Easily tailor your fairy gardens to other occasions, by swapping out the decorative elements, like using plain wooden wire beads and elf ornaments for a woodsy, mystical feel.
---
45. Homemade Bottled Cocktail Mixer
A bottle of red wine is the classic go-to mom's gift. And while good bottled wine can never go wrong, try adding a fresh twist this time round, by gifting cocktail mixers in upcycled wine bottles.
Whip up your own mixer, or get one off the shelf. I recommend this citrusy margarita mixer— it's bang for your buck, and sugar-free too.
Pour the mixer into the wine bottle, decorate the bottle, and attach a label with cocktail prep instructions. Click below for such printable labels.
---
46. Bottle Vase Centrepiece
This wooden rack of upcycled flower vases, is great for an eco-themed, neutral tablescape. It's both a centrepiece and a planter, and you can craft it with just a little carpentry knowledge.
Nail together four pieces of wood to make the rack. The top plank should have evenly-spaced, drilled-out holes that fit the mouths of your wine bottles. If you wish, you could apply wood stains, polish, a sander, etc, to the rack.
Simply insert your bottles, then add water and your flowers.
---
47. Upcycled Self-Watering Planters
These planters are eco-friendly, keep thirsty plants healthy, and even add a chic, hipster touch to your garden.
For this project, you'll need a wine bottle (cut into two separate pieces you'll both need), rubber stoppers, a square of window screen, string, potting soil, and of course, your plants.
Add a chalkboard decal strip to your planter— it's a cute and decorative step that also serves as a helpful label.
---
48. Some Like It Hot (Homemade Hot Sauce)
Yes, I can't resist a film reference.
Moving on– everyone likes different degrees of spiciness for their hot sauce, after all. So make some homemade hot sauce for your friends if you know them well. It'll be a hot sauce that's finally tailored to their specific spice preference.
Sterilise a wine bottle, wash and cut your peppers, then insert them into the bottle. Heat vinegar to boiling, then pour it into the bottle. Let the peppers and vinegar cool and infuse, then cork it and refrigerate it.
---
49. Love Letters In A Bottle
Love letters in a wine bottle— some will tell you that's the perfect valentine's/anniversary gift, and they'd be right, but I also believe any day is a good day for affectionate surprises.
Remove the bottle labels, and add your own labels and decorations suited to the occasion. Write your message on archival paper (you want it to last, after all), roll it up, tie a nice red ribbon to it, and insert into the bottle.
Got a little space left? Add some rose-scented bar soap into the bottle too.
---
50. Cut Bottle Centrepieces
These charming cut-bottles are perfect for a variety of occasions. All you need is cut bottles, craft wire, and some decorating supplies.
Remove bottle labels, and cut the bottles' bottoms out. For a three-bottle centrepiece, vary the heights, leaving the middle bottle the tallest. Add decorations such are burlap strips, lace, ribbons, flower embellishments, and monogrammed cardstock.
Attach a wire holder to the cork of the bottle. Slot in whatever you wish— try table numbers for a wedding, photographs for a birthday, and love letters for an anniversary.
---
Happy Reusing And Revamping!
Dealing with glassware and carpentry can get pretty tiring, so don't forget to take a break every now and then. Don't forget to exercise caution and look out for your own safety too.
We hope that somewhere along this long list of wine bottle craft suggestions, you've found something to your specific liking. By upcycling your wine bottles, you're doing your bit to pretty up your home and also to pretty up our planet. So good job!