Remember those childhood days of grabbing pizza and hitting the Arcade center? Gaming consoles blasting out all kinds of noises while you drop in every last quarter you bought along! Miss the thrill of playing Contra, Tetris, and Super Mario on arcade cabinets?
Don't worry, the 21st century has made it possible to build arcade cabinets at home, with little effort. Whether you want a floating machine, a tabletop machine, or wall-mounted machine cabinets, they are all present in these DIY arcade cabinet plans.
Some woodworking knowledge along with a good grasp of the basics of electronics should help you in converting these plans to reality.
DIY Arcade Cabinet Plans & Ideas
Here we go, a trip back to the 80's gaming era.
1. DIY Home Arcade Cabinet
The DIYer has settled with the 80s DIY approach and has brought minimal parts for this arcade cabinet. You will construct a compact control deck after building a desired monitor mounting design.
You will also be introduced to several tips on the acrylic used, graphics, wiring, lighting, and sounds. The easiest part is setting up the Marquee and you will be offered three suggestions as to how to deal with Marquee.
2. DIY Furniture Grade Cocktail Arcade Cabinet
How about an arcade cabinet that can be used as furniture? Moreover like a mini-table. The specifics and information on building this arcade machine are given by a product designer who is a videogame hobbyist. His passion for the arcade MAME bug has motivated him to make it easy for everyone to get one.
Nothing beats a simple interface that includes the classic 4-way joystick and a trackball.
3. DIY Wall Mounted Arcade Cabinet
Got a half-vacant wall and are you an arcade gaming fan? 700 euros should be just enough to help you succeed in building this DIY arcade cabinet plan. Don't be surprised at the fact that this machine hangs on a furniture-hanging rail. Although, the wall is strengthened using thick wooden beams.
As all electronic components are placed on the backplate, you won't have to open up the arcade cabinet in case of problems.
4. DIY Portable Arcade Suitcase
Did you ever imagine a fully-portable arcade machine? It's literally in-built in a suitcase and can be taken anywhere. There are plenty of photos and explanations regarding the type of components you should use for acquiring a quality arcade machine.
Keep in mind, this uses Raspberry Pi. You should get a Raspberry Pi case to prevent attaching a cooling fan. Also, try and use plenty of Velcro to keep things in place.
5. DIY Custom Arcade Cabinet
If you got scrap wood (especially a kitchen cabinet), you could build this arcade cabinet in as little as $404. Most of your focus and maybe some expertise is required when installing the control panel. Either access the separate control panel construction guide or consider purchasing the suggested Raspberry Pi model.
You may get overwhelmed going through this tutorial, but a one-step-at-a-time approach could do wonders for your final product.
6. DIY BarCade Arcade Mini Cabinet
This arcade cabinet could be placed in any room of your house and be easily transported too. Got an unused PC and monitor lying in your basement? Consider taking it apart and using the parts. If this DIY professional could build it in under $40, you can definitely get close!
The guide is presented in a 3-pictures-per-row format and has approximately 45 mini-steps. Think you'll get badly stuck somewhere? The free PDF has an ocean of details regarding completing this DIY arcade cabinet plan.
7. DIY Arcade Machine Coffee Table
Having an arcade cabinet as your coffee table could revive the 70's console gaming culture in your home. Using an IKEA drawer, you will make cuttings to fix a small LCD screen and the drawer will hold the joystick and other controls.
Worried about spilling drinks onto the arcade set? A tabletop glass gives will provide protection. Just think about it, how many people have the privilege to own a console as such?
8. Retro DIY Arcade Cabinet Plan
Have you played Borderlands 2? This arcade game is as vintage is it can get! The craftsmanship and attention to detail that this guide displays makes it well worth your time.
If you take DIY orders for side income, then selling this to a local café could fetch you good money. The controller would be a mini PAC keyboard that connects the micro switches, LEDs, and the joystick button.
9. DIY Sit Down Driving Arcade Cabinet
Would you rather play car racing games on your phone or on your arcade-based driving game console at home? If you are someone who takes car racing games seriously, this could be a game-changer.
You have to stick 2 velcro strips under the mats, exactly where the bottom of the brake lies. Also, secure the mats using not less than 10 roofing nails.
10. DIY Arcade Cabinet Using Steam Link
Steam Link lets you stream video games from your computer to the arcade cabinet. The design is sleek and boasts a wonderfully crafted controller area that comes with a pull-out tray. This tray would have pinball paddle buttons and cup holders. Customizations like these are why modern-day DIY arcade cabinet plans stand out.
11. DIY Ohio State Arcade Cabinet
Don't want to occupy plenty of room space? This compact arcade cabinet is taller than it is wider. The topsides are supported by a higher piece of 1.5'' X 1.5'' wood in the middle. Overall, there is plenty of paneling to be done, for the backside, controls, speakers, etc.
Apart from the well-described construction phase, the images for the wiring connections should give you a fair idea of what is to be done.
12. DIY Retropie Bartop Arcade Cabinet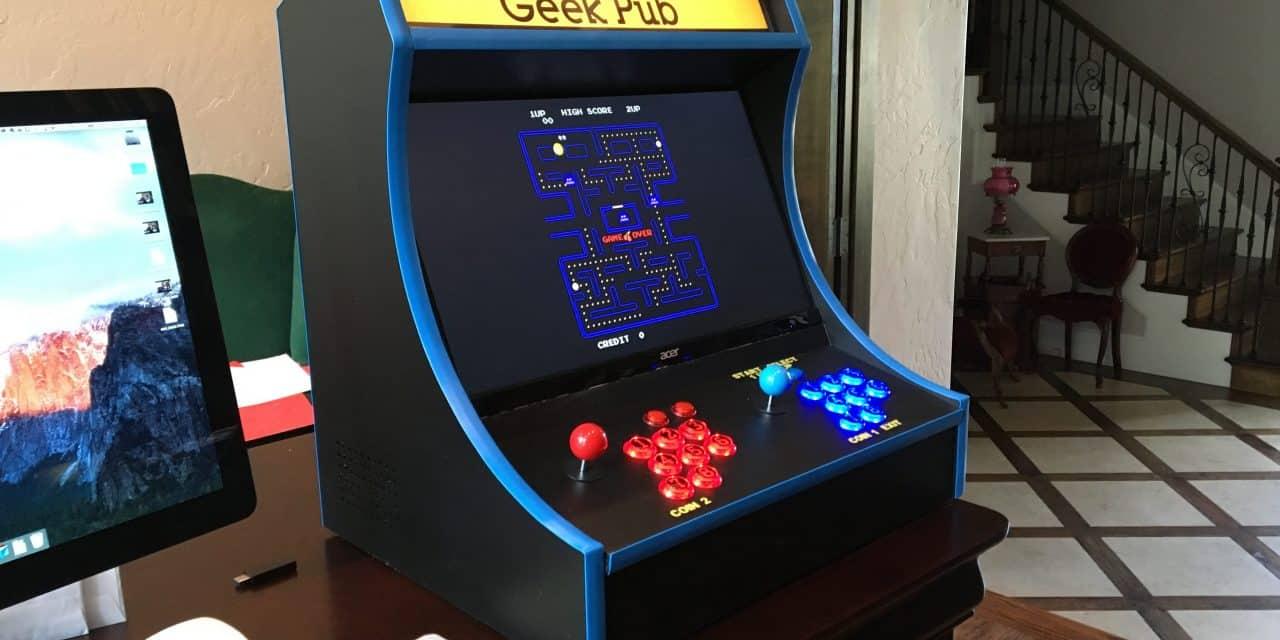 How cool would it be if your outdoor bar counter had an arcade cabinet? Using a 24-inch monitor and a Raspberry Pi system, you won't have any trouble setting up the game.
There are 19 steps and the progression will be evident in each step you complete. The best part is when you prime the arcade cabinet. This creates a much smoother surface for painting.
Check out these DIY bar stool plans too!
13. DIY Sleek Tabletop Arcade Cabinet
This arcade machine is capable of playing indie games such as Samurai Gunn, Nidhogg, OlliOlli, etc. There are sketch ups, high-end tech alternatives, and even plenty of images in reel format to help you out.
Why not reward employees with an in-office tabletop arcade gaming console? This could definitely be a monotony-buster.
14. DIY Single Sheet Plywood Arcade Cabinet
You're not going to be able to build an arcade cabinet as thin as this. No wonder it uses just a single sheet of plywood. It possesses all the traits a DIYer would like; stylish, affordable, and easy to build.
The sharp angles make it suitable for both, adults and children. The kids can stand and play while the adults can enjoy seated-play.
15. DIY Wooden Arcade Cabinet
The key attribute of this cabinet is its frontside pallet design. You won't find many such rustic arcade cabinets that don't put up catchy graphics on the outer layers.
Few features are the classic concave pushbuttons, long Zippyy joystick, and two basic 3-inch speakers. Even better, the pallet design actually acts as a storage unit with a shelf.
16. DIY Barrel Arcade Cabinet
This is proof of the extents that DIY projects can touch. Using a barrel to build an arcade cabinet sounds unrealistic. But in reality, all you got to do install the console within the upper-cutting and use this as a coffee table covered with a glass top. One could even call it a cocktail table.
You don't see arcade cabinets often these days. Having an antique-looking creation as such would break the norm by a high margin.
17. DIY Cockpit Arcade Cabinet 
When was the last time you played car racing games on an arcade cabinet, that too while in a seated cockpit! This could be slightly heavy on the pocket but definitely worth its functionality and final look.
Don't consider this an uncomfortable cockpit. The materials and equipment used for the seating, brakes, wheels, and speakers make it like a gaming theatre.
Verdict
Spending time working on these DIY arcade cabinet plans speaks volumes of your love for arcade games. Consider this as the biggest gift from your generation that you could leave behind for your grandchildren.
You're going to need to work with a saw often. Our guide on saw types and a few recommendations should give you valuable insight.