Have you ever thought about installing a shed in your garden? If you are someone who loves gardening, then this idea is sure to have crossed your mind. Sheds give you extra storage space where you can keep your lawn equipment. These can also be a play area for your kids. The idea of having a shed in your garden is interesting, but where do you start?
Sheds can be built in various sizes, so what makes 8×10 sheds special? The 8×10 shed plans are roomy and give you enough space to keep your stuff in. It is not very large, so it does not cover half your lawn.
Once you have decided on the size of the shed, the next step is to choose between a DIY or a ready-made option. The professionally designed ready-to-install sheds are expensive, and they do not let you customize the design either.
If DIY seems tough work, then worry not. We have listed the best 8×10 shed plans detailing the materials required and the step-by-step instructions to help you build it. You may be an amateur with construction, but the entire process will seem like a cakewalk once through this guide.
So without much ado, let us jump straight into the various 8×10 shed design plans available.
15 8×10 Free Shed Plans
Before you hit the market, here is a list of the DIY 8×10 shed plans which you should definitely look at. Go through the plans, which will give you an upper hand, not letting the carpenter fool you with expensive stuff.
1. Gabled garden shed
The gabled shed garden includes 80 square feet of storage space. It has a workbench and a window in the design. A wrap-around deck is also sufficient to let you build this 8×10 shed. Get the entire plan with the material list and start with the construction.
2. Free storage shed
Wish to build a storage shed in your backyard? Then this easy-to-build 8×10 shed plan is here to guide you through the entire steps. The shed works as a basic storage unit to let you keep your lawn equipment and tools.
3. Cheap shed plan
Are you looking for a smart shed plan that does not cost a lot of money? Then look here at this cheap shed plan perfect to store your garden equipment and other storage items. The gable design of the shed is alluring, with a front door and windows.
4. Garden or storage shed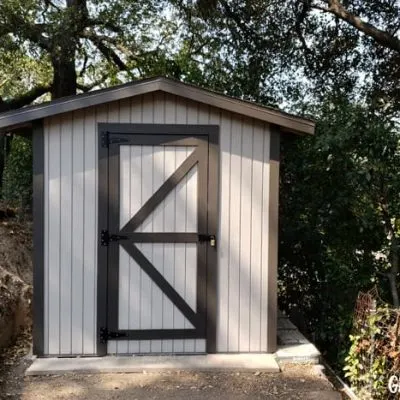 If your house is small and your garage is already packed with items, why not build a garden shed to keep items you hardly use? You are free to use this shed as you wish to. And for all the instructions and step-by-step methods of construction, we have you sorted.
5. Beginner DIY shed
If this is your first time in construction, then this DIY shed could be the right choice. The free plan gives you detailed instructions with the dimensions and images to make your task easy.
6. Gable sheds
Gable sheds are popular because they double up as a kid's playroom. With windows and doors in the design, the place is ideal to stay in for some time as the air inside is well ventilated, and there is enough sunlight that penetrates through the doors and windows. Here is an easy gable shed construction plan.
7. Homemade shed
This is again a detailed plan to help you construct a homemade 8×10 shed in your garden. The shed serves many purposes. Store your garden equipment's in it, make it your kids' playroom, or keep your house junk in it. The dimensions and the instructions are well explained, so you will never get lost.
8. Rustic look shed plan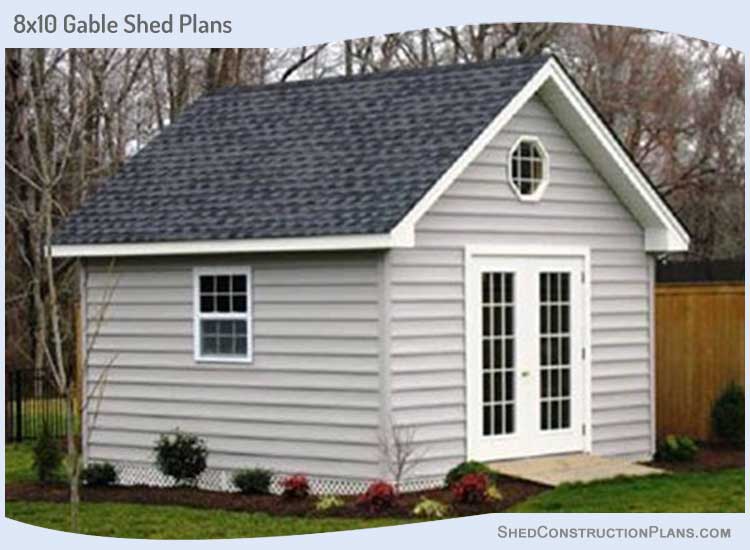 The 8×10 shed plan blends easily with the rustic look of your backyard. The roof is in a steep gable design, and with simple things used in this project, it is easy to construct this shed.
9. Storage shed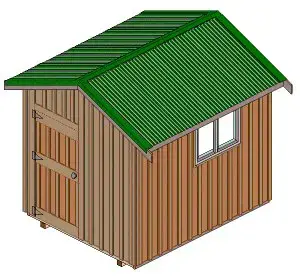 Here is a simple to build a storage shed in your garden. The plan is detailed with real-life images, which makes it easy for you to follow and construct your shed. The shed is optimally built to let you optimize the space well.
10. Free gable shed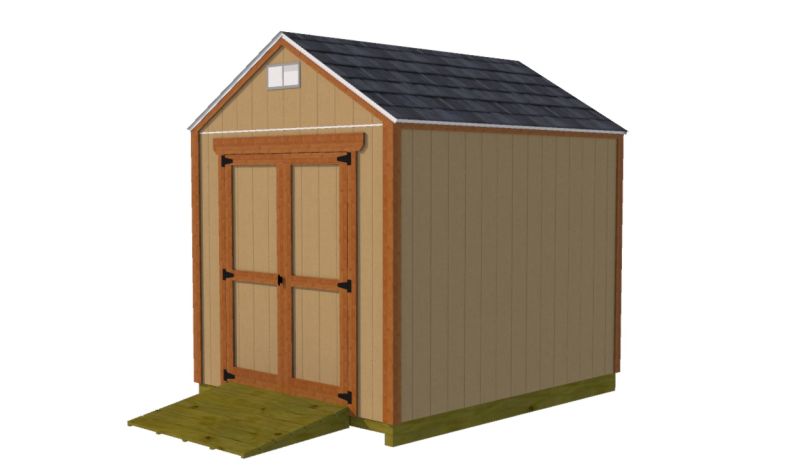 Gable sheds are popular because they have a front door and a small window that makes the inside of the shed airy, letting the light pass through. It enhances the look of the shed. The plan here gives you two options for the doors. You are free to choose the option that you like better.
11. Gable roof shed
Easy to build and interesting in design, the gable roof shed is spacious, and its construction steps have been clearly explained in this free plan.
12. Stunning 8×10 shed
The shed design catches your eye, adding to the aesthetic look of your garden. The black walls easily blend into your garden look. With some real-life images, the plan makes it easy for you to build this shed, minimizing mistakes.
13. Durable gable shed
You may be an amateur with no experience in woodworking. Do not worry, as this gable shed design handholds you through the entire process. Crafted using lumber that is pressure treated, the shed has a steep pitch, gable roof and constructed with basic joints. You are free to use it as a cozy garden shed or a storage shed in your backyard.
14. Easy 8×10 shed plan
With the right dimension of lumber and plywood, it just takes a day or two to ready this 8×10 shed in your yard.
15. Lean-to shed
The idea of having a lean-to shed is that it offers extra storage. This shed is an ideal place where you can store away your gardening equipment and tools, saving them from bad weather and the rain. A lean-to-shed design is simple but efficient. Work with care to complete the job fast with no mistakes. The plan will make the entire woodworking easy, letting you appreciate a neatly finished appearance.
Conclusion
Above, we have listed many 8×10 free shed plans to let you build the storage shed that you have always dreamt about. These are free plans, so you only need to spend on the materials and the tools to get started.
We have curated varied designs to let you pick what you like the best. The sheds are great for storage but easily doubles up as a children's play area.
With step-by-step instructions, videos, photos, material lists, and diagrams, you will soon feel confident about constructing your shed. So get started to create a getaway because these sheds are also ideal to be used as a TV room, a craft area, or just a place to seek some relaxation.