A 10*12 shed in your backyard is a great idea to store your gardening tools or even an ATV without the shed dominating the space. If you are the organized type, we are sure that a shed has been on your mind for quite some time. But what are the options available for you?
You may go easy with the pre-fab sheds available, buy them, and put them together to get your shed ready within a few hours. Or you may want to DIY the entire shed yourself.
Before you take the plunge, let us explain why a DIY shed could be the best choice. Firstly, there are innumerable free DIY 10*12 shed plans available online. Secondly, you get to customize the design of the shed as per your liking. Thirdly, a DIY shed is so cheap that it saves you a whole lot of money. And lastly, the entire planning and construction is fun and a perfect family weekend activity.
Does that sound tempting enough? But who helps you with the plan? The internet is flooded with these 10*12 shed plans, but we make it even simpler for you.
Read below for the best 10*12 DIY shed plans, curated from various sites with detailed instructions and a step-by-step guide to handhold you right from the scratch till the end of the project.
So why wait further? Let us get started!
16 DIY 10×12 Shed Plans
1. 10*12 sheds with a side porch
If your idea is to build a compact and simple shed with a little twist, this is the ideal shed plan. The shed features a double side door and a front door which gives easy access to the inside. It is however the side porch that gives the project a unique feel.
Pay attention to the quality of material that you use as it pays off in the longer run. Follow the step-by-step guide to get a professional result.
2. Backyard 10*12 storage shed with porch
Get your shed with a porch in the backyard and enjoy some me-time or spend time with family. Here is the detailed plan to help you get started.
3. Shed plan 10*12 with a porch
If you are in the mood to build a shed with a convenient and affordable porch, consider this 10*12 shed plan.
The shed is moderate in size and can be easily transformed into a place to store your tools or converted into your workspace.
4. 10*12 lean shed plan
The shed is a perfect addition to your garden. If you are looking for something straight to build right next to your property, this is the 10*12 shed you need.
It has a lean-to roof and double front doors. Take a look at the plan to get some building inspiration.
5. 10*12 beautiful gable shed
A gable shed with wide double-doorlets, you store tall objects and huge equipment. It also makes it convenient to enter and remove the items easily and quickly from the shed.
There are multiple windows in this shed for the free flow of air and light letting you spend a long time in the shed. The sliding is weather resistant which makes it low maintenance. The composite trim is another added advantage of this shed.
It may be a little time-consuming to make this shed, but to get the best result, do not haste to complete it in a day.
6. 10*12 gable shed plan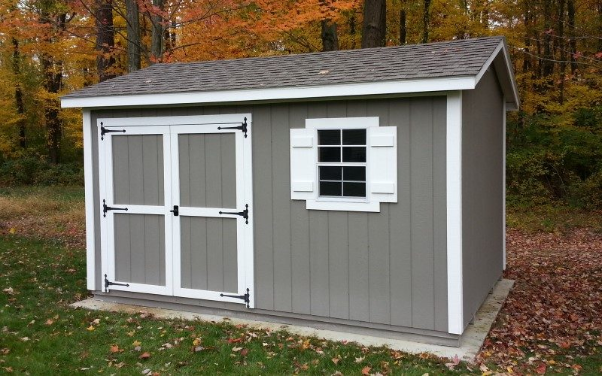 This is another plan for a gable shed. Use this shed to store your tools or let your kids escape on a rainy or warm day. Here are the detailed instructions on how to go about building this shed in your garden.
7. Schoolhouse storage shed plan
The schoolhouse storage shed design can be a real marvel in your backyard if done right. It is the ideal place to store your tools or even your lawnmower with an old timely and classic look. Your kids however, are sure to rush in here to make it their own space.
8. Easy to build 10*12 shed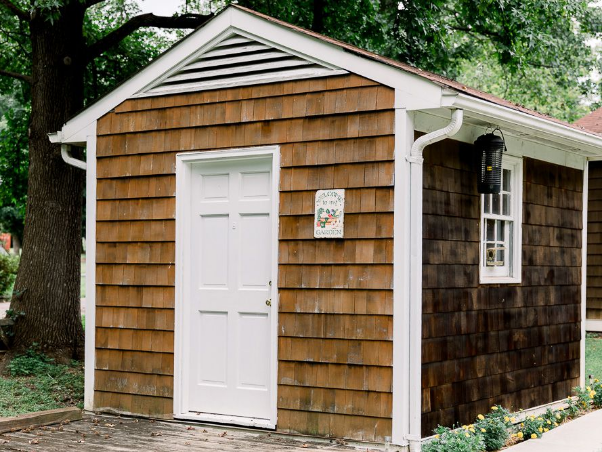 Here is a detailed video to help you get started with your DIY shed project. Make a list of all the things that you will need to give your project shape and follow the instructions to build this simple yet elegant shed in your backyard.
9. 10*12 simple wooden shed plan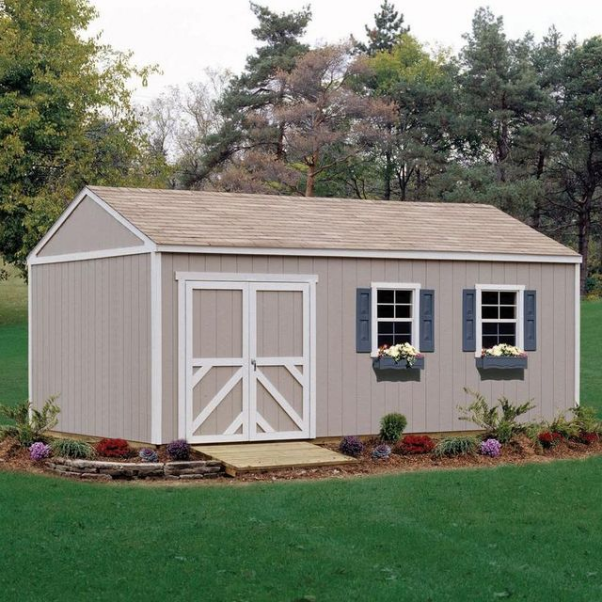 The wooden shed in your garden enhances the aesthetics of your home adding a little rustic look to space. Nestled amidst the trees, this shed adds an aura to the garden design. With wide front doors to store your lawnmower and enough space in the loft, the shed is spacious and exudes sophistication to your lawn.
10. 10*12 DIY shed MoridinCP
This DIY shed is attractive to look at and simple to make. What makes it unique is the slanting roof design that prevents water clogging or damage to the shed because of stagnant water.
The size of the shed is such that it easily fits into the backyard. Here is the complete guide on the materials you would need and tips on finishing the project on time.
11. 10*12 Traditional garden shed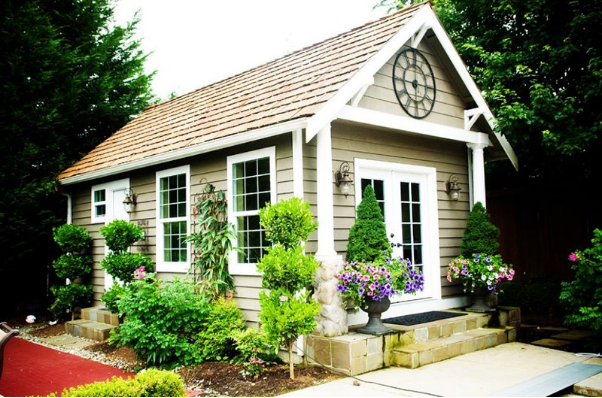 Build your garden shed in a few easy steps with this step-by-step guide. It costs money to build the shed but is an investment that is worth it.
12. 10*12 lean to shed plan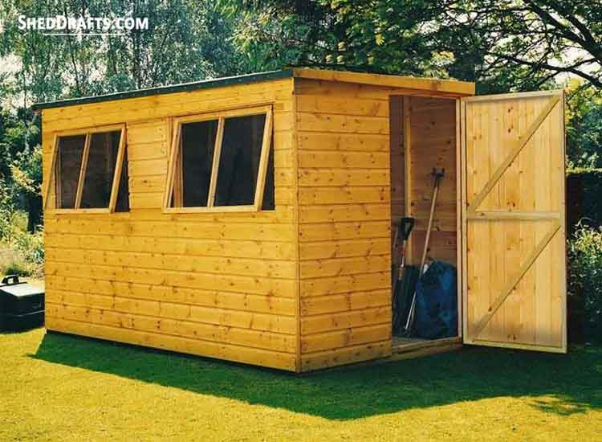 Construction 101 offers a detailed blueprint for a lean-to-shed plan which is simple to make and elegant to look at. Go ahead and have a look at the detailed steps to help you get started.
13. 10*12 barn shed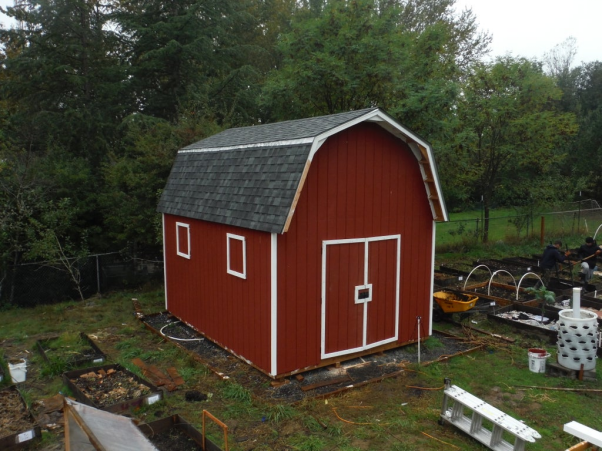 Here is a rustic-designed barn shed for your backyard. The guide gives you complete instructions with graphics on every aspect of the design. The shed looks classy and easily blends with the colors of your garden.
14. 10*12 simple lean-to shed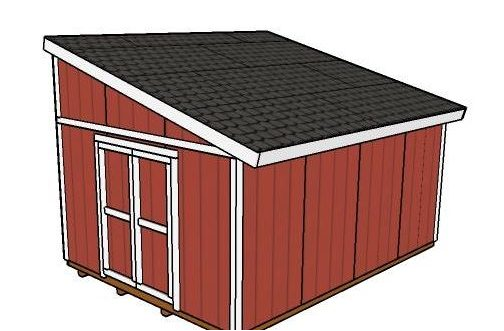 The design of the lean-to shed maximizes the space in the garden as well as optimizes the space in the shed. The shed is planned with large windows and doors to keep the inside bright and airy. All the materials are listed down and there is a video to guide you through the process.
15. 10*12 gable shed with porch roof
This is a functional and elegant design of a gable shed with a porch roof. The slide of the shed is designed to offer maximum space. The outside provides a seating area with shade. The shed is perfect for small backyards.
16. 10*12 modern work shed
Want your DIY shed to stand out then you will have to make something different from the rest. Why not check out this modern shed design. The instruction is detailed and guides you through the steps to craft your shed.
Conclusion
So here is the list of the top 10*12 DIY shed project designs. Take a close look at the free plans and the designs before you begin with the construction. The idea is to give you storage or a sitting place in your backyard that is well ventilated and blends into the aesthetics of your garden without overpowering the surroundings.
However, before you start know your local state rules so that you comply with all the regulations. Once you get the green signal start with the planning paying attention to every detail. This will prevent you from committing costly mistakes.
Invest in quality materials like redwood, cedar, and pine that are weather resistant. Apply a coat of paint to protect the shed from bad weather and to enhance its appearance.
So wear your creativity hat, add some decorative trims and give a unique twist to your shed design to let it stand out.