Having a proper bed to lie on after a stressful day is essential, considering the relief you get from good sleep. On the other hand, an uncomfortable bed will increase stress levels and may lead to other health challenges. Regarding the bed size names, there has often been confusion about how these names were formed.
A queen size bed is typically 60 by 80 inches long, which is large compared to even twin beds; however, it is smaller than king-size beds. Building your bed as opposed to buying the bed from a store gives you a chance to express your creativity and enjoy the DIY practice.
If you've settled for the queen-size bed and love a DIY project, we'll show plans and ideas to build queen-size beds. You can complete most bed plans in under two days with minimal experience; however, you need a guide containing all the materials, dimensions, and more.
DIY Queen Bed Frame Plans
Building your bed frame is a great way to save costs and explore creativity. However, only professionals may have the experience to build a bed frame without a plan, so we have this section of compiled free queen bed frame plans.
1. Douglas Fir Queen Bed Frame With Headpost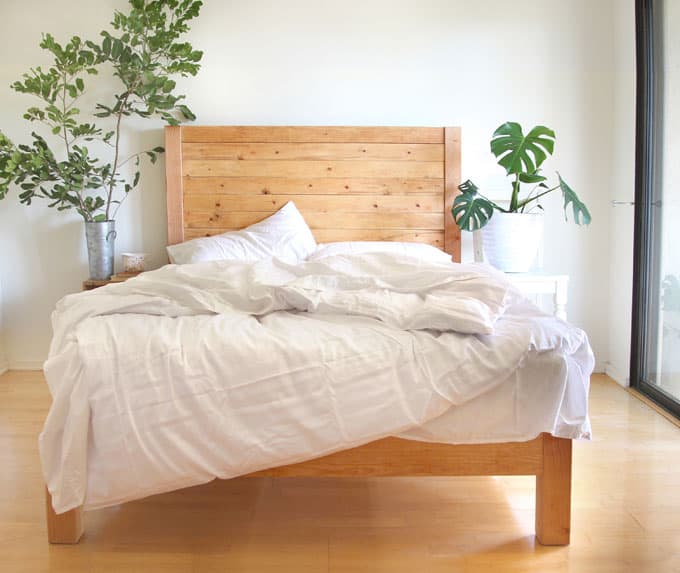 Plain Douglas fir wood is chemically free and safe, with a beautiful look enhanced by its grain pattern. The wood features small knots, minimal cups and twists, and a tight grain which helps its integrity and strength. You can also utilize other wood types with the right qualities to build this bed frame.
You need a drill, one of a circular saw or a jigsaw, sandpaper, tape measure, dusk mask, screws, rail brackets, a Kreg pocket hole jig, and varying Douglas fir wood sizes. All the measurements you need are included in the plan, with diagrams to guide you.
One of the most important processes is the installation of the bed rail brackets, which will allow you to complete the assembling of cut wood. Attach the brackets with the slots to the four-bed posts and the side of the brackets with the claws to the side rails. Building the headboard gets easier when you drill the holes first before screwing.
2. Simple Queen Size Storage Bed
Here is a classic bed frame design with a storage section underneath. The design utilizes the space under the bed area for storage using drawers so you can keep it tidy and arranged. This wooden bed frame uses a glossy finish for a bright and stylish look. You could stain and paint to match the space.
Some of the materials you need for this project include 3×8 boards to make the headboard, 2×4 boards to make the 78″ long side rails, 2×8 boards for the 38″ long side rails, 3×2 boards for the 10″ wide and 38″ long drawers, and nails or screws to join the pieces together.
Make the frame using the side rails and hold it together using nails or screws. The legs are vital to carry the beds, so durable 2×4 lumbers attached underneath the frame form a triangular base. The drawers are the final pieces and will be completed on the ground before being fixed on the bed.
3. Rustic Barnwood Bed Frame
Here is a gigantic bed frame with a rustic look that brings a different feel to bed frames. Rough-cut barn wood is used for this bed frame to give it the exact rustic and traditional look. While reclaimed lumber that is washed with warm water, dish soap, and a bristle brush is the ideal wood, you can also use standard lumber.
Check barn wood for smells, bugs, and other unpleasant effects like warping before using the wood. A chainsaw cuts the lumber down to size, while a miter saw makes the more precise cuts. Other saws like routers and table saws help make cuts required to complete the project. Follow the guide for measurements for the bed rails and posts.
This bed frame plan features a large headboard and a slightly smaller board at the opposite end. Use Kreg jig pocket holes and screws to hold the rails together or long dados down the side in place of the pockets. The bed frame uses grooves and tongues to improve strength through snugly fitting wood assembling.
4. Modern Bed Frame With Protruding Edges
Modern designs combine class and aesthetics that match seamlessly with modern homes. This bed frame will easily fit into a modern space, with its extended edges giving it a unique look. Its dark, glossy finish and short headboard give it a typical bed frame look; however, there's nothing typical about its design and the quality of wood used which provides it with the modern design tag.
You'll require several 2x6x8, 2x10x8, and 2x4x8 lumbers, joist hangers, washer head and construction screws, and the finish of your choice. However, a dark, glossy finish is ideal for achieving the modern, stylish look it seeks.
5. Simple Collapsible Bed Frame
Here's a unique bed frame with a collapsible structure that makes it easy to pack. The structure allows you to disassemble the frame without fancy tools quickly. Its simplistic design also means you don't need a lot of experience to complete the bed frame taking anything under a day from cutting to completion.
This collapsible bed frame is a lot more about the cuts than the joiners since the idea is to make it easy to dismantle. Following the plan, attaching the two outside leg pieces in an L shape and replicating it on the other side will complete the frame. The inner beams carry the bed's supporting structure and should be secured with a hinge.
A collapsible bed frame is great for guest bedrooms where you may have to use the room for other activities, requiring repacking. It is easy to set up and disassemble, so you shouldn't have a problem quickly setting up for a guest.
6. Farmhouse-Style Bed Frame
If you have a farmhouse and are looking for a perfect blend, this farmhouse-style bed frame will come in handy with its double bedside cupboards and drawers. The cupboards offer storage space with the shelves allowing you to store items like bags.
The bed frame is easy to build, especially when following the concise plan that includes all the materials and tools required, like the chosen wooden boards, pocket hole jigs, and saws, among other materials. After completion, this bedframe takes the semblance of a luxury design due to the wood and style.
Make cuts by following the measurements in the plan before drilling pocket holes in the headboard planks. Ensure to follow the exact measurements when cutting the rails, so the mattress fits correctly. And attach beams for bed support before completing the headboard and drawer section.
7. Giant Queen Size Bed Frame
Here is a giant bed frame even for a queen size bed. The design is perfect for partners with enough room for extra comfort. It requires an intermediate skill level due to the numerous prices used to make the headboard and footboard. These pieces combine to create an appealing design.
Four wooden posts hold the bed frame, with rails joining to form the initial frame. Cut all the wooden pieces required for this plan before assembling using nails and screws. The tools you need include a table saw, tape measure, miter saw, sander, pencil, brad nailer, Kreg jig, speed square, and safety glasses.
8. Storage Bed Frame Using Scrap Wood
Scrap wood can prove to be quite valuable with the right project. This storage bed frame utilizes scrap wood pieces to create an exciting frame with several storage drawers. With so many storage drawers in this bed frame, it can serve as tools, clothes, or storage areas. If you have scrap wood, you'll save a lot of money with this design, or you can upcycle the affordable pellets to build the bed frame.
The different pieces of scrap wood combine to form an aesthetically pleasing blend of different wood colors and grain patterns. The idea is to make drawer sections and combine them to form the bed base for the bed frame. You can finish in your desired coat after applying a primer to help with adhesion.
9. Platform Bed Frame
The major material for this bed frame is pine board; this platform bed frame requires different pine board sizes. Such an impressive finish makes the bed frame look like an expensive luxury project; you'll be shocked to find out how affordable it is to build. The dark finish makes it suitable for different interior designs.
The platform bed frame can accommodate a large queen size bed. With a moderate difficulty level, anybody with decent woodworking experience can complete this project. You'll need tools like the crosscut station, multi-mark, sander, circular saw, drill, wood clamp, and the Kreg pocket hole jig.
10. Classic Queen Bed Frame With Stylish Headboard
Beautiful bed frames such as this will cost a few thousand to purchase. Still, they will be considerably cheaper when you construct them by following DIY guides. The most prominent feature of this bed frame is the stylish headboard made from a combination of several wooden pieces arranged vertically.
The first step is to draw the design on a large piece and cut it on the headboard already joined together. Combining the headboard and the bed rails is much easier than making intricate cuts. Stain with a dark hue to complete the design.
FAQ's
Choosing and constructing a queen bed frame can sometimes be challenging. Questions about the process are bound to arise, so we've come up with some common questions and their answers.
Q1. Why build your frame rather than buy?
Ans: Building your bed frame is considerably cheaper, helping you save costs. It is also fun and fulfilling for a DIY enthusiast to build such an important project.
Q2. Can you convert a full bed frame to a queen?
Ans: Yes, by extending the frame. A full bed frame is typically 54″ x 75″, whereas a queen is 60″ x 80″, so it will need about a 6″ increase in length and width.
Q3. What is the best wood for building a bed frame?
Ans: The best wood for making bed frames is usually hardwoods like maple and oak since they are more durable.
Summary
Build the exact design and style for your bed frame that'll match the interior of your home by following DIY guides. While purchasing bed frames is less stressful, it does not have the same level of satisfaction DIY lovers derive from completing projects.