TV stands or entertainment centers are a popular addition to living rooms as they provide a handy place to store display collections, CDs, DVDs, indoor plants, and photo frames. If you own multiple gaming consoles, an entertainment shelving unit is a great way to store them near the TV.
Not only do TV stands need to be hardy and well-built, but they also have to be attractive as they often take up central spots in the living room.
Entertainment centers can be pretty costly, especially if you have a large living room or a bigger TV. Apart from being more economical to build your entertainment center, it also helps you tailor the unit precisely to your home's aesthetics.
23 DIY Built-in Entertainment Center Plans
Whether you are a beginner woodworker or someone that has been building DIY furniture for a while, these 27 entertainment center plans are sure to help you bring your ideal entertainment center to life.
1. The Simple, Customizable, Minimalist Entertainment Center Project
This entertainment center plan consists of a picnic table modified to make a TV stand. The table is pushed on its side, and shelves are inserted into the dowels and gaps. To construct this table, you will require some power tools and hooks to place the wiring.
Roughly, this table should take you a couple of hours to build with the right tools.
A wise piece of advice – ensure that the stand is stable before you place the television set.
2. The Ammo Crate 11 Step Entertainment Center Plan
Made out of an ammo crate, this entertainment center is simple, sturdy, and effective. Apart from a TV place, it includes a shelf and a cupboard for all your media items.
When building this TV stand, double-check the sizes of your DVD set, CD collection, etc.
The cabinet's shelves are closed by magnets, and hinges are used to keep them in place.
3. The Smith Media Wall: Center Console
One of the most professional-looking entertainment centers on this list, this plan is for those people who have flat-screen television sets and a requirement for a bigger cabinet capable of storing a hoard of additional items.
Constructed using ¼" thick solid wood segments, this TV stand provides ample space to store multiple items like books, games, CDs, and others. You can even use the open shelves for photo frames of display items.
The media center is finished using a wood stain to give it an attractive, rustic look. Remember, the dynamics of this entertainment center can match any decor your home showcases.
4. The Sectional Media Storage Center Build
This beautifully constructed plan utilizes large, solid wood panels and glass panels for the cabinets. Not only is it pleasing to look at, but it also has ample built-in storage capacity within the cabinet doors and also 4 shelves.
Anyone who has many CDs or DVDs to store can easily build this entertainment center to fulfill all their storage needs.
While this stand does take some time and skill to build, it is definitely worth the effort.
5. The Solid Cherrywood DIY Center Design
A unique and elegant entertainment center, this one features four drawers and two cabinets.
The stand has a rustic look due to the antique white paint used on the lower portions. For the top, however, the builder suggests a dark walnut finish which adds to the classy look of this stand.
With sufficient space for all your media accessories, this stand also features two open shelves to store consoles or CD/DVD players.
6. The Majestic White Console Center Idea
Built to hold flat-screen TVs, this stand has four drawers and three cabinets apart from nine open shelves. Being one of the largest entertainment center plans, this is best suited for those who need a lot of storage area and have plenty of vacant space in their living rooms.
This home entertainment center serves as a stunning centerpiece for any living room and is a surefire winner to attract a lot of attention.
To finish this entertainment center, the builder used walnut stain and white latex paint. If you plan to build this, be mindful that it can be a bit on the costlier side due to its fine size.
7. The DIY Furniture Logan Project
Another one of our entertainment center plans made to hold flat-screen TVs; this plan assures an eye-catching addition to your living room.
Wicker baskets and wooden decor pieces wonderfully accent the entertainment center.
With multiple storage spaces and cabinets, this stand can also be used as a bookshelf, display case, and place for photo frames. You can also adjust the sizes of the shelves according to your unique preferences.
8. Barn Door Media Console
The advantage of building this plan is that it's on the smaller side, which makes it a good fit for homes with less space to spare. Simple to build and place, this entertainment center can fit all your media essentials.
If you wish, you can add more shelves and secure them with wood glue or wood screws. Do not forget to take exact measurements, or you might have stability issues.
9. Primitive Pie Cabinet Centre Blueprint
One of the most stylish entertainment center plans on this list; this media cabinet measures 72″ in height and 36″ in width. You can adjust the depth according to how much space you need for storage. To secure the shelves, you can use shelf pins and pocket holes.
This media cabinet's look is like a large library bookshelf, suitable for homes with rustic, antique decor. Sleek, right?
10. Farmhouse Media Cabinet
A unique and elegant entertainment center, this one features four shelves and two cabinets. The stand has a rustic look due to the antique white paint used on the stand's base and top.
However, the builder suggests a walnut finish to achieve the classy look of this stand for the cabinets. Additionally, you can use antique handles to add to the aesthetic.
With sufficient space for all your media accessories, this stand can fulfill the entire purpose of having a built-in entertainment center.
11. The Pottery Barn Knockoff Design
Built to fit a large flat-screen TV, this entertainment center plan is large enough to accommodate additional consoles and big-sized speakers.
An easy-to-build and straightforward plan, it comprises nine open shelves and four lower cabinets. You can even use it as a display case or bookcase. The cabinet is finished with glossy white paint to give it an attractive look.
12. Do It Yourself Media Center Idea
One of the sharpest-looking entertainment center plans on the list; this stunning media cabinet can change any living room's look. The stand plans are provided by Lowe's and contain clear instructions complete with diagrams.
This TV stand has one central cabinet and four drawers for storage. It can fit any living room and match all kinds of decor due to its simple, adaptable look.
The construction time for this cabinet is around two weeks – so plan accordingly.
13. Louvered Door T.V. Console
This gorgeous media cabinet has a stunning wood finish and an elegant design to accent modern and old-school living rooms. With a wide base and top, it is stable enough to hold flat-screen TVs up to 55″.
There is ample space for your books, media, speakers, or consoles since it has two large cabinets and 3 open shelves. Though constructing it can be a little on the complicated side, the result will spice up your living space.
14. Wall Mounted Built In Plywood Center Blueprint
Generally, wall-mounted entertainment centers can be expensive. However, if you build your own, you can cut back on a lot of the costs. This wall-mounted media cabinet is built using plywood.
The primary tools that are required are a miter saw, table saw, and a power drill.
The media cabinet has only open shelves, meaning you can use it as a display case or finally assign your indoor plants a new home.
15. The Turntable Console Build
This unique media cabinet is specially made for those who own vinyl collections and need space to store them. So if you need a turntable cum media center, this plan is ideal for you. Additionally, it consists of a covered shelf to cover your turntable when you are not using it.
The media center is built with 1″-thick, sturdy mahogany panels to achieve its stunning look. There is also a storage bin to provide easy access to your vinyl stock.
16. Modern TV Media Center Design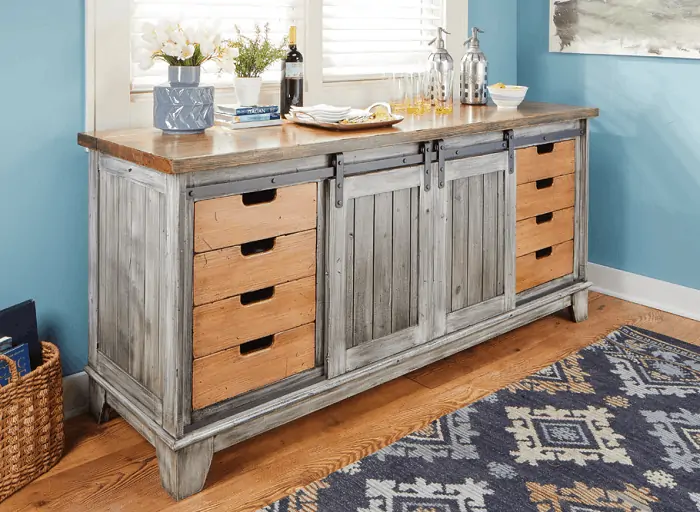 An entertainment center built to attract guests' attention, this one is a unique yet straightforward plan. With a central cabinet and eight additional drawers for storage, it is ideal for those with smaller homes and televisions.
If your home seems aesthetically lifeless, then such a piece of furniture will bring a positive change undoubtedly.
17. The Contemporary Entertainment Center Idea
Without a doubt, a unique entertainment center plan on this list, this cabinet has a gorgeous red finishing to give it a royal look. Moreover, it is constructed using birch plywood and can hold a large flat-screen TV.
Made of pine comprises two drawers, a large cabinet for your consoles or media, and four additional drawers. Additionally, there are eight open shelves for displaying and holding items.
18. The Flatscreen T.V. Center Idea
This extremely simple media cabinet is constructed entirely of plywood segments, a solid wood top, a well-designed frame, and a durable base.
Built according to the dimensions of any consoles you have, it is cost-effective and measures around six feet in height. The best part? It has four open shelves along with two drawers and side cabinets.
19. The Wardrobe Media Stand Project
This innovative media cabinet will only take you a weekend to complete. This entertainment center is built using two wardrobes joined with a shelf bridge. One of the wardrobes has shelves, while the other has a closet rod.
The cabinet is built using 3/4″ fir plywood, wood cleats, wood glue, and a polyurethane finish. Moreover, since it is made of upcycled wardrobes, it has more than enough storage space.
20. The Entertainment Center + Computer Desk Design
Don't let the simplistic design of this cabinet discourage you from building it. Ideal for smaller spaces and sized perfectly to support a flat screen, this entertainment center is built entirely out of pine segments.
Additionally, you will require a circular saw, a Kreg jig, wood glue to hold everything together, and a dark oak stain to give the cabinet a stunning finish.
21. Farmhouse Style Media Center Idea
Best suited for large flat-screen TVs, this media cabinet has three open shelves, two drawers, and two cabinets. You can use these shelves to place consoles and CD/DVD players, while the wide top allows for the placement of added home decor.
The entertainment center is constructed using pine and fir to make it durable. For finishing the top, the builder advises using a dark-toned stain. That is what gives the media cabinet its stunning, dark wood look.
22. Rustic TV Media Storage Center
This entertainment center is built to segregate and conceal all those pesky wires that tend to become disorganized. With four open shelves and two side cabinets, it can accommodate all your media items.
You can utilize the open shelves to store your DVD or CD players and consoles. Apart from this, it is constructed using recycled wooden slats and antique-looking hinges. With just a little bit of extra time and effort, you can construct this handy, attractive media center.
23. The Big Screen TV Entertainment Center Project
If you have a 65″ TV and have been looking at readymade entertainment center options, you know that they can cost a lot. However, you can build this media cabinet instead and save a good amount of money.
With its modern, gorgeous design, this media cabinet has space for your TV, speakers, stereo system, DVD or CD players, gaming consoles, modems, decor, and more.
The entertainment center is best suited for homes with larger living rooms as it can take up quite a lot of space.
Conclusion
DIY projects can be a fun way to build furniture exactly as you like while saving money in several ways.
All of these entertainment center plans are easy to build in a short amount of time.
A home entertainment center is an excellent addition to any living room due to its multiple advantages and decorative potential, especially if you have a lot of space to spare.
Hopefully, these plans have inspired you to build your very own media cabinet.
Bonus Read: In the mood for more DIY projects? Check out these L-shaped desk plans.