Patio pavers are fantastic ways to create a beautiful elevated stepping surface on your patio. Typically, most patio pavers are made by pouring concrete into a mold; however, several other forms come in different shapes, sizes, and designs.
One common factor with most patio pavers is their high cost which puts them out of reach of many patio owners. Nevertheless, if you look deep enough, you'll find affordable options with the same level of class and aesthetics. We've done the deep dive on cheap patio paver ideas for DIYers, so you don't have to endure the stress.
Consider the cost per square foot to determine budget-friendly patio pavers for your DIY installation. Generally, the larger the paver, the lesser number you need for your space. This guide will prove valuable if you want to construct your patio floor and are looking for budget-friendly patio pavers.
Affordable DIY Patio Pavers Ideas
Affordable does not have to mean substandard, as these budget-friendly DIY Patio pavers prove. The patio pavers allow you to build the perfect flooring in your patio that is functional and captivating. The cost of patio pavers typically includes the cost of the pavers themselves, installation, and maintenance.
1. Black Brilliance
You can make these brilliant black patio pavers using a wooden mold. Typically, wooden molds are affordable and durable, especially when stained with waterproof coating. The black hue provides a sharp contrast to your patio area's mostly brown wooden color.
Building the frame in a brick-style layout with several sections will reduce the overall cost of this paver idea and allow you to mold several pieces at a go. Poured concrete with gravel ensures the paver is durable enough to withstand heavy traffic on your patio. They can come in varying rectangular-shaped sizes to create attractive flooring.
2. Block Interlocking Patio Pavers
Here's a stylishly patterned Interlocking stone design with double square and larger block pieces as a border. You'll need clean stones to make the setting pitch which is the base for the pavers. These stones will allow water to easily pass through and prevent water from collecting on the paver's surface. Start the project with a Herrington bone pattern at the center and ensure it is patterned in a straight line.
The full interlock forms several basket weave patterns to create an appealing block patio design. Build out the rest of the patio by adding the blocks to the existing pattern as a guide. It's a time-consuming patio pavers project because of the complicated pattern but it provides an aesthetically pleasing design.
3. Fire Pit Patio Pavers
Fire pit patio pavers are a combination of pavers, and a fire pit typically built with similar materials to give a fitting look. This idea features pavers made from small brinks arranged in an orderly pattern for a clean look. Its fire pit at the center also features the same brick for the wall to create the uniformity the idea requires.
The muddy hue of the bricks gives the idea that the bricks are made from clay, but in reality, you can utilize other materials and paint to your desired color. Choosing any suitable material for the bricks makes finding a more affordable material easier.
4. Flowery Patio Pavers
You can blend affordability and style with these colorful flowery patio pavers made with rubber frames. The frames have irregular patterns that create beautiful pavers similar to flower petals. With varying colors further solidifying the uniqueness of this design, it is sure to get a lot of admiring glances.
Place a few rubber frames on a prepared floor and fill it with concrete while ensuring there are no open spaces by gently tapping the concrete. Paint with different colors for a vibrant look similar to a flower petal. The idea is to replicate the same process with the frames till you've covered the patio floor.
5. Checkered Concrete Pavers
A checkered pavers arrangement pattern makes your patio floor look like a chessboard. The two contrasting colors in alternating patterns immediately pop and attract the eyes. It is made from concrete with a hue added to the mix, so it solidifies and looks natural. With this, the colors will not fade after a short period, nor will parts chipping off cause a loss of hue.
This checkered Concrete design features a pattern on them for better grip and prevention of accidents. The chances of slipping on smooth paver surfaces are high, especially during wet periods, which is why this ant-slip addition to the pavers is essential.
6. Grass-Concrete Patio Combo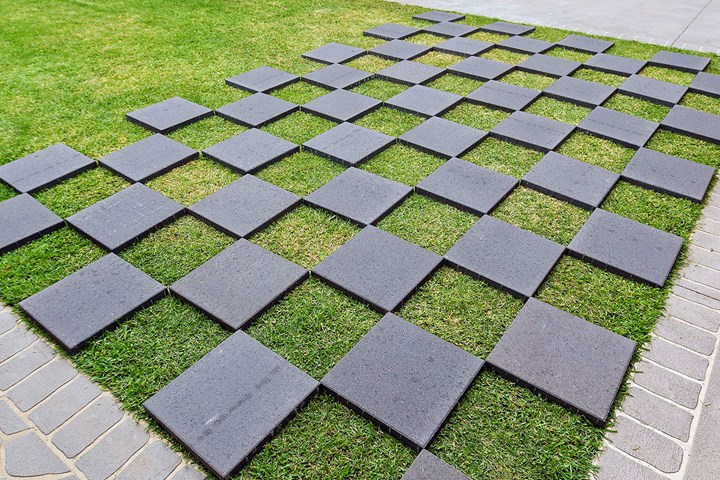 Here is another patterned patio pavers idea, but this time, a combination of concrete tiles and neatly cut grass. Constructing this flooring in your patio requires precise measurements and square molds for the floors. First, pour the concrete mix into alternating squares while leaving the other squares empty and allowing them to dry.
After the concrete has set, you can then place your neatly shaped lawn in the empty squares or fix fake grass if you prefer less maintenance. The final piece is mowing to the correct height with the grass slightly above the concrete level.
7. Patio Pavers With Rocks
A combination of patio pavers and rocks is attractive with the right hue combos and cheap, as it reduces the number of pavers you require to cover the space. The small rocks are typically a different hue to the pavers, so the combination stands out on your patio. The problem with this idea is that the stones are loose and may need refilling as they can be pushed out of the area.
With pavers and rocks, the patio floor dries faster as water can drain quickly through the rocks. You can use any available stones in your area, but choosing rocks of similar sizes, colors, and type is ideal while ensuring there is enough color contrast with the pavers.
8. Red Brick Pavers
Red bricks are popular bricks made from burnt clay or sometimes a combination of clay and lime. They are affordable and easily accessible everywhere. These bricks are strong and can last a long time with minimal maintenance. You'll also find the lightweight and easy-to-handle structure quite helpful when installing the red bricks on your patio floor.
Bricks are cheap options for pavers. However, their size means you'll require more bricks than stepping stones or concrete tiles to cover your patio floor. You can make even more designs with bricks due to their smaller nature, but this idea features a simple brick installation where the common zigzag pattern is utilized. While bricks are dirt cheap, they require a huge amount of labor to install due to their size and number.
9. Stepping Stones With Gravel
Combine large stepping stones of varying sizes with gravel of a similar color as the stepping stone as the flooring for your patio. Pea gravel is recommended here due to its smooth surface and appealing look. Even though the stepping stones are ideal walking areas, you can walk barefoot on the gravel without injuries.
Form the walking area using the Stepping stone placed in line in your patio and then cover all the surrounding area with pea gravel. This is an affordable and easy-to-set-up patio Pavel idea since gravel is cheap, and you don't need to set them in cement. Their loose nature means you'll need to refill or rake the stone back into position after a while.
10. Mosaic Patio Pavers
Mosaic patterns are always breathtaking with carefully placed materials producing a spectacular view, and this mosaic patio paver does not disappoint. Your patio can get a facelift with affordable mosaic pavers that use pebbles, stones, and gravel arranged in a rhythmic pattern.
Mosaic patio pavers utilize so many small stones, which take a lot of time to set in cement carefully. The labor for mosaic pavers is huge, but the back-breaking installation process is rewarded with an amazing design. With the right color combination and stone arrangement, this mosaic design will be the center of attraction on your patio.
11. Modern Oversized Patio Pavers
This modern patio flooring features oversized pavers with small stones between each paver. Large pavers mean it'll only require a few pieces to cover your patio floor, reducing the labor and time needed for the project.
The fire pit at the center of this patio paver boosts the appeal of the flooring and, ultimately, the whole area. You'll need small stones with a similar hue as the pavers to create a striking combination on the ground. While the pavers are set in cement, the rocks are left loose for a more natural feel.
12. Elegant Porcelain Pavers
Porcelain materials are great for patio pavers as they are elegant, especially for a home with a modern design. They are hard and are set firmly in cement, so you don't have problems with moving parts like gravel that can trip you while working on it. Ensure to use textured pavers to prevent accidents due to slipping.
Even though pavers are elegant with a modern look, they are affordable. Their durability is often underrated due to their style, but they can withstand heavy traffic while maintaining their hue. With minimal maintenance, these porcelain patio pavers will last long.
13. Aggregate Patio Pavers
Aggregate pavers are the ultimate slip-resistant pavers, especially important where there are elderly or people likely to lose their grip walking over smooth patio surfaces. They offer an impressive grip that prevents slipping even in wet conditions while remaining affordable for people on a shoestring budget. The versatility of aggregate pavers is unmatched, with different styles, sizes, colors, and designs available, so you can select a specific aggregate that fits your need.
These easy-to-install aggregate does not require prior experience as any DIYer can fix them in their patio by following installation guides. Their easy-to-maintain nature makes these pavers increasingly popular.
14. Stamped Concrete Patio
It has a modern look and a textured feel that reduces slip while showcasing a brilliant, often shiny design. St stamped concrete patios' durability is the strongest attribute as they can withstand extreme force and heavy traffic. While stamped concrete is not the most versatile paver, they offer several varieties to suit your needs.
Its durability is due to its build, made by pouring concrete and stamping it with your chosen frame. Remove the frame before the concrete sets to prevent it from getting stuck. It is easy to repair by patching cracks with concrete.
15. Resin Pavers
Resin Pavers are lightweight, durable, and do not crack, as their plastic nature allows them to expand and contract on exposure to extreme temperatures. Resin Pavers are a combination of aggregate, stones, and resin acting as the glue holding all the materials together. The high-density plastic is also waterproof; however, this may pose a problem as water will not drain. Installing the resin pavers so water can drop off the surface will be beneficial.
Installing resin pavers is easy, while their easy-to-clean nature makes maintenance a walk in the park for this affordable patio flooring material. You can create designs by utilizing different aggregates.
Summary
Paving your patio has many advantages, including increasing the area's appeal, providing a level surface, increasing the value of your home, and making it easy to maintain the patio floor, among several other benefits. Affordable patio pavers are hard to come by, so a guide like this with several cheap patio pavers is a goldmine.