No one likes to see shoes scattered around their room. Fortunately, you have shoe racks to help solve that problem. They can save space, brighten a room, and keep your shoes safe and dust-free.
What's even better is that building your shoe rack is a fun woodworking activity. Any enthusiastic DIYer will appreciate the end product and the process of making a shoe rack.
To save your time and motivate you to take up this much-needed project, we have gathered 23 free DIY shoe rack plans.
23 DIY Shoe Rack Plans
1. Stylish DIY Shoe Rack
Originally meant to go inside a walk-in closet, this shoe rack looks just as aesthetic placed outside as it does inside. It has two boot cubbies on one side, while the rest of the shelves are much shorter.
This shoe rack measures 45 inches in width and 30 inches in length. However, you can readjust the dimensions depending on the measurement of your shoes. Further on, this rack has six shelves, all of which are made from plywood.
An important tip for this project is to use good-quality wood glue as it is the main element that holds the rack together.
2. Scrap Wood Shoe Cabinet
Made using scrap melamine, this shoe cabinet even serves as an entryway bench. The front opening can store up to three rows of shoes and, unlike other racks, has a tiled opening.
This is one of the best shoe racks plans owing to its aesthetic appeal, large storage space, and the type of materials used. For anyone not wanting to use melamine, this plan suggests several alternatives to use. You can even use different colored wood to match this rack with the ambiance of your home.
3. DIY Display Shoe Rack
Every woman loves her designer shoes, so what's a better way to organize them than on an open display shoe rack? Not to mention, it works well for homes that have no space for bigger racks on the ground.
These horizontal plank-like structures are a unique way to store your shoes. Not only do they assist you in showing off your shoes, but also in constantly airing them.
Everything about this rack is appealing – the bright green color, space optimization, and uniqueness.
4. Ladder DIY Shoe Rack Plan
This is one of the most sleek and multipurpose shoe rack plans. Inspired by the concept of a beauty alcove, a shelf where people display their favourite items, this shoe rack is the ultimate option for all shoe collectors. What's even better is the duality of this shelf, allowing you to switch up between different uses.
These triangular ladder shelves look so beautiful placed anywhere that one won't guess they cost just $10 to build. If you have a large number of shoes and other items you love, this shelf caters to your purpose.
5. DIY Mudroom Bench with Shoe Storage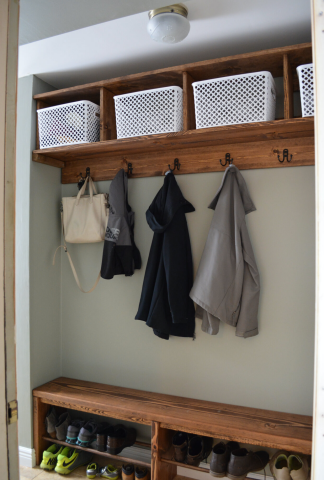 As the name suggests, this super long bench with shoe storage is perfect for a mudroom. The bench itself is made from wood, while dowel rods are used to make the shoe storage area.
This plan has used four dowel rods, but it would be advisable to use two for a better finishing and neater look. Other than wood and dowel rods, a few other tools you'll need are:
After finishing, you can leave the bench loose or screw it into the wall to keep it more stable to hold shoes.
6. DIY Upcycled Shoe Rack 
Made from recycling old furniture, this is one of the most ideal shoe rack plans for anyone on a budget. The 3 primary steps required for this transformation are measuring, cutting, and sanding.
You can add more shelves to an existing structure or just move around the old shelves to add more space in the rack. Just get planks of different shapes and sizes and a bottle of bright-colored paint to have yourself a vibrant shoe rack.
7. DIY Industrial Shoe Storage Rack 
This industrial shoe rack has been made using wood and pipes, and it adds a rustic look to your room. By reusing pipes, you save up on money and even reduce the amount of wood being used.
The shoe rack is prone to becoming wobbly as it is supported by pipes. To prevent that from happening, you can add metal bars forming an "X" on each side (also called a strap tie).
Even better, it costs only $43.15 to build this shoe rack. By using pipes and wood screws you already have, you reduce the price even more.
8. Floating DIY Bench Shoe Shelf 
One of the first steps to follow before you start building it is to check if your wall is load-bearing. Since this floating bench must be erected against a load-bearing wall for stability, make sure you have plenty of room before you start.
This beautiful floating bench may be utilized in a mudroom, entryway, or laundry room. It includes a large shoe rack beneath the bench for storing a large number of shoes and additional floor storage.
Moreover, underneath the floating seat is a tucked-away shelf that's great for shoe storage. You may take a few weeks on this specific plan, but it is worth it.
9. DIY Shoe Cabinet 
Equipped with seven drawers, this shoe cabinet has enough space to store every family member's shoes. It even has an extra drawer at the top for accessories like caps, hats, or gloves.
Keep in mind and all the drawers differ in size. Thus, people with a bigger foot size can take the bigger drawers while kids can use the smaller ones.
Adapted from a DIY dresser plan, this shoe cabinet easily serves more than one purpose. Lastly, the sleekness of this cabinet makes for an aesthetic addition to any living room, bedroom, or front porch.
Bonus Read: It is vital to have a chop saw to cut wood neatly. Check our reviews for the best chop saws in the market.
10. Two-Tier DIY Hallway Shoe Rack
Made entirely using pipe fittings and dowels, this is one of the rarest shoe rack plans on the internet. This industrial-looking shoe rack can be placed outside your home if you have a "no shoes" rule. You can even place it inside your home if you want to add a tinge of rustic-looking interiors.
Since it is made only from pipe fittings, the size can be customized according to your needs without much effort. Additionally, stain the pipe fittings for a finished look, or leave them unstained if you are going all-in for the rustic effect.
11. DIY Shoe Storage Bench  
The shoe storage bench fits perfectly inside the plan owner's mudroom. However, you can modify these designs to make a shorter bench. To top it up, this storage bench can store four crates, but if your area will only allow for two or three crates, it would still be ideal.
Perfect for your children's room, this bench allows you to keep your shoes comfortably. Moreover, the different crates allow you to segregate various items and store them in an organized manner.
12. DIY Multipurpose Shoe Shelf 
This shoe shelf can be for a variety of purposes like toy storage, bookshelf, or showpiece display. Further on, it can be arranged in five ways depending on what purpose you are using it for.
Made using five crates, this shelf leaves a lot of scope for versatility. You can connect the crates how you like instead of going completely by the plan. Remember, this plan involves no sticking, cutting, or screwing and is faster to build than all shoe rack plans mentioned so far.
An important tip to remember is to use screws or glue if you have small children or pets at your home.
13. DIY $35 Shoe Shelf 
Using some spruce boards and wood varnish, you can make this 3-tier DIY shoe rack for $35. Despite being a low-cost project, it produces a lovely piece of furniture, and you'll enjoy this shoe rack for years to come.
Use pocket holes to hide the screws and apply some wood stain for a beautiful finish. However, if you want to cut down on the cost even further, you can eliminate the wood stain and one shelf plank.
It's a quick project that will offer you plenty of space for your shoes and those of your family too.
14. Hexagon DIY Shoe Rack 
This shoe rack plan has made use of an IKEA bookcase to set hexagon wall shelves inside it. While the plan fits in 8 cubbies inside it, you can add as many as you like. A few necessary tools for this project are:
Wood glue
Finishing nails
Wood stain
Dropcloth, sandpaper, and rags
It is imperative to remember that the hexagon cubbies will be a little clumsy until the glue dries, so you have to let it set completely.
15. Gentleman's DIY Shoe Stand 
Build this shelf if you have only a few shoes to store! Meant for smaller places, this shelf has two narrow drawers for storing accessories and two narrow shelves for the shoes.
It only extends about a foot from the wall, hence occupying little space. You can even place it in your bed if you have less space since this shelf barely covers up any area.
This shoe rack is a great fit for entryways, bedrooms, and living rooms and looks best unpainted.
16. DIY Super-Sized Shoe Rack 
This may be the most effective option if you have a large family and a large shoe collection. It can have up to seven slots for storing shoes of various sizes and can save you money. Furthermore, it's also highly cost-effective.
This may be put at your home's entryway or any other location that is convenient for you and meets your unique demands and shoe rack preferences. To have a bit of an elegant display when putting your shoes on this rack, you should attach your shelves at a tilted angle.
17. DIY Shoe Organizer 
While this is not similar to any of the shoe shelf plans, it is an effective way to organize your shoes in an environmentally friendly manner.
Made from environment-friendly basket material, they can be placed conveniently at a place of your choice. Also, they are versatile and add a new look to your home. The bench on top of these baskets just adds to the convenience factor of using this shoe organizer.
18. DIY Geometric Shoe Shelf 
This is by far one of the cheapest shoe rack plans. Made using cardboard, it costs $0 since most people already have cardboard in their homes. Additionally, it takes as little as 30 minutes to build.
Even though it is free and takes little time to build, it still performs a great job of assisting us in identifying our shoes.
This shelf consists of a combination and collection of triangles that may be used to store shoes. It's simple to make, calling for literally only a few pieces of cardboard. This shoe rack also has the advantage of being able to accommodate a large number of shoes and boots.
19. DIY Copper Shoe Rack
Made using copper pipes, this shelf is fit between two walls. To elaborate, the ends of the pipes are fixed on opposite walls to create a shelf. And guess what? No need to go through the grind of cutting and sticking wood.
You can fit 8-10 pairs of shoes on this rack without having to worry about lifting them for cleaning. If you are looking for a quick fix to organize your shoes, this may be just the plan for you.
20. Skateboard DIY Shoe Shelf 
This is one of the most creative shoe rack plans for repurposing skateboards as lovely and functional shoe racks. The flexibility to customize and add as many rows as you like is the most appealing feature of these skateboard shoe racks.
If you have a collection of used skateboards and don't want to throw them away, this may be the perfect solution. You can even be playful and paint your skateboards to make the shelves look more vibrant. Other than that, try to linearly place the skateboards or scatter them around as per your design goals.
Collect some skateboards, corner braces, and screws, and begin building your skateboard-themed shelf system!
21. DIY Wooden Shoe Rack 
All shoe shelves do not have to be bulky and hidden at the back of your closet. This shoe rack plan proves it! Made from wood, glue, and some nails, this shelf has a simple yet majestic look that serves an ornamental purpose and has reliable functionality.
It can even be made from old furniture and similar fixtures, also making it completely customizable. Feel free to play with colors when making this shelf to come up with a design that matches your room's ambience.
22. Urban Wooden Shoe Shelf Organiser 
If you want to save up on floor space, this shoe organizer might be a good plan to follow. It looks good wherever constructed, and it takes little wall space. An added benefit is that the middle vertical intersection allows you to keep shoes on one side and added accessories on the other side.
When placing the shelf against a wall, ensure there is no space between the wall and wood. This guarantees security.
23. DIY Vertical Shoe Rack 
Meant to occupy the least possible space, this shoe rack doesn't have broad shelves. Rather, it is a ladder-like structure between which pairs of shoes can be stuck in to store.
Depending on how many shoes you want to store, add any number of slats to this rack. The only disadvantage of this rack is that you cannot keep fancier footwear like heels, pumps, etc.
Conclusion
Building shoe racks hardly requires any skill, and it makes a great project for beginner DIY woodworkers to take up. You even benefit by finally being able to declutter your space and keep your shoes in a more systematic manner. After all, which shoe lover wouldn't want to showcase their collection? Even if it's for themselves!
There are many shoe rack plans on the internet. But, we have tried to collect the most attractive and different shoe rack plans for you to build. Happy DIYing!