A gate gives and restricts access to an area and is quite important whether around your home or garden. With different gate styles available, you have multiple options if you decide to explore your creativity with a DIY gate idea. However, knowing you have options and how to make the gate designs differs from many DIY enthusiasts in the first group.
To build a functional gate that gives access to people and keeps unwanted visitors away, you need to choose the style of gate you want. For example, open gates can keep large animals out but allow your pets to pass through easily, or you opt for gates without any space for tiny animals to pass through.
If you need help figuring out where to start when making your wood gate, this article will guide you with amazing wood gate plans and designs you can follow. The plans come with complete measurements and steps to make your gate, even if you're an inexperienced woodworker.
Free DIY Wood Gate Plans
Here is the list of free wood gate plans with clear steps to implement them even without expert woodworking experience. Of course, the plans vary in style, cost, and effort required, among other factors.
1. DIY Baby Stairs Gate
If you have a baby and live in a house with stairs, you'll want to have this stairs gate. A wooden gate does not always have to be outside your home. The gate can be right in your apartment, restricting access to certain areas like the staircase.
The gate is a baby protector, so it's short. Best to use similar wood with the stair rail to promote uniformity. In cases where it is difficult to find similar wood, you can go with dissimilar wood types but those that complement the already-existing style.
Staining with the exact stair rail finish and a simple gate frame with wood pieces across, you can make this small baby gate for staircases. Ensure to attach a door lock to secure it and prevent babies from opening the gate.
You do not need a lot of materials since it's a small gate. Apart from staining time, you can complete this project in less than 3 hours as it only involves straight cuts with no special angles requiring special tools.
2. Sliding Gate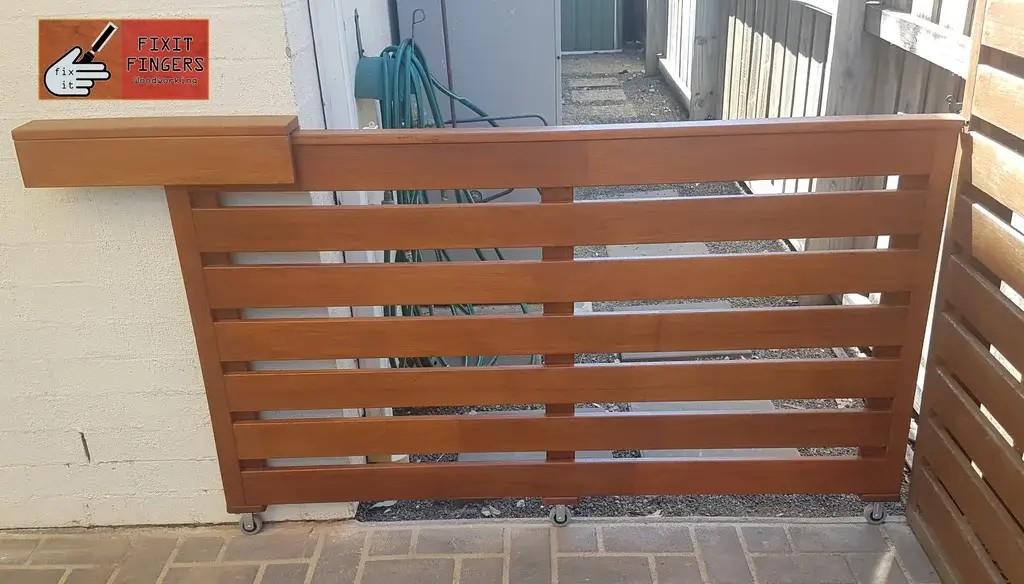 Aluminum or metal sliding gates are quite popular; however, the same cannot be said for wooden sliding gates. This wood gate idea utilizes rollers below the gate and a guide rail on top to keep the gate in line and roll it.
The design is great for space management, especially when the gate overlaps a wall. Classy slide wooden gate design that'll immediately stand out and be the center of attraction.
The gate is easy but may require an intermittent DIY woodworker to align properly. Depending on the size, you only need a few materials to make the gate. You can complete this task in a few hours, while staining can take between 1 to 24 hours. The short gate will keep medium-sized animals away, but extra active animals like dogs and cats can pass over the gate.
3. Cedar Fence With Removable Sections
If you're looking for a wood gate with an accompanying fence made from beautiful wood and durable enough for outdoor usage, these cedar gate slats will be the ideal choice. It features a simple wooden frame and cedar slats aligned to cover the frame and raise the overall height.
Unfortunately, the wooden slats are tight, so the opening below the door is the only area that allows some prey into your vicinity.
You'll need unfinished cedar slats "2 by 4" wood for the frame, door latches, and hinges to complete this design. The guide contains simple steps to follow when making a wood gate plan.
First, leave the gate unfinished for that woody look it brings and ensure. That natural woody look is a common theme among wood gates, and this idea utilizes that option to great results.
Also Read: 11 Free Bike Shed Plan & Ideas for You
4. Double Lumber Gates
Here is a large double gate with lumber and strong hinges to match. Aligning large gates like this is essential to ensure it laps properly and opens without touching an obstacle.
The type of hinges here ensures the gate opens in either direction and closes of its own volition. It is perfect for the main entrance or where everyone can appreciate its beauty.
The double gates provide more room as you move heavy equipment around. However, the large design also means you'll need much more material than other smaller gates.
Shut tight to keep even small animals and prey from passing; this gate is secure. This project requires an experienced DIY lover to complete, but you can try it out if you have some woodworking experience.
5. Double Pallet Wood Driveway Gate
Sometimes a simple design is enough and will provide the functionality you require. This idea is similar to the gate frames, but the gate does not come with any additional cover.
Instead, it is open, with only the frame serving as protection. Most animals can move through the gate easily, so it is unsuitable if you are looking for some form of protection or privacy.
The double frame gate is great for places like the driveway and gardens where you can do without privacy. It is arguably the easiest gate design we'll be listed here, with a complete newbie able to construct the gate.
You can complete the gate in less than 2 hours, depending on the type of finish you want. If you want to save money on materials but still have a decent gate in your home, this gate idea would be great.
6. Wood Gate With Concrete Posts
Concrete posts deliver stable and more durable gates. This idea combines a durable wooden gate and the ever-dependable concrete posts for arguably the most durable wood gate design on our list.
Firstly, you'll need to make the post frame to house the concrete till it dries – then, make the gate on the ground as you move from the frame to the full door. Finally, when mounting the gate, you'll have to pay attention to the latches and ensure that the door's alignment is right.
The type of wood you use to cover will determine the project's style, cost, and time expended. Generally, you'll need some woodworking experience and a second helping hand to execute this project.
The doors' shape and cutting require some expertise, while the sheer size of the door makes it difficult for one person to handle. A light finish with woody tones is great for this gate.
7. Classy DIY Wooden Gate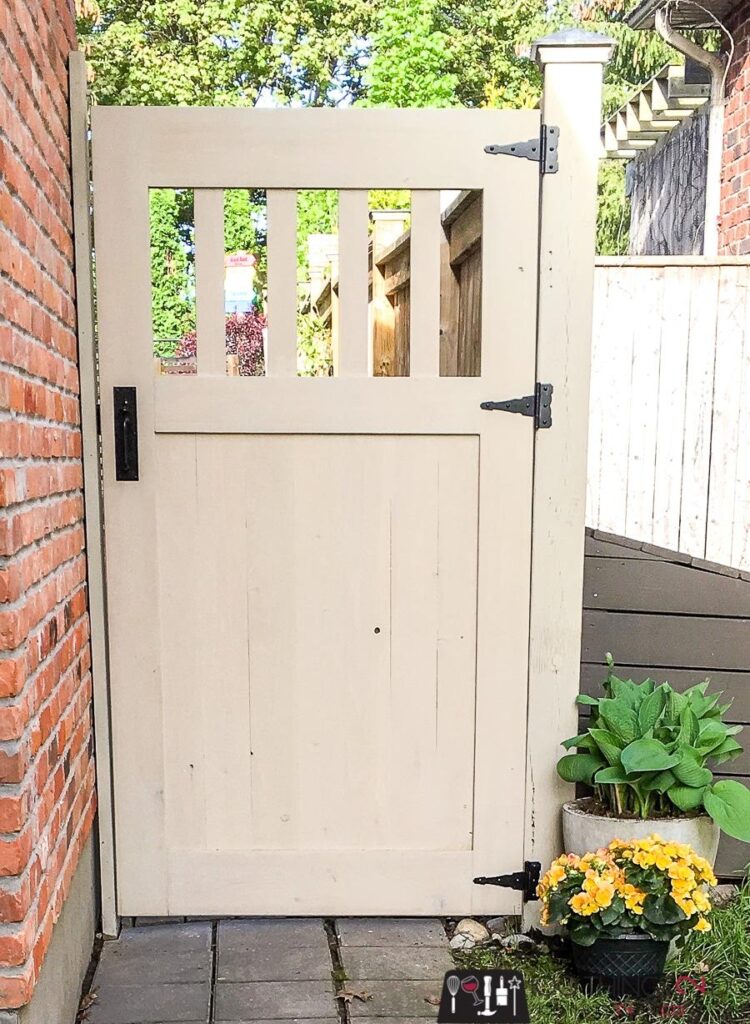 This plan features a classy wooden gate with a cream hue. The gate is as high as regular doors, but you can adjust its height to fit your preference by reducing the length from the plan specifications attached to this guide.
You'll need two 2 x 6 x 8 feet, two 2 x 6 x 6 feet, one 2 x 8 x 8 feet, and four 1 x 6 x 8 feet boards. You'll also need cutting tools and other materials to cut the boards down to size.
The door size requires special joints to ensure stability and prevent sagging. Finishing with a cream hue gives it a classy look and makes the door look bigger. You can choose a different color to match the surrounding wall or fence.
8. Solid Western Red Cedar Wooden Gate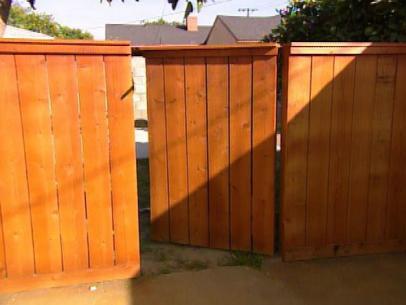 Security and durability are the key points for this wooden gate plan. A solid wooden gate plan with durable cedar wood will last a long time and create a classic-looking door. This plan features tightly arranged wooden pieces, so there are no spaces for even small animals to pass through.
Building this gate requires attention to detail for precise measurements so the parts lap perfectly. An intermediate to pro DIY skill level is ideal for this plan.
To replicate this design to the specifications in the plan, you'll need several pieces of 2 x 4 feet and 1 x 6 feet cedar boards, nails, glue, gate latches and hinges, drill, clamp, and table saw, among other materials.
9. Clean Picket Gate Design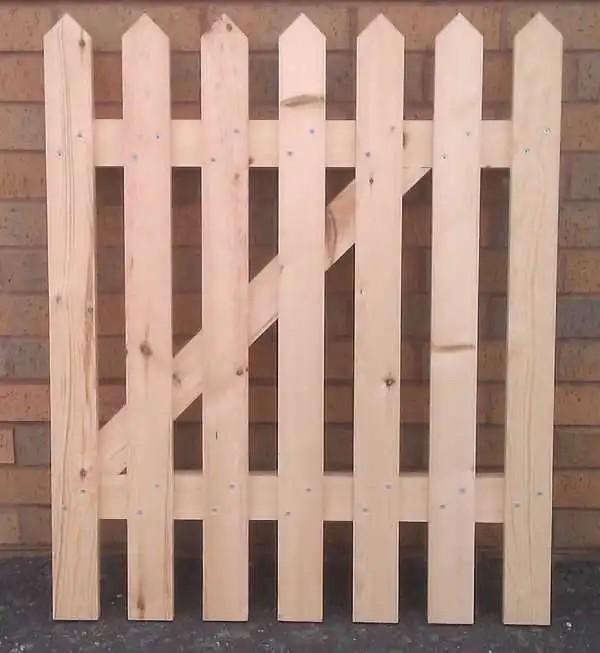 The gate size in the plan is 3 feet high and 2 feet wide, so you may need to adjust the specifications to get a different size for your area.
Adding a pocket gate for uniformity is ideal if you have a wooden picket fence in your home. However, you can also use a picket gate in areas without picket fences to enjoy a simple gate design that will keep your children safe and some animals away.
The picket gate is simple to make and presents a calm see-through design, so you know what's happening on the other side of the gate. You can stain to achieve a natural wood look or paint to match the overall look around it. The simplicity of this picket gate design is evident, and even a novice DIY lover can complete the design without using the plan.
10. Sturdy Driveway Gate
A sturdy driveway gate is essential to keep your pet and children from running onto the road and getting injured. Aside from keeping pets and children in, the gate will keep unwanted visitors out and provide privacy and security. When making this gate, you must determine the right height depending on the level of privacy you want and the overall look.
The type of wood you use to complete the gate depends on availability, style, and the level of durability you require, among other things.
Depending on the presence of walls around the gate area, you'll need posts to provide stability to the gate. Large gates require large posts to hold them in place. On the other hand, you may need to set it in concrete in the ground to improve the post's rigidity.
Summary
Many people need help getting a headstart with their DIY projects as they need to know which ideas to explore. A guide like this provides you with quality design, their full plans, and a brief description of the plan. All this information will help you choose your most suitable plan.