The days of only planting in the ground are long gone. These days, having limited ground space or living at the top of a skyscraper cannot stop you from showcasing your favorite plants. Through the help of plant pots, boxes, and hangers, your dream can only get better.
If you want to grow plants despite limited or non-existent planting space on the grow, one popular option is by using plant boxes. The good news is that many of these boxes are easy to make, and anybody with the slightest experience and a solid guide can replicate them.
Talking about box planters may sound like a boring idea. However, with the availability of several fantastic plant box plants, you can choose the most suitable ones and make them using simple parts.
Here is a guide showing several planter box designs with detailed explanations and plans on how to DIY. With this, you can select and craft an exciting box that'll make your plant the center of attraction anywhere you place it. These boxes vary in size and shape, but they all have a primary purpose of holding your plants.
Detailed Explanation of Easy DIY Planter Box Plans
Without further ado, here are the easiest, most creative plans you can try now:
1. Extended Deck Design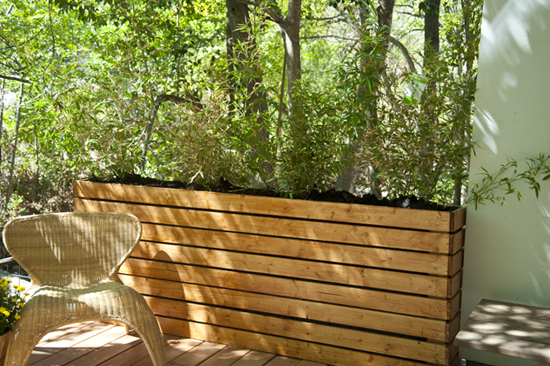 You can have this exciting plant box extended from your deck platform or even your deck stairs. This box is fitted inside the deck and then nailed to keep it firmly rooted. Seeing that it can be a high freestanding box with shirt width, you need to ensure it can hold without falling over.
The same type of wood and design used for the deck is used for the box, and the connection between the two brings an appealing view out of it all. This large planting box is deep enough to accommodate tall plants.
2. Simple Square Design
If you do not have the experience to craft more sophisticated designs, or you simply prefer a simpler yet elegant box for your plant, this plan may just be it for you. It involves four 430×45×45 mm and another four rails of 290×45×45 mm, glue, and screw to hold them together.
In less than an hour, you'll have a simple plant box that you can put in a small plastic bowl containing the plant. The size of the box means you can easily move it around; it also means it'll only accommodate plants with shallow roots.
3. Planter Box with Shade and Irrigation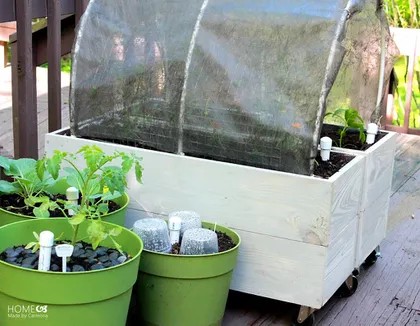 What if you want to grow delicate plants that require a specific temperature, amount of sunlight, or water, but you don't have the time to tend to them? This sophisticated plant box design will provide shade and irrigation to your plant while allowing you to move the box to a new location whenever you wish.
It feels like an all-in-one solution for people who are quite busy but don't want to give up on their dreams of growing their plants. It involves wooden planks nailed together to form a box and then a frame to support the transparent nylon that'll be used as a cover. Irrigation is fitted inside the box and connected to an outside source. Do not forget to disconnect irrigation from the source before attempting to move this box.
4. Vertical Tiered Planter
If you want to utilize your space properly, this tiered planter will allow you to grow multiple plants while using up a small area. It consists of three horizontal boxes fixed above each other with the help of a wooden frame attached at the side. This frame and another are then used to form a stand that keeps the planter upright and firm.
It is easily movable and can be taken inside and outdoors whenever. This means you can grow plants that require specific conditions, like strawberries, so you can move them around your home throughout the day.
5. Upcycled Dresser Drawer Box
One of the easiest DIY planter box designs you'll see out there. This simple dresser drawer planter upcycles a drawer that would've been thrown away and makes it useful. Not only is this helpful to the environment but also saves you money in the process as you don't have to spend on getting wood. You probably only need to get a small paint to make it more appealing.
If you have an old drawer that is destined for the trash, why not put it to good use and get this box for your small plants? It can be kept on a table, a wall, or even beside walkways.
Also Read: 15 Awesome DIY Treehouse Plans to Build One in Your Backyard
6. Raised Planter Box with Back Trellis
Away from plain ideas to something more challenging. Are you looking for a way to show your expertise and creativity? This raised planter box with a trellis at the back should pique your interest. It'll require more resources and time to set up but would be worth as it can turn around both your garden and your home.
By resting the planter on the wall so the trellis can touch the wall, you're beautifying the whole wall. It gets even better when you grow to crawl plants that go along the trellis. Here the power of two is essential to bring out its uniqueness. Make the planter boxes in two for everywhere you'll like to place it.
7. Small Rectangular Planter
The good thing about small planters is that they are relatively easier to make and also require fewer resources. However, the type of plant you can grow in them is limited as you have to consider the root size. This small rectangular planter uses only a small wood portion. It can be ready in less than an hour, so it is a quick fix for people who do not have a lot of time on their hands but still want to do it themselves.
Nylon is lined inside and perforated so excess water can go out. You can place this box by your window even if your house is several buildings from the ground.
8. Large Cedar Planter Box
A large planter box made from untreated cedar wood just brings that natural look and feel to your garden. It also saves cost as untreated cedar wood is more affordable.
This box is made on the ground without any base. It is not movable without damaging your plants so should be placed where you won't have any need to move it any time soon. Piles of bricks or gravel are laid underneath to raise the soil above the ground and allow drainage. Its sheer size makes it possible to grow plants with slightly wider root systems.
9. Castle-Themed Raised Planter Box
If you like a playful idea or have kids, here's a castle-themed raised planter you can try out. This planter has horizontal frames with tops shaped like that of a castle. It is simple to replicate, and you can even try it out with your family.
From the side, it looks like a castle wall, while from the top, it looks like a heavily guarded city. Trust me, there are so many angles to look at this planter. Plus, it doesn't require a lot of materials. However, you may need some woodworking tools like saws to get by. You will also need pressure-treated wood.
10. Large Flatbed Planter
Sometimes you don't want a raised or tall planter, just something close to the grow to grow your garden without disturbing the ground below. This simple flatbed planter may not be the space utilizing planter many preach, but it is functional and simple to DIY.
All it requires are four planks of wood nailed firmly to form a box on the ground. You can then fill it with planting soil, and you're ready to grow your favorites. Some of the advantages of this planter are that it is quite simple to replicate and would require fewer resources and time to make.
11. The Pallet Planter
Pallets are everywhere. You may even have one now lying around in your backyard or can easily get any from a local junkyard. This is why this pallet planter stands out as it is easy to get, and most of the work has already been done.
If you raise the pallet, you can use it as a freestanding or wall lying planter box. All you need to do is nail boards under each section and line with perforated nylon so the sand does pour out the sides. You can then grow your favorite vines and watch as it takes over the pallet. You can paint the pallet or let its natural look shine through.
12. The Window Box
Some homes have no space for outdoor plants. What do you do if you're in such a situation but don't want to give up on growing your plants? Make a window planter that sits just outside your window and is hooked tightly to the window frame so that it doesn't fall off.
This way, you can open your window, water your crops, tend to them, and admire them as much as you want, even if you live on the 10th floor. All it requires are pieces of wood, nylon, paint, glue, and screw or nails.
13. Trendy Triangular Planter
This triangular box planter looks sophisticated but is quite simple to make. It is trendy and would immediately make your porch attractive. The planting area is small so it would usually contain just one or two plants, ideally a deep-rooted and shallow-rooted plant.
The wood looks sharp and catchy, while the shape is so unorthodox that your friend will just have to stop and take notice. The good thing is that you can make one planter from wood from a pallet. Just cut to size and nail together.
14. Three Tier Planter Boxes with Chain Hanger
You don't have to keep your planter on the ground. You can hang them on your ceiling or any elevated platform with the help of a chain. This design sports three planter boxes held together using chains and then hanged.
These boxes will form a vertical planter for your small plants and herbs as room to grow upward is limited. It is a unique style and can be used by people with limited ground space.
Summary
This list of exciting planting box designs with detailed plans you can follow contains a wide variety of designs. Ranging from simple to sophisticated and from affordable to expensive. You'll also find time-consuming styles and those you can have ready in two hours.
The choice is yours here. You can even decide to take inspiration from any of the ideas and do your thing.