There are a million possible ways to intentional or unintentional cheating when rolling the dice by hand. For example, the dice could fall off the table, land outside the board, bump into something else before landing on a number, etc. This can cause a fun-filled family board game night to end up in unnecessary conflict.
In such cases, dice towers are the best solution. A dice tower is a structure that ensures that your dice are rolled randomly and fairly every single time. The process simply involves putting the dice through the tower-like structure and watching it land on a tray in front.
A dice tower can, fortunately, be DIYed by taking up a small project. Get your woodworking tools ready as we round up 18 DIY dice tower plans for children, families, and young couples.
1. Wooden Dice Tower
Inspired by the famous board game "Dragons and Dungeons", this dice tower has been made using plywood, felt, and glue sticks.
There are a few considerations to keep in mind when following this DIY dice tower plan:
Determine the distance between each piece, along with the angle they're at
Keep the entry and exit points a little higher to prevent the dice from falling out
Half of the space from the entry and exit must be left open for proper movement of the dice
This dice tower plan has used spray paint instead of brushes, giving a more equal and tidy look.
Completed in just 7 steps, if you want a dice tower for board games like ludo, backgammon, or Macao, this model is the perfect option.
2. Travel Dice Box with Built-In Tower
Made using a square craft box, this plan can be adapted to fit any box. The best part about this dice tower is that it is built-in and can be easily folded and carried anywhere. While one side of the box acts as a tower, the other side acts as a tray.
This dice tower even has baffles to ensure the dice rolls down fairly. Baffles are pieces in the tower that make dice roll. Feel free to be creative when beautifying the box, but the original plan has explained ways to improve the aesthetics too.
The box has been painted with rosewood stain and has some additional wood decoration and gold paint on it. Lastly, felt has been stuck to the entire box using a template to give good finishing touches.
3. DIY Dice Tower Plan for Beginners
This is the ideal plan for all beginner DIYers. Explained in a few simple steps, this plan tries its best to make your work as easier as possible. The added sketches of the design are a benefit to anyone who understands drawing better than text.
Made from left-over foam board, this dice tower has attempted to make the best out of upcycling techniques. Additionally, it requires some basic materials like a cutter, sewing pins, glue, and formboard. Hence, removing the hassle of carving wood and staining it.
The dice tower can even be made without sewing pins. Although, the pins help to hold the structure in place while the glue dries. While the tray and the tower have been built separately, the fit is snug, ensuring they will stay attached when put together.
4. Basic Wooden Dice Box
Also called the "No-frills, no-nonsense" tower, this is a basic dice tower plan. If this description resonates with you, read on to find out how to make it!
A few basic tools like a saw (check out these 5 best cordless circular saw reviews), drill, and PVA glue are the only requirements for building it.
Anyone wanting to get some woodworking experience can easily take up this project. The blueprints, pictures, and step-by-step tutorials are there to assist you. Plus, the end product is worth it; a foldable wooden dice box.
5.Lego Dice Tower Plan
Is there a better way to play a board game than through using a Lego dice tower? We don't think so. As the name suggests, this dice tower has been completely built out of Lego pieces, from the base to the tower.
When making the base for the structure, you could join a few plates to create a strong surface. After the base is done, you have to strategically place Lego bricks to create the tower and tray.
Even better, this plan allows the maker to play with their choice of design. You can place the Lego bricks in different ways to create different shapes. Moreover, different colored Lego blocks could be used for a more colorful look.
Get your kids to join you in this project which doesn't require any cutting, sticking, or measuring, because why not?
6. See-Through DIY Dice Tower
This is one of the most unique dice tower plans as it enables you to watch the dice tumble down through thin plexiglass.
It is made from two contrasting types of wood, black cherry, and hard maple hardwood. The colors of these two wood types add a sense of richness to the structure. Ultimately, the coat of lacquer on the box gives it an appealing, polished look.
The tower can stand up when in use and can be folded inside the tray for storage. Remember, the dimensions of the tower need to be based on the tray for them to nest together.
You can even add designs to your box using the laser printer and toner transfer method. An attractive-looking dice tower is just what you need to level up on the family game night. Thankfully, we have just the plan for you.
7. Upcycled Mini Dice Tower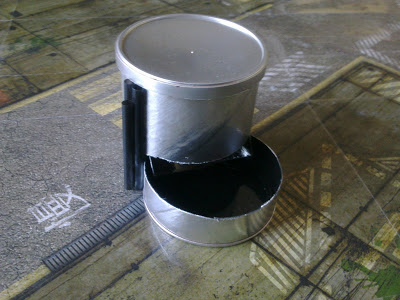 We all have empty pringle boxes lying around our homes, but none of us would even think that they can be converted into a functional dice tower. Fortunately, this plan is here to share just the tricks on how to make that possible.
It is a small dice tower that does not take too much space on the board. Some people might even find the sound of the dice shooting satisfying. All it takes is 12 minutes of construction time. And, a box of Pringles of course.
This dice tower may not be as attractive to look at, but you can always paint it to improve the appearance.
Just gather some glue, a blade (or a nail file), and an empty box similar to that of pringles lying at home. Once gathered, you are all set to go.
8. Jenga Dice Tower
This is another entertaining dice tower plan because nothing says fun lounder than Jenga. Made using Jenga blocks and a spare foam board, this plan costs only $5 to complete. A tip to reduce your cost would be to buy Jenga from thrift stores or garage sales.
This project hardly requires any cutting. 30 blocks of Jenga, glue, foam board, and a pair of scissors are all that is needed to complete this tower. You can even add some felt to eliminate the noise of the dice going through the tower, but it is not necessary.
This plan only takes 2 hours to finish and looks unique when compared to other basic dice towers.
9. Arduino Automatic Dice Tower
One of the most technical dice tower plans, this is bound to impress your friends or neighbours on a casual board game night. While the tower itself is simple, the Arduino makes it interactive and more interesting.
The entrance of the tower has six different cases to put the dice in, all of which can be controlled by a servo motor. These cases can be opened or closed separately using buttons fixed on the tower. Further on, the Arduino enhances the appearance of the tower by making the tray light up when the buttons are pressed.
Buttons for this tower are made using a 3D printer. Since 3D printers aren't available to everyone, you could go in for a resin printer. You can even split dices into halves using a chainsaw.
Bonus Tip: Wedge the dice in a piece of wood by drilling a hole in it. This will prevent the dice from melting onto your saw because of excessive heat.
10. Zebrawood and Brass Dice Tower
Going overboard with your dice tower is not a bad idea, especially if the outcome is going to be as good as this one. You can observe a bit of woodwork, brass work, custom dowels, and wet ink transfer techniques, all combined for this fun project.
Inspired by plenty of dice tower designs online, this plan tries to incorporate a few features from all plans.
A few tools you will need while making this are:
There are a few other tools like hand files, pencil, and sandpaper, but you will likely have these at home. As evident from the number of tools required, this project is not a particularly easy one. Therefore, we recommend you experienced DIY woodworkers to take it up.
The little signboard, polished wood, and the 45-degree ramp out the front of the tower give it a unique and dramatic look.
Bonus Read: Go through this guide on distressing wood to enhance your skills as an experienced woodworker.
11. Decorative Upcycled DIY Dice Tower Plan
Upcycled towers do not always have to look modest and bulky, and this plan proves it. Made from an old Apple watch box, this dice tower looks like a part of a castle. It even has lightings fixed at the point through which the dice exit.
The other materials used to make this tower are also upcycled. For example, white gift wrap and clear plastic from packaging. Even the bricks on the tower have been made out of upcycled material, i.e., old comic book boards.
You can decorate the tray as you like, but the plan's owner suggests adding some moss to give the tower a more realistic look.
Spare a few hours from your weekend and make this majestic-looking dice tower.
12. Castle-Like Dice Tower
If the plan with the pringle box fascinated you earlier, be ready to get impressed once again. Made using a pringle box, again, this dice tower not only reduces your cost but looks amazing too.
The baffles of this dice tower are simulated as stairs in the tower, giving it a realistic appeal. Also, if you loved paper Mache projects as a kid, this plan is about to become your favorite.
It has used paper Mache to make the pringle box stiffer and to have a finer coat of paint on it. Whether you want to make this as a decorative item or as a dice tower, it is an enjoyable plan to take up.
13. Plaster Dice Tower
So far we have seen dice towers made out of Lego, Jenga, wood, and some upcycled materials. But, this plan is completely different (and probably a lot of work).
However, if you're in the mood to work with plaster and muold, this plan is an exceptional choice. The end product is a beautiful-looking grey tower inspired by a "Hirst Art Fantasy Architecture".
Working on this dice tower would be similar to working on a mini architecture project. You need to make your blocks using plaster. After that, you're required to place them around a mould to build a tower, strategically leaving spaces for windows.
Just remember to keep the dice tray higher than what is instructed in the plan for even better results. Finally, you can use this structure as a showpiece or a dice tower. Add little figures to the top of the tower to dramatize the look even more.
14. Cheap Dice Tower
Are you running on a tight budget but want a dice tower? We have got just the solution to your problem. The only things you need are scotch tape, packing tape, cardboard, and a cutting tool. The materials themselves reflect on how inexpensive this plan is.
This tower even has a door that can be opened and closed in case you want to see the dice go through it.
Even though this dice tower plan does not follow any specific measurements, it is advisable to make the top bigger than the bottom when cutting the cardboard parts. You could even paint the tower to make it look fancier, but again, it works well without any decoration too.
15. Collapsible Laser Cut Dice Tower
Laser cutting is getting popular among many industries these days. If you have access to laser cutting equipment and experience on how to do it, this project will take no time.
It consists of a tower, tray, and baffle system that can fold inside. The entire structure is held together with living hinges, a small section from the baffles that can be folded inside. The plan provides an SVG file that you can use to build your dice tower.
16. Dice Tower With Glass Cover
Have you ever wondered how the dice get tumbled inside the tower before showing up on the ramp? Worry no more, as this idea answers your question. The front is covered with plexiglass, allowing you to watch the dice movement through the tower.
You'll get a beautiful dice tower with a unique style different from what is usually obtainable. It is incredibly lightweight as the cherry and maple pieces were planned thin. Plane the maple till it is 3/16″ thick and the cherry till it is ¼" thick.
This design divides the project into the tray and the tower. Build the tray first for ease before the tower. Following this projection will ensure the tower fits into the tray and reduces error.
Getting small clamps to hold the pieces as you glue and screw them in place is vital. Placing a felt cloth on the inside of the tray adds aesthetics and protects your dice as it lands on the ramp. Use glue behind the felt to keep it in place.
17. Upcycled Craft Box Dice Tower
Do you want to know how to turn a craft box into a dice tower and storage chest? This idea upcycled the affordable craft box you can quickly purchase from local stores. It is straightforward; you'd be surprised how quickly it is to upcycle this box.
Get the box, a thin wood strip, balsa wood, measuring tape, felt, wood glue, decorating materials, and finishing of your choice. Find the complete supply list inside the plan.
One exciting aspect of this guide is its detailed video and written process description. The written process is a 13-step plan with images and words showing the work done in that area.
18. Two-Piece Dice Tower Design
While most dice tower designs have the tower and tray attached, this idea does something different. The two parts are separate, which helps for packing when not in use.
It is a classic all-black design built using birch wood. If you have the right cutting tools, you can complete this project in less than two hours. Simply use the glue to hold the pieces and finish with a black hue. A sander is essential to give the project that smooth and clean feeling and help the paint adhere to the surface.
You get a video and a written project description with a clear guide on completing the tower and tray. It is suitable for mid-level woodworkers with cutting experience.
Conclusion
Building a dice tower will ensure your family board game nights don't end in feuds about unfairly rolling the dice. These dice towers prevent cheating, but they can also create anticipation scenarios as you wait for the dice to display a number on the tray.
You should consider three important things when choosing a dice tower plan:
The number of dice you'll play with
If the structure is collapsible or foldable
Materials used in the plan
Take it as a fun activity over the weekend with your kids, or choose a more complex dice tower plan to test your woodworking skills. All wefd know is that you will feel thankful after making and using one.