Looking to spruce up your apartment but don't have enough space? Adding function to a shed to simply spice up the aesthetics, a DIY Murphy bed will serve purposes of storage, beautification, and relaxation.
If you're willing to put in a bit of effort, a DIY Murphy bed will be the perfect customized addition to your house or more specifically, bedroom.
DIY Murphy Bed Plans
We have collected 17 space-conscious, yet elegant DIY Murphy bed plans for you to get inspired from. You will surely find something that is apt to your taste, preferences, and budget constraints. So, read along and come across some of the best DIY Murphy bed plans!
1. DIY Murphy Bed And Bookcase
The point of building a Murphy bed is to utilize all the space available. But what's better than one that does that but at the same time, provides extra storage space?
This plan right here has added advantages of pullout table tops that can be used as nightstands and display lights for that extra charm.
We suggest buying a suitable hardware kit to ease the installation process. Other than that, you will have to gather some woodworking tools, ¼-inch thick solid oak, and lighting kits as you please.
Pro Tip: To ensure precision, consider creating templates for the wood cuttings.
Are you a beginner at woodworking with little to no knowledge of the basic tools? Don't worry, this must-have woodworking power tools guide is for you!
2. DIY Murphy Bed (Extra Affordable!)
For people who want a wall bed but can't afford to spend a couple thousand bucks, this design is perfect. It would not only free up space for an extra bed, but would also freshen up the entire look of the room.
The included guide explains each step in detail and mentions everything you will need. Along with the bed, the shelves on the sides were built as well.
The original crafter also created the removable headboard, which was held up with PVC pipes. Innovative, but affordable!
3. DIY Wood Pallet Garden
If your house has a minimalistic interior design, you will love this Murphy bed design. It would serve as a hideaway in almost any guest room or studio apartment.
With some prior woodworking experience, you will be able to follow along with the steps given in the guide. Other than basic tools, you will need a Murphy bed kit, a brad nailer, wood glue, finish nails, cabinet handles, and desired paint or finish.
The simplistic design leaves room for many decorative additions. Use wooden trims, hardware, or any other art supplies, but make sure that they don't interrupt the lowering of the bed.
Pro Tip: Since the face of the header will be visible, use glue and a nailer to secure it instead of screws.
Looking for the best brad nailer? Check out this latest product review and buyers' guide updated for 2023.
4. DIY Murphy Bed Plan
Want a multifunctional gym that could double as a guest room? Well, you got it. This DIY Murphy bed settles in a home gym and allows space for an extra bed as well.
This plan right here will teach you how to build an affordable Murphy bed without a hardware kit. You will be able to buy all the required supplies from the nearest home convenience store or a Home Depot in around 200 dollars.
Start by finding the appropriate studs in the wall, then move on with the assembly of the frame. For the rest of the steps and required materials, refer to the accompanying guide.
Pro Tip: Use L brackets to hold the wood pieces together.
5. DIY Murphy Bed Plan
For DIYers who love a challenge, this one will be a fun project to take up. The crafter here makes use of a Murphy bed hardware kit and all that was left to buy was the plywood. You can go ahead and do the same, or buy your own supplements.
Although the steps seem complex, there are only eight components that require cutting. The guide also offers a video tutorial for the readers' convenience. Follow along and you'd have your very own Murphy bed over a weekend.
Pro Tip: Also consider having a few floating shelves, nightstands, or simply some decorative elements installed for that extra wow-factor.
Constantly running out of space to arrange your books? Here are 20 fantastic DIY Bookshelf plans just for amateur and expert DIYers!
6. DIY Murphy Bed With a Sofa
How about a living room sofa that you can turn into an extra bed? Sounds quite convenient, right?
This DIY plan works by mounting a wall bed over a sofa, instead of a conventional baseboard. If you hate dealing with the DIY mess, you would want to purchase a Murphy bed hardware kit.
Pro Tip: Add wooden slats and attach plywood panels to get a flawless finished product.
7. DIY Murphy Bed From a Platform Bed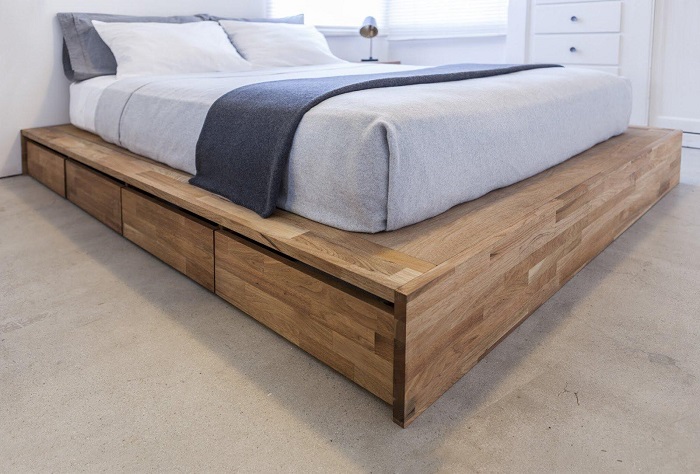 Unlike Murphy beds, platform beds are horizontal beds that are designed to have a sturdy base to accommodate a mattress. Traditionally, they do not have a headboard or a food board.
So, if you already have one at home, try and transform it into a Murphy bed in a few steps. It would require nothing more than some mounting and assembly. However, it is suggested to build a bed frame into the wall for increased security.
Remember to apply and iron on veneer tape for the best finish.
8. DIY Murphy Bed Design
Most DIY Murphy bed plans require a whole workshop setup for their creation and assembly. This one right here doesn't. All you need is the required materials and some basic woodworking tools lying around the house.
View the full plan and follow the guide in a step-by-step fashion for the best results. Make sure to cut out a notch in the side panels to allow space for the bottom molding on the wall. This will set the bed flush against the wall and anchor it well.
Pro Tip: If you're someone who moves frequently, use brackets and screws to assemble the Murphy bed. This makes the process of disassembly easier.
9. DIY Murphy Bed Plan
A Murphy bed is the best way to have a cozy bedroom even if you have a relatively smaller space. This DIY Murphy bed plan would do that but will also add a rustic factor.
You will require a few tools like a jigsaw, a drill, a table (or circular) saw, etc. and a Murphy bed kit for the building process. Remember to use veneer tape on all visible corners of the plywood for that seamless finish.
Pro Tip: Choose solid wood board for the frame sides and plywood for the rest of the cuttings to ensure strength and sturdiness.
10. DIY Upcycled Rainbow Pallet Garden Planter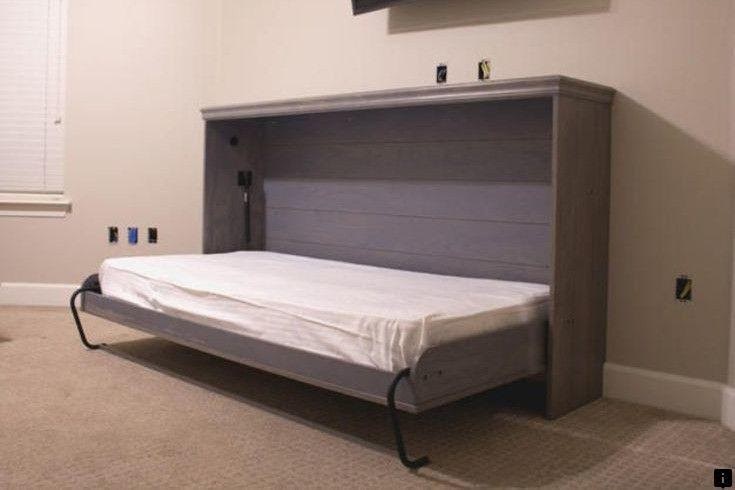 A change from the usual vertical Murphy beds, take a look at this horizontal Murphy bed design.
You would ask, "How is this any better?" Well, this one would make for a great couch or extra room for your child to play. Plus, it would fit along any wall without occupying a lot of room. It's much easier to pull down as well!
With bare minimum tools and materials, it would be easy for even beginner DIYers to follow along with the guide.
Pro Tip: Create a shiplap effect with a table or circular saw by setting it to around a fourth or an eighth of an inch.
Looking for the best circular saw? Look at these 5 best cordless circular saw reviews to find one that best suits your needs!
11. DIY Murphy Bed Plan
For avid DIYers who love a nice challenge, this plan will be entertaining. So, gather your tools, materials, and get started!
Building a Murphy bed is a cakewalk when a hardware kit is used. Yet, it is possible to make one from scratch – just make sure to be prepared with all supplies.
Preferably, use a table saw for the wood cuttings. This would ensure much more accuracy as compared to a circular saw. Refer to the guide to know more.
12. DIY Murphy Bed Project
Nothing beats a modernized version of the good old Murphy. Occupying less than 9 square feet of floor space, this design requires minimal tools and materials.
Other than following the usual steps of cutting, staining, mounting, and assembling, the crafter suggests using a spackle to smoothen out nail holes. The visual and textual aids in the guide are simple and detailed, and thus, easy to follow.
Confused by the joint compound vs spackle debate? Learn the difference between them here.
13. DIY Murphy Bed: Making Room For Guests
Without having to invest in a queen size bed or dedicating an entire room for the guests, you can simply go for a DIY Murphy bed. It's much more convenient and space-saving.
To build this one, cabinet-grade PureBound plywood is recommended. Since this project is based on a hydraulic system, you will need to measure the wood cutting several times to ensure precision.
The original creator uses a hardware kit as it eases the process. However, you're free to decide if you need one or not.
Pro Tip: To get a perfect finished product, add some trim to the front and top of the bed.
14. DIY Modern Murphy Bed
Are you a beginner at woodworking? Building a Murphy bed seems too much of work? Well, this design here might be the most workable option for you.
After cutting and installing the wood cuttings, you will have to work in the piston system into the bed frame. It is also suggested to pre-stain the wood cuttings once before assembling them into the bed frame.
Pro Tip: Instead of trim, opt for a removable piece of flush trim for the ease of installation and the lowering process of the bed.
15. Multifunctional DIY Murphy Bed Design
Think of a possibly better furnishing option than this one that allows for extra storage space and a table while hiding an entire Murphy bed. If you ask us, this is one of the most innovative DIY Murphy bed plans and you'd most probably not find another one.
To begin with, get the cuttings done and sand them down. Then, nail them together to assemble the bed frame. Attach the remaining parts, paint, stain, and mount it against a wall. There you have it!
Find the cut-lists, required tools, and the plans in the included guide. Also, look for a few handy tips that await you in the said guide.
Pro Tip: Get the cutting done at Lowe's if you can – a quick, cheap way to get the perfect wood cuttings.
16. Simplistic DIY Murphy Bed Plan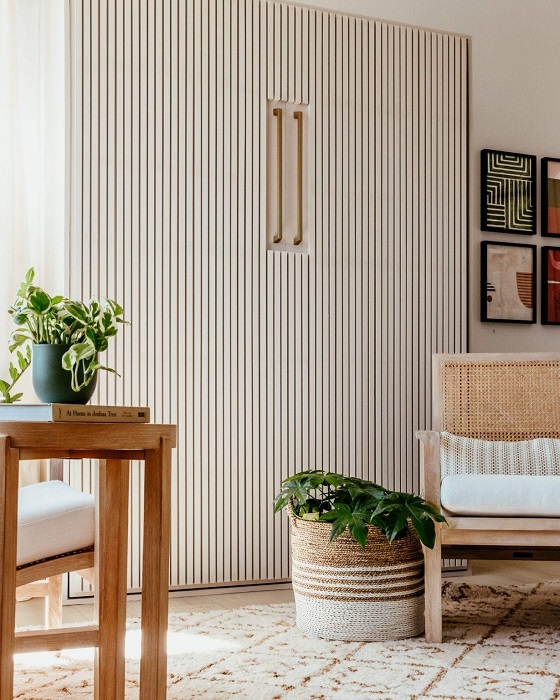 If you have an eye for aesthetics and would like a Murphy bed that's also a visual treat, you have to look at this design right here.
Similar to all other DIY Murphy bed plans, this plan requires a wall and a bed frame to be built.
A hardware kit was used in the making of this one as well. Keep in mind, the edges of the plywood are supposed to be smoothened out by ironing a veneer tape.
Another recommendation would be to use a semi-pro paint sprayer instead of the traditional paintbrushes. Why? Because the finish – the sheen look, and the flawless texture – will be unmatched.
17. Upcycled DIY Murphy Bed
In this case, the crafter converted an old entertainment center into a Murphy bed. If you too have some timber or a suitable wooden frame lying around, you should take a look at this DIY plan.
Not only would it upcycle waste materials, but would also make room for an extra bed.
Other than the wood frame, you will need a few boat seat swivels, gas struts, and a few ball studs. While setting up the bed frame, make sure to add shelves for the sheets, pillow, and a lamp.
Further into the process, create a false front. This could be in the form of an armoire or some drawers. The point is to hide the bed from sight.
View the full plan for more information about the tools and materials used.
Been wanting to have a multipurpose, yet elegant, addition in your living room? Look at these 23 excellent built-in entertainment centers for inspiration!
Verdict
Investing time and money in a DIY Murphy bed is absolutely worthwhile – be it for making the most of a small space or just fancying a portion of your home. Hence, it's necessary to choose from the best DIY Murphy bed plans.
We hope you were inspired by any of these 17 ideas and that you'll get started with your own DIY Murphy bed. Have fun with the project!
Here's an added bonus: 19 amazing DIY L-shaped desk plans & ideas