You can never have enough books but you definitely can run out of space to keep them. Bookshelves to the rescue!
Bookshelves not only give your house a more organized look but also serve multiple functions such as housing your prized pieces of decoration or expanding your storage space.
If you have been thinking of making a DIY bookshelf, but can't find the creative spark to push you towards making one, look no further.
This list of 17 fantastic DIY Bookshelf plans is all the inspiration you will need. Whether you are a pro at art and crafts or a complete beginner, there is something here for everyone.
Ready? Let's go!
1. Pallet Wood Tree Bookshelf
Pallets are an underrated source of decoration. You probably have them lying in your storeroom from the last crate of mangoes that arrived in the summer.
This simple DIY bookshelf plan makes use of just five pieces of pallets, a couple of wooden blocks, and some screws to repurpose them into something very useful and beautiful at the same time.
You can choose to sand the wood if you want a smoother finish, or leave them as it is for a more rustic look.
Love working with pallets? Check out this list of 60 cool DIY Wood Pallet projects that will refresh your home decor.
2. DIY Space-saver Bookshelf
If you are one of those house-owners for whom extra storage space is a luxury they can't afford, this DIY bookshelf plan will serve as a magic remedy.
Cleverly installed behind a door, this bookshelf is easy to access, easy to hide, and takes up no more than a few inches of horizontal space. What's more, you can install one in every room if you like.
Just make sure to take precise measurements of the area behind your door before you begin or you will have a tough time adjusting later.
3. DIY Easy Rope Bookshelf Plan
Can't erase the picture of a beautiful hanging bookshelf from your head and want one of your own? Take a look at this super easy DIY shelving project by Burkatron.
A piece of wood, a small length of rope and a few screws are all you need to create this remarkably simple bookshelf. It may not be a lifesaver in terms of space, but it will adorn your wall with elegance and grace as it is supposed to.
You can paint it to match the color of your room or use a contrasting shade for an exciting look.
4. DIY Spinning Table Bookshelf
Do you have a cable spool lying around? And do you also want a bookshelf to call your own?
Look no further! Cleverly's DIY spool bookcase is just the project for you.
You can make the cable spool look like a bookcase that doubles up as a nifty coffee table by placing a wooden plate on top. Paint the spool with a color of your choice.
Starting as a woodworker? Get all the necessary tips here.
5. DIY Crate Bookshelf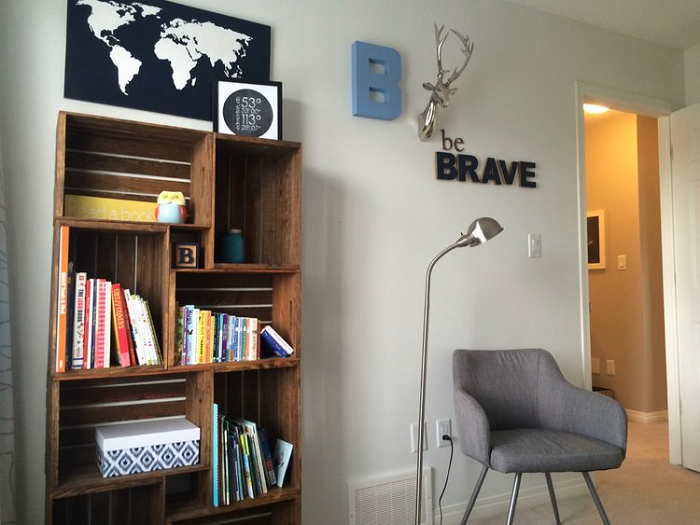 What could be easier than putting together a box of spare crates and getting shelf storage for your books?
The rugged look of wooden crates stacked one upon another is enough to inspire the book lover in you to build a DIY bookshelf of your own. Tidy and pleasing to the eye, a crate bookshelf such as this one is the ideal weekend project for you.
You will need eight crates to complete this design. Add extra screws if you feel the shelf is a little unsteady.
6. DIY Industrial Bookshelf
For the engineers among you, the prior DIY bookshelf plans may not be too appealing, but this industrial DIY bookshelf is a great chance to polish your skills.
It will take a bit of careful planning, assembling, and a good amount of tools and materials, but the end product will get you a fair share of admirers.
7. DIY Leaning Ladder Bookshelf
Ladder bookshelves look classy and their portability acts as a bonus feature. You can use them to revamp your house decor and when you need them, you can carry them to the room or living space of your choice. Convenient, isn't it?
With a leaning design, this DIY bookshelf plan helps in acquiring ample space to store and display many books.
You can customize the shelf number as well as shelf depth based on your needs. Make sure that you cut the pine boards first and then proceed to seal or paint the wooden pieces.
Planning to get a spindle sander for your wood-based DIY projects? Take a look at these 10 Best Spindle Sanders you can buy.
8. DIY Classic Bookcase
Simple and classic bookcases such as this one don't take a lot of skill or time to create. For a first-time furniture project, this is a wonderful option.
Polishing the wooden board pieces while disassembled is key to getting a proper finish. Also, make sure to coat both sides of the board pieces otherwise the wood can get warped later.
9. DIY Spine Bookshelf
Like the idea of a vertical tower shelf for displaying your favorite titles? If yes, then a DIY spine bookshelf plan is the perfect project for you.
The design is pretty simple and straightforward and utilizes the vertical space around your cabinets. It's a win for rooms that are short on space by the square foot.
You can always play around with the colors of the shelves for a new look every time you revamp your home decor.
10. DIY Fruit Slice Shelf
The child in you will grin from ear to ear once you are done with this project. Quirky and cute at the same time, this bookshelf design is sure to transform any room into a lively space. And to top it all, it is child's play (literally) to create this.
You can either buy two separate semi-circular pieces of wood or just a single circle that you can cut into half to make two shelves.
There are endless variations to the kind of fruit slices you can make using the same basic principle. So, take out your craft paintbrushes and get ready to DIY!
11. Floating Bookshelf
Want a seriously impressive bookshelf design that will wow your guests? Consider these awe-inspiring magically floating bookshelves!
A few wall brackets are all you need to create this look. The trick is to hide the bracket with the bottom hardcover book and the book stack will look like it is floating in midair. Neat, isn't it?
12. DIY Low-waste Bookshelf
It's cheap, it's easy-to-make, and it involves minimal waste. All in all, this bookshelf will make you feel proud about contributing to a greener planet.
This sturdy bookshelf can be easily transported from one room to another, so that's a bonus. Additionally, it has lots of space on each shelf, so you can keep all your books together and it won't budge an inch.
Just remember to tighten the nuts diligently to keep your shelf rock-steady for a long time to come.
13. Corner Floating DIY Bookshelves
Corners are the most underused spaces in anyone's home. We all have unused corner spaces waiting to get a life of their own, don't we?
It's time to do exactly that!
With this simple DIY bookshelf plan, you can give your rooms a complete makeover in addition to getting a handy and easy-to-access display shelf for your books.
The trick is to stain the pieces of wood before installing them, or else you will have to deal with stained walls.
14. DIY Map Bookshelf
Map lovers assemble! This mini bookshelf made out of upcycled material is the DIY project you didn't know you needed.
The use of a vintage map as a background is as creative as it gets. Books and maps are the stuff of dreams (bookworms will know) and this combination works like a charm to make that dream a reality.
All you require is an old, out-of-use drawer, and voila! You have the bookshelf inspiration you were looking for.
15. DIY Wallpapered Bookshelf
A baby's nursery would be the perfect spot to keep this elegant white bookshelf, however, it wouldn't look out of place in any other room either.
The design is classic and very easy to create.
The wallpapers give it an ever-changeable look that you can switch 'n' number of times to match your home's aesthetic.
16. DIY Cheap Ladder Bookshelf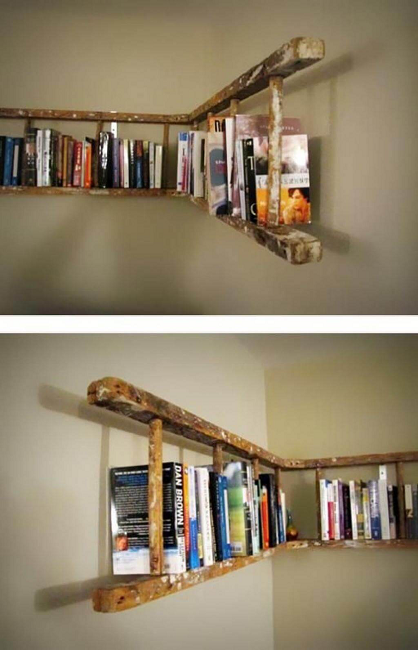 An old ladder and a few nails are all you need to create this bookshelf design. Easy-peasy, right?
Simply hang the ladder horizontally on an empty wall and drive some nails to secure it. You now have a new bookshelf at no expense whatsoever. Thank heavens for DIY plans!
17. DIY Stool-cum-Bookshelf-cum-Table
A fan of multi-utility furniture? Want a bookshelf and a table but lack the space to place both together? Worry not. This cute bookshelf is your salvation.
Yes, it does take a bit of skill, but then again, that's the fun part of such DIY bookshelf plans. And of course, the end product is simply worth the effort.
Conclusion
The DIY bookshelf plans listed in this article are unique and easy to create. Pick any one of them, and start to work on your dream bookshelf!