A well-constructed and rightly placed bench can completely transform the aura of your garden. It is a vital piece of furniture that comes with numerous benefits.
Benches are preferred over high chairs and other forms of seating because they save space. In addition, benches are informal, robust, do not block the view, are cost-effective, and blend into the garden aesthetics. In short, a garden or a porch without a bench feels incomplete.
Minimalistic in design but highly functional, you cannot deny the importance of a bench in your garden. A stroll through the shops to buy a ready-made bench may at times not work for you, especially if you are the choosey type.
So why not get your DIY skills handy? Benches are simple to construct. All you need is the step-by-step 2×4 bench plans to complete the project within one or two afternoons. Building the bench yourself lets you choose your style, pick from the variety of wood available, and save a lot of money.
If this DIY project seems tempting, then rush through this one-stop blog that covers a massive list of 2×4 bench construction plans brought to you from across the internet.
34 Simple 2×4 Bench Plans
1. Modern bench
It is a simple yet trendy 2×4 bench plan, easy to build on a budget. All you need is just five pieces of 2x4s and a little bit of time. This modern bench design is excellent for beginners who do not have any woodworking skills but wish to create a cheap seating solution for outdoor use.
With the weather outside getting better, it is time to DIY a 2×4 bench. Here is your guide that lets you get started with the construction.
2. Bench with backrest
Here is a detailed plan to help you build a comfortable bench using pressure-treated lumber. The step-by-step guide with pictures makes it easy to compare your construction at each stage.
The bench comes with a backrest, letting you sit for hours without any discomfort.
3. Easy-to-build bench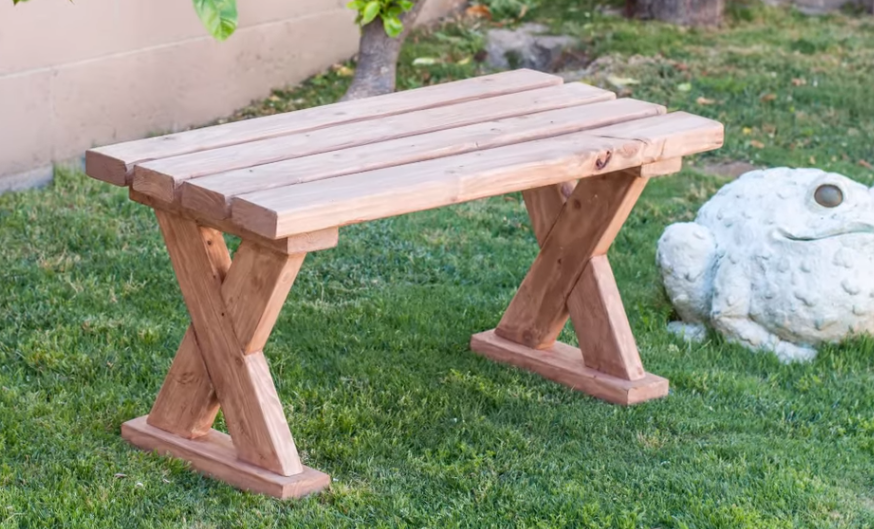 Wish to add a bench to your outdoor or indoor space? Here is the woodworking plan with detailed instructions that makes the DIY project a cakewalk.
Pay attention to this manual and follow the procedure well to save on wastage and keep your cost within your budget. In addition, the plan includes high-quality materials which will ensure that the bench lasts for life.
4. Bench with a side table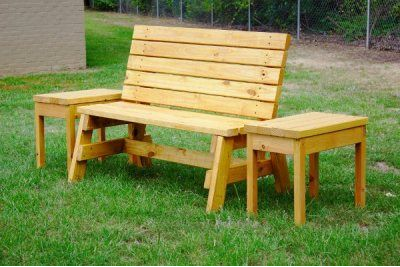 It is a free 2×4 bench plan that explains everything that you need to complete the construction work. All that you need are the 2x4s, some screws, and supplies to get started.
The plan details the cutting diagrams and illustrations to make the task easy for you. The program is color-coded to enable you to place the pieces together quickly. All the measurements shared in the manual make it easy for you to understand.
The bench uses pocket holes so that the slats are secure, and thus the screw heads are not visible. For those who learn better through videos, a video tutorial attached makes it easy for you to put the bench in order.
5. Rustic 2×4 bench Plan
Do you wish to DIY a 2×4 garden bench? Then here we have a free bench plan that brings out your woodworking skills. This bench is easy to create ideal if you are a beginner.
This DIY bench plan should do the trick if you wish to make your backyard stand out and increase your property value.
6. Cheap outdoor bench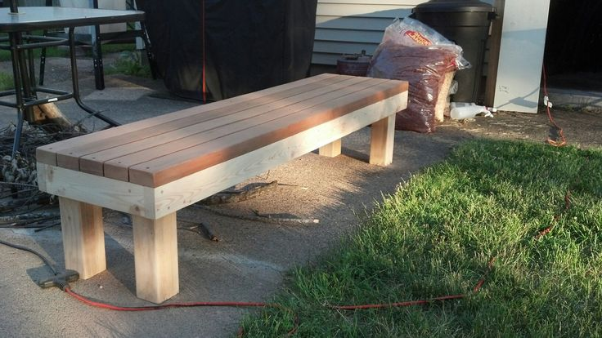 Cheer up your backyard with this budget-friendly 2×4 outdoor bench. The simple to make bench plan apt for beginners uses just a few 2x4s. It is straightforward to construct, does not hit your pocket hard, but the result looks like a pro.
You get the complete plan detail with cutting diagrams, instructions, and illustrations that shows the entire construction step from each angle.
The plan also comes with a video that walks you through the entire steps. An additional attached file guides you if you wish to tweak the original construction plan, be it the color or the shape.
7. Beautiful wooden bench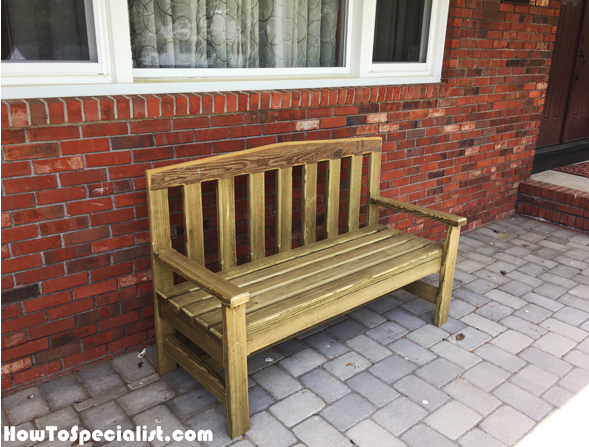 It is a free plan to construct a wooden 2×4 bench with a backrest. Go through the complete program in advance, get your supplies ready, and only then begin with the woodworking. The design is simple, which allows the bench to blend with any backyard style aesthetically.
Ensure that you take the measurements correctly and get the right tools to begin so you get a neatly designed bench.
8. Elegant 2×4 bench plan
If you wish for something that stands out elegantly, try out this 2×4 bench that boasts of a unique design and appearance. The banquette has curves that give the bench its flawless look.
The construction plan uses timber that runs from its front to back. The slats sit in a boxed frame which gives a visual height to the wood.
What we like about the bench are its curved legs. The plan is easy to follow with the complete cut list. You need basic woodworking skills. It is a hassle-free project to start.
9. Trendy outdoor bench
The 2×4 bench is a blend of a traditional and modern design. It makes it functional as well as gorgeous. In addition, the bench has a minimalist design suitable for outdoor use.
The plan uses 2×4 framing lumber. Wood glue ensures that the bench does not get damaged because of the outdoor moisture conditions. It does not let the elements break down, which in turn increases the longevity of the bench.
The instructions are so clear that even a novice can make this bench.
10. Wooden bench with backrest
The bench with the backrest needs seven 2×4 lumber boards and screws to construct. It should not take you more than a weekend to build this bench. Make sure that you pay attention to detail, so you get it right the first time.
11. Minimalistic bench
Made with 2×4 slats, this is a plan that you should browse through. It would help if you had some essential tools and little woodworking skills to build this bench. You may adjust the size if you have to.
You must use high-quality materials like redwood, pine, and cedar to build a strong bench that will last for years.
12. Bench with back and hand rest
We fell for this bench plan. Perfect if you have children and the elderly at home who would want to use this bench. The construction with hand rest and backrest makes it convenient to sit on it for hours without hurting your back. And the best part is that the bench is super simple to build.
13. Garden bench
You cannot go wrong when you add a garden bench to your backyard. It is a simple garden bench plan that has a PDF for you to download. It consists of the entire cutting list, drawings, measurements, and the step by step instructions.
14. Functional bench
This DIY plan is simple to build and lets you create a bench with a generous seat. Have a look at this plan that comes with detailed instructions and drawings at each stage to ensure that you are never lost.
15. Potting bench
If you are in search for an outdoor bench to keep your potted plants in, then you have come to the right place. Check out this simple plan that needs a few 2x4s, some hardware, and plywood. The plan is for all the gardening ninjas out there. Download the project and follow the steps to have your potting plant 2×4 bench ready.
16. Upholstered bench
It is a detailed upholstered bench plan.
The bench uses 2×4 boards. It is a cozy bench ideal for indoor or outdoor use.
17. Rope bench
The 2×4 bench is perfect for letting two people sit on it.
Benches are preferable over high chairs since these do not block the visual space. And if you do not wish to spend a bomb on ready-made benches, we have you covered with the DIY bench plan. So let us get started.
18. Bench with a double X
The artistically designed bench adds to the aesthetics of your front porch. It is a 2×4 bench plan ideal for a small and narrow space. It is super cute and a perfect addition to your garden.
19. Convertible table and bench
Get a little more creative with this super cool convertible 2×4 bench with a table. Just slide the two benches and make a picnic table. Flip over the top, and you have your comfortable 2×4 bench.
20. Farmhouse bench
Are you bored of the regular 2×4 benches? Then try building this 2×4 farmhouse bench. It is a furniture piece that leaves you in awe. The bench easily fits into any space and looks fantastic.
21. Sturdy bench
So you have kids at home and cannot take chances with the bench. Here we have a 2×4 sturdy bench made out of the 2×4 studs. It is easy to build and inexpensive to construct.
22. Gorgeous front porch bench
Try out this one-of-a-kind bench plan. It is one of the uncomplicated plans we have listed in this article. The final result does impress. Get started with just a few supplies and tools.
23. Curved bench for fire pit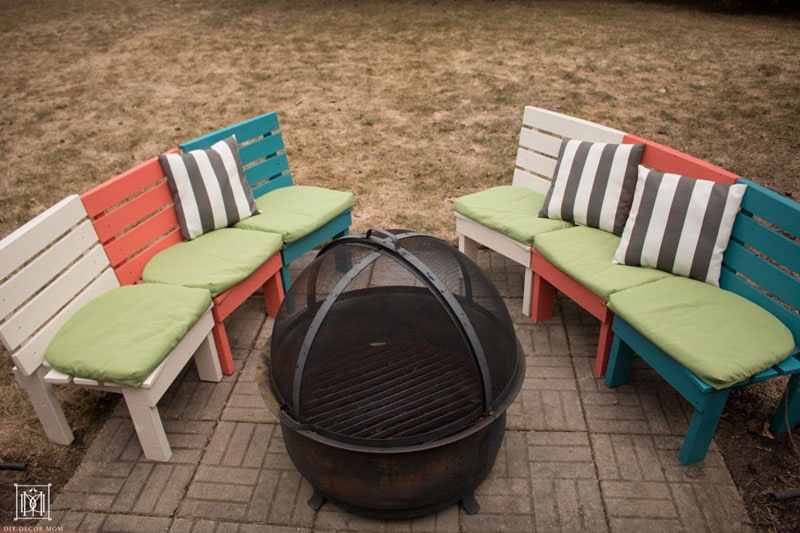 If you desire to add seating around the fireplace, try out this curved 2×4 bench that is versatile in style and relatively cheap to build. Enjoy your night with friends and family around a bonfire.
24. Easy-to-construct bench
Here is how to build a simple DIY bench. The plan comes with a detailed video tutorial. Just download the wooden DIY construction plan and make your little bench perfect for outdoor use.
25. West Elm Outdoor Bench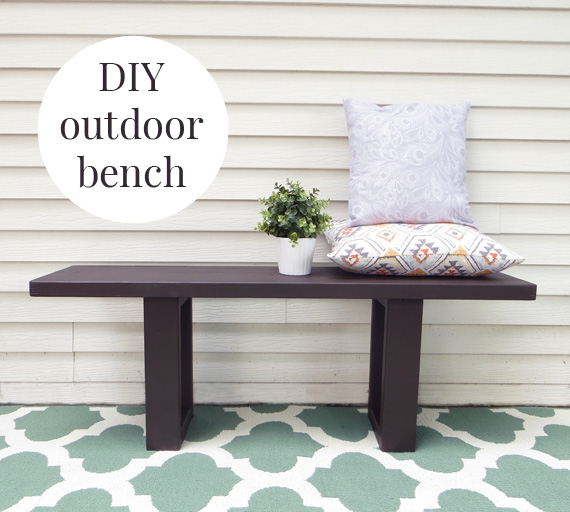 You may wish to ramp up your woodworking skill with this cute and functional DIY bench. The design is simple with elegant colors. Give it a try without a miss.
26. Planter bench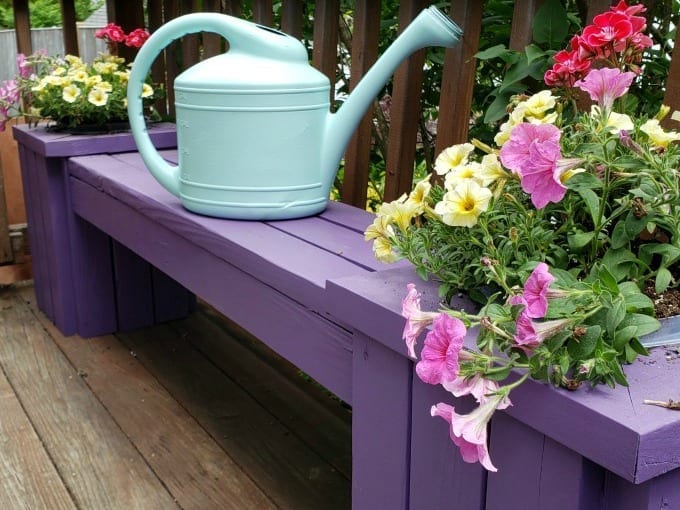 Enhance your outdoor space with this 2×4 planter bench. It offers a suitable seating space with spots to add pretty flowers to the bench.
27. Outdoor and indoor bench
Use this 2×4 bench both as an outdoor and indoor bench. All you need is 2×4 lumbers, and this step-by-step plan is enough to guide you through the process.
28. Wooden DIY bench
Here is a free DIY 2×4 bench plan. With just a few wooden slabs, you are all set to shape an outdoor bench that provides you with the much-required additional seating.
29. Bench convertible to a coffee table 
If you are looking to build a bench, then why not try out this innovative bench plan. Trust me, this is super creative, and you are sure to fall in love with it. The bench easily converts to a coffee table. The multi-purpose table is perfect if you are struggling with space.
30. Small bench
The modern and minimalistic bench design fits perfectly into every room. You are free to customize the length of the seat and build it so that it fits into the space. Just scroll down below and get the complete steps and tutorials.
31. Beautiful DIY bench
This fantastic bench fits seamlessly into your garden furniture. And the best part is that you do not need to invest in hardware or screws to build this bench. All that you need are the correct adhesives.
The bench is modern in design, inexpensive to make, and bears a good amount of load so that no part will ever fall out. And the best part is that this bench is pretty simple to build.
32. Quick build bench
This bench plan is catchy because it will take you not more than a couple of hours to build it. So for those who have less time, this could be the right DIY pan for you.
Browse through the complete instructions, get the supplies ready, and set aside a weekend to give shape to your woodworking project.
33. Industrial pipe bench 
Do you like pipe furniture? These look unique and let your garden or patio stand out. So why not try out this fantastic 2×4 bench made of pipe? The design is simple, with subtle curves that make this little furniture steal the show.
34. Cost-effective bench
For those looking to build your 2×4 bench for cheap, this is another plan you may want to try. First, it would help if you had the 2x4s, clamps, and glue to do the project. Stain and seal it, and you will have a bench ready that is apt to use both indoors and outdoors.
Conclusion
A bench is much more than a place to sit. It is a piece of furniture that brings friends and family together. It is a creation that brings out your inner woodworking skills.
With our detailed woodworking plan list, you will never find yourself lost when you undertake the 2×4 bench construction project. We have a plan for all, even for those who are fussy about what they choose to build.