Mudrooms are a sort of passage between your home's main space and outdoors that function as storage spaces or repositories. Mudrooms are usually located near the second entrance of the house to organize all the things that generally clutter our entryways.
They are a dedicated spot for removing dirty shoes and other belongings like coats or bags before entering the house's main area.
Adequate space and effective storage units are necessary for a good mudroom.
In this space, often, a bench is needed to sit down and remove shoes. Adding a shoe rack or tray underneath the bench can enhance the efficiency of the seating unit. This would also help conceal the shoes.
To offer you inspiration for augmenting your mudroom with a bench, we compiled a list of 17 easy do-it-yourself mudroom bench plans. Any of these could be a great addition to your mudroom and make for a fun weekend project.
Bonus Read: Here are 50 Ravishing DIY Sofa Plans for DIY enthusiasts.
1. DIY Modern Raw Wood Plank Bench
Difficulty: Easy
An ideal choice for smaller entryways, this DIY bench has a simple design perfect for a home with modern décor. The legs are metal, and the top of the bench is constructed with wood.
For this project, you will need 120 grit and 60 grit sandpaper—these help in smoothening the wood surface and bringing out its natural finish. Besides, a good wood finishing wax will improve the color variation and natural wood patterns and give it a glossy texture.
Adding cushions and quilts of your choice will make the mudroom bench comfier and more welcoming too.
2. French Custom DIY Multi-Purpose Bench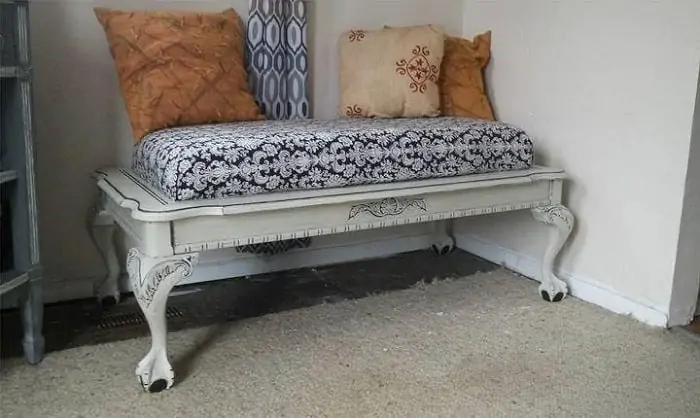 Difficulty: Intermediate
This beautiful DIY mudroom bench is a repurposed table.
Recycling a used table into a bench is a good option for those who do not want to start building a bench from scratch. The most exciting part about this project is using any fabric (linen, velvet, or wool) for the cushioning. The old table can be sanded and repainted to make it look brand new.
Another plus point of this DIY mudroom bench plan is that it's zero waste. Any table that you may find at a yard sale or in your storage can be revamped to create a lovely piece of furniture as such.
3. Sleek Solid DIY Wooden Bench Seat
Difficulty: Easy
Excellent for small spaces and compact entryways, this sleek mudroom bench is an attractive option for those who love minimalistic or modern décor. Made of 3 wooden segments, this DIY project promises to be easy on the pocket.
If your house has a wooden flooring setup, this bench will complement it beautifully. You can use the space underneath the bench to store away shoes or boxes.
Set it in a corner and add some hooks above it for bags and coats, and you will have an excellent mudroom bench.
4. DIY Mudroom Bench in Laundry Room
Difficulty: Easy to Intermediate
Many homes have garage doors leading to laundry rooms. Hence, combining your mudroom with your laundry can serve as a way to organize things efficiently. Since your available space might be small, this mudroom bench plan tells you how to utilize storage cabinets themselves as the mudroom portion.
The cabinets' tops serve as the seating unit, while you can furnish the space above with hooks and other cabinets. Adding cushions can help make the bench more comfortable.
According to the original plan, this entire mudroom bench plan will only cost you $100. Steal right?
5. DIY Shoe Storage Mudroom Bench
Difficulty: Easy
A regular bench made to store four crates for shoes and other miscellaneous items, this DIY storage bench has everything you need to organize your mudroom.
If this mudroom bench plan seems too big for the space you have to spare, don't fret. You can modify the plan to fit your requirements. Additionally, the number of crates that can fit under it will be reduced.
The bench is constructed using plywood sheets, wood glue, wooden boards, and any paint of your choosing.
If you plan on using crates made of natural wood, a satin finish paint will further beautify your bench.
6. Mudroom Bench and Dog House DIY
Difficulty: Intermediate
Have an adorable pup at home? Then this mudroom bench plan is the one for you. A repurposed entryway closet made into a seating unit cum dog house, the bench has a removable top for ease of access and cleaning.
The benchtop can be left as-is for a natural wooden look or upholstered in your chosen fabric. Moreover, cushioning or padding will make the bench stylish and comfortable.
Pet owners do not need to worry about keeping their dogs in the attached dog house. Aluminum sheets are used to provide adequate light and ventilation to pets. If your dog is heavier than 20 pounds, you may need to modify the plan and scale up.
Are you suddenly inspired to build your canine friend a new dog house? Check out these 15 brilliant DIY dog crate ideas.
7. Simple DIY Mudroom Bench Plan
Difficulty: Intermediate to Advanced
An all-rounder, this mudroom bench plan has an open-top shelf, coat hooks, and flip-top storage. Made of plywood sheets and shelf panels complete with layered moldings, this bench is sure to add a touch of sophistication to your mudroom.
This plan is divided into three main steps:
Building and trimming out the seating unit
Installing the seat lid and panels
Assembling the parts and painting the unit
A detailed plan with an assurance of elegant results, this bench provides ample space for storing away all your outdoor essentials.
8. The Great Crate Challenge
Difficulty: Easy
One of the simplest mudroom bench plans on this list is the quickest way to build a bench. To execute this project, you only need:
3 or more wooden crates, as per your requirements
1 x 12 x 12-inch whitewood board
Bolts and nuts
Few wood screws
Any nice stain or paint
Wooden table legs
If you are someone who prefers a subtle look or considers woodworking to be too tough, try your hand at building this multi-purpose bench. One cannot go wrong with this DIY project – especially if you are an amateur!
9. Pallet Entryway Bench – DIY Storage Bench
Difficulty: Easy
This DIY bench plan can be used as a coat rack, shoe rack, and a décor piece, an ideal choice for homeowners with less space to spare. With elegant wood paneling and ample storage space, this nifty project can fulfill all your storage bench needs.
Constructed using repurposed pallet wood, the bench adds a rustic look to whatever corner you may place it in. If you prefer a painted look, feel free to modify the plan.
Easy enough to complete, even if you are a beginner at woodworking, this pallet storage bench will be a great addition to your entryway.
10. DIY Dresser Turned Bench Tutorial
Difficulty: Easy
Do you have an old dresser lying around? Instead of getting rid of it, you can repurpose it to create this stylish and modern mudroom bench. Literally, in four easy steps, you can redo your old dresser and turn it into a new piece of furniture.
All you have to do is remove the drawers and dividers, trim down the size, add whatever decorations you wish, and finally repaint the dresser with a color that contrasts its surroundings.
If you want to make the colors pop, the original plan author recommends using an extra coat of any oil-based glaze.
11. DIY Rustic Bench with Tufted Cushion
Difficulty: Easy
This gorgeous, rustic bench with a royal white tufted cushion is truly one of a kind. Made by painting over a piano and attaching the seating, this bench is suited for larger homes with grand décor.
If you want your home to have a Victorian mansion feel, this bench would be an excellent accent piece. The unique pedestal legs are sure to catch the attention of your guests.
The additional decorations make it even more aesthetically pleasing, and you can alter the look of the bench by choosing different paint colors and cushioning techniques.
12. Simple Do-It-Yourself Storage Bench Project
Difficulty: Easy to Intermediate
A brilliant fit for houses with less space to spare, this modern yet classy mudroom bench can fit with any décor. Made with repurposed spare wood, you can trim this bench according to your requirements.
This bench has two shoe shelves and a large space for storing bigger items with a simple look. However, you can add another plank to make four shelves if required.
While the original plan has a nautical look, you can go for any style that synchronizes with the other furniture's aesthetics and, of course, your personal preferences.
13. Chic Mudroom Entrance Bench
Difficulty: Easy
A beautiful and quaint mudroom bench, this less-is-more setting will attract those who prefer subtle designs.
The board and batten have attractive beadboard paneling to add a flourish to an otherwise plain design. At the same time, the wicker baskets add a charming touch to this mudroom bench plan, apart from being great storage bins.
Even better, metallic hooks serve as coat racks and umbrella hangers. One could even use them as a decoration spot during festive seasons.
If you would rather have a pop of color in your entryway instead of white, paint your bench a vibrant shade that matches the rest of your décor.
14. From Headboard to Bench
Difficulty: Easy
Another simple DIY mudroom bench plan, this one upcycles a headboard to create a beautiful little mudroom bench. An excellent choice for homeowners short on space, this cost-effective mudroom bench is built to store a few items underneath the seating unit.
The seating portion can be padded if you are looking to up the comfort quotient on your bench. Moreover, you can even add a shelf to the storage space to modify the bench.
The original plan follows an elegant theme of keeping the bench plain and decorating it using designed cushions and cloth-lined baskets. This gives the bench a fresh, modern look.
15. DIY Cut-Up Table Entryway Benches
Difficulty: Easy to Intermediate
Yet another mudroom bench plan involving upcycling, this innovative plan utilizes a used coffee table. Cut-up and renovated to form two sections with an overhead shelf, this particular plan has all the features of a great DIY project.
The original builder's numbered coat hooks add a tasteful touch to the bench, along with the cloth-lined wicker baskets atop the shelf. With more than enough storage space to organize all your outdoor belongings, the bench has a simplistic look accented by dark wooden seating.
Apart from the other plus points, you can be proud to see a repurposed, handmade bench that looks immaculate in your mudroom.
Bonus Read: Ever thought of building your personalized DIY Treehouse in your backyard?
16. DIY Minimal Entryway Bench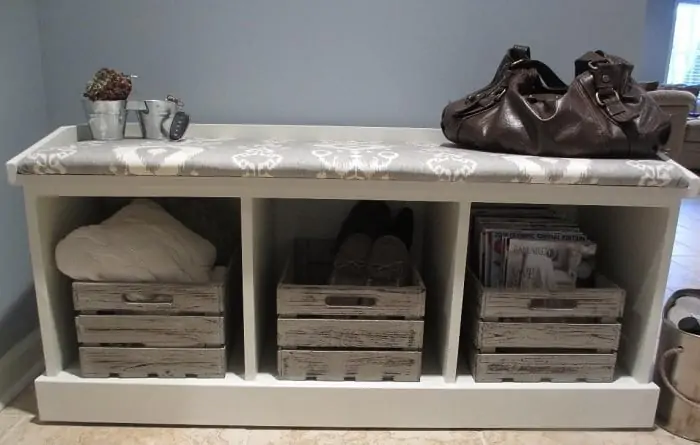 Difficulty: Easy
This mudroom bench is built using plywood sheets and padding for the seating unit. The crates add character to an otherwise plain look, enhancing the color scheme and making space for various items.
This plan is also ideal for those looking for a budget-friendly option. Trust us, as the components required to build this mudroom bench will not burn a hole in your pocket.
A neutral grey fabric covers the cushioning with white patterning, but one can use any fabric they prefer. To attach the fabric to the foam seating, you can stretch and staple it. Be sure to glue the foam to the plywood benchtop. This keeps the cushion from moving around when someone is sitting down on it.
17. Artful Scrap-Wood DIY Mudroom Bench Plan
Difficulty: Easy
Last but not least, this quirky mudroom bench plan will surely pique your interest. While the design may seem simple, the final look is artistic and unique. This special bench has a patchwork design as it was made with scrap pieces of wood.
This bench can be an incredibly creative DIY project for anyone as you can accumulate many differently designed (or graffiti-centric) pieces of wood to create your one-of-a-kind mudroom bench.
The upper surface is constructed by placing all the miscellaneous wood pieces in the benchtop skeleton, like assembling a puzzle.
Apart from this, you can add hooks and overhead shelves as per your requirement.
Not to forget, placing solid-colored cushions can make for lovely color contrast.
Conclusion
Mudrooms are essential and practical additions to modern homes as they prevent your family members and guests from tracking dirt from the outdoors into your main living space. Especially if you have kids who play outside, whether you have linoleum, wooden, or carpeted floors, mudrooms can serve as a spot to discard dirty shoes and avert cluttering in your home.
Adding a beautifully made bench to your mudroom is essential. The bench will not only add to the aesthetic value of your mudroom it will also provide a seat to perch on while putting on footwear.
Among the 17 abovementioned DIY mudroom bench plans, you are sure to find something that fits perfectly in your home. Once you are ready, consider checking out these front porch decoration ideas!
Bonus Read: Thinking of spending an afternoon in your backyard and want to fill your time doing DIY projects? Consider these DIY woodworking projects for your back garden.