Farmhouse tables are frequently made of wood to give them a rural and ancient look. You can discover them completed in a distressed white paint, or simply a characteristic earthy colored wood finish. The decision is up to you!
They add a warm appeal to your home and even have the ability to make your dining room a little more modern. Farmhouse tables are quite trendy right now. Building your own farmhouse table will help you save money, and elevate your home's style status in one go.
These farmhouse table plans will help you build gorgeous furniture that can be used in many different ways. You can use it as a kitchen table, a dining table, or simply as a small table for your backyard. We have collected 23 of the most beautiful and easy-to-make DIY farmhouse table plans for you to choose from. Undoubtedly, there is something in here for everyone!
1. Pottery Barn Inspired DIY Farmhouse Table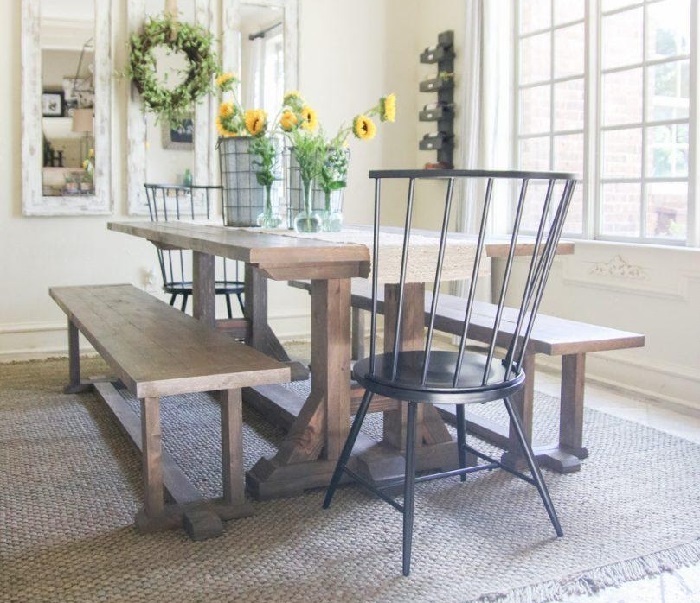 Pottery barn furniture is super chic but super expensive, wouldn't you agree?
This gorgeous table from Shanty 2 Chic is the perfect DIY farmhouse table if you're looking for something pottery-barn-inspired but at a cheaper cost. Accompanied by two benches and two chairs, it is the perfect table to have in your dining room. Building this table only requires $100, or less.
The all-wooden aesthetic will contrast with any plants that you try to decorate it with. Pair it up with a neutral-colored carpet, and you're ready to go!
2. DIY Farmhouse Dining Table
The given table is perhaps one of the easiest DIY routines ever. It may take a while to build, but the materials and instructions are super simple. The end product is a beautiful table that stands at 96 inches long and accentuates your dining room beautifully.
This table is highly prominent and will add a mellow vibe to your home. Pairing it up with color contrasting chairs (such as yellow and green) will add to the flair and leave guests doing a double-take.
3. Outdoor DIY Farmhouse Table
This table is more of an outdoor DIY farmhouse table plan rather than an indoor one. It's the perfect table to build in your backyard. It fits up to 6 people and is a comfortable piece of outdoor furniture for get-together hangouts. Most importantly, it will enhance the beauty of your patio party, and it is quite simple to construct.
When placed in the backyard, and painted in contrast to your garden, it can create a lively and comfortable space, perfect for your friends and family.
4. Simply Rustic DIY Farmhouse Table Plan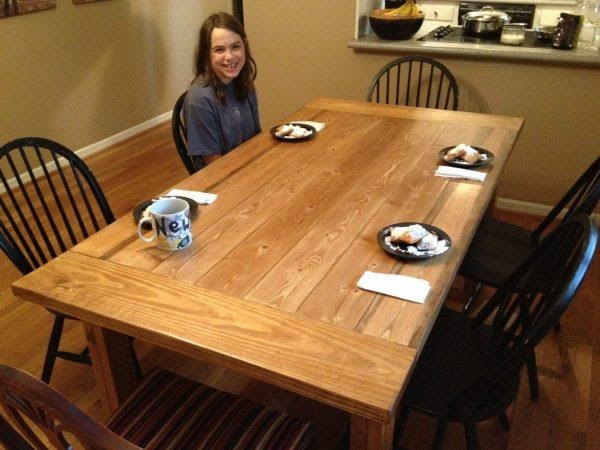 As explained in the name, this one is for beginners who just want to build a simple table minus all the hassle. It requires comparatively fewer tools, and definitely not as much time. Although this table is super easy to make, it is rustic, and it still adds a sense of style to your dining room.
Bonus Read: 13 Creative DIY Table Legs Ideas.
5. Wide Farmhouse Table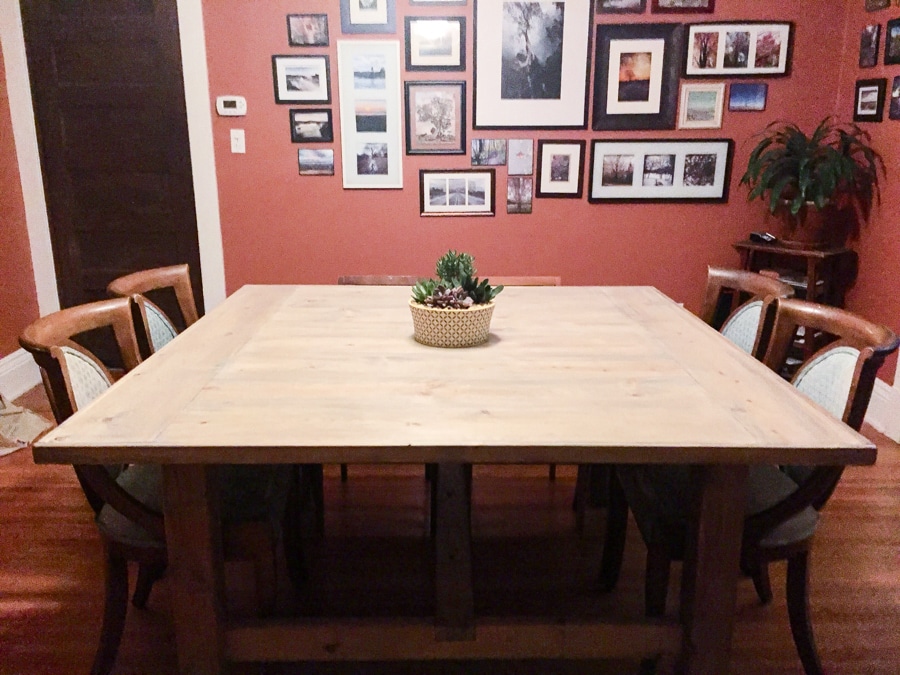 This table has a wider top than the other ones mentioned in this list. It is perfect for large gatherings on Thanksgiving or Christmas. You won't have to invest in any extra furniture as this square top can fit more than a full spread on itself!
This table is perfect for parties as well, as it can accommodate many large bowls, which eliminates the need for side tables.
6. Round Top Farmhouse Table
This round-top DIY farmhouse table plan is simple to build and perfect for you and your loved ones to cozy yourselves in. It is specifically meant for small and intimate gatherings. Moreover, it does not occupy much space and leaves your house feeling as homely as it gets.
Even better, the limited space between each chair allows you to have easy conversations with the people sitting near you without having to increase your voice.
7. Farmhouse Table Island 
This DIY farmhouse table plan is like child's play to construct and adds a rustic look to your home. Moreover, it doubles as a kitchen island. This means that you won't have to spend any extra money to buy a separate kitchen island.
You can do all your cooking prep on this table. Wooden tables are not much of a problem to clean as well. Whatever you need, this gorgeous table is up for the job!
8. Classic Farmhouse Table Design 
This table is another option that fills the parameters of effectiveness and simplicity. The DIY table plan itself looks too straightforward. What's better, assembling the benches or chairs does not seem that difficult either, provided the seats could be bought, or fabricated through your carpentry abilities. Seats contrasting in color will suit the table better.
If you'd like a table with a lot of seating and a basic plan, consider building this one.
Want more amazing woodworking ideas? See this: 15 Amazing DIY Workbench Plans for Woodworkers. 
9. Rustic Wood Top Farmhouse Table 
Suppose you are somebody who likes things that have a sort of rugged and ancient vibe to them. In that case, you'll presumably like this table. What's more, is that it has a delightful wood-completed top that gives a country feel to your dining room.
This wooden top can be further decorated with flowers and plants to liven up your dining room. Moreover, the legs have a distressed look which frequently fits in well with the natural, country aesthetic.
10. DIY Farmhouse Table with Extensions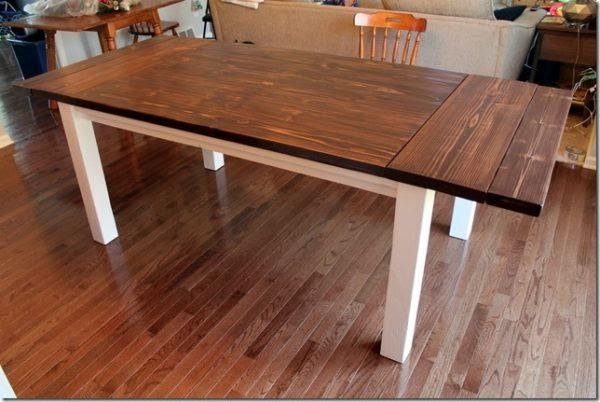 Sometimes, people prefer to have a farmhouse table with a lot of room above and below. Despite this preference, who wouldn't like to alter the table size through extensions?
This table has leaf expansions that can be added when required and brought down when not being utilized. The extra space can be used to keep additional utensils that would typically clutter the center of the table, or as a matter of fact even the kitchen counter.
11. Everyday Farmhouse Table 
This table would be useful to a family with any amount of people. The existence of a farmhouse bench can accommodate 3-4 people in one sitting. In fact, this DIY farmhouse-themed furniture is perfect for large gatherings during festivals and other events.
Also, it is something that could be utilized consistently. Being easy for even amateur DIYers to build, it is sure to add an appeal to a kitchen of any style. Keep in mind, its ancient aesthetic gives your entire house a mellow, yet stylish vibe.
12. My Dream Farmhouse Table 
This table is absolutely stunning and would be a grand addition to your arsenal of successfully completed DIY projects. Though it would require a bigger eating space, in case that it is accessible to you, this would be a beautiful method to fill it.
Love creative DIY ideas? Check out 19 Amazing DIY L-Shaped Desk Plans & Ideas. 
13. Basic Shanty 2 Chic Farmhouse Table 
This table is a straightforward plan. If you are somebody that is new to the universe of carpentry, this may be the task for you. In any case, it would be an incredible household item to add to your kitchen. Furthermore, it would add a bit of a Tibetan appeal to your home.
Paired up with some simple candlesticks (as shown in the picture), and this table will be a fantastic addition to your house.
14. Picnic Farmhouse Table
This table adds a ton of character wherever you place it. In the case that you don't need a conventional kitchen table, you should give this piece of art a shot. Moreover, if you need loads of room, this works best. Most importantly, this table can give usefulness and character in one bundle.
Though it may look super complicated to build, it's nothing that can't be done with the right tools and in a few days.
15. Modern Farmhouse Table
This farmhouse table has a rural appeal. However, it can effectively mix into a modern home. Also, it has abundant seating space in the middle. When fusing the element of elegance and distinctiveness it offers your living room, there are few DIY farmhouse table plans better than this.
As shown in the picture, when paired up with a fruit bowl or some plants, this table can be the center of attraction in your home.
16. A Basic Farmhouse Table
This is a simple illustration of what a simple and conventional farmhouse table would look like! It seems to be not as difficult to build. Which is a reward in itself. Be that as it may, it has the capacity to accommodate 10 to 14 people. Or people can also sit spread out so as to make it a customary table which sits four.
This table has a lot of conceivable outcomes that would make it a fabulous piece for almost any home.
17. Smaller Farmhouse Table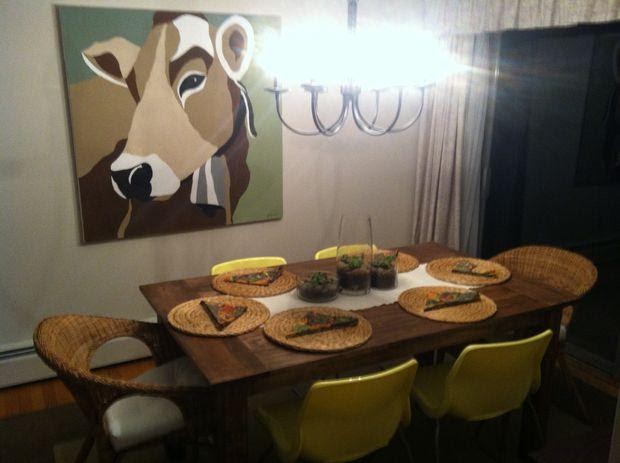 This is another modest farmhouse table. It remains consistent with the plan while not taking up a galactic measure of room. Furthermore, it could easily position up to 6 individuals. Thus, in the event that you love this plan, however, you don't have a bigger dining space, give this DIY farmhouse table plan an attempt.
Although this table is tinier when compared to the other tables in this list, it can still be just as beautiful and attractive if decorated well.
18. Inexpensive Farmhouse Table
Repurposed farm wood, roof boards, pieces of timber, a sleeping cushion clincher, and some shower shades. Combine all of this, and you have an incredible small gathering nook that can easily situate twelve people, and more!
Add a few pivots to the seats by the window, and they can double as storage boxes. Root vegetables can be kept in here, in darkness and against an external divider.
19. DIY Chic Farmhouse Table Plan
This task calls for a lot of material. From 2x4s, 4x4s to Kreg screws. It is recommended that you search around and look into neighborhood stores for the least expensive materials. Keep in mind, you may have to get a companion to help you move all the materials to the location of construction.
This table will keep going for quite a while, and for 1/3rd of the expense of enormous box stores. In addition, you get the fully customized look you prefer.
20. Upcycled Farmhouse Table
This is an extremely practical DIY idea. It expects you to destroy your old table, form an alternate casing, make the tabletop, then polish it off with stains and paint. The seats that go with this are no hassle to make. Basically, measure the estimations to your ideal size.
Although towards the end of our list, this is an extraordinary dining space for indoor and outdoor settings!
This idea comes from a designer who had an old dining table that was basically on its last leg — so he repurposed the wood and assembled another one.
21. Professional Farmhouse Table
Created out of pecan and birch, this dining arrangement is not too difficult to construct. The accomplished builder discloses how to construct this in 46 stages and a YouTube video.
Pecan is costly — an alternate wood, for example, pine, can be utilized in case you're on a tight spending plan.
Materials required incorporate a roundabout saw, sander, wood stick, section, screws, braces, and paint. This is a driven weekend project that will have a beautiful final product. If you take as much time as necessary and measure everything, the results will be amazing.
22. Glowing Farmhouse Table DIY
An extraordinary DIY idea for individuals who appreciate inventiveness. This table is made of recovered wood and has a dash of resin through the middle that seems to illuminate in the dark.
You will require epoxy, sparkle powder, butane lights, wood stick, dowel poles, acetone, wood, and that's only the tip of the iceberg! Nonetheless, the rewards are exceptional.
To make this, cut and join the wood, eliminate high spots, trim the closures. Then, cut inlays and fill them with sand and resin. The base side of the table should likewise be sanded and wrapped up.
23. Farmhouse Deck Table Idea
An incredible piece for any open-air space, this table and seat are both simple to make. Basically, construct the casing out of 1×3's, make the top, cut the seat sheets, screw everything together, then stain and clean.
Since this is outdoors, you need to utilize wood that can withstand different kinds of weather. To achieve this, it is recommended to stain the wood before assembling the table.
Verdict: Farmhouse kitchen tables don't need to be chippy and harsh. A pleasant straightforward table, sanded and stained smooth as nectar, can be the social occasion gathering spot your kitchen required.
Not all farmhouse tables require an enormous space. You can even discover small circular tables to fit in your tiny kitchen or breakfast alcove. Unexpectedly, your entire small space will have some additional glow.
You now have 23 distinct plans for your future DIY farmhouse table. Ideally, you should have discovered one that would satisfy your requirements for character and usefulness. As we've already mentioned, there is something in here for everyone!
See also: 50 Ravishing DIY Sofa Plans