An aesthetically pleasing workstation deems to be inspiring and leads to an increase in one's productivity and efficiency. Such an environment should be inculcated in both, one's office and homes, and hence a proper table for each is a must.
Space optimization is key to any creative project, and L-shaped tables are a great way for just that. However, buying such tables from the market can cause a hit to your pocket. As a result, you might resort to cheap ones that are not very durable and often have defects.
In order to avoid this, we have curated a list of 19 DIY L-shaped plans for desks that you can undertake with minimal experience and prerequisites. These provide you with a durable and cheap alternative while maintaining the integrity of a classic L-shaped design.
DIY L-Shaped Desk Plans & Ideas
1. DIY L-Shaped Double X Desk
This table will immediately add an elegant feel to your workspace, with ample leg space, and it's easy to move structure. Create your own stylish leg frames with an X trim and then assemble the desk support structure. Finally, position your tabletop on this base and finish this DIY project to instantly upgrade your working experience.
The step-by-step guide also provides you with instructions to fill pocket holes for a clean look to the table.
2. DIY L-Shaped Office Desk
Create this stylish L-shaped desk for your study and give it the professional feel you always wanted. Choosing crown molded legs with a thick base will bring exceptional sturdiness. Depending on how sleek you want the end product to be, perform calculated wood staining.
Your office study naturally gets a rustic vibe and you feel more productive while working on this new office desk.
3. DIY L-Shaped Room Desk
This L shaped desk design is perfect for your room and will add a chic vibe to it. The process also includes instructions on installing drawers into the design which work towards enhancing its utility.
The details for this project are divided into subparts which make it easier to comprehend the manual. This table is big enough to occupy two vacant corners of your room. You could literally set up a mini workstation with enough space for 4 computers.
4. DIY L-Shaped Modular Office Base
A thin-table desk made using a few tools and lumber, when joint together with a modular office themed narrow shelf base, produces this innovative L shaped design that fits perfectly into the corner of your room.
Supplies:
Clamps
Drill
Hand Saw
Lumber
Screws
Wood glue
There are a couple of more basic materials that you can access from the guide.
5. DIY L-Shaped Desk (Using 1 Plywood Sheet)
This video will guide you through the entire process of making the entire desk using just one sheet of plywood. The final product will be sturdy and can be used for both office and home purposes. Even better, you get an extremely compact storage area packed closely to the tabletop.
Worried about cutting wood in such precise patterns? These 10 best cordless reciprocating saws could be a great addition to your woodworking arsenal.
6. DIY L-Shaped Computer Desk
Make this DIY table without using any advanced tools for under $100, just by following this video instruction to the pinch of perfection. The final product is bulky and construction assures it is even resistant to vibrations. This makes it the perfect corner piece for your room. Small and compact!
Supplies:
Lumber (2×4's, 2×6)
Wood glue
Clamps
Drill
There are a couple of more basic materials that you can access from the guide.
7. DIY Butcher Block Desk
A desk that can serve its purpose positioned in the corner, or center of the room, this DIY project completely dominates your room. The pipe-structured table gives you a proper place for devices like printers and scanners.
Build a desk with a rugged design (complemented by the black spray-painted industrial pipes) and a striking contrast of the bright wood color.
8. DIY L-Shaped Workflow Desk
If you need a large desk for a computer lab, to be used by multiple people simultaneously, you should try this DIY plan.
This plan makes use of slide over pipe fittings secured by set screws (instead of the conventional method), which makes it easier to use and more flexible as compared to threading pipe fittings.
9. DIY L-Shaped Desk with Pipe Base
This classy table makes use of live edge slabs and can easily fit into a bay window. The heavy tabletop is supported by the pipe frame.
You can use flanges to connect the slabs into the pipe structure. Tee fittings can also be used to tie the supports for both desks together. This will help save on the number of fittings needed.
10. DIY L-Shaped Dresser Desk
If you want a dresser-cum-table to liven up that dull corner of your room, this DIY project is what you need. With the framed-out drawer fronts, the molding, and beautiful legs, this dresser sure becomes the central attraction for your room.
Why not hit two birds with one stone? Solve the problem of storing the clutter in your room, while also getting a table work on.
11. DIY L-Shaped Student Desk
Perfect for all the teens, this study desk with its minimal built and maximal utility will definitely enhance your productivity.
There are 3 main steps as a part of the plan, building the base, the top, and then attaching them together.
12. DIY L-Shaped Drawer Desk
This plan provides you an easy schematic procedure to make your own L-shaped drawer desk that comes with storage units and drawers. To get strong joints and to hide the head of the screws, you should use a pocket hole system.
The middle piece merging the 2 drawer ends of the L-shaped table is what needs utmost attention too. Acquiring the perfect cut is a key element in attaining this exact design.
13. DIY L-Shaped System Desk
Refer to this PDF instruction booklet to make yourself a desk for your entire computer system, which provides you ample room for leg space and technical accessories.
This design features a large lap drawer with a matching drawer cabinet, and a bulging section in the middle of the table. If required, more drawer cabinets can be attached to either of the sides.
14. DIY L-Shaped Corner Desk
Despite being more of a makeover plan, a few existing drawers and wooden pallets could help build what you are seeing. The compactness and exemplary space-conscious design make it a must-try DIY project.
Use this cheap alternative to enhance your room décor and make working more enjoyable.
15. DIY Simple L-Shaped Desk
Boasting a generous width, the ends of this table give it a breathable look. Installing some casters could prove handy.
This lightweight table can also be easily transported which makes it perfect for the parties you host, outdoors or indoors.
16. DIY L-Shaped Farmhouse Desk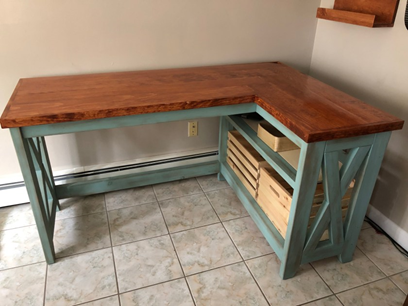 When you couple the ruggedness and dull color of the lower end of the table, along with the presence of 2 long shelves, this plan doesn't seem like a bad idea.
You will need a pocket hole jig for the proper execution of the plan.
17. DIY Modern L-Shaped Desk
This table, though a little challenging, can be completed by using hand tools and giving the project its due effort. The end product will be a durable table that can be placed in your garage as a tools platform or even as a kitchen island. However, the instructions in the video do not include the finishing procedure, which has been left to your creativity.
If you're overwhelmed by the wood cutting specifics mentioned in the guide then check out these top-notch sliding compound miter saws.
18. DIY L-Shaped Rustic Table
This rustic table serves as the perfect spot for all your mementos and paperweights. Place it in your study for personal use, or in the hall as a display for your guests.
Drilling the pocket holes will be the most difficult part of the project. However intimidating the legs may seem, carefully following the instructions will help you succeed in conquering the complex built.
19. DIY L-Shaped Craft Desk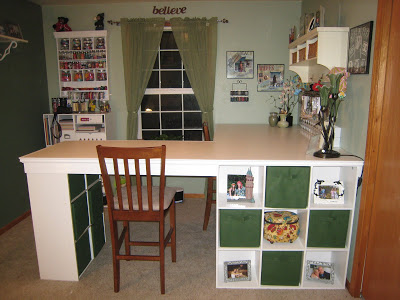 A craft desk is a must for a DIYer, and what better way to do that than to DIY? Nothing beats the squared boxes on the front end. Literally anything you place there will add to the visuals of the entire L-shaped desk.
The guide provides you with separate instructions for the cubicles, main desk, and side desk, and then later arranging it all together.
Verdict
L-shaped tables are the perfect means to fill up vacant corners in homes. A little creativity, open-mindedness to trying new designs, and wood assembling skills could go a long way in building a visually pleasing DIY L-shaped desk.