Like a computer table is to an IT professional, a workbench is to a woodworker. But if you are not happy with your workbench or looking for an upgrade, guess what? You don't have to spend thousands of dollars on getting an efficient and functional workbench.
You can DIY a workbench and one of these ideas takes no more than a couple of hours. Cool isn't it?
So let's dig right into them.
12 Amazing DIY Workbench Plans for Woodworkers
1. A 2-hour Workbench
Let's start up with the quickest idea on the list that is ideal for anyone who is short on time and needs a workbench quickly. In fact, if you have the right tools and parts, it will take less time than going to a store and getting one i.e. a mere 2 hours.
Even though quick, the workbench has enough functionality to get small to medium-scale jobs done. From hammers, screwdrivers, power drills, there will be ample space to store it all. So if you are a hobbyist, it should be just right for you.
Another awesome thing about the workbench is that this baby costs less than $50 to build (Tight budget? No problem).
2. Foldable Workbench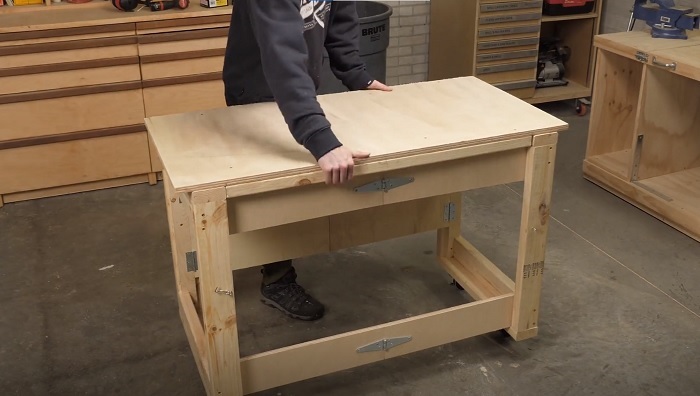 If you plan to move your workbench around a lot? Or maybe you are cramped for space? Either way, it sounds like you need something light and portable that comes with the functionality of a traditional workbench and that's exactly what this foldable table provides.
But how does the magic happen? Well, with hinges. Just make sure you are using solid hinges so your workbench doesn't cave in with constant folding and opening while latches will help to keep it in place when folded.
3. The traditional workbench
In case you prefer the old-school methods and need something more traditional, this is the workbench for you. The best part about this type of workbench as compared to a foldable one is the durability. It will last you for years with little wear and tear.
And all you need is a saw, lumbar, and drill. Don't have a saw? No problem, have the lumbar custom-cut at a nearby store. But if you use these tools, this is another good budget option and costs less than $150.
4. The eye-catching workbench
Traditional workbenches are good, but if you have an eye for flair, this idea is sure to make people look twice (compliments for your workbench coming in 3, 2, 1). Though keep in mind that it will require some expertise and costs slightly higher.
What makes it so attractive is the use of LVL joists and Douglas Fir in tandem with the Plywood. You can let loose your creativity and go with premium wood types such as Oak, Teak, etc. You should also consider staining it as it will add some gloss and a layer of protection to it.
5. The Garage Workbench
If you use your garage for the occasional repair job or do woodworking over the weekend as a hobby, this workbench should serve you well. One of the reasons being that it is compact and thus needs little space in the garage. Plus, it is super easy and cheap to build.
All you need are some screws, plywood, lumbar and voila, you can build your own workbench. Plywood helps cut the weight down so you can move the bench around easily but if you think it needs more solidity, feel free to build it entirely out of the lumbar.
6. The in-house workbench
Don't have a separate garage or large room that you can use as your workspace? That doesn't mean you cannot have a workbench.
What I like most about this workbench is that it is both functional yet good looking so blends in well with the other furniture in your room.
And when you aren't working on it, feel free to use it as your coffee table. You can make it out of Cedar, Oak, or other similar materials so it looks, smells, and feels premium. For more usability, feel free to add the modular section as well, which requires only some posts and thick boards.
7. The Flippable Workbench
Whether you are choosy about what surface to work on or simply want a 2 in 1 workbench, this is one is for you. It is one of my favorites ideas on the list as it gives you access to two working areas, each of which can be used for a variety of tasks. But that's not all.
You can further take the convenience of using and storing it up a notch by adding casters and wedge locks. So you can move it around in seconds when needed and fix it to the spot from stability when working.
8. The Professionals Workbench
If you are a full-time woodworker with tons of work to do, a makeshift bench wouldn't cut it. You need something with bells and whistles and this is just that. What I like most about this is that it not only gives you tons of space to work but also comes with multiple drawers and shelves so you have all the equipment you need on hand.
Though keep in mind that building this is time-consuming and requires expertise. Here's the first part of a four-series to building this beast of a workbench correctly.
9. The Modular workbench
Our kitchens, tables, cupboards, everything has become modular and rightly so. They don't take up much space and yet provide a ton of space so why not your workbench also, right?
One of the best things about such a workbench is that at the end of a hard day, you can tuck away all the tools in seconds with minimal effort (so you finally have time for coffee or dinner).
And since it takes up such little space, you can have it in your garage or even a different room without making it look bad.
10. One for the Kids
Do you kids love to give you a helping hand when you are making those awesome tables, chairs, etc. for the house? Then why not give them their own workbench? This will not only motivate them but also ensures they do not hurt themselves.
Plus, it is both cheaper and quicker to build as it only has to be the height of the kids with a basic design. Though you can always add a creative touch to it with their favorite cartoons, etc. so your kids love it.
11. The Table Saw Workbench
Do you often find your self using a table saw? Isn't it just annoying when you constantly need to go back to your workbench for tools, etc.?
Well, this idea integrates a table saw outfeed along with the workspace, drawers, etc. that comes with a traditional workbench giving you dual functionality. Plus, the drawers open up from either side adding to the convenience (just the kind of thing you need for a productivity boost).
12. The Workbench from Trash
Do you have pallets laying around that you are about to throw in the trash? Hang on, why not build an all-new workbench out of it? This is another idea that shouldn't cost you a dime. In fact, you'll cut your losses down by using waste material.
And it doesn't matter if the pallet doesn't look new. As long as you think it will hold the weight, it is good to go. Along with all you need are some 2x4s and with your pallets are the same size, it can be done without a saw. Check out this below for details.
A Final Note
Well, those are my 12 workbench ideas for woodworkers. Whether you are a hobbyist who works in a small garage or a professional, whether you have a low budget or want something durable and large, there's a workbench for everyone.
In case you are having trouble with any of these ideas, feel free to reach out to our experts for help. In case you have built a workbench for yourself from scratch that you want to share with others or have it featured on this list, drop it in the comments section below.
Till then, happy DIYing.
You May Also Like: