A 10×20 shed usually gets an edge because of its narrow structure and additional room. However, large sheds also stand out because of extra wall space.
Think about the area you would need to store in a tractor and still have enough place to set as a workshop. Well, that is a 10×20 shed for you!
Now that you have narrowed down the size, it is time to look at the various 10×20 shed designs. So take a pick and follow the detailed plan to DIY a 10×20 shed in your backyard.
DIY 10×20 Shed Plans
#1. Sturdy shed
A 10×20 shed is a large-sized shed. Here is a complete DIY guide with the detailed woodworking steps to help you build a 10×20 shed. It has a lean-to roof design with double doors on the front, which allows you to keep big stuff.
#2. Gable shed
Gable shed plans are usually preferred because of their extra space. The woodworking project details the steps to construct a gable-roofed 10×20 shed with two huge windows, double front doors, and an additional side door.
The design optimizes space well and is the perfect addition to your backyard.
#3. Garden shed
Make sure to browse through this 10×20 garden shed plan. The shed is spacious and can even serve as an outbuilding.
Also Read: 23 Amazing 10×16 Shed Plans: The DIY Guide
#4. Storage shed
If you have been struggling with storage, it is time to get your tools ready and build a shed in your backyard. The construction is detailed with drawings at each step to get it right in the first go. Build this DIY shed and save your stuff from the harsh weather elements.
#5. Airy shed
Here is a 10×20 gable shed plan that is designed keeping the ventilation requirements in mind. The design of the shed is such that it does not just serve as a storage space but also adds to the aesthetic look of your garden.
There are double doors on the side of the shed and a single door on the other end. This ensures that the shed gets sufficient sunlight and also allows air circulation.
#6. Large shed
Build this 10×20 shed close to your property and store all the excess stuff from your house here. Alternatively, you can choose to make it as storage for your garden supplies. The shed is large, so you may also decide to convert it to a playhouse for your children.
It is a lean-to roof design and features a double door. The construction is easy and does not pinch your pocket hard.
#7. Hip roof shed
The hip roof-styled 10×20 shed is unique and is a cost-effective inclusion in your garden. The plan lets you choose from five different foundations and two different door option selections. The guide is easy to understand, so all you need to do is download the manual, source the materials, and start constructing.
Bonus Read: 11 Amazing 20×20 Gable Shed Plans with DIY Guide
#8. Modern shed
Build a backyard shed with this modern 10×20 shed building guide. The plan is professionally drawn that guides both an amateur and a pro to build the shed with ease.
#9. Garage shed
The garage shed design is an inexpensive and straightforward build that lets you store your lawnmower or a four-wheeler. The wall height of this shed design is 8′ and 1″, which gives more storage room. You can choose to make the foundation with a concrete slab or skid.
#10. Shed with a tack room and run-in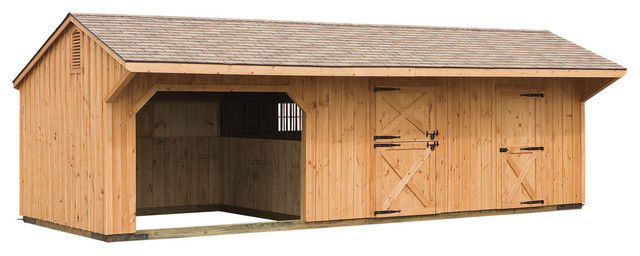 This is a 10×20 shed plan with a run-in shed design. Beam and post are used in its construction. It features a 10×12 run-in bay and an 8×10 tack room. The plan makes use of kickboards and oak siding to ensure that your shed stays strong and lasts long.
#11. Horse barn shed
Browse through this 10×20 shed plan, and we are sure you will not repent. The run-in shed makes use of the post and beam construction and sliding barn doors. The plan also gives you an option to include a metal grate.
Download the plan in pdf format and get started with the construction.
#12. Gambrel shed
Start building a 10×20 shed in your backyard with the gambrel shed plan. What makes this a favorite among many is the extra loft in the shed roof. In addition, the wall height is significant, which makes it comfortable to convert the shed to a home factory. You are also free to tweak the plan a bit to customize the doors.
#13. Run-in shed
Why don't you go through this simple and neat run-in shed design plan? With a few posts and beams, it takes no time to get the shed ready.
You May Also Like: How to Build a Shed Ramp? | Easy Steps With Pictures
#14. Colonial shed
If you are in search of a shed design plan that adds a colonial touch to your backyard, then this is the design to peek at. The shed features batten siding and window trims which together give it a classy look. The steep roof also needs mention, which plays a crucial role in providing the 10×20 shed the English aura.
#15. Easy to build backyard shed
Easy to understand and build, this is the perfect 10×20 shed plan for those looking for a quick DIY project. The roof of the shed is low pitched, and it can be built on a concrete slab.
#16. Budget-friendly backyard shed
Here is the plan to construct a 10×20 shed. It features an optimum height which does not just save on material but lets you build the shed on any wall of your choice. The drawing gives you varied options to place the door. So you can choose what best works for you.
#17. Dormer shed
What makes this 10×20 shed plan stand out is the loft with a window. You can very well imagine the storage that this shed plan has to offer. It has a double door on one side, a single door, and huge windows.
#18. Shed with loft
The shed design details the complete construction steps with a list of materials and tools you would need. So download the plan in a pdf format, get the materials and follow the guide to build the 10×20 shed as shown in the picture.
#19. Run-in shed with two stalls
The shed features a lean-to roof and two separate stalls. You are free to use the shed as you desire. It is spacious enough to keep your farm supplies or firewood.
#20. Gorgeous shed
Want to beautify your garden further? Then look at this 10×20 shed plan. The intricate detailing and the finishing make it a must-have in your garden.
#21. Beautiful shed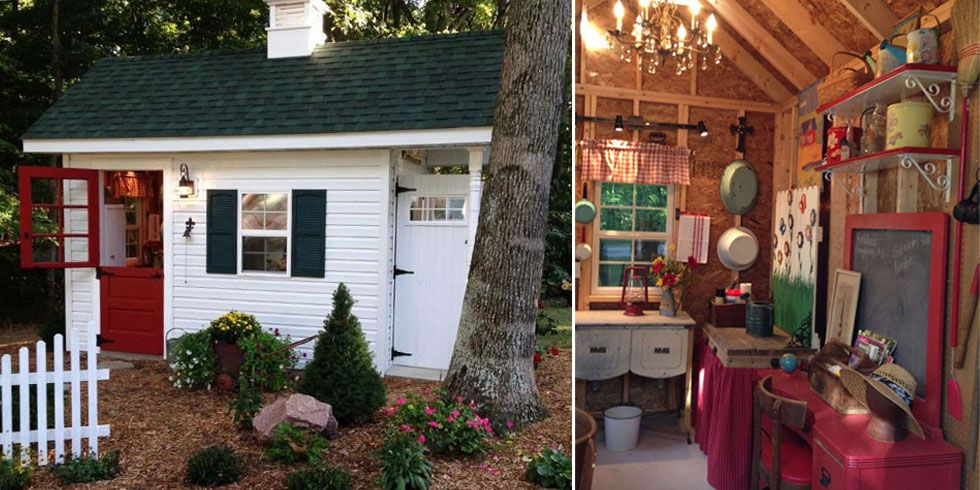 Here is a simple to follow 10×20 shed plan. The plan includes a separate shopping list. So all that you need to do is print the material list, get the tools and equipment from the store and build this beautiful shed by following the detailed step-by-step building instruction.
#22. Reverse gable storage shed
Here is an easy-to-build plan for a reverse 10×20 gable shed design. The roof slopes both on the front and the back, making it an ideal shed for places that experience heavy rain or snowfall. The design is also such that it easily blends with the garden design.
#23. Modern garden storage shed
If you are not looking for something complex, check out this modern yet straightforward 10×20 shed design. It follows a minimalistic approach and is made with rafters. The shed easily fits into any garden size and is functional too.
#24. Shed with porch
A shed with a porch is a great idea. You can use the porch to keep a bicycle or a scooter. Alternatively, you can convert the porch to a family gathering area. Add a table and a few chairs, and it could be the perfect place to enjoy an evening cut of tea. Whatever you choose to do, a 10×20 shed plan with a porch is easy to DIY with this plan.
#25. Office shed
It is indeed a great idea to build a shed and use it as an office. If you need to work from home, it pays to keep a separate office area to focus and deliver better. The modern shed plan is neat and easy to build on a budget.
#26. Studio shed
Get the complete material list, and the detailed construction plan to build a sophisticated 10×20 studio shed that can add value to your backyard.
#27. Modern shed
Modern sheds are highly popular. The shed plan features a double door and overhead windows that make the shed interiors airy and allow enough sunlight. Use it as a man cave or as an office. The shed is the ideal place to spend some time with yourself, away from all the noise.
#28. Lean-to shed
Here is another detailed plan to handhold you through the construction of a 10×20 lean-to shed. If you are looking for efficiency in the design, then this shed building plan is a rare find.
Also Read: How to Build a Shed Floor? | Complete DIY Guide
Conclusion
Bigger sheds offer extra workspace and storage. But before you start building a 10×20 shed, it is vital that you first plan the construction well. Essential plannings like the shed style, exterior finish, location, and which side to install the door on are simple things that can make a massive difference to your overall DIY project. It will not just lead to less wastage but will also let you enjoy the experience.
So without much ado, pick up the shed design of your choice and start building.