Extra storage never hurts. And if you have a backyard, including a storage bench makes the area functional and beautiful.
Whether you store your kids' toys or your garden equipment, an outdoor storage bench keeps things sorted and organized while giving you extra seating.
And the best thing is that you can DIY a storage bench with minimal supplies and just by following these DIY ideas listed below.
Storage Bench Ideas
#1. Wooden storage bench
This storage bench made with plywood and wooden planks gives a rustic look to your garden. It is stylish and offers you enough space to store whatever you wish to.
#2. Outdoor storage bench made with a dresser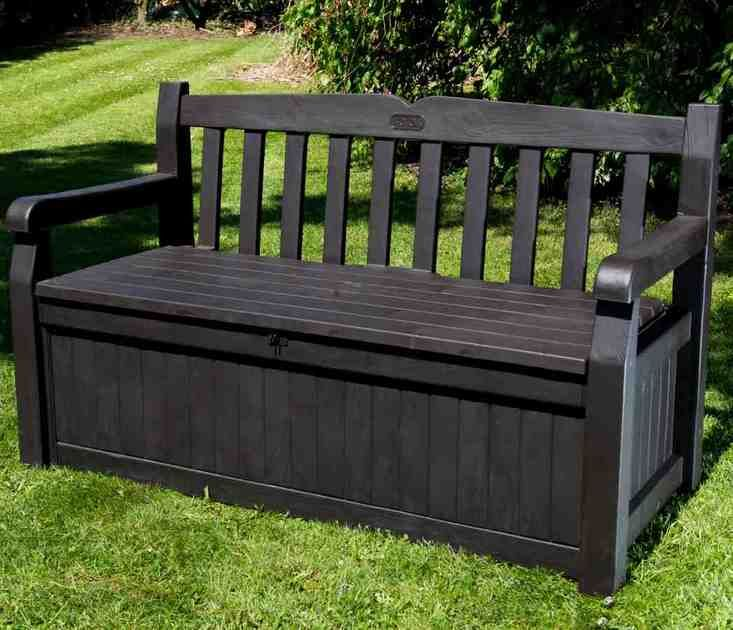 Do you wish to recycle your old dresser? Then quickly browse through this DIY plan. It takes just a few steps to convert your old dresser into an outdoor storage bench.
It is simple, and since the dresser also comes with drawers, it is the perfect woodwork for an amateur.

Follow this plan, and you will have a beautifully crafted outdoor storage bench that will easily blend with your garden furniture.
#3. DIY storage bench for outdoor use
A garden is a place where you wish to relax. But if the space is cluttered, it only makes you stressed. Worry not, because this DIY plan handholds you through the steps to craft out an efficient bench. Store your yoga mat or your garden supplies since you are free to use the bench the way you want. And the additional seating is indeed a bonus.
#4. Easy to build storage bench
Here is a woodworking project for someone who wants to keep things easy. The entire project does not use joints but only a few screws to craft out a storage bench for you.
The detailed steps with pictures make it easy to follow the plan and not to commit errors.
#5. Outdoor storage bench
If you are looking for a DIY storage bench idea that is fun to make and inexpensive, then this is the perfect plan for you. It serves two purposes. You can sit on it and enjoy a drink in the evenings and store extra stuff under it.
All that you need are two crates and a few wooden slabs to create the perfect outdoor storage bench. And it does not take more than a day to finish off the project.
#6. Sturdy outdoor storage bench
What if you have a small garden? Then this is the DIY storage bench plan apt for you. The method takes into consideration the challenge of insufficient space.
If you have been complaining about a backyard that is no more than a dumping ground, browse through this DIY guide. The storage bench is neatly designed to take less space but offers optimum storage.
#7. Elegant and enormous outdoor storage bench
Gorgeous on the outside, huge on the inside – This storage bench plan is a rare find. It is sleek and modern in design but is constructed to offer extra storage. All it uses are some wood slats and plywood.
#8. L-shaped outdoor storage bench
This outdoor bench plan is the perfect choice for those with ample garden space and who wish to create extra seating with extra storage space. Shaped in the form of an L, the bench gives your area a neat look while also being pretty functional.
The plan is precise and is best suited for someone who already has some carpentry expertise.
#9. Outdoor bench with concealed storage
Wish to add a handsome future to your garden? Here is the DIY plan for you. Wish to add additional storage in your garden but want to keep it concealed? Then again, this is the DIY plan for you.
With a lift open seat design, one would never believe that you can have a storage space under this elegantly designed bench.
The backrest is angled, the curves are decorative, and the aesthetics are inviting. And when you lift the seat, there is a whole lot of storage underneath.
Now that is what we call a minimalistic yet exemplary design.
#10. Easy-to-build outdoor storage bench
If you are in search of an exquisite outdoor storage bench, then your hunt ends right here. The design is a simple box made using four frames and legs that wrap on the corners.
Single plywood is laid on the structure and is covered with Fabric.
The bench design throws up many options for customization. You can play with the fabric and paint colors to match it with your outdoor future.
You May Also Like: Woodworking 101 Guide: Basic Skills Every Beginner Should Know
#11. Outdoor storage bench with top hinges
It is a simple but efficient outdoor storage bench design for you. The wooden bench is segregated into compartments, so you to organize your stuff well. The bench has a hinged top with a separate opening for each case.
The construction is pretty straightforward, and this outdoor storage bench does promise to keep your garden clutter-free.
#12. Minimalistically designed outdoor storage bench
Who can deny some extra storage and seating space in their garden?
The beautifully designed outdoor storage bench stands out because of its panels, making it a perfect addition to any backyard or garden. It takes some basic supplies from the local store to craft this project on the weekend.
#13. Roomy outdoor storage bench
If you have plenty of stuff to store and need plenty of space for your family and friends to sit on, then look no further than this storage bench building guide.
#14. Sophisticated storage bench
This outdoor storage bench can hold everything right, from toys to the dock supplies. Made of wood and with an easy-to-build construction plan, here is a go-to manual for you.
#15. Outdoor storage bench made with an old trunk
If you have an old trunk lying around at home, do not let it waste. Instead, transform it into an outdoor storage bench. It does not matter if the chest is made of wood or steel. It eventually will be ready to store all your outdoor stuff.
#16. Metal and wood storage bench
The combination of metal and wood is always a head-turner for furniture, and this storage bench plan captures just that. The procedure helps to create a beautiful storage bench. It includes a printable plan with step-by-step instructions that handholds you through the entire construction stage.
#17. Upholstered bench for outdoor storage
Solve your garden storage woes with this upholstered storage bench. It is simple but classy.
The plan details the material list and the building instructions well. All you need to do is source the tools and equipment and set aside an afternoon to complete the DIY project.
#18. Slatted storage bench
If you are someone who keeps style over everything, then do Not miss browsing through this plan. The DIY bench is stylish, and while the look seems complicated, in reality, it is a cakewalk to build this storage bench.
#19. Aesthetically pleasing outdoor storage bench
If you do not want something complicated but, at the same time, do not wish to compromise on beauty, then check this DIY outdoor storage bench plan.
It has fretwork detailing, which gives it a fancy look. The 45 degrees angled cut adds charm and elegance to the design.
Just flip open the seat, and you will be surprised with the space that lets you stash whatever you want—already interested?
#20. Vintage storage bench
Here is a detailed plan to help you construct a vintage outdoor storage bench. Have a look because it does make a great outdoor addition.
#21. Huge storage bench for outdoor use
Garden equipment, toys, cushions, etc., can pile up and take away a lot of space. So, if you have been struggling with storage, then here is the solution.
The DIY plan helps to construct a vast storage bench where you can keep almost everything. And the good news is that you do not need to be an expert to build it.
Just get the supplies ready and follow the instructions step by step, and we assure you that nothing can go wrong.
#22. Seating plus storage bench
The stylish outdoor storage bench with a seat is spacious and gives you a lovely place to sit and admire the outdoor breeze.
#23. X-legged storage bench
It is a bit different. The outdoor storage bench uses crates and has an X-leg, which indeed makes the design unique.
#24. Outdoor storage bench with a backrest
How about a comfortable bench with a backrest and with a considerable storage space hidden underneath? You definitely cannot go wrong with this selection.
#25. Repurposed storage bench
It is impossible to lay your hands on something more impressive than this. The DIY plan uses a headboard and an old door to repurpose it into an outdoor bench to provide ample storage. The artistic carvings on the headboard give it a plush look. There could be no better way to recycle your old stuff.
#26. Modest outdoor storage bench
Here is a simple storage bench design for those who want a minimalistic but functional built.
#27. Movable outdoor storage bench
If you are looking for a movable outdoor storage bench, here is the DIY plan. The plan has included detailed steps with pictures to make the construction easy. The storage bench has castor wheels attached to them, making it easy to relocate it anywhere you desire.
#28. Cozy storage bench
The tiny outdoor storage bench fits nicely in every space. However, its look is deceiving because there is enough storage to keep all your supplies once you lift the cushion.
#29. DIY storage outdoor bench
The storage bench is an excellent addition to any outdoor space. What makes this design different are the joints that are half lap which is not just strong but adds style too. In addition, the seats are placed on the drawer slides, making it easy to slide them out and access the storage beneath.
Bonus Read: 15 Awesome DIY Treehouse Plans to Build One in Your Backyard
Conclusion
There somehow never seems to be enough outside storage. It is always the same hassle running to the garage to get the board game, the garden tools, or the pillows. And then there is always the complaint of not having proper seating to sit and read a book.
It is time to keep all the grumbling aside. With the outdoor storage bench DIY plans, both your problems are taken care of. So go ahead and add extra seating and additional storage in your garden with just a single construction.