So you have finally decided to get a new shed in your backyard!
Sheds are undoubtedly a thoughtful investment giving space to store your tools, equipment, and other gardening hardware. They are also a respite for homes that have no room for storage.
But there are two major points that one needs to ponder over before installing a shed.
Should you buy or DIY a shed?
What should be the ideal size of the shed?
If you too find yourself seeking answers to these two questions, then let us sort it out for you!
Building a Shed vs Buying a Shed
If you get excited about building stuff, this could be enough reason to get your itchy hands a new project to start with.
There are ample free and paid shed building plans available online.
With the right tools and materials, shed building should be a hassle-free experience for someone who takes pride in his building expertise.
Building your shed is cheaper, provided you have the tools required for the construction.
You source the materials yourself and save on the labor costs ultimately, which does help in pocketing a whole lot of money.
DIY projects let you fully customize the shed to match your personal needs.
Buying a pre-built shed or hiring a contractor, on the other hand, saves time. It is an option for those who have never done any DIY projects before and are not ready to take the risk of committing costly errors, which could lead to unnecessary expenses.
The Ideal Shed Size
What is the perfect shed size that I should build?
For this, you need to consider what the storage space needs are, how much yard space you can allot to the shed, and what are the permit requirements of your state.
A 10*16 shed size is generally preferred by many homeowners.
It is spacious enough to store large items.
It easily fits into most average-sized yards.
Since many states need a permit only when the building exceeds 256 square feet, you are saved from dealing with building permits.
Let us now go through some 10*16 DIY shed plans.
23 10×16 Shed Plans
#1. 10*16 Garden Shed
Check this compact 10*16 garden shed plan. There is enough space to store your tools and furniture, leaving a lot of room to walk inside the shed. You may also want to set a small area to pursue your creative skills.
Ready all the tools and materials before you begin the task. The planks should be selected with utmost care checking them for any flaws like decay, twists, or cracks. A spirit level lets you align the component in a straight line which in turn gives your project a professional look.
Go through the detailed material list and the plan, and if you have them already, it should not take more than a day for an expert to complete the project.
#2. 10*16 Gable Storage Shed
Looking for a zero-hassle step-by-step gable shed design plan? Then this is the right one for you. Enhance the aesthetics of your backyard with this spacious storage shed.
What makes this gable shed stand out is its large double doors and a small 3*3 window on the side. The shed is airy and gets enough sunlight throughout the day.
Seek the local permits, if any, invest in quality materials, and choose the right location for the shed, and that should be it to get you started with this DIY project.
#3. 10*16 Gable Shed With Doors On End Wall Or Long-wall
You could be a little choosey on where you place the double doors in your 10* 16 sheds. There are two options here.
You may either choose to add them to the short end wall
You may add the doors on the long wall
It depends on what looks the best to you as well as what kind of shape you desire for your shed. These are two gable shed plans for you.
#4. 10*16 Storage Shed
DIY your shed with this step-by-step plan. It gives you a total of 160 square feet of storage space perfect to keep your garden equipment, lawnmower, or extra stuff from home. You may also choose to make it a craft zone or a kid's playroom.
The choice is yours. All that you need to do is to follow the guide, and it should take not more than a couple of days for the functional 10*16 shed to take shape.
#5. 10*16 Sheds With A Barn Roof And Loft
Wish for some extra storage in your shed? Maybe you desire a loft to store away stuff that is occasionally used? Then sheds with lofts are your best solution.
This is a 10*16 shed plan that features a barn roof and gives you additional storage in the loft. Perfect for families who are struggling with storage, this is an easy DIY shed plan that should be considered.
#6. 10*16 Gambrel Shed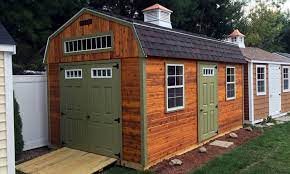 This is a professionally drawn step-by-step DIY gambrel shed plan, perfect for a novice as well an amateur. Instantly download the plan, get the materials and start to build.
The shed features a storage loft, has plenty of headroom, and can be built on any foundation, namely a concrete slab, skid, precast pier, or poured concrete pier.
Just take a print of the material list to save your number of trips to the store. You may also choose to customize the plan to suit your storage needs.
#7. 10*16 Barn Shed
Trust me, you will be elated when you finally give shape to this 10*16 barn shed plan. The plan is smartly designed to use the storage space optimally with no space wastage.
With double doors and vents on the gable end, the inside of the shed stays airy with enough sunlight penetrating through it.
So get the materials and start building.
#8. 10*16 Shed With A Side Porch
A side porch attached to your shed can be used to keep an ATV or to shelter your bike. You may also want to place a garden table with chairs here to enjoy your evening tea with family.
You are free to choose what you wish to do with the porch. So if the idea of a 10*16 shed with a side porch fascinates you, then read through this detailed plan that includes a 4-inch wide porch.
The design is aesthetically appealing and engineered well. It has double doors that give easy access to the shed. There are two windows included in the plan, which keeps your shed bright and airy.
#9. 10*16 Sheds Featuring A Porch Door
The DIY plan is for a shed that features a porch door with beautiful trims. If you are someone who pays a lot of attention to aesthetic beauty, then this is the shed plan for you.
#10. 10*16 Colonial Shed
The colonial-styled shed adds elegance to your garden. It is going to stand out and be the talk of the neighborhood. And if you thought that building a colonial shed is a lot of hassle, then refer to this plan that makes it easy to construct the colonial shed within a few days and with some easy-to-source materials.
The steep roof gives the shed an English old-world charm, and the wall height gives you a lot of headroom.
#11. 10*16 Colonial Plywood Shed
Find the complete drawing with accurate dimensions and a material list to make your DIY project easy-peasy.
The design has an option of two double doors, one each on the long and the gable side and plywood siding with cedar trim. This is a plan to behold.
A transom window features on top of the door towards the gable side. There are three sash windows included in this plan. Two are on the longer side, where you have double doors with one window on each side of the door. The third window is placed on the 16-inch side.
Take out a window or a door if you wish to. Whatever you choose to do, the final result is sure to mesmerize you.
#12. 10*16 Colonial Cedar Shed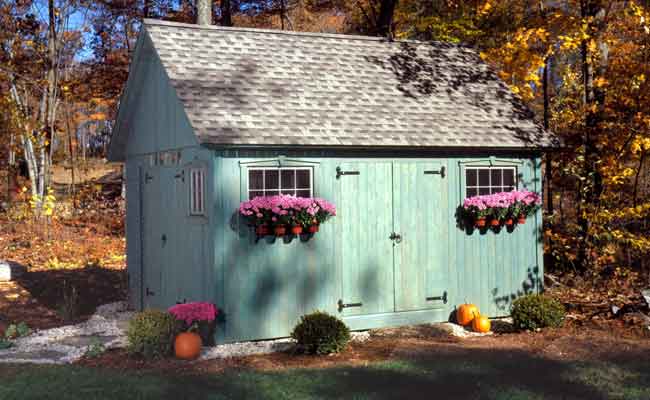 If it is a sophistication that you are looking for, then look no further than this colonial cedar shed plan. The design is artistically appealing, and with the detailed material list and instructions, it hand-holds you through the entire building process.
#13. 10*16 Colonial-Style Garden Shed
This is a simple 10*16 colonial-style barn shed apt for your garden. It does not just add to the look of the backyard but also offers ample space to store your gardening equipment and tools.
#14. 10*16 Simple Gambrel Shed
If you need extra storage space, then a barn shed is what you need in your backyard. The double doors at the frontal side, the side door with windows, and the gambrel roof are the highlights of the shed.
Go through this detailed plan if you want some inspiration to begin with the build.
#15. 10*16 Lean To Shed
A lean-to shed is a narrow shed design that does not compromise on space. It has a lean roof which is the main highlight of this kind of shed.
The slope is low and is ideal for areas where the precipitation is not heavy. The shed features a double door that can be modified to suit individual needs.
#16. 10*16 Professional Lean To Shed
It is a cost-effective yet professionally drawn 10*16 lean to shed plan. The plan also has several customizable drawings, so you are free to choose what you like the best.
#17. 10*16 Square Storage Lean To Shed
The woodworking plan is for those who are looking for a lean-to-shed design. The highlight of this design is the spacious square storage which lets you use the extra area optimally. It also features double doors that give easy access to the inside of the shed.
#18. 10*16 Studio Shed
This is a design for a simple studio shed plan of a 10*16 dimension. It uses cement board sliding with a gap of half an inch. The instruction steps make it easy to build.
#19. 10*16 Modern Shed
Designed keeping the novice as well as the professional DIYers in mind, this is a modern shed plan which is pretty much in trend today.
It has double doors and overhead windows to let the shed get lots of air and light.
There is a separate file in this plan with the material list to make your shopping easy.
Watch sports, do some hobby crafts or store the extra stuff from your home, whatever you wish to do, this could be the perfect shed plan for you.
#20. 10*16 Tall Backyard Shed
If you need to keep any tall items, like, say, a full-length cupboard in the shed, then browse through this plan.
#21. 10*16 Gable Roof Shed
The roof of the gabled shed is its striking feature, and this plan shows you how to make the entire shed in detail.
#22. 10*16 Easy To Build A Gable Shed
While constructing a shed, it helps to have the drawing handy. This is a detailed 10*16 gable shed blueprint that will guide you well through your construction.
#23. 10*16 Storage Shed With Partition
If you need a spacious 10*16 wooden shed, then check this plan that comes with a double door and three huge windows.
You also have an optional partition on the inside which can further divide the room into 1012 and 410 area.
The shed is perfect for those who like to keep their things neatly organized. It could be used for storage and as a hobby or entertainment area at the same time.
Conclusion
If a 10*16 shed is what you are looking at, and wish to DIY the project, then we have covered some of the best-detailed shed construction plans from across the internet, all curated in a single place.
Go through these plans, which come with the complete material list and building instructions. You may choose to follow the guidelines as it is or tweak them to customize the plan to suit your needs.