Earlier, a garage used to serve one purpose, keeping your car parked and safe. We've come a long way since then, and the garage is now not only used to store your car but various other things too – sometimes even your DIY equipment.
Often, storing all those things can lead to your garage becoming a mess. Eventually, disrupting the actual purpose, it is built for – parking your car.
If this problem resonates with you, garage shelves are a much-needed solution for you. Since durable garage shelves are expensive, we have curated 21 DIY garage shelving plans to help you declutter and economize.
21 DIY Garage Shelving Plans
1. Garage Storage Wall
Suitable for holding plastic storage bins, these wooden garage shelves can be built by spending $300 and less than a day on construction. This plan will assist you in creating a 26 ft shelving using plywood.
Some essential tools required to build it are a cordless drill, framing square, and tape measure.
A bonus tip while working on this plan is to buy the storage bins before you start constructing. This will help you adjust the dimensions of the shelf according to the sizes of the bins.
If you plan on painting your shelves, paint them before they're assembled to make your work easier.
2. Ana White's Garage Shelving Plan
This is one of our favorite garage shelving plans. Ana White has outdone herself again, this time with a 20-foot long garage shelf for spaces with enough square footage.
This shelf is built using 2x4s and fixed simply using self-tapping screws and wood glue. Some important notes while building this project are:
The shelving can be customized according to your requirements
More shelves can be added
Secure the shelves to the wall to prevent them from tipping forward
Furthermore, even the span between leg sets can be altered. It is the customizability of this plan that makes it unique and favorable.
3. Floating Garage Shelves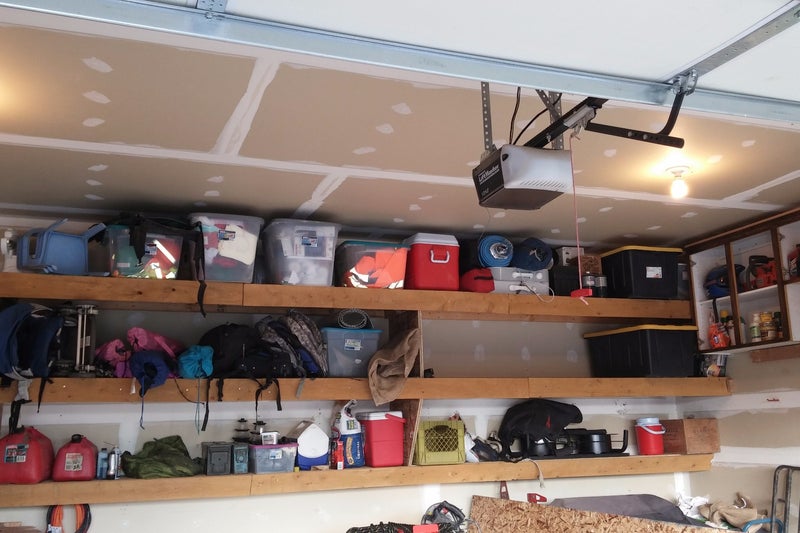 Small garages might not have enough space to add shelves. But that should not stop you from having shelves at all. This plan gives a solution in the form of floating garage shelves.
It will allow you to make full utilization of the garage floor space and expand storage through mounting shelves on the wall.
You should try placing the shelves in the middle of the wall, but if they are against a corner, you might need to do some extra work. It is advisable to put a shear plate on that wall or cross beams onto the perpendicular wall.
4. Shelves Over Garage Door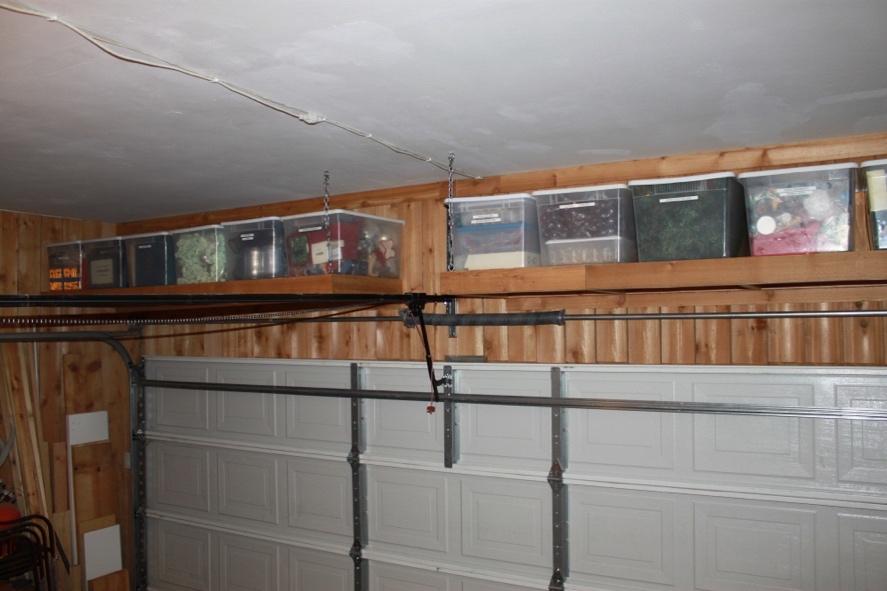 Any garage with a high ceiling can make use of this plan. Originally built in a 10 feet tall garage, these shelves prove that any part of the garage can be used as storage. You might be concerned that the door would not open due to the shelves. Fortunately, it has been tested that placing the shelves 2 feet from the ceiling allows the door to open.
By following the exact dimensions as the plan, you will be able to place 12 storage bins on these shelves. Thus, giving enough space for you to organize your garage.
It is advisable to use eyehooks to make sure the shelves are supported.
5. Heavy Duty Storage Shelves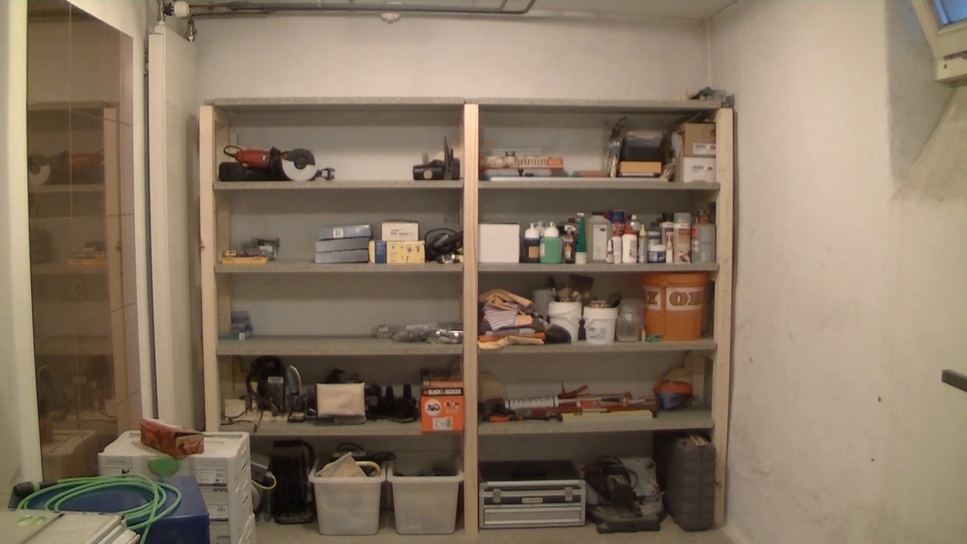 These heavy-duty racks have been made using simple tools and materials. However, the author of the plan suggests getting some basic power tools (here's a list of important power tools for every woodworker) to speed up your work.
An advantage of this plan is that it uses waterproof plywood. While most shelves start sagging over time due to weight and moisture, using waterproof plywood prevents it from happening here.
It would help if you bought pre-cut particle boards to save yourself from extra work. Read the plan further for some great tips on drilling, finishing, and adding angle clamps.
6. Garage Shelving to Stay Organized
This structure has been built using repurposed wood, wherein each shelf measures around 2×4. While using reclaimed wood, you might hesitate that the shelves will not be equal.
Fortunately, this plan assures you that while the beams might be unlevelled, the shelves are perfectly equal. You can even add a few extra screws to the shelves to hang some tools.
7. Low-Cost Storage Shelves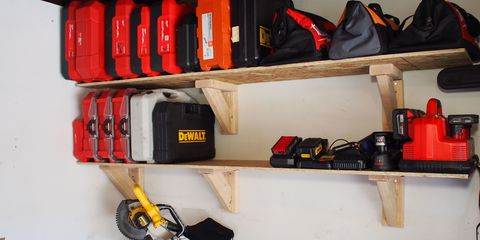 Built from 2x4s scrap plywood, this is one of the most inexpensive garage shelving plans on the internet. It can be completed within one afternoon and requires some basic tools like a drill, circular saw, miter saw, and tape measure.
The depth of these shelves is 16 inches. It is a structure that is deep enough to support tool cases but shallow enough for the cases to not get lost in them.
An important tip is to use scrap wood to raise the cross bracket, thus making it easier to screw the ends together. Lastly, make sure your shelves are pushed back to the wall.
8. Polished Habitat Garage Organizer
Using IKEA pieces can help make budget-friendly, customizable garage organizers. These shelves match open shelves usually placed in the kitchen. But they work equally well in the garage too.
This plan has used inexpensive dressers from IKEA to make tool storage and work surfaces. Therefore, this plan serves the purpose of a storage and work area.
Since the shelves are quite heavy, getting assistance from someone with muscle power to mount the shelves is recommended.
The workbench and shelves are built separately. Thus, in case you don't have space for a workbench, you can just make the shelves.
9. 2×4 Storage Plan for Garage
This is one of the most economical garage shelving plans. Instead of using plywood, it uses OSB subfloor due to the price difference.
Drilling can be a daunting task sometimes. This plan, however, gives the perfect solution by making a drilling template for the end pieces and the sides.
To make mounting the shelves simpler, cut the notches a little larger than needed. You can even cut the shelves in half, but then you'll need to add extra support under the splice.
10. Home Talk Garage Shelving Plan
An 8 ft long and almost 8 ft tall shelving plan is just what you need to store all the clutter in your garage in a well-organized manner. Also, since the shelf went up to that height, it required minimal cutting.
You can use 2x4s to make ladder-like structures and attach pegboards on them to support keeping your stuff.
The plan cost only $100 to build and took only 3 hours to finish. What's more, is that this system can be assembled and disassembled with minimal hassle – making it easy for you to transfer to a different place if needed.
11. Hidden Shelving Over Garage Door
These shelves can hold about 4 totes side-by-side, and they become entirely hidden when the garage door is opened.
Made using $50, this system of shelves will not give the same utility as metal shelves that cost $120-$140. But you can store lightweight equipment on it, like camping gear, seasonal decorations, and seasonal clothing.
The most important part of this plan is measurement. The measurements need to be precise because the garage door needs to shut and open without hitting the shelf.
Remember to place the plywood on the shelves after they have mounted. Additionally, you don't have to use a lot of screws here as the weight of the bins and stored items will hold it down.
12. Sturdy Garage Shelving Plan
Saggy shelves look bad, but more importantly, they can be dangerous. To combat that problem, this plan has spent $200 to build a rack that will last. Moreover, the plan gives some great insight to DIYers on how to build a simple and sturdy design.
While it is not important to make all the shelves of the same height, you should make at least two rows of shelves tall enough to keep more oversized items.
These shelves are 21 inches deep and store tubs and other large items well. However, you can use your measurements to decide the depth.
13. Overhead Hanging Storage
Another of the garage shelving plans works with limited space and budget and spends only $74 to finish. The shelves have 164 cubic feet of storage and require four basic tools: drill, saw, level, and stud finder.
Building the base is an important step. Keep in mind to not make it too big since lifting and attaching it to the wall will become a task.
If you plan on storing heavy material on these shelves, you must put a support beam at a distance of at least 30 inches each. Failing to do so will make your shelves sag and possibly topple over.
14. DIY Garage Shelving Unit for $38
This shelving unit uses a 4×8 OSB sheet, 2×3 inch studs to make a strong shelving unit, and it takes up very little space for a lot of storage. Each shelf has enough room above it to stack plenty of boxes and supplies, and it has three shelves.
The final dimensions for this shelving unit are 8 feet in length, 16 inches in width, and 5.75 feet in height.
The dimensions of this plan are specifically designed to provide the possible storage area for the lowest possible price. It has a total shelf space of 31 square feet and can hold around 600 lbs.
15. Garage Storage for Stud Walls
If you're skeptical or afraid of mounting large items on your walls, you should use this DIY method.
The builder attaches multi-layered 2x4s to the studs, removes the second shelf, installs legs and cross supports, and finally installs the second sheet of plywood.
Many people who have followed this project can vouch for the fact that it is quite simple and takes only a few hours to accomplish. To make your life simpler, you may use this strategy to create specialized storage for items like bicycles and strollers.
16. Build My Own Cabin's Garage Shelf
These sturdy garage shelves have been built for under $50 and can be easily customized. The shelves are 2 feet wide and 8 feet long and about 20 inches tall to allow bigger things to fit.
You can build them over a table or just on a plain wall. Also, since these shelves are hung on the wall, you will benefit from creating angled corners to prevent injuries.
17. Instructables Overhead Garage Shelves
This is another one of the overhead garage shelving plans meant to save up on space. But, unlike all other plans, these shelves are not supported by any leg brackets or braces. Instead, they're supported by a ledger on the wall and supporting rods that are screwed into ceiling joints.
These shelves can support up to 72 pounds of storage and have a storage area of 48 square feet. The overall cost of building this structure is $75.
You can build these shelves on the garage doors, along the sidewall, or in an L-shaped combination. You need to consider how the ceiling joist is oriented in your garage before you start.
The easiest way is to install the shelving on a wall that is perpendicular to the ceiling joists. Although, you can tweak the design a little if you wish to construct the shelves on a wall that is lateral to the joists as well.
18. Hanging Garage Shelving Plan
This 16 ft long and 6 ft wide storage was built in less than a day. Still, the most striking aspect of this design is the suspension system.
The shelves are suspended using slotted steel corner irons. This hardware item is usually used to hang garage door tracks and openers from garage ceilings.
Further on, to eliminate the shelf from swaying, one end of the shelf is attached to a wall. It helped solidify the connection of the frame to a firm and reliable surface.
19. Garage Organizer on a Budget
These garage shelves made of rain gutters provide for eye-catching wall-mounted storage. The shelves were fastened to the gutters and the frame after making and painting it. After which, the spherical bases were filled with spray paint, seeds, and other project essentials.
This strong, streamlined solution is inexpensive and simple to create, making it convenient to find what you need, when you need.
20. Lockable Storage Shelf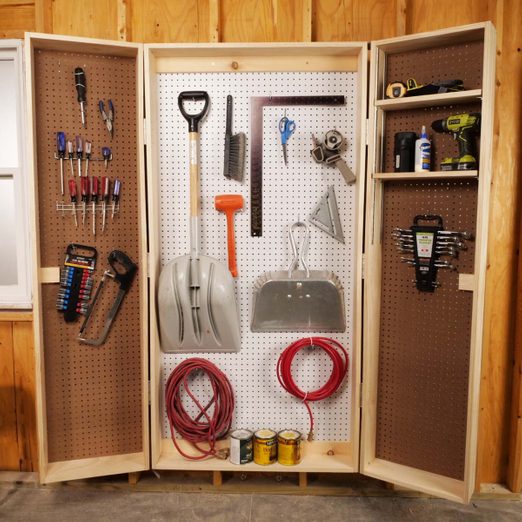 If you're a passionate DIYer, you likely have dangerous tools lying around your garage that kids should stay away from.
By building this lockable garage shelf, you can store chemicals, paint, pest control products, sharp tools, and other potentially harmful materials in it.
Even though this storage unit can hold many things, it does not require a lot of wall space. Plenty of hanging space is provided by hooks and tension clips in the pegboard back and on both sides of the pegboard doors.
Adjustable shelves can be installed in the cabinet's rear and inner door frames. It's made up of three simple boxes that should take less than three hours to put together.
21. Sliding Pegboard Storage System
So far, we have only learned to use pegboards from one side. This project, however, attempts to provide the most utility by using both sides of the pegboards.
Since many heavy tools will be stored in this system, it is recommended to place them on a sturdy shelf. This system can even be mounted using some studs, depending on your preference.
Assembling the whole system takes little time and requires a circular saw, miter saw drill and brad nailer.
Conclusion
All DIYers know how tough it is to keep their garages neat. Lack of space and storage options is most often the primary reason. Fortunately, with these garage shelving plans that we have listed, you can address that problem.
Always remember, these DIY garage shelves are the greatest way to store things on a budget.
Bonus Tip: Want to relive hostel days with the charm of multi-material bunk beds? Scroll through these 68 fascinating DIY bunk bed plans.