Is your car sitting out exposed to the external elements day in and day out through the year because you do not have a proper place to park it? Then you need a carport to protect your vehicle and increase its life. Readymade carports however have a few drawbacks. These cost a bit and also do not let you customize the design.
Keep your worries aside because we have sorted out some of the best plans and designs from across the internet to inspire and help you DIY a carport for your car. With innumerable designs and plans, you are free to choose and build the carport plan that you like the best.
Why Build a Carport?
Before we list down the DIY carport plans, let us first understand why carports are a better option than a garage.
Carports are a smaller investment, so if you are on a budget, then carports are more cost-effective.
The longer your car stays out exposed to the elements, and the paint starts to fade. Your car is also unprotected from rain, wind, ice, and snow. So if you wish to drive your car for long, you need it to keep it covered.
Carports add to the aesthetics of your home, giving you a lot of flexibility in building it as simple or as lavish as you desire. It can also increase the value of your home.
Now that you are aware of the benefits of a carport without much ado, let us dive into the various DIY carport plans.
26 DIY Carport Plans
1. Single car carport
This is a detailed single carport plan which comes with a separate section for storage. The Carport will protect your car as well as store things that you may not need regularly.
2. Carport for 3 cars
The Carport can easily keep 3 cars which are perfect for homes that own multiple cars. The design of this Carport is alluring with a log cabin feel to it.
3. Wooden Carport
The Wooden Carport has a slant roof and is perfect for keeping one car. The carport instruction manual details all the steps and materials that you will need in the construction.
4. Carport with storage
This carport design is apt for 2 cars. There is also storage space in this Carport. You would want to check out this plan if you have 2 cars or more than one vehicle at home and also would like some additional storage space.
5. PVC carport
It is not expensive to build a carport, but you can save on the cost even more, when you build your Carport using PVC pipe. This costs less than the traditional metal or wooden carports and takes just a few hours to build.
Since PVC pipes are not heavy, you will have to incorporate some extra steps to ensure that the Carport does not blow away. Here is a detailed guide to help you with the build.
6. Wooden Carport for multiple cars
Neat and simple in design, it is pretty straightforward to DIY this Carport. There is room to home many cars. The Carport comes with some storage space too.
7. 3 cars carport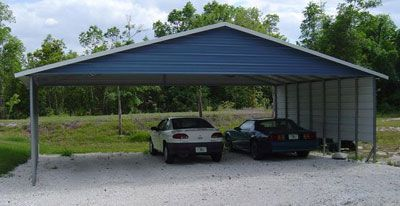 If you are in the hunt for a large carport that can shade 3 of your cars then this is the plan for you. The plan is helpful and assists you right from scratch to the final build.
8. Elegant Carport
Functional yet pretty the Carport is easy to build has a clean finish.
9. Solar Carport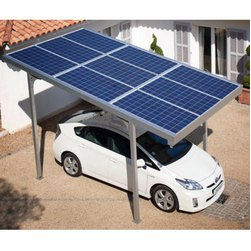 You may want to incorporate this idea into your carport design. The concept is unique, but we do not have a complete tutorial here. The idea is to make the roof holds the solar panels. You are free to design the Carport as small or large as you wish to.
10. Carport designed with a shipping container
If you are someone who likes to recycle old stuff, then this carport plan is best for you. Made from an old shipping container that is transformed into a carport, the design is neat and functional as well.
11. Flat roof carport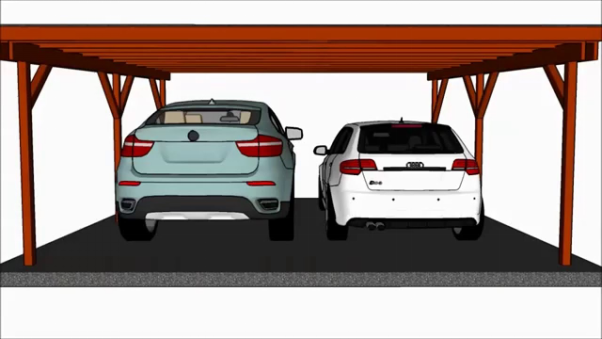 This is the ideal plan to build a carport with a flat roof. Pay attention to the instruction and invest in quality materials that are resistant to water. Follow the measurements and cut the components using a circular saw. Use a sand block to smoothen the cut edges.
12. Gable carport for one car
This is a 16×22 carport plan with a gable roof perfect for areas where it snows or rains a lot. You can create a loft under the gabled roof as well.
13. 26×26 Carport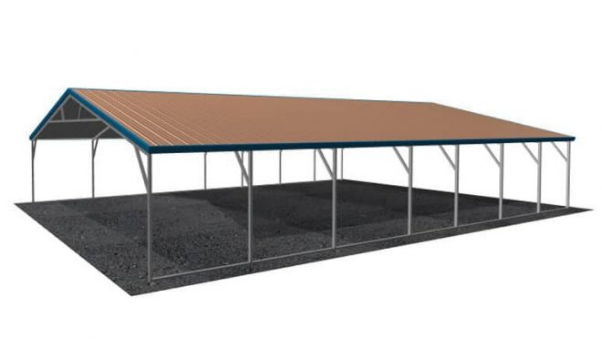 To park multiple cars or host a small gathering in the same place, this Carport is huge in size and ideal if you have a large area to build the Carport.
14. Bay Carport
With extra storage and enough space to store 2 cars, the 2 Bay carport can be a great addition to your home. With a traditional and solid design, the Carport easily blends into the aesthetics of most of the properties.
15. Lean-To carport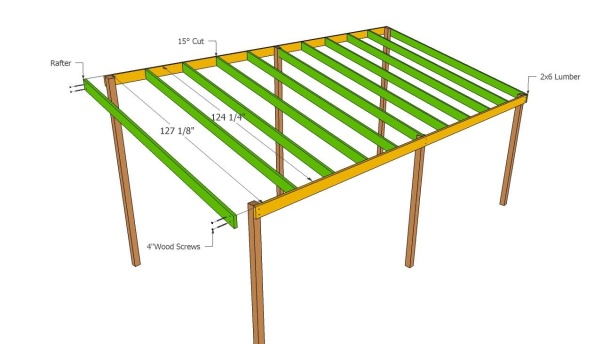 The lean-to carport structure fits on the side of the garage or on the side of your home. You can attach it to any permanent construction. The plan details every step with pictures to help you build your Carport.
16. ½ Bay Storage Double Carport
The rustic woodwork is what draws your attention first to this Carport. The design fits into the look of all homes. The Carport can hold two cars and offers extra space for storage.
17. RV Carport
The Carport is tall in size that can home your RV in it. There is additional storage space in this Carport as well.
18. Regal Carport
The Carport is fancy with a nice décor on the top. Constructed with brick and wood, if you are looking for something unique, then this is the plan to follow.
19. Carport with a 6×12 storage
Perfect for a single car, the Carport offers a 6×12 storage to store tires and other items that you wish to save from the outside elements.
20. Pole Barn Carport
A pole barn carport with extra storage at the back Carport is perfect if you have multiple cars at home.
21. Free Standing Carport
Free-standing carports are also a great idea which lets you place them anywhere you want. If you are looking for a basic design, then this wooden carport plan is what you need. With simple to follow instructions, it is quick and easy to build this Carport.
22. Lean-To carport
The lean-to carport design plan gives you the complete material list and instructions to build a great-looking and functional Carport.
23. Lean-to single 10×16 carport plan
This is a plan for a small 10×16 carport perfect to keep one car. It just takes a little bit of patience and perseverance to build with the single carport plan with easy-to-follow instructions.
24. Attached Carport
The attached carport design plan comes with detailed pictures, a material list, and a step-by-step instruction guide. If you wish to build a carport attached to your house, you should glance at this plan.
25. Free-standing Carport for 2 cars
Made of pole barn, this carport plan is perfect to shade two cars. The plan gives you a complete material list with detailed instructions to DIY the project yourself.
26. Wooden attached Carport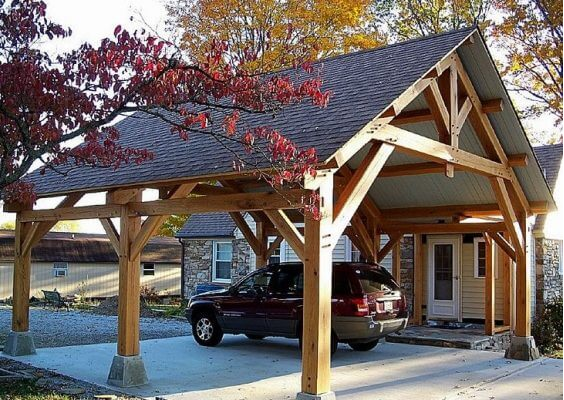 Here is a straightforward plan to build a wooden attached carport which can be constructed by someone who has basic woodworking skills. The plan details how to secure the ledger and posts. A free-standing carport is expensive so you may want to look at this attached carport plan that is fixed to a permanent structure, like your house.
Lay the pergola professionally using string and batter boards ensuring that the corners are at a right angle.
Tips to build a carport without spending a lot
If you wish to build a carport on a budget without sacrificing the quality of the build, here are a few tips that we hope would help.
Check your local zoning laws to know if you need a permit to build a carport.
Buy all the materials before you start building the Carport so you do not have to stop the project midway because you were unable to source the materials.
Pick your materials but ensure that they are of good quality.
Build the main structure first. You can save the upgrades for later.
Follow the exact step by step plan to avoid any errors
Conclusion
Cars are a huge investment, and you cannot afford to keep changing them year after year. Overexposure to external weather conditions can cause the paint to wear and the car to rust and look old. Bird droppings, sunshine, and acid rain are things that you cannot control which eventually end up damaging your car as well as adding to the additional cost of repairs.
Save yourself from all of these by installing a carport for your car. DIY carport plans are easy to build, save money and also protect your car for a long.
Browse through these DIY carports plans to build a carport that will keep your car looking brand new for years. The Carport will also increase the value of your property.
Under the safety of the Carport, bid bye to the hot summer and the freezing winter seats.