Large sheds are in high demand for people who have the means. However, many are discouraged due to the need for more information about larger shed designs. Most shed designs, especially those given for free, are focused on smaller plans leaving people who need larger sheds to buy plans, premade sheds, or figure it out on their own.
If you have a lot to store or require a large working space due to working with powerful machines, a 16×20 shed is just the right size for you. However, it requires certain conditions that need to be met before you can build this design. We'll see what you need before you start a 16×20 shed shortly.
This piece makes building a 16×20 shed in your backyard easier by providing plans you can follow. These plans contain all the material list, cutting dimensions, and more, but before we go into it, let's see some factors to consider before building a 16×20 shed.
Factors to Consider Before Building a 16×20 Shed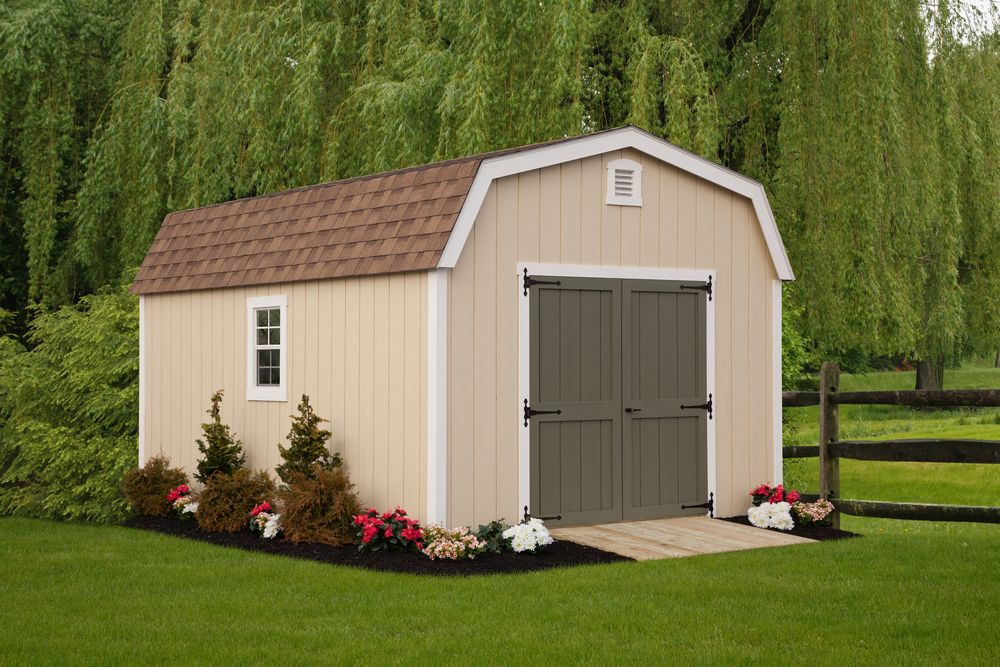 A large project like this will typically come with challenges, but by checking these factors first, you cut out most of the problems you're likely to face.
Regulatory Permission
Typically most locations require people to seek building permits once the size passes a certain threshold, and depending on your location, a 16×20 shed may be over that threshold. Therefore, you want to determine if you need regulatory permission before commencing the project.
Space
Backyard space is also just as vital since the shed covers a large area. Measure your backyard to see if a large 16×20 shed will fit and still leave room around. Without enough room, you cannot go on with the plan or may have to settle for a smaller shed.
Resources
Big projects like this will require a lot of materials to complete, which means more overall cost. It also typically takes up more time and may require a helping hand. Ensure you have the resources to undertake such intensive projects to avoid getting overwhelmed halfway.
Help
While you can complete the shed on your own with the necessary skills, it typically takes time and energy. However, with extra helping hands, you can complete the task faster and better. It can also serve as a bonding activity if you build it with family.
16×20 Shed Plans Ideas
While erecting your backyard shed, you need a guide, especially if you're an inexperienced builder. This building guide typically comes in plans with all the necessary information to complete the shed. Here are some 16×20 backyard shed plans:
1. 16×20 Shed With Two Windows
With everything set, including permissions where necessary, this 16×20 shed can come alive in your backyard with the right materials. Chief on the list of materials for this shed features two windows on the same side and a double door, and another end is lumber. The large doors will provide better access to the shed, which is especially important when storing heavy equipment.
You'll need 4×4, 2×4, and 2×6 lumber for the frames, ¾" plywood to cover the floor, T1-11 sidings to cover the walls, and other finishing and joining tools. Ensure the lumber you select is of great quality to prolong its lifespan and prevent damage. The gable roof used for this shed is a common style seasoned builders already know how to construct.
Overall, this shed is easy to replicate but, like all other large projects, may require a helping hand or two for easier and faster work. You can finish to your taste by painting with your desired color; however, this plan utilizes reddish-brown paint for the walls.
2. 16×20 Shed on Concrete Floor
This shed sits on a concrete floor which is quite different from the usual plywood floors in most other sheds. The concrete floor provides more stability and strength to carry extremely heavy machinery without breaking. However, the hard floor makes standing too long on it quite difficult as it is hard on the feet.
The plan does not include the floor design but starts from the walls providing concise videos for building the shed in three parts. The first part focuses on the walls, their frames, and panels, with the second path focusing on rafters, while the third part discusses roofing.
The roof is a simple floppy flat room with a window at the top above the door. The windows area also doubles as the light source into the shed as they are glass windows. The lack of proper windows means you'll need to keep the doors open while in the shed and install additional lighting and a ventilation system.
3. 16×20 Shed on Block Foundation
Large sheds mean extra space for your various activities and storage needs, but they also mean more work needed to complete the shed. While most plans have their floors sitting on long skids, this shed floor is on solid concrete blocks providing a firm base to carry the weight of the large shed.
The plan includes detailed dimensions, material list, x-ray perspective, roof framing and panels, wall frame and panels, floor frame, and panels, and so much more. The concise information in this shed makes it quite easy to replicate the design in your backyard once you get all the materials ready; it does require some woodworking experience, at least.
The 16×20 shed features two windows on either side of the double door at the front. Due to the position of the door, it may not be easy to divide the shed into two sections using proper demarcations. However, you can utilize the areas on either side of the door for different activities. The roof here is the usual gable roof using roofing sheets insulated using plywood. Everything you need to complete this shed, down to the dimensions, is included in this guide.
4. Simple Gable Roof 16×20 Shed
Before you start with this shed, you'll need a miter saw and jigsaw for cutting, tape rule, spirit level, chalk line, carpenters pencil for measurement, and a drilling machine with bits for making holes. You'll also need structural nails, a joist hanger, 4×4, 2×4, and 2×6 lumber, plywood, and T1-11 sidings.
Its simple design may not turn heads, but it offers a functional shed you can complete in one day with the right help. The building plan starts with a solid floor sitting on 192″ long skids, with 2×6 lumber used to make the floor frame and plywood covering the frame up. The wall has the largest area and will take a lot of cutting and nailing/screwing. Still, it is easy to handle with the frame completed on the ground before you nail it upright.
The shed utilizes the popular gable roof style, with the second part of the plan dedicated only to building the roof. The third part of the plan focuses on building large double doors to access the shed. Inside the shed, as the name suggests, is simple, with the area clear. You have room to set up workstations and place your tools.
5. Classy 16×20 Shed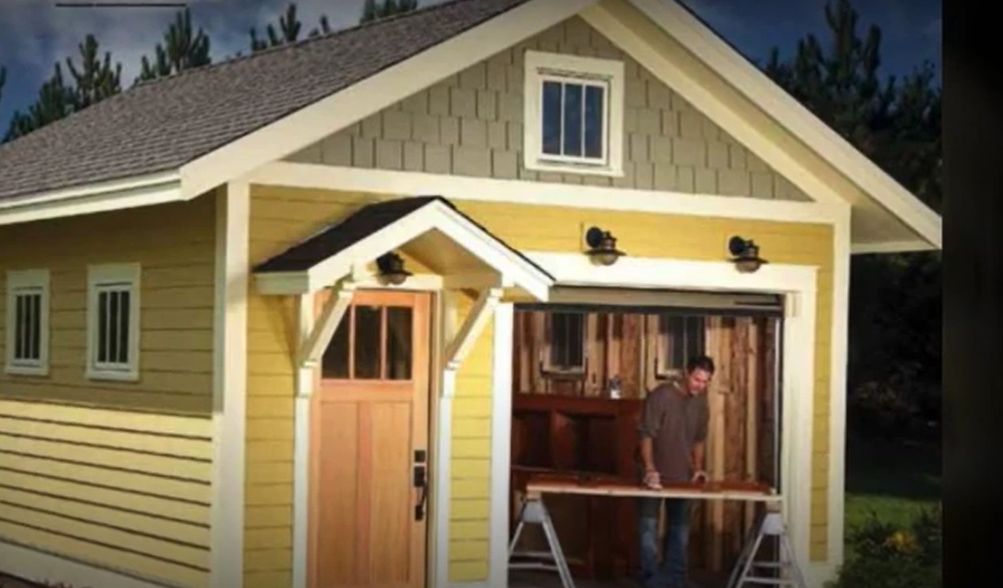 If you're looking for a design that will grab the attention of your backyard, this classy 16×20 will satisfy your creative needs. Aside from its intricate designs and finishing, the quality of this shed starts from the type of materials it uses. The lumber is pressure-treated, which improves its durability, so you won't need to maintain or replace the wood.
The finishing for this shed is exquisite, with enough windows to provide not only lighting in the shed but also ventilation. There are five windows and two doors; a typical door and a garage-style gate. Each side of the shed is illustrated using a detailed diagram showing the dimensions with the position of each piece of lumber.
The inner truss plan shows a properly constructed roofing system with all the support lumber for the roof. While the details for this shed are sketchy, an experienced builder can use the available information to build a befitting backyard shed.
Summary
Large sheds like 16×20 are rare, even though they offer many advantages. People are rarely open to building these enormous structures due to several factors like lack of space and strenuous building regulations. However, one of the major stumbling blocks is the need for proper shed plans for large 16×20 plans.
First, check the factors affecting the construction of a 16×20 shed and then choose a suitable plan to execute. Most of the plans require at least a decent woodworking experience.