A hall tree is one of the first places people go to immediately when they enter their home, and it is situated by the hall, hence the name – hall tree. A single place to keep your coat, hat, shoes, and keys immediately after you take them off, so they are easy to reach.
Storage for daily gear is vital to ensure everything is safe and easily accessible. Since this furniture is typically placed in the hallway, where it is seen by many, it is crucial to focus on the style and its functionality. The hall tree's design should match your home's interior and fit your aesthetic needs.
While you can get a hall tree from stores, you'll save costs if you build this furniture yourself. We understand how difficult it may be for DIY enthusiasts to make the hall tree without a guide, so we've developed this article. Here, we'll highlight free DIY hall tree designs with their features and include detailed plans to follow.
Free DIY Hall Tree Plans & Ideas
The typical hall tree features hooks for hanging, a short table surface, and shelves. However, there can be slight variations in the build for different hall trees. This is why other hall tree plans with varying designs are essential. This section shows the various strategies to build a hall tree for your home.
1. Rustic Hall Tree Design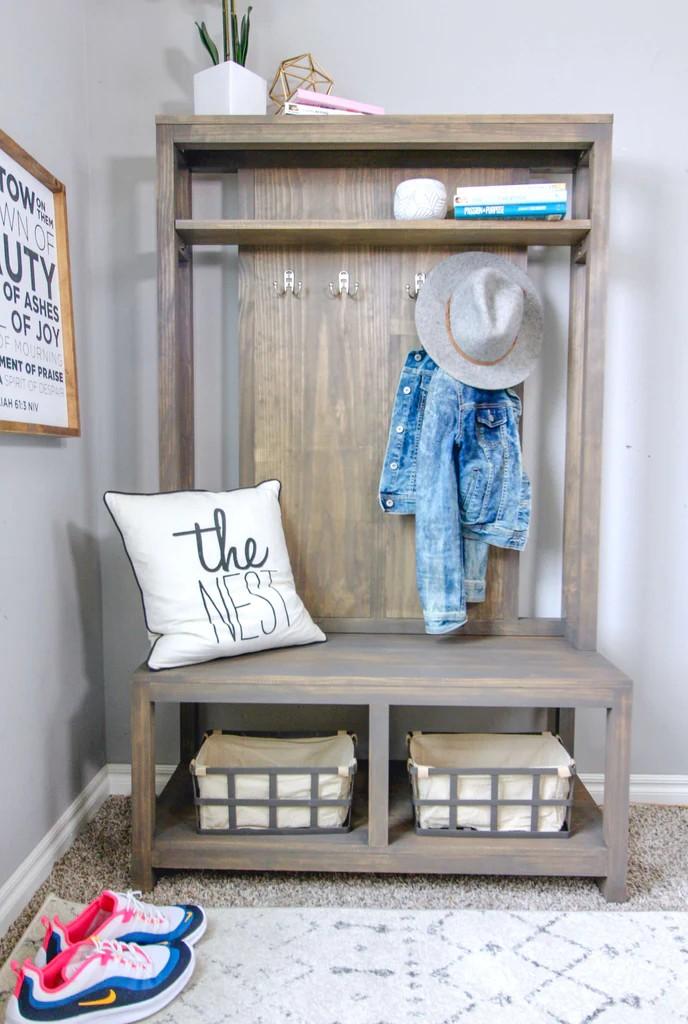 Here is a hall tree design featuring hooks and a shelf above it for storing small tools. The attached low stool can store bags with another platform underneath, offering similar value. While the top of the hall tree can be reserved for flower pots, the whole project features several storage spaces.
The rustic finish used to complete this hall tree allows it to blend into your interior while producing a calm feeling. The supplies you need are; thirteen 2×2, two 1×13, two-panel boards of 17.5×39″, two 1×8, brad nails, pocket hole screws, brad nailer, drill, Kreg jig, and Kreg right angle clamp.
The Kreg jig simplifies the joining process by making highly efficient holes for screws. This rustic Hall tree is easy to build and can be completed in one day. You should start the process by creating the frame for the lower shelf and stool before adding the boards and the top rack.
2. Sleek Hall Tree Idea
One of the first things you'll notice about this design is the sleek finish that gives a shiny and smooth surface. The rustic brown hue pops when placed close to a brightly colored wall. The plan looks simple but requires expert-level experience due to the design and finish, especially its crafty drawer.
This project typically takes two days to complete, with the drawer design and finishing taking the most time. It is 75″ high and 34″ wide, featuring a stool depth of 16″. Aside from getting regular woodworking tools like a Kreg jig, drill measuring tape, and others, you'll need materials like 1x2x8 boards, 1x12x6 boards, 1x8x8 boards, stain, sealer, sandpaper, and drawer hardware.
The plan starts by cutting the boards into their desired sizes and then sanding each piece. Others may prefer to smoothen after assembly, but sanding before assembling is easier when using an electric sander. Start making the drawers, then the bench seat, before adding drawer support. Attaching the top pierce is the final assembly required.
3. Large Hall Tree With Box Design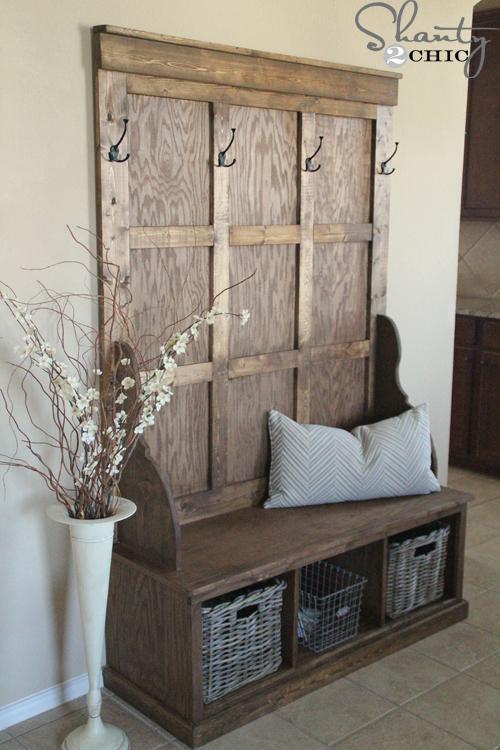 Large hall trees fit open hallways like a glove, providing extra storage room for several people to use while maintaining orderliness. It features a bench with a storage layer underneath and hooks hanging above. The plan is an advanced-level design for DIYers with experience.
The board carrying the hooks has box designs made from crossing lumber over the board surface. It is 74″ high and 49″ wide, while the bench is 17″ deep. For such a large hall tree project, it is understandable that it requires more materials which means more overall cost.
Plywood is the primary material used for this plan, with lumber of various sizes. Other materials include PH screws, finish nails, and base molding. Following the cut list will require cutting the plywood into fifteen ¾" wide parts and lumbers of 1×4, 1×2, 1×3, 1×6, and 1×12 dimensions. While this project utilizes the dark brown hue, which blends well with its light wall background, you can use a different hue depending on your space's interior.
4. Classic Hall Tree
Classic hall tree designs feature a bench, a lower storage area, and a hook for hanging gears without the many extra additions some other methods have. Its all-white hue transforms its simplistic feature into beautiful furniture. White stands out here due to the other saturated wooden structures; you can paint with a different shade.
While this project is not for beginners, an intermediate-level DIYer will seamlessly build this hall tree. With written and video illustrations available, the plan provides a concise guide on the cut list, materials, tools, and assembling.
Like many other similar projects, this hall tree uses pocket holes to join the pieces as they offer more stability and a better appeal. Building the frame of the whole project first before adding the boards is the right way to follow this plan.
5. Exquisite Pottery Barn Hall Tree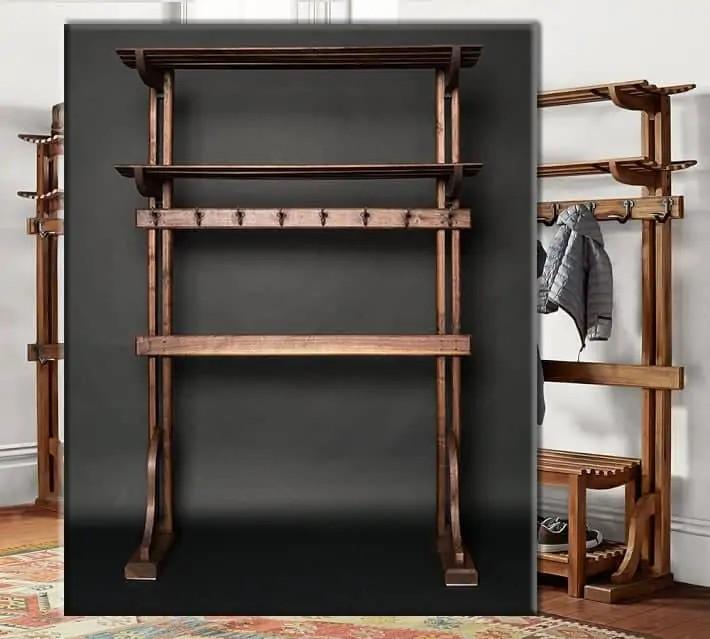 While most hall trees have boards behind the hooks, this hall tree with exquisite design has gone the opposite way. Its open layout featuring a wooden frame and a bench with an outstanding finish gives it a classy finish.
This pottery barn hall tree blends modern and rustic styles to form an exquisite design that will turn heads in your hallway. You'll need a router, table saw, drill, and a bandsaw to cut and tighten screws. The dimension for the hall tree's feet is 4.5x16x2″, uprights are 1.5×2.5×59″, shelf supports are 4.5×1.5×14″, and hook boards are 4×1.5″.
The many cutting tools indicate the need for different styles for the various lumber available. To get stylish designs on its frames, utmost care and attention to detail should be practiced. You may need to draw patterns on the lumber before tracing with precise tools like the band saw or jigsaw. The finishing aims to darken the wood and leave a not-so-glossy finish which is why dark walnut Danish oil is recommended.
6. Simple Industrial Hall Tree
A small, straightforward hall tree provides functionality while saving time, space, and resources. This plan utilizes fewer materials than most others, with its skeletal build helping the simplistic approach. The color combination of dark hue for the frame and natural wooden shade for the boards further adds to the appeal.
The plan is ideal for small entryways, primarily when only one person uses the hall tree. Reclaimed wood and pine are the major lumber for this industrial hall tree design. While other materials like teak oil and spray for finishing, flat head screws and pocket hole screws of different sizes to hold the pieces together, and coat hooks are just as necessary.
The frame is a 2×2 piece with the cut list providing accurate lumber dimensions. Make pilot holes before assembling to ensure accuracy with the drill bit and sand before spraying with the black matte paint.
7. Hall Tree With Drawers And Mirrors
If you want to build a hall tree with enclosed drawers where you can keep gears away from sight, this idea is a perfect fit as it features three drawers and a mirror hanging from the hooks. You can quickly pick up your daily gear and check yourself in the mirror before dashing out.
It features storage on top and a shoe storage section on the bottom. Plywood is cut into 5″ strips and attached to the wall after painting before the shoe storage and bench is built below. Support beams help you add a storage layer to the coat hooks.
Since the hall tree is attached to the wall, there's no need for a top frame; however, you'll need a stand for the storage section below and a bench. You can complete this project in a few hours, requiring only a few workpieces.
8. Enclosed Hall Tree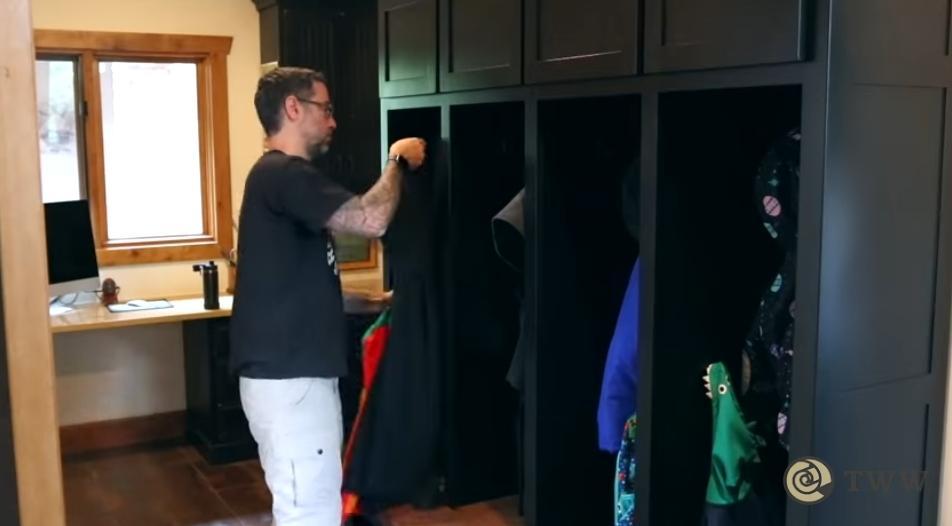 Most hall trees feature skeletal structures with open sides, but this idea includes an enclosed space for the storage below and the coat hook section. This is especially great when you want to use the hall tree for other areas in your home, as it can accommodate many gears and keep them out of sight.
It features a bench and storage space underneath and a hook section enclosed on all sides except the front. These enclosures mean extra materials and building time; however, the plan is easy to follow for an intermediate-skill DIYer.
Having the right tools will make cutting and joining the pieces for this hall tree easier. Find all the tools and materials required for the project in this video plan. Start by building the bench before adding the enclosed hook section and attaching it to the bench using frames and screws at the back.
Summary
Entryway hall trees can store anything from keys, hats, coats, shoes, and more, so you keep your home clean and organized. You can also use hall trees in other rooms besides the hallway to store gear. Choose the style that fits your needs, including the size and design of your hallway.