The idea of a potting bench is to let you perform the gardening chores while standing. The flexibility of sowing seeds and watering the plants without having to bend down and break your back is a respite. It also serves as a place to store the potting soil and gardening tools so that they are handy.
To build a potting bench is easy. Either you can choose to get an old table and tweak the design to keep the pots on it. Alternatively, you can start your DIY project from scratch and build a customized potting bench.
If you choose the latter, then check out these DIY potting bench plans that are sure to inspire. Once the base foundation is ready, then there is no limit to your creativity.
Potting Bench DIY Plans
Here are some potting bench DIY plans. Browse through them to pick up one that suits your style and budget.
#1. Potting Bench with a Sink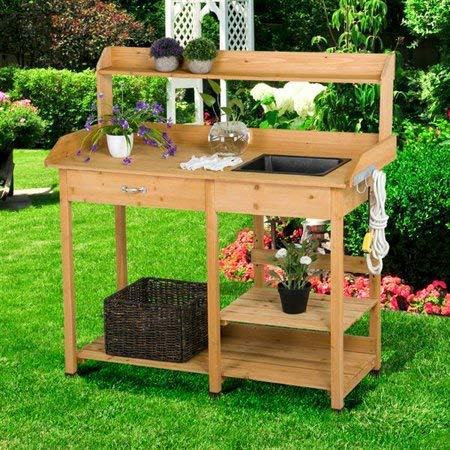 This is a functional potting bench plan for you. It has storage, a sink, and a place to hang your hooks. In addition, you may choose to attach a garden hose to the bench to make cleaning up easy.
#2. Potting Bench with Pallets
Upcycle the pallets and convert them to a potting bench. This gives you enough room to store the pots and the soil. The design also provides hooks so you can hang the gardening tools easily.
#3. Potting Bench and an Outdoor Bar
This is a sturdy potting bench with hidden storage that serves as a cooler to keep your drinks in. It also features many shelves to repot the plants. So go ahead and DIY this potting storage bench. It is so amazing that you will surely flaunt your construction.
#4. Potting Bench with a Roof
Your potting bench does not have to be boring. How about adding a decorative roof to your potting bench? Once ready, it is sure to grab the centerpiece and be the focal point of your deck. And if you choose not to repot plants right now, then use the bench as a display.
#5. Potting Bench with Wheels
If you are still indecisive on the location of your potting bench, then check out this plan of potting bench with wheels. Once the table is ready, you can move it where it pleases you. Then, all that you need to do is to roll it to the desired place.
#6. Potting Bench Made with Reclaimed Wood
Give a rustic feel to your potting bench when you carve it from reclaimed wood. It is adorable, cute, and pretty roomy to grow several plants.
#7. Potting Bench Made of a Dresser
Repurpose your dresser and make it into a potting bench. The project is easy to build and gives your garden an elegant finish.
#8. Potting Bench With an Overflow Bin for Soil
This DIY potting bench plan includes a handy bin to catch the excess dirt when you are transplanting the pots. The bench design is mainly for those who go overboard with cleanliness. Why not stain the bench to match the outdoor furniture?
#9. Classy yet Straightforward Potting Bench
If you are a beginner with woodworking projects, then this is just the right potting bench DIY plan to try out. It should be up and ready within an hour. The bench is sturdy and fits every pocket easily. You are free to paint it the way you desire.
#10. Potting Bench Made with 2×4
If budget is a problem, then this 2×4 bench plan is the best pick for you. Get some 2x4s and follow the procedure to finish off the construction within a few hours. An S-hook and some chicken wire will work wonders to store the tools. Finally, give it flashy paint to complete the look.
#11. Potting Bench with a Hidden Garbage Can
You want to create a gorgeous potting bench. However, you are worried about the garbage cans that you store underneath. Here is the potting bench plan with a concealed space for the garbage can. It offers enough space and keeps the garbage can out of sight.
#12. Potting Bench with a Fence Board
If you are particular about aesthetics, then this potting bench plan is sure to WOW you. It offers a chic farmhouse feeling. Made of fence bards, the bench is easy to build. You are free to paint it in the color of your choice.
#13. Cute DIY Potting Bench
It shouldn't be a struggle even for the novice carpenter to get this project ready. It is simple to build with ample space to keep your pots and has a hidden place to store your extra stuff.
#14. Potting Bench Made with Two Pallets
Sturdy and thrifty, the potting bench made with two pallets is just right, giving you sufficient space for your potting chores. And it is easy to DIY.
#15. Potting Bench and Entertainment Center
Here is a potting bench design plan that doubles up as an entertainment area. You are sure to fall for this design.
#16. Perfect Potting Bench
The potting bench features a slide-out bin that gives it extra space. This is also what makes the plan unique. The guide has detailed instructions and several diagrams, making it easy even for a novice to follow.
#17. Backyard Potting Bench
The potting bench is 60 inches by 63 inches, with two large surfaces to work on and a narrow shelf on the top to store the essentials. The detailed plan comes with the material list and drawings to make the construction straightforward. A wire running towards the back gives you a place to store the tools.
#18. Potting Bench for Gardeners
This is a free potting bench plan which comes with a dry sink and a lot of space to offer storage. There are pegs where you can hang the boots and gloves. Get the complete material list and the cutting and assembling guide and begin with the construction.
#19. Simple Potting Bench
Here is a DIY plan to build a potting bench with a working area and a bottom space open on all four sides. The design and plan are simple, and all that you need to do is follow the steps and complete the bench.
#20. Durable Potting Bench
Your search for a bench that stands out from the rest ends here. Check out the multipurpose potting bench. The plan is free and guides you with the construction at each stage.
There is a worktable and a large storage area underneath the bench to keep all your supplies. The plan includes three shelves to place your pots on. A separate site has been provided to store your tools and gloves or anything that needs to be handy.
#21. Free Potting Bench
Here is a free DIY guide to make a potting bench with wooden pallets. It is also inexpensive to construct the bench. As a result, you get a vast working area which does not make gardening straining.
#22. Cedar Potting Bench
With no complex joints and construction steps, this is the cedar potting bench plan just for you. It is easy to build and has two small shelves to keep your pots on. The design also features ample space that can be your workstation. The plan lays down the detailed steps so you cannot go wrong.
#23. Large Potting Bench
Here is a potting bench plan with an upper shelf and a prominent area. The bench also has a storage area on the bottom. The guide includes several pictures and a step-by-step building instruction to handhold you through the entire project. You can tweak the design to build a potting bench without legs but with a sawhorse.
#24. Elegant Potting Bench
Try out this free potting bench plan which maximizes space and also has a hatch on the shelf.
#25. Eight Steps Potting Bench Plan
Yes, you heard me right. This is a potting bench DIY construction plan that can be completed in just eight steps. It is how easy the project can be.
#26. Tall Potting Bench
The height of this potting bench makes it a real winner, especially if you are someone who enjoys a good height. The bench lets you keep your plants and gardening tools well organized, and it is also easy to build.
#27. Unique Potting Bench
The DIY potting bench plan does grab your attention. It is a fantastic construction with an extended center space that lets you spread your supplies on it. The overheads storage is a rare inclusion that gives you room to store your knick-knacks.
#28. Red-Colored Potting Bench
Not so complex to build, the red-colored potting bench could be one of your favorites in this list. It gives the space a little character. The bench is small in size, just apt to keep it in the corners.
#29. Potting Bench Made of Wood Post
The potting bench is made of lattice, which gives the build a nice touch. The space is enough to hold all your pots. There is additional space in the bottom to hold the soil.
#30. Easy and Cheap Potting Bench
If all you want is an excellent place for your plants, look no further than this potting bench plan. The bench size is adequate, letting you keep enough pots for the season. The size is what makes this potting bench plan among the best in the lot. The mesh wire provided at the back to store the tools and keep them from falling is another great feature. And the best part is that the construction cost is dearth cheap.
#31. Perfectly Built Potting Bench
Add charter to your garden space with this potting bench DIY plan. The bench is elegant yet functional. There is enough space for your pots and tools. The cabinet door is an add-on to store the less attractive stuff neatly. Go for this plan for a clutter-free look.
#32. Three-tier Potting Bench
For the avid gardeners, check out this potting bench plan which is sure to impress. The three-tier bench lets you plant your favorite plants and offers extra space to keep your tools handy. Waste no time in hunting for the tools when you can keep them well organized on the potting bench itself.
#33. Accessible Potting Bench
The potting bench is just what comes to your mind when you think about a place to keep your pots. It is classy and colorful, and you cannot go wrong with this choice. With an open shelf design that gives easy access to the supplies and the top shelf to store the smaller stuff, opt for this plan for its simplicity and fantastic organization space.
#34. Blue Colored Potting Bench
The basic design of this potting bench is what makes it a hit among many. Made without any fancy additions, the potting bench has a neat architecture that provides enough working and storage space. And the beautiful shade of blue adds to the aesthetic value of your garden.
#35. Outdoor Potting Bench
Made of stainless steel, this potting bench quickly finds an outdoor space for itself. It is easy to build and easy to clean as well. The plan incorporates an open shelf on the bottom to store the basic necessitates.
#36. Potting Bench Made with Solid Wood
Check out this potting bench plan made with solid wood for those who look more at the functional aspect than the glamour. The minimalistic design is adequate for taking care of all your gardening needs. There are several surfaces to plant the pots and store your stuff on. The little cubbies situated on the top are a real charmer.
#37. Wooden Potting Bench
Here is yet another plan for a wooden potting bench totally for free. So if you are in search of something simple and easy to build, then do not give this plan a second thought.
#38. Compact Designed Potting Bench
The all-in-one potting bench has everything in one space. It has an area to keep your pots. It has a flat cabinet that lets you store trash or things you wish to keep out of sight. It has a separate area to keep your tools and gloves hidden when not in use. It also has an open shelf on the bottom where you can store the large items. The all-inclusive potting bench serves all your demands.
#39. Small Potting Bench
If you are looking for something petite, then check out this potting bench DIY plan. It has an open space and a skinny area on the bottom to keep the small pots.
#40. Open Potting Bench
The potting bench is made of pallets and takes up minimal outdoor space. It easily hangs from one side of your building, and when you open it, it serves as a potting bench.
#41. Organized Potting Bench
If you are one of those who is picky about organizing stuff, then look at this simple DIY plan. The potting bench plan is neatly detailed, giving you separate space to organize your stuff neatly. You thus have space to keep your tool, an area to place your plants, and a separate space to keep the large items.
#42. Pallet Potting Bench
If you like building with pallets, then check out this rustic potting bench plan. It is not among the prettiest ones on the list, but it indeed is functional. The bench offers enough space to meet your potting and storage needs. You can leave the bench as it is or paint it with a color of your choice.
#43. Potting Bench with Whole Length Storage
This is the right DIY plan to look at for someone who needs extra storage on the potting bench. The design is simple, with a full table with extra storage underneath. In addition, the storage can be hidden, so you do not need to worry about keeping your tools on display.
#44. No Mess Potting Bench
You can never find a potting bench construction plan that is simpler than this. If you are not someone into woodworking but still wish to DIY a potting bench, then this table is what you need. The plan lets you enjoy a potting space within hours.
Bonus Read: 10 Best DIY Portable Shooting Bench Plans & Ideas
#45. Potting Bench Cart
Looking for something that is out of the box? Then try building this potting bench cart. It lets you keep the pots on the cart and roll it wherever you desire. The portability gives this design an edge.
#46. Rustic and Big Potting Bench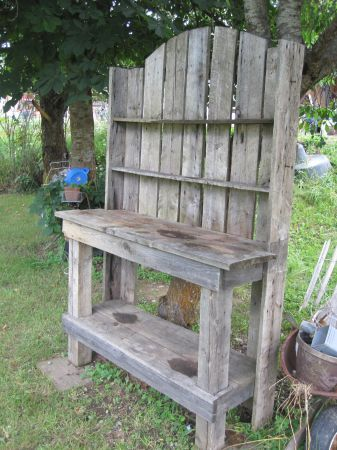 It is a shout-out to all the serious gardeners out there. The rustic design and the simple construction make this plan a real find. If you brag about ample outdoor space and many pots, then this is the best plan for you. The rustic touch adds to the elegance.
#47. European Potting Table
Give your garden a western touch with the European potting bench. It is a simple table that has a tub in the center. The particular design ensures that all the dirt falls in the bucket and does not let the bench get dirty. The plan is desirable because it offers neatness.
Conclusion
Potting benches may seem to be an extravagant purchase but not anymore with our DIY potting bench building plans.
The potting bench plans listed above are detailed with the material list and the step-by-step building instructions. It also includes pictures and videos to ensure that you never feel lost.
Also Read: 17 Easy DIY Mudroom Bench Plans with Images