Are you a shooting enthusiast? Attending plenty of backyard afternoons with your best pal where you're shooting bottles, fruits, and probably even birds? Or do you make frequent trips to your forest cabin and give hunting a fair shot? Consider checking out these DIY portable shooting bench plans. There's no better shooting experience than what comes with a platform for accuracy, stability, and in turn precision.
Most of these benches are super easy to build and can be done in a day's work. Never worked with wood earlier? This woodworking guide will assist you in building a solid portable shooting bench, both in appearance and construction.
Being portable, all of these DIY shooting bench ideas are compact in structure, lightweight, and offer a quick-open and quick-close functionality. Rather than wasting a hoard of bullets and cartridges, simply get a shooting bench. This assures that each shot counts and you're not aimlessly firing bullets. Besides, you also get an exceptional grasp of your aiming skills.
10 Best DIY Portable Shooting Bench
Here are 10 of the most effective DIY portable shooting bench plans to help up your firearms game:
1. Sturdy DIY Portable Shooting Bench
This plan comes with a technical drawing indicating ideal measurements for the shooting bench. Along with the materials and every little detail that you'll need to cater to, the DIY plan can be completed in under $75.
Weighing 55 pounds, you can make the legs foldable and have precision shooting experiences as your reward. Don't forget to weld a cap at the end of each leg, this prevents dirt particles from collecting and ruining the alignment of your bench. Make sure the end product is refinished using quality polyurethane coating.
Supplies:
Three legs 31'' long, 1 ½ '' galvanized pipes
Twelve stainless steel bolts 2 ½'' x 3/8''
Three 1 ½'' couplings
Twelve nylon lock nuts
Three 4'' x 4'' x ¼'' steel plates
2. Portable Swivel Top DIY Shooting Bench
You can break this shooting bench down and carry it wherever you like! It comes packed with several highly valuable features that even a commercial product may not offer. Apart from building a portable swivel top, you can also use the rear leg to adjust the elevation of this shooting bench.
This guide also shows you images showcasing the unassembled components! It will provide you with a visual assurance that it seamlessly fits in a large duffle bag. Even better, you can attach it to a receiver hitch extension, fold the bendable legs, and take it across locations.
3. Super Comfy Shooting Bench Plans
The segregation in steps makes this complex-looking shooting bench an easy to build a piece of equipment. The guide is divided in a systematic manner and has 3 steps each for building the top and leg mount, and then assembling both the parts.
As you want to maintain the uniformity of the top surface to erase the slightest possible discrepancy in aiming, you need to perform exemplary finishing to prevent damage from weather and rough usage. Either apply Formica or a Marine varnish, or even an outdoor deck weather sealer. If you're looking for something that you may already have, then go for polyurethane varnish.
Supplies:
28'' x 36'' x 1'' plywood
Three 1 ¼'' galvanized floor flange
Three 1 ¼'' x 30'' galvanized pipes with threaded ends
Three Screw-on galvanized metal end caps
1'' x 4 ½'' x 24'' Oakwood
Six each: 2'' x ¼'' and 1 ½'' x ¼'' diameter wood screws (attached countersunk heads)
4. Classy DIY Portable Shooting Bench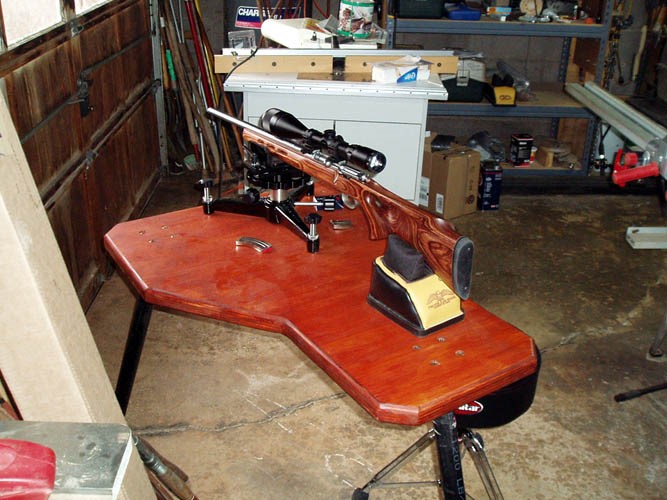 This DIYer calls it a "jury-rigged" portable shooting bench. His creativity sparked him to use an old aquarium for the metallic base. What do you think you can reuse?
Apart from the sandbag and sturdy gun resting equipment, this portable shooting beach has ample of features to leave you surprised.
Additionally, the number of images through each step of this guide will make this DIY project a very doable task. There are also a few variations once the main structure is built. This gives readers the option to make it into a one-piece shooting bench with a pressure pad, amongst other variations.
5. Attached-Seat DIY Portable Shooting Bench
Some digging made us come across a Reddit user who has generously posted free DIY plans for download on his thread. The plans come with ambidextrous capabilities. All the shooter has to do is twist the table upside-down and reverse the seat-locking component.
As you will be using plywood, it is of utmost importance to give the final piece a thorough round of coating and sealing. Leaving it exposed could force the structure to rot and lead to ugly-looking swollen ends. This beats the purpose of offering you precision while also throwing your valuable time in the drain.
6. Four-Legged DIY Portable Shooting Bench
This is as simple as it can get! No unnecessary burdening parts, just a plain strong sheet of plywood that is sanded to perfection. Be warned, the plan is not as detailed as the rest, but basic carpentry skills should easily take you through this DIY project.
Pay extra attention while attaching the legs as even a slight miscalculation would lead to improper foldability. The key is the attach the rear legs to a double thickness of plywood (this helps the leg to fold to a complete flat angle). Read point number 8 in this plan for more expert insight on this step.
Most importantly, coat your bench with a heavy/dark color of walnut stain. This kills the chance of any glare while shooting.
7. Quick-Assembly Portable DIY Shooting Bench
Despite the guide being in a video form, the clean design clearly exhibits the exceptionally simple usage methods for this shooting bench. The yellow legs will fold in the swiftest of manners, and when opened up, they lock into a tight position without having to put in any extra effort.
All credits to the metallic sawbucks. They are cheap, sustainable, and offer greater functional characteristics. Don't want to deal with the hassle of bench legs that open up during transport? A Velcro strap could save you from this trouble.
8. DIY Portable Shooting Bench with Leg Rest & Seat
Could you believe this shooting bench can be completely disassembled and even fit under your car seat? Few noteworthy features are its cost-effectiveness, portability, 30 to 40 second assembly, rock-solid built, and its ambidexterity.
This plan comes with videos and perfectly crafted drawings, whether you want them with or without dimensions, or even trim ideas.
The curvy lower part of the bench provides leg rest to offer the shooter greater stability while searching for precision in his aim. Also, the table has a big enough surface area to place additional equipment or even assemble various guns without much confusion.
9. DIY Winter Swivel Top Shooting Bench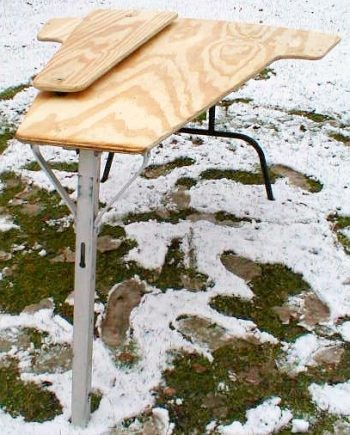 A little modification makes this way more than a portable solution. Try and make the single front leg a detachable support structure that can simply be packed in the bag when not in use. Irrespective, the lower body tripod offers more than the required room for the shooter.
Besides the swivel top, there is an added raised section on the bench that can be moved as per the shooter's preference. This offers a wide arc shooting angle without having to continuously move the sandbag or the shooter's position altogether. What better solution to make moving targets an easy hit?
The DIYer suggests that you don't make an attachable seat as this could disturb your attempts at acquiring accuracy during distance shooting.
10. Elegant DIY Portable Shooters Bench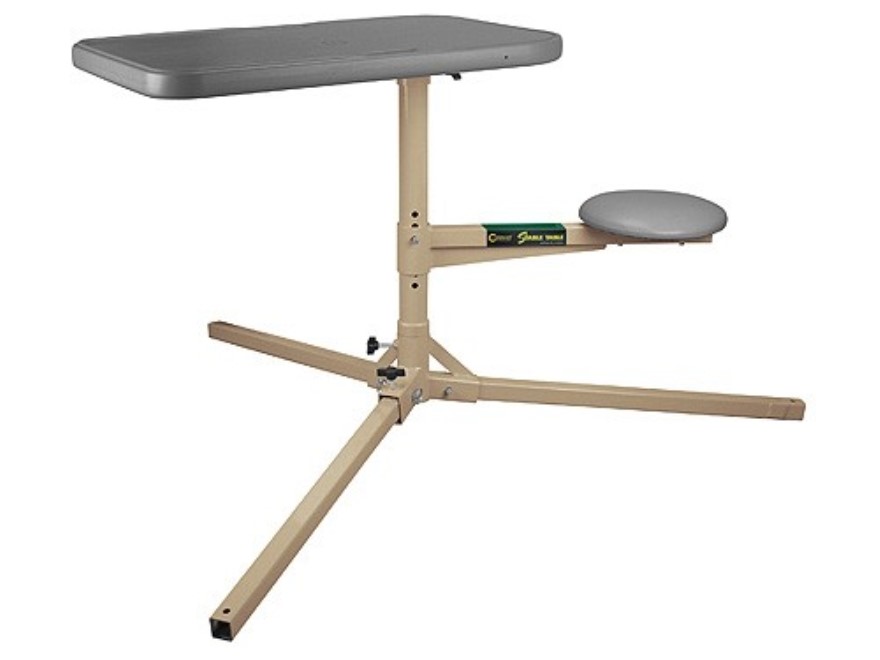 Looking for a full-fledged shooting bench construction that comes with quality attachments in the form on metallic rectangular shaped legs and a minimalistic round seating arrangement? This plan may look highly appealing but get ready to shell out more money than what all other plans in this article would need.
Verdict
You can either work any of these DIY portable shooting bench plans for your backyard firing sessions or for the monthly field trip with the gang.
Do you resort to solving your vermin issue with your rifle? Well then might as well build a cheap and long-term shooting bench that is not only portable but also stays with you in the long run.
Have a look at the 10 best sliding compound miter saws available in 2023. They will be of great help while building a portable shooting bench.
If you have loads of time on your hands and are looking for an out-of-the-ordinary DIY project then consider inspiring yourself with these 18 DIY arcade cabinet plans.