The best way to declutter your homes is through proper arrangement and organizing of your properties. The days of wasting time looking for items would be long gone as everything stays organized while taking up a smaller space due to the structure of the Dreambox.
Buying a Dreambox is expensive if you're under a strict budget and limits your choice to the available models. While building your Dreambox allows you to explore your creativity to build the exact design you need for your space. If you lack Dreambox ideas, there are designs and plans you can follow to erect a befitting storage space in your home. As a DIY enthusiast, building such a valuable structure will bring satisfaction as you begin enjoying its organizational effects.
The main reason many people shy away from building a DIY Dreambox is the lack of ideas and detailed plans to follow. Most people do not know how to start and complete a Dreambox, and that is why DIY Dreambox plans are vital to providing the required guidance. In this piece, we show several DIY Dreambox plans for crafting storage. Before we get into this, what is Anaz?
What is a Dreambox?
A Dreambox is a storage unit cabinet with shelves, drawers, hooks, and more to organize your craft items by storing them in a single coordinated space. With a Dreambox, organization, and ease are at the forefront of advantages.
In this space, you can customize as much as you want, especially for DIY projects; building the right Dreambox that will accommodate all your crafting items is easy.
DIY Dreambox Plans
Visual representation, tools and materials, measurements and specifications, and building process are some of the information you'll find inside a Dreambox plan that'll guide you on how to construct it in your home. Here are some of the Dreambox plans we've compiled representing various styles and complexities.
1. Closet Dreambox
If you have a closet space in your building, you can utilize this area for your Dreambox for storing crafts. The closet walls will provide the room where you can hang your cabinets and hangers that make up the dream box. Building this closet Dreambox starts with mapping out the design on the wall using painter's tape and utilizing a laser level for precision.
With the visual representation of how the dream box should be, other aspects of the structure, like dimensions and measurements, become clearer as you can take the measurement on the wall and effect them on the wood. The plywood is the major material used to build this closet Dreambox, with the circular saw and the kreg jig among the required tools.
The building starts by crafting two boxes; a small hanging box and a larger box from the ground up after which shelves are added to them before painting and finishing completes the process. Adding light improves the appeal and makes it easier to access.
2. Upcycled Dreambox
This Dreambox makes use of wood Upcycled from IKEA which makes it affordable; however, the plan requires a lot of wood. It looks unassuming when it is closed but transforms into a wide storage space when opened. The Dreambox features six sections with shelves for storing your craft.
The folding door makes storage compact as it takes up a small space after folding in each of the doors twice. You'll find a reading chair and a long extendable table inside the Dreambox and packed in a way that does not obstruct the doors.
You can turn on the light in the Dreambox so you can utilize the box and the table. The light reaches the reading table with numerous shelves and boxes, providing enough room to declutter your space.
3. Large and Affordable Dreambox
If you're looking for a large but simple dream box to build that'll not burn a hole in your pocket, here's a design that fits your needs. This deep Dreambox can carry large crafts and prevent them from falling due to its deeper shelves. It does only open once, whereas many others feature folding doors that are more compact and also more complicated to build.
This box is beginner friendly for people with little building experience since the builder utilized four pre-made boxes and sixteen casters to make movement easy. All the major building materials were sourced from Walmart. You can also find these materials from your local hardware store.
Affordability is a great advantage for this design which is fascinating considering the design is for a large box. There's also a table attached to one of the box doors, and spotting the right leg height.
4. Cute Swinging Storage Box
If space is a huge constraint in your home, a small storage box like this will provide you with room to organize small crafts. The box is constructed using quality wood with a classy white finish that immediately makes for an inexpensive taste. This storage box can be placed right in the corner of your living room because of its clean and unassuming look which earned it the tag – hidden storage box.
The swing-out shelves fold out from the wall making it even more discreet. Building the complete plan gives you three rows of shelves that can be used to store remaining DIY materials. The colorful background compliments the plain storage box finish, which then creates a contrasting look between the two.
With one part attached to the wall and the other part attached to a side of a large shelf. After closing the swinging storage box, the overall look changes with the box not visible anymore.
5. DIY Four Bookshelves Dreambox
The plan involves using four bookshelves and joining them to form a closed-box design. The tools you need to build this Dreambox are a drill, screwdriver, Thor's hammer, wood screws, four identical bookshelves, casters, hinges for the bookshelves, and bar pulls.
The plan involves a table that you can get separately and attach to one of the bookshelves while remaining packable. Like most Dreamboxes with tables, their legs are folded to conserve space. A fitting color between the table and the shelf brings uniformity. The table latches make attachment to the bookshelf easy. You may have to get new legs for the table as the legs it comes with are too long and would be uncomfortable for even a tall person.
You can decide to leave the table outside the box with the legs going underneath or remove the legs entirely when not in use so you can keep the table better. Following the builders' steps may take a while but it represents a quick construction using several pre-made materials.
6. Foldable Workspace Dreambox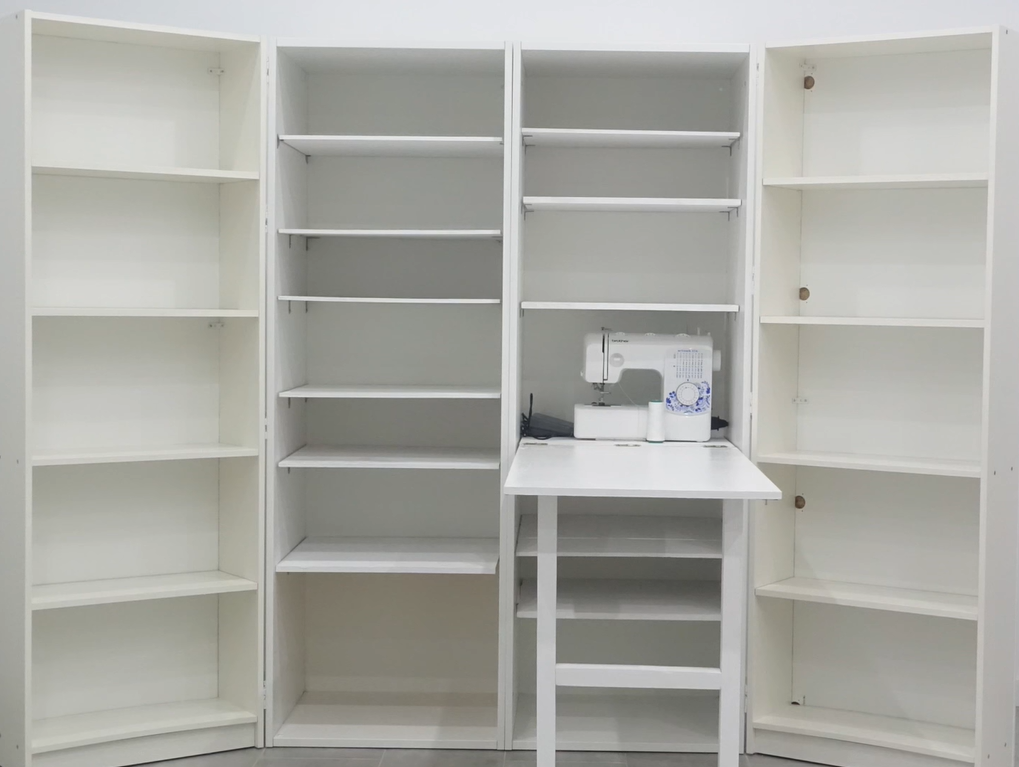 Dreamboxes do not only store materials, they can serve as a mini workstation with all the necessary tools just a few seconds away. If you don't have a shed yet, this design is just perfect for you. There are many shelves here, providing extra room to store items you'll need while working.
The building process starts from joining the shelves inside the cupboards to painting a calm tone. Most of the materials used here were gotten from IKEA, so it's easy to buy everything you need in one place.
Like all other DIY Dreambox plans, this plan involves a lot of cutting since it features several shelves to accommodate more items. You'll need cutting tools from your hand saw to a circular saw. Other important tools are the drill to bore holes into the legs of the table and tape. You'll find all the tools and materials you'll need in the guide below.
7. Classic Craft Storage Box
Get tools like the drill, cutting tools like the circular saw, measuring tools, screws, bolts, and nuts, among some other materials. Buy the wood, caster, and wood veneer, which is one of the major reasons for its clean and classy look since the sides of the wood are properly protected. This classic Dreambox with large storage space is great for people who have space, resources, and the desire to build an impressive Dreambox.
It features quality wood materials that have been joined to increase durability, notwithstanding the types of items you intend to store in them. Joining woods will also mean the cost increases significantly, so this plan is great if you can spare the extra cost for improved durability and aesthetics.
The shelves involve intrinsic dimensions that improve its aesthetics but also make it harder than some of the other Dreamboxes in this list. It may require a little more woodworking experience to complete. This demanding storage box will brighten up a room and help you organize your home; however, you'll need to commit resources which includes time and money.
Also Read:- 14 Essential Marking Tools for Your DIY Projects
FAQ's
If you've ever had questions about building a Dreambox, here is a collection of popular questions and how to answer them:
How much does a pre-made Dreambox storage cost?
It costs about $3000 to buy an already-built Dreambox storage. Note that adding extra designs, totes, and tables can increase the price.
What is the difference between a Dreambox and a workbox?
The difference is in the available table space as Dreamboxes offer up to 50% more table space than a workbox.
How long does it take to build a Dreambox?
Building a Dreambox can take about 5 to 8 hours depending on other factors such as box size and design, and your DIY experience, among others. 
Summary
To build a Dreambox to help you organize your home and keep items in place, you'll need to understand the space you have, your design needs, and the resources you're willing to part with, among some other vital factors. With this in mind, you can confidently select a befitting Dreambox to be used in your home.
To help you choose your plan, figure out the number of items you want to store in your Dreambox, as it will guide you on the size you need.