Backyard renovations consist of an array of entertaining plans. You get to play around with tons of makeover ideas, and eventually, a question comes up, how about I install some equipment to provide backyard shade?
These DIY backyard shade plans provide you with a variety of choices, be it semi-shade or full shade, whether for a seating area or playing area. From temporary installations to lavish long-term constructions, all of them are equally capable of blocking the heat of the sun and in turn providing you with relaxing shade options.
18 DIY Backyard Shade Plans and Ideas
Here are 18 manageable and easy-to-do Backyard Shade DIY plans and ideas
1. DIY PVC Canopy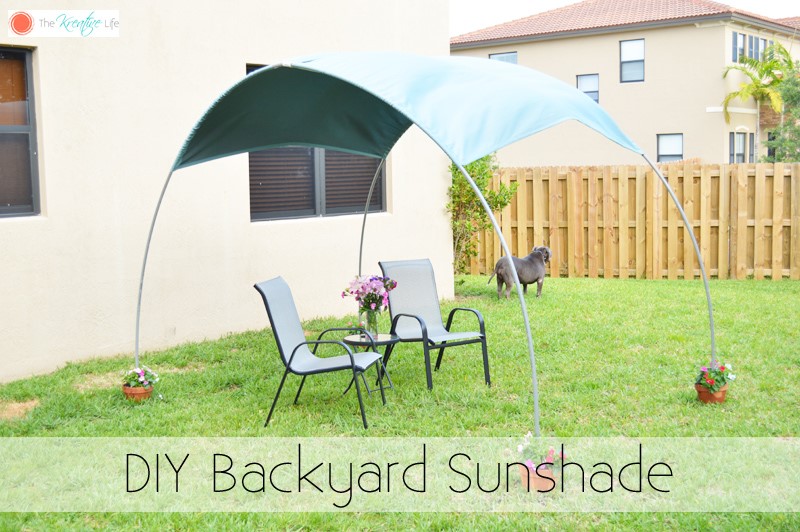 PVC Pipes and a canopy are the two primary materials you need for this DIY backyard shade plan. It can comfortably be perched over any region in your backyard. The attractiveness of this backyard shade plan increases fourfold due to attachment of the pipes into potted plans. Even better, this makes a movable shade solution for your property.
It is a straightforward build and shouldn't take up more than an hour of your time. All you tight-budgeted readers can literally get this done in under $20.
2. DIY Adjustable Sun-tracking Canopy Shade
This plan is another shade-providing solution that utilizes the versatility of PVC pipes and canopies. Although the canopy is attached in a way that lets it slide along the length of the pipes.
How cool is a backyard shade structure that comes with a movable canopy? No need to change your spot when the rays of the sun strike you from different angles! Simply slide the canopy as per your convenience.
Because of the sun-tracking feature, it need not be movable and is hence attached to the surface of your backyard. You can alter the canopy size to fit as per the sitting area you want to shelter.
3. DIY Portable Sun Shade Setup
A DIY backyard shade idea as such is an absolute no-brainer! Beginners, or people who don't want to put in much effort, but still want a perfect shade solution, can erect this structure without having to make any purchases.
This shade is moveable as well, although it needs the support of a back wall or an additional set of dowels. You could opt to add 4 dowels or PVC pipes instead of 2 as suggested in the plan.
4. Huge DIY Backyard Canopy
Let's say your family has suggested that they move their daily meals outside to the backyard and enjoy the warm summer breeze and sun. Or maybe you have an outdoor BBQ party planned in the morning hours.
The big bamboos could be permanently erected on your patio or in the center of your backyard. A few potted plants, fancy outdoor tables, or maybe even bar stools as such could be a brilliant addition to this outdoor setup.
Has this induced a desire to build a gazebo for your property?
5. DIY Shade Sail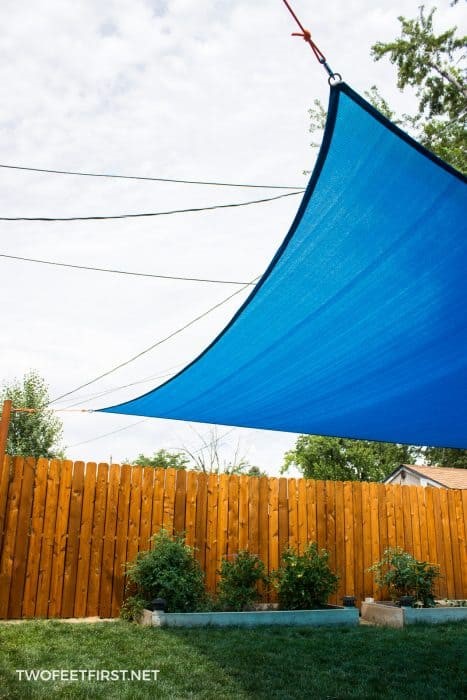 Who would have thought that you could apply the same construction found in the sails of a boat, to your backyard? Well, this guide lets you do exactly that and that too with utmost simplicity.
Using a combination of actual sails and sturdy ropes, you could create a shade system that covers almost the entirety of your backyard. The shade is removable so that it can adjust to all the seasonal changes or ongoing home-design trends. You could even use it for plants that require partial sunlight.
6. DIY Permanent Sail Shade
Do you require a permanent solution to cover up your patio, or a part of the backyard? And do you want a structure which neither takes too much of your time nor requires strong handyman skills?
This permanent sail shade will satisfy all such wants of a DIYer. The structure consists of a heavy canopy sail stretched out on thick wooden pillars. These wooden pillars can also be customized as per your backyard aesthetics, but need to be permanently secured into the ground.
7. DIY Retractable Canopy Shade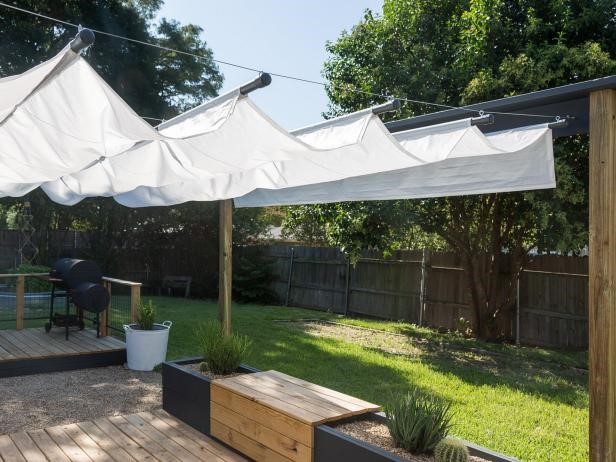 Retractable canopy roofs work the same way the curtains or blinds in your home do. With one pull of a cable, you can adjust how much shade spreads across your patio or backyard. When not in use, it bunches up safely against the outside walls of the house.
The built of this DIY backyard shade plan is a bit complicated, but it will ensure proper protection from the sunlight, along with an eye-catching working system. The materials listed are lightweight, thus if you live in a region that faces harsh weathers you must choose robust material alternatives.
8. DIY Patio Sail Shades
This shade idea is the same as the permeant sails one, except for a few tweaks. The installation of the sails only requires a secure typing rope. You could adjust the number of anchor pillars you want according to the size of the sail used.
If you follow the steps stated, you would be provided with a shade option that blocks out the sun without converting your patio into a dark cave.
9. DIY Pergola Shade
A pergola is an ideal choice for people looking to enjoy the sunlight without being blinded by the rays, or being conditioned to sit under its blazing heat.
Building one without the help of a professional might sound intimidating, but this planner provides you with the ease of building a pergola without any high-end carpentry skills.
10. DIY Fractal-Pattern Covered Patio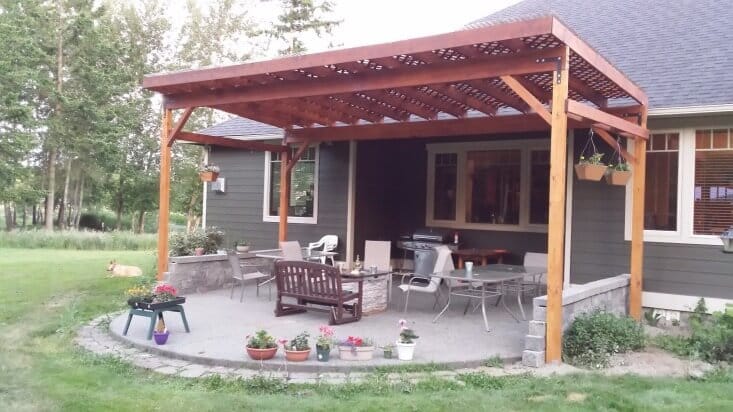 If canopies and sails don't do the job and you're looking for something that adds more than just functionality to your backyard, then this patio project also offers mesmerizing aesthetics, a stable structure, and extra beauty to your outdoor setting.
This project results in an incredibly wonderful addition to your backyard. Its latticework roof and strong beams will allow you to hang potted plants, curtains, or even visually captivating creepers.
11. Slide-on Wire-hung DIY Canopy
What if you already have a patio or pergola build in your backyard, but it doesn't have a well-protected roof? You could either purchase a wooden roof with gaps in it or you could use this guide to make one from canopies.
These shades easily slide on its cable, making them adjustable as per the outdoor atmosphere.
12. 12×16 Lean to Pavilion DIY Backyard Shade Plan
Individuals looking for a DIY backyard shade plan would rarely consider installing a backyard pavilion for providing shade, and that is precisely what makes it unique. Besides making your backyard stand out, it also offers an excellent range of utility capabilities.
This DIY backyard plan helps you construct a sturdy 6×6 structure with a lean roof. It is recommended that you use top-quality material for this build. This plan is a definite long-term solution when it comes to shaded outdoor gatherings.
13. DIY Backyard Privacy Screen
Being outdoors isn't as enjoyable if you have nosy neighbors peeking into your backyard. This outdoor privacy screen offers you seclusion, privacy, and shade. Readers or writers could easily make this their little creative hub.
The real work required here is mainly installing the standing structure, after which draping and attaching the canopy is a breeze of a task.
14. Outdoor Awning DIY Backyard Shade Plan
Some structures that provide you shade could often end up making your backyard look bulky and cluttered. But what if you decorate the interiors of the structure and instill an appealing and cozy setting? Yet worried about the dull cave-like lighting?
This awning counters such problems. Being wide, featherweight, and airy, it provides relief from the sweltering heat while also not blocking mild gushes of much-needed outdoor wind.
15. DIY Supported Outdoor Awning
This is more like a personal option when compared to the ones stated above. If you are looking to putting up a quick and basic awning, this design can be adapted to work in many situations.
Choosing a durable material and creating a tight-fitting on all four sides could make it perfect for people who spend plenty of time in their backyard shed. A rocking-chair, an icebox, and a couple of beers could set the ideal situation to enjoy the backyard shade.
16. Covered Deck DIY Backyard Shade Plan
Decks that lead into the backyard often become a common chilling spot for families. There are various ideas to spruce it up, so why not convert it into a sheltered space, using this DIY backyard shade idea?
You will be able to construct a completely wooden structure for your deck, complete with slanting roofs, which deflect the heat and prevent rainwater from being collected on the roof or patio itself.
17. DIY Cabana For Backyard Shade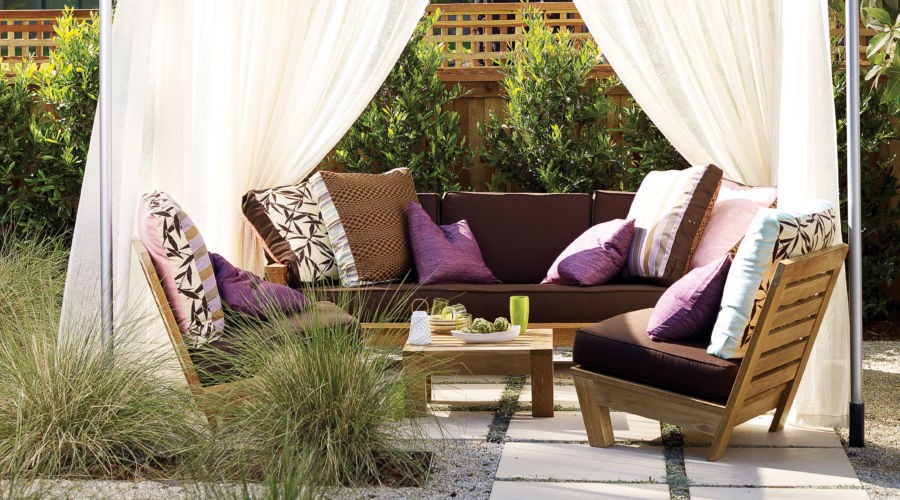 An outdoor lounge seems like a tempting idea unless you shy away from detailed craftsmanship and have no time. However, this DIY project comes to your rescue.
This makeshift cabana setup provides the user with shade, as well as style. You can keep changing the size and location of the lounge you set up, thanks to its movable and adaptable framework. It is primarily made up of PVC pipes, and curtain cloth is utilized for the shade and side drapes.
What better way to indulge in online and offline outdoor meetings?
18. DIY Pergola Over The Weekend
The building process might seem complicated, but it doesn't any fancy complex tools or skills. On the contrary, it could become a part of your backyard setup for decades to come!
The roof of the pergola consists of beams through which the sunshade can be weaved through and secured.
Conclusion
These 18 DIY backyard shade plans have something for people all across the financial spectrum. Apart from having super cheap and moderately expensive DIY backyard shade ideas, many of them also come with diversity in terms of usage.
It's never a bad idea to build some rugged outdoor furniture to accompany the shade system you plan to create. These 10 epic DIY pallet table ideas could make your backyard get-together a treat to remember.