Decks are built with high-quality lumber that can last for a long time as long as you keep up with its maintenance. One of the most important maintenance you'll have to do on your deck is refinishing. You strip the deck of any previous finish before reapplying the desired finish. Stripping the deck includes cleaning, and sanding, among other activities.
Sanding the deck is the way to remove tough stains, finish, and sealants on the deck's surface. Since decks have a large surface area, using sandpaper and sanding by hand is almost unattainable. Therefore, Sanders becomes quite important when considering the size of the surface. Preparing for deck refinishing requires assembling tools and materials, with sanders as the major tool for this purpose.
Reviewing sanders has helped us develop the best sanders for deck refinishing. We'll be revealing our findings shortly, but first, you must realize needs vary, and these sanders all have varying strong points. This guide discusses sanders, buyers' guides, and more in detail.
Makita 9403 4″ x 24″ Belt Sander
Out Top Recommendation For Sanders!
Buy the Makita 9403 belt sander if you want a durable, high-speed sander that can quickly cover a large area while producing as minimal noise as possible. The sander may be expensive, but its features are impressive.
*We earn a commission if you make a purchase, at no additional cost to you*
Best Sanders For Deck Refinishing
Sanding decks would only be complete with a suitable sander. However, suitability depends on many factors, including price, durability, functionality, and more. This section shows how these sanders stack up when you consider these factors.
1. Makita 9403 4″ x 24″ Belt Sander
This Makita belt sander has a powerful 11 AMP motor with a speed of 1640 feet per minute so that you can sand a wide area quickly. Alongside its 4″ belt, the reach within a short period is intensified. Regarding its quietness, this Makita sander is one of the best on this list, allowing you to work without disturbing the neighbors. At only 84 decibels, the noise will not be a problem with this sander.
It weighs about 13 pounds, which is pretty heavy, but this is fine for sanders as weight helps stability. The labyrinth construction of this Makita 9403 belt sander seals the motor and bearings area from dirt and dust. Double insulation is used here to control heat, while comfort is established with a large front grip. All the controls and features here are set so users can enjoy one-hand operations, further improving its convenience.
It comes with a small dust bag and a long cord towards the top of the handle for convenience. Makita 9403 belt sander comes with a limited one-year warranty that covers some damages to the sander. While the features are impressive, its cost puts it out of reach for most people.
Pros & Cons
Pros
Extremely quiet
Powerful motor
High speed of 1640 feet per minute
Great control
High convenience levels
One year warranty
Cons
Expensive
The front roller tends to get hot
Small dust bag
2. DeWalt Random Orbit Sander DWE6423k
The 3 AMP motor spins between 8,000 to 12,000 OPMs, allowing you to clean sand at the top of your deck. This Dewalt is an all-purpose sander suitable for DIY enthusiasts and professionals. The hand is short, so the user can stay closer to the tool while working, improving its handling and control. In addition, the Dewalt electricity-powered sander has a coarse grit.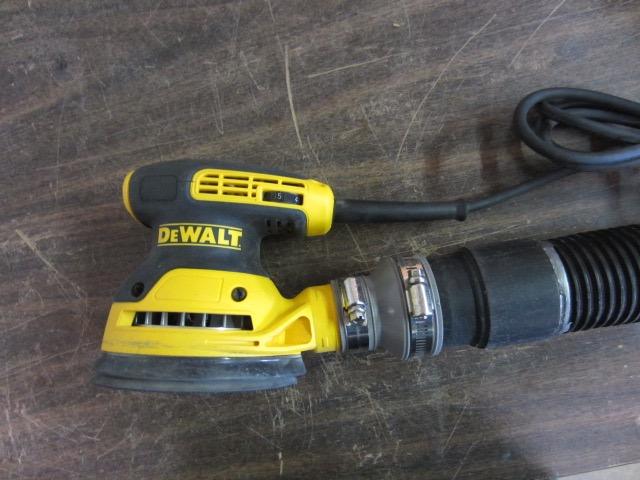 This sander's dust port can accommodate any DWV010 and DWV012 dust collectors, so you have options. An easily accessible dust-seal switch prevents dust from entering the tool. Comfort is essential, especially for tools you'll utilize for a long time. This is why the different counterweight design that reduces vibration in this sander is vital.
Pros & Cons
Pros
Separate counterweight design for reduced vibrations
Powerful motor
An improved dust collection system
Shorter height for better control
Cons
Coarse grit may leave a rough deck
3. Ryobi P411 Random Orbit Power Sander
Another entry into our list of best deck sanders is this versatile Ryobi random orbit power sander. Its cordless design ensures you're not confined to a small work area. Ryobi P411 is battery-powered, although it does not come with a battery. Portability due to its cordless design greatly improves the value of this sander, especially for people who frequently move it around.
You can get up to 10000 orbits per minute with this powerful motor. Since it produces a lot of vibrations as it stands on the deck, Ryobi includes a comfortable rubber overgrip for stability. The convenience stretches to the dust collection unit, where a built-in dust bag gathers most dust generated while working.
Best suited for light DIY sanding than for professionals doing heavy-duty deck sanding. Its grit is 36, while its overall weight is 2.5 pounds, making it a lightweight sander. This sander is compatible with the Ryobi One 18 volts battery.
Pros & Cons
Pros
Cordless design
Lightweight
Built-in dust bag
Convenient rubber grip
Up to 10000 orbits per minute
Battery powered
Cons
Not ideal for professional use
4. Black+Decker Random Orbit Sander BDERO100
This Black+Decker is an affordable sander with a compact design that makes it extremely lightweight at only 1 pound. Moving the sander will never be a problem as the weight makes it easy to pack and move. The on/off switch at the top is easily accessible, with a soft grip area helping with handling.
The high-performance two amps motor delivers up to 12000 OPM, so you can easily sand deck areas. In addition, it comes with a dust bag and a simple dust collection system that gathers the dust from the sanding, reducing the general clean-up required. Versatility is one of the most significant features of this sander; even though it comes at an affordable price, you can do a lot with it.
Pros & Cons
Pros
Comfortable grip
Compact and lightweight design
Two amps motor
Affordable
Up to 12000 OPM
Cons
A small dust collection bag
5. Skil 7510-01 18-inch Belt Sander
If you're looking for value for money for your deck sander, this Skil 7510-01 sander is perfectly poised to give you a great deal. It sports a 3-inch belt which covers less area and increases the sanding time. In addition, this Skil sander has a pressure control technology that monitors the pressure applied on the sanding pad to ensure a uniform surface after sanding.
It can handle any deck surface as the 3 A power helps propel the sander. The dust collection system comes with a microfiltration mechanism that gathers even fine dust; however, the dust connector struggles to stay connected to the sander. The Skil belt sander can do good deck sanding work, but you may have to look elsewhere if you're looking for something spectacular.
Pros & Cons
Pros
Incredible value for money
3 A power
Microfiltration dust collection system gathers even fine dust
Automatic track belt alignment helps to keep the belt aligned even at high vibrations
Cons
Narrow belt at 3 inches
Poor dust collector attachment
6. Metabo HPT Belt Sander
The Metabo HPT sander sports powerful nine amps and 1020-watt motor capacity and is powered by electricity. You can complete a good deck refinishing project with the medium grit attached to the sander. You can adjust the speed from 820 to 1475 feet per minute with a variable speed dial placed in an easily accessible location on the sander. The shape and front place cover provides improved visibility, which is especially important when sanding against a surface.
Metabo puts this sander under a professional 5-year limited warranty which is more than what you'll get from most sanders, even among the best. The dust collection bag is on the left side, so sanding angles are possible with the bag collecting as much dust as possible to prevent health challenges. It weighs 9.5 pounds, which is not the lightest but still at a decent weight.
Pros & Cons
Pros
Variable speed from 820 to 1475 feet per minute
5-year limited warranty
Powerful nine amps and 1020-watt motor power
The tracking window provides high visibility
7. Bosch OS50VC Electric Orbital Sander
Its powerful 3.4 amps motor spins up to 11000 orbits per minute to produce a high-quality surface for refinishing. In addition, you'll find its big ½ sheet sanding pad perfect for sanding decks as it covers more areas. It can sand close to vertical surfaces because it has a flush ability, making it extremely versatile. In addition, it offers one of the lowest vibrations of any electric sander helping to provide a convenient sander for use.
The kit includes a Bosch OS50VC electric orbital sander, a punch plate, a microfilter dust canister for dust removal, and a removable front handle, among other essential tools. The dust canister has an easy-to-use screw cap to empty its content without stress.
Pros & Cons
Pros
Powerful 3.4 Amps motor
Spins up to 11000 orbits per minute
Big ½ sheet sanding pad
Extremely low vibrations
Variable speed control
8. Makita BO4900V Finishing Sander
Another Makita product makes our list of best deck refinishing sanders in the form of the BO4900V finishing sander. It is 2.9 amps corded sander powered by electricity. The Makita sander sports reduced vibrations, providing a more stable and convenient user experience. In addition, the grip area is layered with contour grips, so you get a firm grip while sanding the deck.
A variable speed dial adjusts the speed between 4000 to 10000 OPM. The pad dust collection system gathers dust and keeps the area clean, where you can attach its paper bag dust holder or a vacuum hose. The sander weighs 6.6 pounds and comes with a large cam-lock clamping lever for quick abrasive paper installation and removal.
Pros & Cons
Pros
Cam-lock clamping lever
Variable speed between 4000 to 10000 OPM
Contour grips for better control
Reduced vibration
2.9 amps
Cons
Small dust collection paper bag
Expensive
Buyers Guide: How to Select The Best Deck, Refinishing Sander?
Before you buy a sander for your deck refinishing project, it is essential to go through this checklist. The section contains vital factors when selecting a suitable sander for deck refinishing.
1. Orbital Vs Belt
Orbital sanders are often portable with great precision and control; however, they lack power. On the other hand, the Belt sander is big and powerful, with minimal care for control or precision. Belt sanders are often preferred for deck refinishing projects because of their insane power.
2. Deck Size and Features
This factor is less about the sander and more about the deck surface. First, you want to determine the surface area of the deck and its features. Large decks typically require sanders with enough power and a large belt to cover a wider area at a given time. Decks with many details will require great handling and precision sanders to handle these differences.
3. Price
Price will always be a huge determinant of the type of products you can buy. However, you don't have to break the bank to secure a good sander, with several low-budget sanders proving great quality. Premium options, on the other hand, are expensive but typically offer many features to justify their prices.
4. Speed
Sometimes, high speed is not the answer for sanders, as some parts require lower speed levels. The advantage is in the variable speed level covering a wide speed range. Different areas on the deck may require different speeds to produce a clean result. Getting a variable speed sander where you can adjust its speed is a great idea.
5. Dust Collection
Consider the type of dust collection system in place for this sander and how effectively it reduces dust from the sanding. Some dust collectors need to attach properly, while others are too small for the task. You want to check the size and its fit before making the purchase.
6. Noise Levels
How loud is the sander you intend to purchase? This is a question you should ask, especially if you'll be sanding for a long time. You do not want to damage your hearing by working close to an extremely loud tool, nor do you want to disturb your neighbors. Check the levels of decibels it emits before making the purchase.
FAQ's
Here are short and quick questions about sanders for deck refinishing alongside their answers:
Q1. Do floor sanders work on decks?
Ans: Floor sanders are not ideal on decks as their size and weight will prove huge stumbling blocks to their use.
Q2. Does weight matter for deck sanders?
Ans: Weight matters less than many would imagine, as weight can also help to provide stability. However, extremely heavy sanders can damage the deck.
Q3. Orbital or belt sander?
Ans: The choice here depends on your needs, as orbital sanders have more precision and control and, as such, are great for small detailed decks. On the other hand, Belt sanders are powerful with little regard for control and are suitable for large plain surfaces.
Summary
Choosing your ideal deck refinishing sander may prove difficult without help. These tools usually sport powerful motors, among other safety and convenience features that make each sander unique.