Summer and spring are the best time to enjoy your outdoors, and what better way to do this than by grilling your favorite meals? Most people with even a little space around their houses want a grill where they can enjoy some outdoors while making delicious meals with family. A grilling station or outdoor cart is the perfect place to BBQ while enjoying the moment with others.
If you like to make BBQ and are intrigued by DIY work, you should make a grill station. While you purchase already-made grill carts, getting your hands dirty and making yours is more satisfying and often provides a better-suited design. A grill cart is like a mini kitchen outdoors with food preparation, serving, and storage areas around the grill, so everything is closer and easily accessible.
The good thing about grill carts is that you can make many variations, like a cart around a gas grill or a cart where you can put the grill inside. The styles and variations make a DIY grill station even more exciting. However, only a few can come up with a befitting and functional grill station design, which is why we've put up this guide highlighting some BBQ station ideas.
DIY Grill Cart Ideas
If you're looking for ideas to jumpstart your creativity to build the perfect grill cart, here is a list of amazing grill stations you can try. In addition, you can combine some of these designs to form a unique grill station.
1. Stone Grill Cart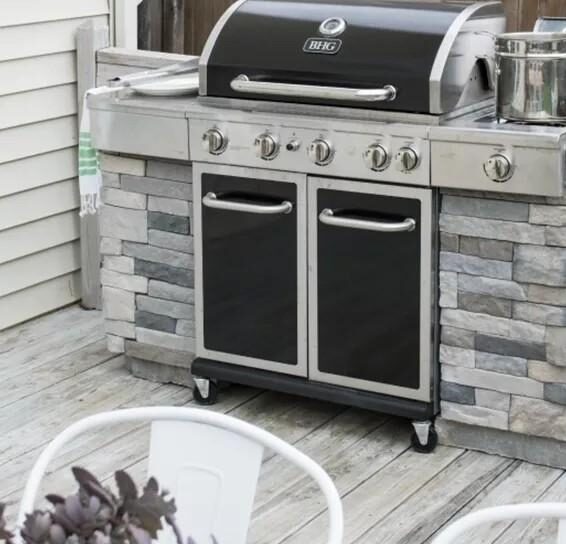 Stone designs always have that classic look, and this stone grill cart is no different. The design is made from fancy stones, with an elegant grill in the middle of the stone cart and atop some parts. The cart comes with rollers that make it easy to roll them out of the cart when you need them. You get room to prepare your meal before grilling and serve with two platforms on either side of the grill. Completing this idea will cost below $150, depending on the size, with a little experience required.
2. Simple Table Grill Cart
If you already have a small grill, you can build this simple idea that utilizes a table with tires under the front legs for mobility. The table idea features a circular cut at a corner of the table where you can insert the grill and still leave enough room on the table for serving and food preparation. With the lower layer offering a storage layer, the hooks by the sides of the table provide places to keep utensils close to your reach while grilling. This simple idea requires a small amount of money to complete as the cart is portable and mobile.
3. Large Pergola Grill Station
How about a large BBQ away from the small cart ideas previously mentioned? Here is a BBQ idea built under a pergola; however, you can use other outdoor structures like a gazebo or pavilion; however, there should be room above and around the grill for smoke to move away freely. Building this large grill station requires careful planning, a large enough area, more experience, and more resources. It provides a wide area, including layers, for related activities like serving.
4. Classic BBQ Grill Cart With Cement Board Panel
Here is a robust but mobile BBQ cart featuring skaters underneath so you can roll the cart. A durable cart frame is first set up, and a cement board panel is used to cover the sides and between the layers. Next, the space is closer to one end to carry a big grill. Towards the other part of the cart, away from the grill, is a wide top for food preparation and serving while also featuring an open cupboard where you can store utensils. The deep green shade gives it a classic look and increases its appeal.
5. Galvanized Grill Table
This galvanized grill table is a small yet effective grill cart to carry an equally small grill and is perfect for backyards with very little space. As a DIY option, this cart is as easy as it gets while using durable materials that can withstand the weather, with the galvanized top offering extra protection to the area. The simple cart offers little to no prep space with two layers of storage levels and hooks by its sides to carry utensils. With the size, you can take this cart into the kitchen after grill season and put it to another use, making it a versatile option.
6. Rolling Grill Cart
With durable wood, you can make an impressive drill cart with little finishing. This idea uses the natural look of the wood to produce a classy finish with several useful features, like the table wide enough to carry the grill and leave a small prep space by its side. There is also a drawer to easily save things with space directly underneath to store the propane tank with the gas powering your grill. The cart's other side features two storage layers with additional hooks for utensils.
7. Granite Top Grill Table
Here is a small table with robust materials like giant legs to provide stability. It sacrifices the skaters on the legs, which makes it highly mobile for a more stable design. The top is made from granite which is appealing and effective in providing a durable surface for a tabletop grill and a prep station that would not be affected by water. You can hand towels on the bar by its side and utensils on the hooks.
8. Big Green BBQ Stand
This idea is perfect if you have a big egg-like grill in a green hue, with a wide table to house the green grill. The setup looks like an egg atop the grill table with enough room for other related activities like serving and more. It features a cupboard and two layers for storage. The legs are large to provide stability, with the concrete top sporting an impressive finish that gives it a glossy look.
9. Cinder Blocks and Patio Stones Grill Station
Momentarily moving away from mobile grill carts, is this permanent fill station built around a grill with cinder blocks and patio stones. It features an impressive design, as cinder blocks are attractive. You can even do one better by utilizing different block colors for an extra touch of style. Surprisingly, this grill station takes a short time to build and can be completed by a DIY enthusiast with little experience.
10. Lightweight BBQ Grill Table
Sometimes, small and lightweight do it for us, which is why this grill cart idea is popular for people who prefer simple and straight to the point. Its natural wood design makes it perfect on a deck or patio area. The storage shelf underneath can store all your supplies, while the hooks around the table store utensils. You'll also find a section with a cover where you can place your grill and remove it where needed.
11. Outdoor Grill Cart With a Tilt-Out Drawer
Here is an outdoor grill cart idea where the grill sits inside the cart with only the top area protruding. It features a wide table area providing enough room for your cooking activities. One of its most unique features is the tilt-out drawer that tilts outwards when you open it. Besides the closed drawer is an open drawer with two layers. This idea tries to ensure a cleaner design, with most tools finding a home inside the closed drawer and away from the site.
12. DIY Industrial Style Grill Cart
If you fancy industrial carts, this idea allows you to build an industrial-Esque cart design with metal pipes forming the frame and wood for the layers. The design features two storage boxes on either side of the cart where you can store spices and other small cooking materials. Additional holes in the boxes leave room for storing grilling utensils, while the layers provide an extra storage area. Painting the setup with colors featuring great contrast will immediately improve the look of this cart design.
13. Wood Pallet Grill Cart
This idea is made from affordable wood pallets and does not feature a grill. Instead, your grill is set on a tripod to stand beside it. At the same time, the pallet cart provides the necessary support with several layers and hooks to store utensils, spices, etc. Even a wine layer makes it all the more impressive since outdoor grilling is synonymous with celebration. Despite the many layers, this represents a simple design that most DIY lovers can complete. However, it may take a couple of hours.
14. Rolling Grill Cart With Cooler Shelf
Here is a simple yet impressive grill cart idea that features a table beside your grill on a tripod stand. The table features a cooler shelf to store cold drinks, which is synonymous with grilling. You can use this cooling shelf for other activities by removing the cooler. The skaters underneath make moving this portable cart much easier, as you can roll it back into the kitchen after grill season.
15. Large Kitchen BBQ Station
If you want a large outdoor kitchen for your grilling, here is the perfect design for your needs featuring a wide station with so much table space to serve, prep food, and even serve as a dining table. The cupboards underneath provide room to store all the materials you need for grilling, which is why there are no unsightly signs of utensils hanging by the corners. The grill station surrounds the grill, almost making it disappear.
16. Complete Outdoor Kitchen Grill Station
Here is another outdoor kitchen grill station with this idea featuring a sink, a dedicated dining area with chairs, and a grill area all under a roof to provide cover from harsh weather. It requires a lot of space, planning, resources, and even more experience to complete this design. Still, the result justifies the additional resources required. It is the complete package with cupboards for storing grilling materials.
17. Portable Grill Station
Even though this idea features a portable and moveable grill station, it adds some unique features not readily found in portable designs, one of which is the sink. In addition, it is made from affordable pallet material, which significantly reduces the cost of setting up the design to under $600. Finally, the portable grill station features a small table area beside the grill and a storage layer underneath the grill.
18. Simple Grill Station With Concrete Top
Here is a simple grill station with an impressive look thanks to its concrete top and amazing finish. The concrete top looks good and is effective as it is water-resistant and durable. With the grill in-built into the station and a storage layer underneath, the simple nature of this design is further established. It also features tires on one side of the grill table legs, making movement easy.
19. Elegant Concrete Grill Station
This grill station made from concrete panels with a finish integrated into the panel features an elaborate design sure to turn heads. This design proves that you do not always have to use natural stones to get an exciting stone design with classy drawers. It further boosts the appeal of this BBQ station. However, building this station will require expert-level experience and cost a lot since artificial concrete panels can be expensive.
20. BBQ Island
Here is a small BBQ Island with extra room for parties or hanging out with family. The station is built around a grill with a decent table area on either side of the grill and a cupboard for storage underneath. It is made from stone with a durable top that gives it a different color contrast to improve the look. This idea is perfect for small areas where you want to utilize the area around, which is why all utensils and materials are kept out of sight in the drawers.
Conclusion
BBQ stations come in varying designs and styles to suit different needs. If you're looking for an idea to build as a DIY enthusiast, you can get your creative juices flowing by going through this list that features grill stations with different costs, sizes, complexity, and more.