Sheds are a long-term investment whether you're building as a DIY, employing professional builders, or buying a shed. A lot of time and money often goes into planning and executing the ideal shed for our needs. That is why an equal amount of effort should be put into the one part of the shed that will endure a lot of stress – the floor. Shed floors will see a lot of stress and should be tough and durable while maintaining their attractiveness.
There are several shed flooring materials for your shed, all with varying degrees of effectiveness and attractiveness. Unfortunately, shed flooring is often neglected, with many opting for unattractive and sometimes less durable options. However, you can get the best of both worlds with certain shed flooring materials. Top flooring materials for your shed will typically have the toughness to withstand stress while having an attractive look.
When choosing a top shed flooring option, more than its durability and aesthetics may be needed as other factors like fit, cost, and more come into play. This guide highlights the best shed flooring materials, their features, cost, and other qualities that would make your selection much easier. So without much ado, let's jump right into the materials.
Best Shed Flooring Options
Shed flooring creates a stable surface in your shed where you can store tools and other garden materials. So the main aim of a shed floor is stability and durability to carry the load. However, having aesthetically pleasing flooring is a huge advantage as it improves the shed's look. Here are our top options for shed flooring:
1. Plywood
Plywood is a popular shed flooring, especially for snowy regions. Since plywood surfaces are smooth, objects can easily slide across, which is especially important when dealing with heavy tools with tires like lawnmowers and snow blowers. The smooth surface also makes it easy to sweep and clean when it gets dirty.
It gets better with plywood when pressure is treated as the shed flooring becomes moisture-proof, preventing moisture from soaking the wood and damaging it. Since plywood is cheap and easily available, while durable, it is a top choice in many sheds. It is sleek and can appear in many different ways depending on the finish you apply. At the same time, plywood is fairly durable, as it can rot, chip off, and have drag marks when you drag heavy tools across its surface.
Pros & Cons
Pros
The smooth surface can be painted
Excellent for storing wet tools
Pressure-treated plywood prevents moisture from entering the wood
Easily available
Cons
Prone to wear and tear
Not the most durable
2. OSB
Similar to plywood in appearance but different in its structure as it consists of pieces of wood pressed together and then glued to form a rigid wood layer. OSB are environmentally friendly as they often use abandoned strands of wood. This affordable shed flooring option is available in large panels, with the 8ft by 4ft sheet the most common.
Aesthetics is not this flooring's strongest attribute. Still, it offers a durable option that is gentle on your feet, which is especially important for people that stand for a long time in their sheds. OSB is affected by moisture and wear and tear over time, so there may be better options for sheds where you foresee a lot of moisture spillages.
Pros & Cons
Pros
Affordable
Gentle on the feet
Environmentally friendly option
It comes in large sheets
Cons
Not aesthetically pleasing
Can rot, wear and tear, and absorb moisture
3. Pavers
| | |
| --- | --- |
| Cost | $15 to $35 per square foot |
Pavers offer impressive durability like concrete but with outstanding aesthetics as they come in different shapes and sizes. Unfortunately, pavers are hard and cold, making it difficult for people that stand in their sheds for a long time. While the hardness translates to durability no matter the tool, you store it on the shed floor as it'll hardly leave drag marks on the surface.
Pavers are durable and will not easily break; however, they are easy to repair as they are in small units. Poor installation can also make the pavers move from their position or sink. In addition, parts of the pavers may chip or break off when heavy equipment frequently moves across them. Stains are also common issues with pavers, as cleaning may require pressure washers to remove the stains.
Pros & Cons
Pros
Durable surface
Aesthetically appealing designs
Easy to maintain
Excellent for storing heavy tools
Cons
Cold and hard surfaces make it difficult for the legs
Expensive
4. Concrete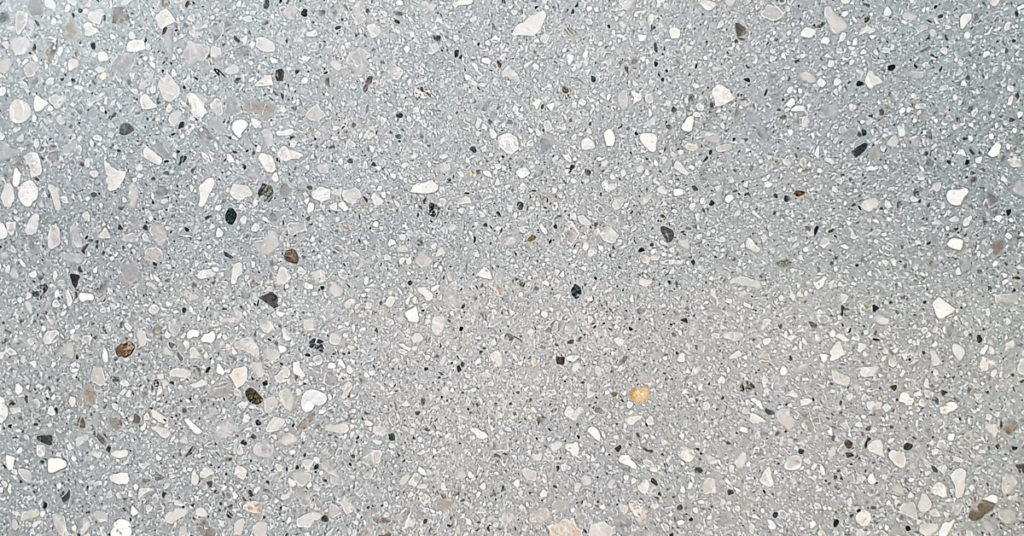 | | |
| --- | --- |
| Cost | $5 to $15 per square foot |
Concrete is the most durable shed flooring you can install, with its compact structure preventing water damage, rot, attack from pests, and more. It is more of a permanent option and so is not easily removed; however, this is a testament to its durability that you'll find it difficult to remove. Concrete slabs are often unappealing with the boring surface. Still, if you are okay with their poor appeal, you'll enjoy their unrivaled toughness.
Concrete shed flooring is hard on the feet, especially when standing for long. If you are using your shed as a workstation, avoid concrete slabs since you may be standing for a long. Unsealed concrete will easily stain, which will require tough equipment to remove. In addition, using concrete requires a detailed understanding of the shed material used as concrete frames may rust inside the concrete without proper guidance.
Pros & Cons
Pros
Highly durable option
Easy to maintain
Great for storing heavy equipment
Waterproof
Cons
Unappealing
Hard and cold on feet
Not easy to move
5. Tongue and Groove Wood Planks
| | |
| --- | --- |
| Cost | $2 to $9 per square foot |
Timber planks offer strong shed floorings to store fairly heavy tools due to the toughness of the timber. You can stand on the floor without feeling numb in your feet. Timber has an attractive look suitable for people that value designs and aesthetics. With its blend of attractiveness and decent durability, it is easy to see why many choose tongue and groove planks.
Timber is prone to rot, attack from pests, damage from moisture, and generally harsh weather conditions, just like plywood. It is also worth noting that dragging heavy tools across the surface will leave drag marks behind. Maintenance is easy, but removing stains from spilled liquid can be tricky. Luckily, timber is an affordable option to install.
Pros & Cons
Pros
Affordable
Gentle on the feet
Good aesthetics
Can store heavy tools
Cons
Not waterproof
Prone to wear and tear
6. Interlocking Tiles / Click-Decking
| | |
| --- | --- |
| Cost | $20 to $30 per square foot |
Interlocking tiles can be made from different materials, such as plastic, rubber, PVC, or polypropylene. However, they all have one thing in common; they are appealing. This material offers an impressive design option with varying tile designs from the manufacturers.
You'll find interlocking tiles easy to install and can be completed as a DIY project. You can also get a customized tile design to create a unique look in your shed. However, since these tiles are tough and not easily cuttable, perfectly aligning and covering the whole area may be difficult. So it is commonplace to see tiny openings around the edges.
Pros & Cons
Pros
Appealing designs
Varying colors and designs are available
Easy to install
Stain and chemical resistant
What to Consider Before Selecting Shed Flooring?
Since there are several shed flooring with varying features, choosing shed flooring to install may take a lot of work. Following this guide, you can easily select the flooring material that best suits your shed needs.
1. Durability
Arguably the most important factor to consider for any shed flooring option because shed floors see a lot of pressure, and you need a floor that can withstand the load. Aside from the load, the flooring may contain moisture, chemical, and oil spillages. Some floorings will repel moisture and oil stains, while others will absorb the moisture and leave tough stains behind or may even warp.
2. Installation
Considering how difficult it is to install the shed flooring before choosing it will save you a lot of headaches. Choose options you're familiar with, as this will save you time and reduce mistakes. Check installation guides for the materials to see if you have the necessary tools and experience to handle the installation. You may have to employ the services of professionals for some flooring options where installation is difficult.
Another part of the installation that needs to be addressed is curing; many forget that installation is only complete once the flooring cures completely. Installing many materials during the summer months will offer a shorter curing period. Consider the time you can spare since some materials take a long time to cure and be ready for use.
3. Adhering
Installing the shed flooring is one, and flooring material staying put is another. You want to consider how each material adheres before committing, as some shed floor ideas keep pulling off the surface. Adhering is especially important when you're adding flooring to an existing floor.
4. Price
Each material costs differently, with the shed flooring options often priced per square foot so you can easily compare. Depending on the size of the shed, you may require a lot of the material, which can increase the total cost of the flooring. Consider your budget and choose the flooring that falls within that price range.
5. Purpose
The shed's purpose can guide the type of flooring suitable for the shed. For example, if you are storing a lot of heavy materials, you want to install hard, durable flooring that will not bulk under load. On the other hand, for people standing long in their sheds, you want to get a soft flooring surface on your feet.
Summary
Choose a suitable shed flooring that is durable and sports great appeal. Functionality and appearance, while satisfying other factors like cost and ease of installation, make the perfect shed flooring idea. Unfortunately, most shed builders settle for boring floor options with the feeling that they cannot find durability and aesthetics in one material. However, this thought has been dismantled in this guide with several options providing both functionality and aesthetics.