For some camping enthusiasts, tents might not be the perfect solution to spend the night outdoors. Camper or travel trailers offer better safety, durability, and comfort. The most uncomplicated trailers may be an enlarged box within which a bed can be fit, or it could be a trailer tray with tent-like extensions providing a secure space. Some trailers may even have a mini kitchen and a bathroom attached.
When you go through the catalogs for trailers available in the market, chances are that they are overpriced. You have the option of buying one through customization services, but those would also burn a hole in your pocket.
This is when you turn to DIY travel trailer plans. Here are 18 plans to choose from, according to the materials you wish to use, the type of camper you desire, and the interiors that would enhance your energies during your travels. These DIY travel trailer plans and ideas are free to access, and some of them come with videos attached to understand the process at each step with ease.
1. DIY Wooden Teardrop Camper
This is the perfect option for woodworking lovers. The plan-creator encourages users to find a teardrop design according to their liking since anything could fit into the measurements they have provided.
Luan plywood is used to seamlessly build the teardrop structure's outer shell, without cutting up one wooden board after another to achieve the curves. The frame is constructed around the side pieces so that there is space left for insulation purposes. Moreover, the visual aesthetics make this an epic choice for the road.
2. DIY Tiny Travel Trailer
Construct a smaller version of your house with this DIY trailer plan. It requires a wide trailer for the base. The guide has recycled the old frame of a broken-down camper and built this beauty over it.
The interiors include a convertible sofa-bed, ample space to move around, an air conditioner unit, and windows, complete with curtains. Aluminum sheets cover the exterior to provide additional durability and insulation.
3. Simple DIY Teardrop Trailer
Measuring 4×8 feet, this teardrop trailer can fit two people comfortably. It provides space for a bed, as well as a pull-up table. But this trailer doesn't serve just as a sleeping quarter, it has a galley in the back too. This galley is built into the cavity of the curved end of the structure. You could fit in a small DVD player, refrigerator, mini-pantry, or simply install a cabinet to store travel essentials.
These 14 sturdy DIY tabletop plans could help shed light on suggestions to beautify the galley.
4. DIY Stand-up Camper
Fancying an RV for your camping trips but cannot afford one? This guide converts your travel dreams into reality! It provides the most space out of all the DIY travel trailer plans mentioned in the list.
Using a large trailer base, you can construct a stand-up camper that can fit in a makeshift kitchen countertop, galleys, washroom cabinet, convertible couch, BTU air conditioner unit, small HDTV, and even a small microwave oven. You could also have a little water tank or refrigerator. The plywood used makes it extremely water-resilient.
5. DIY Tiny House Trailer
The heart of this ATP camper is a fishing boat trailer, which can be acquired for cheap. It provides a 4-foot-wide base structure to support the 12-foot plywood walls. You will need to attach 'wings' for making a bunk space and a protective lid. These wings are sheets of ½ inch plywood, sized at 4 by 8 foot.
It can easily fit in a bed for two, a small cabinet, and electric outlets. You are free to add any other water-resistant personalization thereon.
6. DIY Semi-Metal Teardrop Camper
Using an old popup camper, you can construct a spacious structure with a metal clamshell. It can house two people and boasts a small kitchen and bathroom.
DIY beginners would find this guide simple to execute, since all of the steps come in detailed sections, with many pictures for reference attached.
7. DIY Teardrop Camper
Do you want to provide comfortable amounts of space for more than 2 people? Then head over to this camper guide. Complete with a convertible dining table, kitchen, back galley for storage, and a ventilating window, you could take many long camping trips with this trailer.
Due to its large size, it would take a month's work or two to finish this project, but it is much cheaper than seeking out store-bought travel trailers.
8. DIY Rimple Camper
'Rimple' stands for simple and rounded off; since this camper has equal curves on either corner it is not a teardrop-shaped travel trailer. It enables you to build a back galley with added cabinets and enough area to fit 2 adults and 2 children.
9. DIY Basic Travel Trailer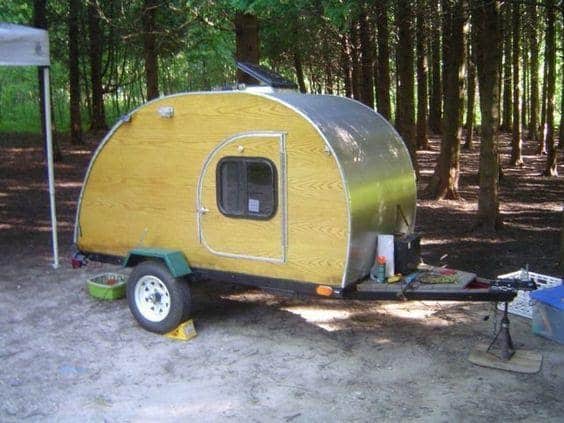 Head over to this plan if you are looking for a plan with simple construction. Ideal for one person, it can yet fit in 2 people with adjustments made to the bed size. The false flooring under the bed and cabinet provide storage space. You can keep the battery, portable washroom tank, water tank, and all the wiring in this space so that the camper's interior is clutter-free.
Check out these 10 best metal cutting saws. You'll definitely need such equipment for ensuring a quality end product.
10. DIY Custom Teardrop Camper
The author uses the base frame of a snowmobile for the pod-like structure. They have chosen to convert the back portion into cabinets, serving as a kitchen, stovetop, and a sink included. Luan plywood is used for the curve, but a lot of braces are attached to keep it from warping because of its steepness.
11. Box Trailer DIY Camper
You do not need to worry about carpentry skills with this plan. It is the easiest of all the DIY travel trailer plans mentioned in our list. The 7×5 inch box trailer contains the bed.
Using sturdy fabric and PVC pipes, you can build a tent structure around the trailer for a makeshift roof and walls with velcro windows. Extend the tent according to your needs, and it can be neatly packed up once your camping trip ends.
12. DIY Vintage Travel Trailer
Designed in 1947, it is easily one of the key foundations of the many teardrop designs found on the web today. The plan calls for a comfortable and durable construction. It can house two people and has some storage places built-in.
There are no other frills attached unless you want to personalize it further and add additional facilities like a small kitchen or an air conditioning unit.
13. DIY Metal-press Camper
Humid conditions can break down wooden structures over the years, no matter how water-tight they may be. Thus, this DIY project includes the strength of both, strong plywood and stainless steel, which are finally covered with aluminum sheets.
This sleek teardrop trailer showcases a classic design, with a bed for two in the central cavity, and a kitchen-cabinet structure in the back drawers.
14. Off-road DIY Overland Camper
Looking for a camper that would fit in a family of 5 people? Head to this DIY plan where you can build a camper piece-by-piece on top of a box trailer. This camper's assembly involves building a convertible couch frame, dining table, heater facility, and a bathroom cabinet.
Fiberglass and tractor paint are utilized for long-term durability. The plan includes videos for reference, along with steps showing a brief textual explanation.
15. DIY Futuristic Travel Trailer
Caravans are like small houses built on wheels. This DIY plan lets you make a mini-caravan, using a folding trailer. Most of the work is done on the interiors since the camper is built via a simple construction of plywood and aluminum sheets.
The interiors are equipped with a chic kitchen, cupboard with shelves, multiple cabinets, a dresser, and a convertible couch. The window areas can be pulled out to provide more space for dining.
16. DIY Camper on a Budget
An old RV is broken down to its frame, which is then recycled to build this impressive RV on a trailer. Built at a budget of $4500, it rivals many professional brands. The camper is compact, being only 7 feet wide and 12 feet long.
The construction of the walls, insulation roof, floor plans, windows, and cabinets placement are left to your personalization. There is enough space to build in a complete bathroom facility as well.
17. DIY Tiny Teardrop Trailer
Your camper could be beautiful, as well as functional. This DIYer has focused more on the aesthetics of this teardrop camper for two. Additionally, it includes a bed and storage space for the bare necessities.
It features a double-doorway, and the exterior wood frame is stained using a burning technique, that also keeps bugs away. A small section is left out on the roof, where a plexiglass window is installed instead. It makes for a great window to enjoy the rays of the sun or stargaze at night.
18. DIY Foam Built Camper
Pick up a 6×10 foot trailer from your nearest junkyard to create this hard-shell camper. It is built in a way to provide maximum interior space and utilizes foam as insulation and as a cover.
This is an extensive construction that requires you to build everything from scratch, including the door. This project is mainly recommended for skilled woodworkers.
Conclusion
Each of these DIY travel trailer plans can give fair competition to the store-bought trailers. Time and patience are required since many of these projects could take up weeks to complete.
While some of these provide you with proper plans, others are simply ideas with reference images attached to learn as you build. Whichever DIY project you choose, comfort for your camping trip is guaranteed!
Looking to add some bar facilities to your travel trailer? These 10 simple DIY wine rack plans could be an epic add-on.
Here is a bonus. We've worked hard, studied, and researched the 10 best cordless reciprocating saws in 2023. This will change the way you work on DIY projects!