High time you fix up a swing set for your kids? Thinking of installing some form of physical entertainment in your backyard? Or do you need to get your kids to go outside and spend less time on electronics? These DIY wooden swing set plans could change the vibe in your backyard, home, and family.
Even better, all these DIY swing sets are durable and can easily stay in the family for generations. You can add your own customization, wood type, swing features, and all this within a supremely meager budget.
A bunch of these plans can also be considered as a patio swing chair for 3 people to sit on. You can add a pergola or an open-top design to these swings. Do you practice minimalism? Simply install 2 ropes on a branch and furnish wood to make the most elegant looking seat.
All these DIY wooden set plans are free, easy to execute, and an assured great addition to your private outdoor space.
1. Modern DIY A-Frame Wooden Swing Set
This wooden swing set may look difficult to make, but the simplicity with which the guide is curated makes it a day's task. If you have plenty of backyard space to mark a 12-foot span then this 3-swing A-frame set could add a sculptural aura along with a modern style.
Choose a good spot considering the shade and 360-degree space as this structure enables the swings a greater amount of movement. You can even increase the size of the slats on the framing. A few alternative protruding slats could be a good idea for a more heavy design.
2. DIY Backyard Wooden Swing Set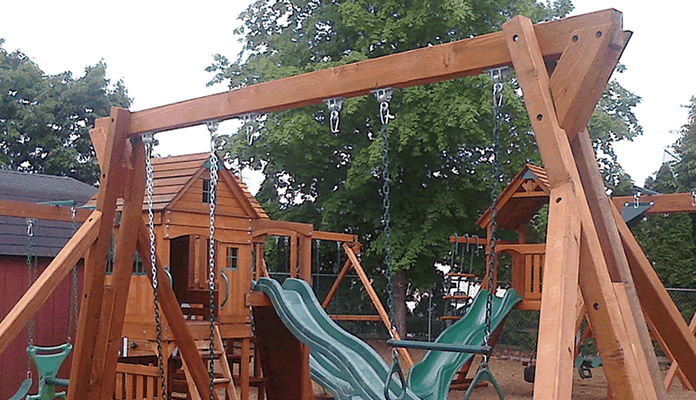 This free-standing DIY wooden swing set plan could be a long-term addition to your garden. The construction should turn out rigid and be an eye-catching figure for visitors.
Don't back off looking at the size of this swing set. The guide is extremely well segregated and gives you a thorough list of parts, measurements, and design modifications. The 2nd part of this guide will give take you through a visually explanatory step-by-step journey of the main assembly process.
3. DIY Pergola Wooden Swing Set
Looking for a basic wooden swing set that radiates a hint of uniqueness? Well, a pergola above the swings is never a bad idea. You will use luscious cedarwood for the pergola section followed by 2 rounds of polyurethane coating.
The visual strength of this swing set lies in the pergola top. Even an amateur DIYer can get this done in 5 to 7 hours. Although the pergola is really small and wouldn't give out the impression of being one, it depends on you to carve out intricate ridges and groove to give it an impressive representation.
4. DIY Solar Swing Set
This project uses the wooden swing set as support for the solar panel. This may finally be the time you manage to adopt homely means of renewable energy. Most of the equipment needed would come from scrap and you need some electrical knowledge too.
Although the playset comes from craigslist, a little compromising on cash could turn out to be an exceptional investment for yourself and your outdoor home environment.
5. DIY Backyard Pergola Wooden Swing Set
This is a full-fledged pergola that rewards the DIYer with an added space in their backyard, not only for swings but also for creating a mini-garden. Speaking of the swings, they will hang through hooks attached to the pergola base.
You can detach the swings and use the pergola area as a relaxing spot in your garden. A little bit of string lighting and you can even make it an ambient dinner location.
This is your opportunity to create a sitting area with a sturdy lattice and spread it with seductively scented vines.
6. DIY 3-Seater Wooden Swing Set
The size and built of the seating makes it compatible as a daybed. Additionally, this A-frame wooden swing set is a free-standing structure that can be moved to any part of the garden. This means no need to dig holes and go through the stress of pouring cement.
The best part is the option to add a lattice-like pattern on the framing. This lets you grow flowering vines by allowing you to craft the swing with a perpetually beautiful sight. Think about it, this is almost like a detachable swing garden.
Depending on the color coding of your garden shed, fence pickets, and home, you could choose a shade of brown that syncs with the garden as a whole.
7. DIY Combination Wooden Swing Set
Why not build a wooden swing set with an A-frame that also supports a climbing wall? This would literally be a 3-in-1 outdoor entertainment package for your kids. A fort, a wooden swing, and a fancy-looking climbing wall.
You will go through the process of constructing a perfectly rigid base frame to hold the main components. Two points to remember here are that you must try using cedarwood (weather-resistant) and you must level the deck frame to the best possible extent.
Each step comes with visual guidance. Although this is a wood-heavy playhouse plan, you won't see much wood in the end product. Also remember, the way you paint and polish the final piece will define over 70% of its flair.
Supplies:
Framing Square

Drill

Reciprocating Saw

Plywood

Weathering Steel Coil

Shiplap Sliding

Polycarbonate Roofing
8. DIY Mid-Century Swing and Play Set
A slide and ladder attached to a tiny little room, right beside a swing set with a broad A-frame. Sounds like a lot? Not at all. This guide will teach you how to build a strong and high loading capacity A-frame while also attaching amazingly designed roofing panels for the main chunk of this playset.
Based on the current look of your garden, you can either keep it all white, black, yellow, green or even blue. The color can be decided based on your fencing, amount of grass, types of plants, and over the fence surroundings.
As you can see, the playroom has a circular window and a little box to place some flowers too. This mid-century DIY wooden swing set plan could be the best project you've ever taken up for your kids.
Verdict
Adding some spice to your property is always a good proposal. When you choose a DIY wooden swing set plan, look for something that even adults can use, without sacrificing on comfort. If you have a family of adults then a porch-like swing with cushions and a cozy setup could be a brilliant idea.
Looking to add some life to your backyard? Check out these DIY bar stool plans and DIY coffee table plans.