Looking to add a new sofa to your living room, or under your gazebo in the backyard? Why not extend the design of this sofa to suit the purpose of a daybed? This makes a comfortable solution, not only for sitting and relaxing but also for taking full-fledged naps. Think about it, these DIY daybed plans could act as a couch in the day and bed at night!
This space-conscious piece of furniture would allow you to accommodate extra overnight guests without having to make troublesome arrangements. One could even give it a lounge-like built by adding recliners or a combination of lustrous wood and sturdy metal.
People living in a studio apartment have the most to benefit from this solution. As the headboard generally extends outwards, you could easily open it when you want to pass out. A little creativity and effort could help you build additional storage space in the form of drawers under this 'sofa cum bed'.
15 Durable DIY Daybed
Here are 15 durable, sturdy, and heavy-duty DIY daybed plans to help you choose from:
1. 50$ DIY Daybed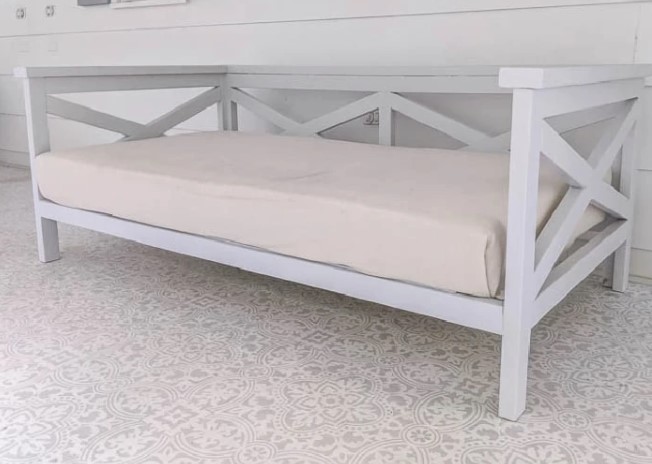 The 4 X-shaped additions enhance the beauty of this simplistic yet comparatively longer version of a couch. You will first set up these 4 X's with conjoining legs under each end, and then erect the structure before installing the platform.
Expect to add 6 horizontally placed slats on this platform to provide a tough base. On top of this, plywood shall be added to intensify the stability. Add a soft and cushioned mattress and you're done!
This guide also teaches you how to neutralize the imperfections that may be evident after assembling the daybed.
2. Elegant DIY Daybed
4 each of rail posts and deck post toppers, along with a sheet of quality oak plywood will comprise of the main elements of this daybed. As the bed is bulky you will have difficulty in moving it around. Thus it advised to build it part-by-part and take it into the room for assembly.
The trickiest step is marking the part of the post that showcases the groove. Any errors here would lead to a waste in materials and force you to increase your budget.
3. Hanging DIY Daybed
An outdoor hanging DIY daybed plan, beat that! Make sure you get at least 50 feet of nylon rope that can bear a loading capacity of minimum 200 lbs. Most of the work lies in building the frame and merging the deck boards along with it.
Another crucial step is how you drill holes on the wood for attaching the leg screws. As over-tightening will lead to a weak joint, ensure not to go too harsh on the upper frame.
Consider checking out these insanely useful framing nailers for performing tidy and uniform drilling actions.
4. Mid-Century Modern DIY Daybed
Vacant corners of your house prove to be the perfect spot for placing such a modern-looking daybed. The guide is extremely well crafted with detailed steps and images throughout the building process. There's also an informative video for added guidance!
Calculating the costs for all equipment, including crown molded legs, edge banding, and a range of coat materials, it comes up to a meager $120. Keep in mind, this is not one of those DIY daybed plans that are for a faint-hearted woodworker.
5. Minimalist DIY Daybed With Storage
This DIY daybed plan offers 3-in-1 functionality! You could use it as a huge couch or bed, both while having an additional storage unit. As the name suggests, this daybed displays a minimalistic design. This is evident in the absence of arms for resting your hands or head. Instead, there is an attached end table on one side for holding items while you rest.
All you need to do is lift the upper platform and you have access to a huge storage section divided into 3 parts. Guess what? You could execute this in under a day!
6. Low Height DIY Daybed
Got extra wood lying around from your deck construction days? Don't want to get into the hassle of buying additional materials? If you could get the wood-cutting tasks done at a hardware store then a drill machine is all you'll need.
The support structure is what needs the most focus and most of the efforts. You'll be screwing 2 sets of wooden strips to hold the thick wooden base as you can see under the bed. Throw in different types and sizes of pillows, such as regular and long body pillows. There's no way you're finding a cozier spot at home than this.
7. Two-Sized Upholstered DIY Daybed

No guide in this list is going to show you as many images as this one. Right from gathering the right materials, sorting the frame, assembling the legs, adding several supporting slats, placing the bed's headboard, and strengthening bolts to spots that need utter sturdiness, each step will seem self-explanatory when you scroll through the tutorial.
Muslin fabric and regular painters cloth fabric are materials you would use to cover up this daybed. Feel free to add customized covers, but try and maintain the lower skirt-like pattern around the entire daybed.
8. Fancy DIY Daybed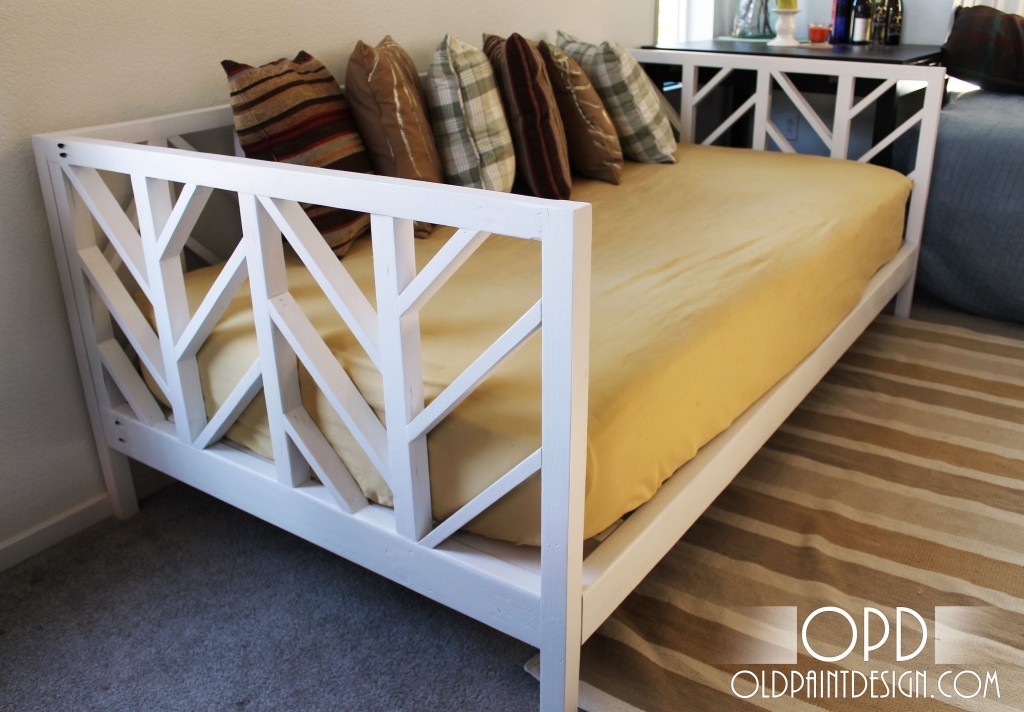 Acquiring this intricately aligned design calls for several mitered cuts that can be a tremendous burden for amateur DIYers. If you're looking at miter saws then these 10 best compound miter saws of 2023 should help you make a wise purchase.
The cut list carefully and in a very detailed manner explains the specifics of the littlest wood-cutting that needs to be done. Make sure to get the accurate sizes of the 3 differently measured herringbones. Also, don't get overwhelmed while assembling the little slanted wooden strips. Patience in combination with skill should suffice!
9. 3 Storage Drawers DIY Daybed
There are few better DIY daybed plans for kids than this twin-sized bed that comes with the privilege of owning 3 long storage drawers. It could act as a dresser that can also store thick blankets. Even better, your kids could keep all their toys in one place.
All the lumber you use should be construction-grade lumber. This ensures durability along with the utmost stability even as the daybed ages. The guide is comprehensive and breaks down each preparing, cutting, and assembling aspect with desirable simplicity.
10. Outdoor Sheltered DIY Daybed
What better than an outdoor daybed that boasts a canopy to guard you against rainfall and direct sunlight? The project is straightforward and relies more on assembling a set of parts to acquire the base framework.
Once priming is done on every nook and cranny of the existing panels, simply place a mattress and decorate the setup with matching pillows and canopy coverings. Also, there is a handle on the lower part of the daybed to remove the mattress. The number of tips and tricks to beautify this daybed will leave you mesmerized.
11. 2 Storage Drawers DIY Daybed
The height, width, length, and sturdiness of this daybed make this a desirable option. Comfort is an assured attribute, along with the gift of 2 huge storage containment zones beneath the bed.
Be warned, the guide doesn't come with textual instructions and is more of a visual step-by-step offering. If you leave your windows open often or if there is plenty of exposure of outside atmosphere then make sure to build the DIY daybed using wood of top-notch quality. Above all, apply coatings that allow the original features of the wood to stay intact.
12. Basic DIY Daybed
Need something basic and old-school? The slated pattern offers a pleasing sight while the size and built makes it a solid sleeping area. Don't be surprised when you realize that this is a heavyweight daybed.
Being Ana White's DIY project, this guide comes with suggestions in sync to questions that are frequently asked by attempting DIYers. You can even contact this DIY specialist or access the comments section for greater insight on successfully completing this plan.
13. No Woodworking DIY Daybed
You could literally pick up any cheap bed from an online marketplace or from a garage sale and make it into this appealing daybed over a weekend. One compulsion is that your bed frame must possess hardware brackets at the head and foot of the frame. Purchasing them would be a costly affair, thus try picking up a bed that already has it.
All credits to the full-sized headboard hung on the wall and the wonderful side barriers of the bed!
14. Indoor Hanging Daybed
How about an indoor hanging daybed? This means you have a couch on a swing that could also be used as a bed when needed. Based on the way you position the pillows and the area of the home you build it in, you could tweak its functionality more towards either a couch or a bed.
To acquire such a quality end product, get ready to put in considerable amounts of hard work.
15. DIY Plywood Daybed
Besides turning out to be a sleek daybed, you also get vacant space below for storing items. You must install a sliding board as you don't want the stored items to ruin the aesthetic appeal of the daybed.
Verdict
Sooner or later you'll realize the value of a daybed, especially if you are not gifted with enough living space. Work from home individuals could even add a side table and make it their go-to work station.