Have you been procrastinating on getting a nightstand for your bedroom? Need to sleep with your phone, alarm clock, reading material, and spectacles on the bed itself? We have collected 15 diverse DIY nightstand plans that come with a range of design options. 
You will come across wall-mounted, pallet designed, Moroccan themed, rope style, and even DIY nightstand plans that use industrial pipes as legs. All these plans use inexpensive and basic materials probably lying around in your basement or garden shed.
Getting a nightstand could be relieving as you could comfortably place all your bedside essentials by your side. Be it a glass of water, an alarm clock, medicines, or even your laptop. Besides, there's no harm that a nightstand can do, all it brings is storage space that can be accessed while you're on the bed.
One could easily call this an end table too. Although there are minor structural changes that some DIYers are alright compromising on. Have a look at these DIY end table plans for some insight and innovative alternatives.
1. DIY Exotic Red Nightstand Plan
Classy is the word for this nightstand. With 3 drawers, all accessible from an average bed height, this makes a great piece of furniture for bedside convenience. The legs are short and showcase a slighter broader end on the upper side.
The true glow arises in the finishing materials you use! Expect to coat an amber-like tone using Miniwax oil-modified water-based polyurethane. Zero bubbles, instant leveling, and a lively finish.
2. DIY X-Shaped Nightstand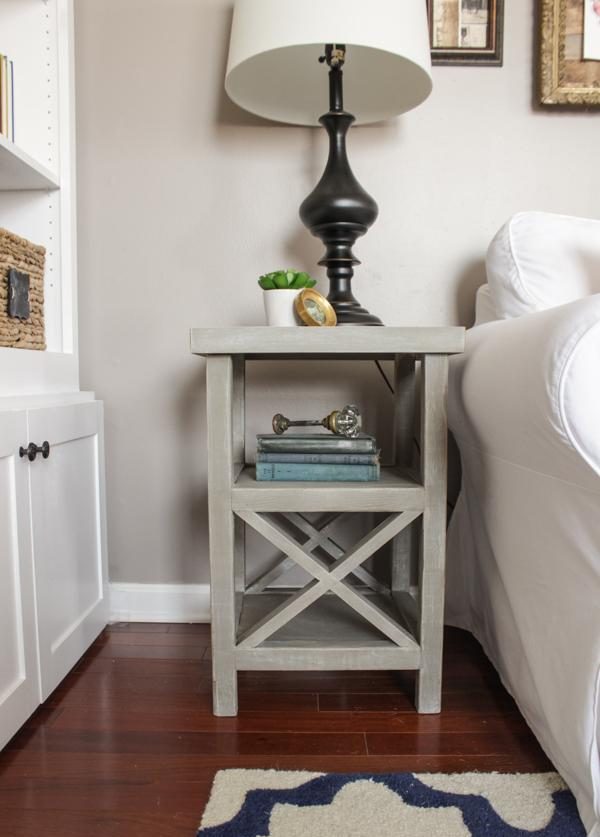 The 2 open shelves with an 8'' clearance, along with an impressively sanded tabletop defines only a part of this 16'' X 16'' X 24'' DIY nightstand.
The lowest shelf will have an X-fence on either side. You could literally keep your phone on the lowest shelf at night. This way you won't be staring into a blue screen all night long. You'd actually have to get up from the bed to get your phone.
3. DIY Lego Bricks & Concrete Nightstand
Who could imagine building a nightstand using LEGO pieces and concrete? When the uniformity in the grooves is combined an accurate placement of the deceiving knobs, you can literally make the stand look like a robot.
This could be a unique addition to your bedroom interiors. Based on the LEGO bricks you own, you could build any design you like. Be it animals, buildings, or even colorful combinations.
4. Wall-Mounted DIY Nightstand Plan
Looking to break the nightstand norm? With a long slab mounted on the wall, you can easily build more than one shelve. Placing a light on the top could also reward you with a bedside lamp that sheds light from above.
People who have very little space near their bed could benefit the most from this DIY nightstand plan. This DIYer created this nightstand through a challenge that involved building something useful from a 1 X 8 X 8 footboard.
5. DIY Contemporary Wire-Holding Nightstand
Minimalism at its best. This is probably the cutest nightstand of all. The surface of the circular board can be coated with leather for a sophisticated attire. Don't worry about the little bit of drilling you have to do. This project can be completed in as little as 3 to 4 hours.
Supplies:
Wooden cutting board

PVC upholstered steel wire

4 wire clamps

Pliers

Drill

Hook
6. DIY Floating Nightstand
People would call this a shelf, but it clearly serves the purpose of a nightstand. There is a little ridge that is just right to hold your smartphone. Also, who said you need to place a lamplight on your table? Look for something that can be screwed using flanges.
You land up saving up on ample floor space. Staining the stand similar to the shade of the wall color could be a lovely idea too.
7. DIY Julia Nightstand
This DIYer has given modification tips on the original plan. The spacious unbarred opening will impart the feeling of an Arabian piece of art. All credits to the experience of these DIYers.
Following the finishing process in this guide could leave you with a feminine-looking nightstand. Unless you're alright with it, you could paint this a yellow or blue color for a vibrant look.
If you don't have someone who will do the jigsaw pieces of wood for you, this could be a slightly difficult DIY project.
8. DIY Pottery Barn Inspired Nightstand
This DIY nightstand plan could make the most cluttered of side tables yet look pleasing. The plan is well-curated and allows you to work in an efficient fashion. In the 13 steps, you will also be using drawer sliders that could get complicating.
The key attribute is the presence of 4 X's on the side-ends of this nightstand. You would want to first do a rough fit of these X's. This helps evade the chance of unnecessary wear and tear during the construction phase.
9. DIY Bent Plywood Nightstands
As simple as it looks, you will be undertaking some interesting work in this DIY nightstand plan. The real deal lies in building the molds, cutting their parts, and then assembling them with dowels.
Since this is a single piece nightstand, even the littlest of discrepancies in measurements would force you to restart the project. Step 6 of this guide should help verify halfway that you're on the right path.
10. DIY Industrial Pipe Nightstand
Rather than occupying floor space, you can make use of the wall. Two industrial pipes separated at a distance of a few inches less than the length of the wooden shelf is all you need. Basic flange positioning and drilling screws should do the job.
If you're worried about the weight or the shelf tilting downwards due to a heavy clock or nighttime sloppiness, you could simply attach pipe straps under the wood. Once it surrounds the pipe, screw it into the wood and you can be tension-free.
Supplies:
Floor flanges

Caps

One 5 ½ feet wooden board

Coarse thread drywall screws

Spray paint

Tape, screwdriver, pencil, leveler
11. Rustic DIY Barred Nightstand
What better than a nightstand with a large amount of single-drawer space and rustic rods on the lower shelf? You can opt for rebars that come with alternate grooves or you can go for the classic curvy pattern.
The plan is detailed and thoroughly guides you through the entire construction phase. Take extra care when building, assembling, and aligning the top shelf. Most of the screw attachments would be on the inner part of your nightstand, thus no worry about untidy makeovers.
12. DIY Moroccan Style Nightstand
You can execute this DIY nightstand plan in as little as $40. Worried about achieving the fancy Moroccan styled cut-out design? Once you use a table saw to miter the side panels, you will use a template (with packing tape) for the cut-out design.
Placing this template on your wood, you will ideally use a scroll saw to carve out 6 such legs. These free scroll saw patterns could give you more leg pattern ideas. Who knows you may be able to include some Romanian or Italian architecture on your DIY nightstand?
13. DIY Open Crate Nightstand
This project is a perfect example of why people opt for DIY projects. The copper pipes can easily be connected using glue, although soldering would be a long-term solution. Even attaching it to the wall could bring a great amount of stability.
You can find similar crates for as little as $10. Since the brackets define a considerable portion of your nightstand, consider coating them with a color that synchronizes with the rest of your nightstand.
14. DIY Pull-Out Ledge Nightstand
When compared to the above DIY nightstand plans, this is the ultimate option. The eye-catching feature is the pull-out ledge along with the huge amount of shelf space. You could store something as thick as 2 blankets down there.
2 drawer handles, 1 pull-out ledge knob, and 4 thirteen-inch legs make for a durable and easy-to-use nightstand.
Bonus tip: Refrain from painting underneath the ledge. This allows the plywood to move freely under the shelf.
15. DIY Teen Inspired Nightstand
Apart from the free plans, you also get access to the secret technique to acquire those mesmerizing saw marks. 4 drawers make it a great option for people who spend plenty of time working on their bed.
It would be best to use the same knobs, handles, and spray paint to obtain a bold and rich look.
Verdict
Bedside comfort and simplicity is a must. Do you sense a tinge of inspiration? Make a choice by studying your bedroom space and inducing a bit of your own creativity. These DIY nightstand plans consist of something as simple as a one-piece structure to a complex pull-out ledge nightstand.